Zurück zur Übersicht
Ab 55 € versandkostenfrei (innerhalb DE)
DHL Versand - Auslieferung auch Samstags
Über 60.000 Artikel direkt ab Lager lieferbar.
Eden Ahbez
Wild Boy - The Lost Songs Of Eden Ahbez (180g Vinyl)
Artikel-Nr.: BAF18018
Gewicht in Kg: 0,300
Sofort versandfertig, Lieferzeit** 1-3 Werktage
Statt: 19,95 € *
(10.03 %

gespart

)
17,95 € *
Preise inkl. gesetzlicher MwSt. zzgl. Versandkosten
Eden Ahbez: Wild Boy - The Lost Songs Of Eden Ahbez (180g Vinyl)
Video von Eden Ahbez - Wild Boy - The Lost Songs Of Eden Ahbez (180g Vinyl)
Wild Boy: The Lost Songs of Eden Ahbez
1-LP (Klappcover) 180-Gramm 30 cm Vinyl-LP, 14 Einzeltitel. Gesamtspieldauer ca. 37 Minuten.
• Er gilt als der erste Hippie überhaupt!
• Vierzehn seltene, zumeist unveröffentlichte Aufnahmen.
• Gastauftritte von Paul Horn, Eartha Kitt und anderen.
• 180-Gramm Vinyl, Klapphülle
• Ausführliche Kommentare, seltene Bilder.
Psychedelische Musik ist im Zentrum des allgemeinen Geschmacks angekommen. Offen bleiben allerdings Fragen nach ihren Ursprüngen. Auf der Suche nach Antworten legt Bear Family 'Wild Boy: The Lost Songs of Eden Ahbez' als neues Beweismittel vor. Im Verlauf der letzten zwanzig Jahre wurde die Kultfigur Eden Ahbez vor allem wegen Nature Boy, seinem Lobgesang auf die allgemeine Liebe aus dem Jahr 1948, und seinem seltenen 1960er Soloalbum mit dem Titel 'Eden's Island' – eins der ersten Konzeptalben der Popgeschichte - zum Vorboten der Flower-Power-Bewegung der Sechzigerjahre. 'Wild Boy: The Lost Songs Of Eden Ahbez' erweitert den Katalog mit Ahbez-Veröffentlichungen und vertieft das Wissen um Wurzeln der psychedelischen Bewegung in den Fünfzigerjahren.


Die erste Seite bietet eine Musikzusammenstellung mit eigenen Werken von Eden Ahbez, die er in der auf Nature Boy folgenden Zeit schrieb. Die Hereinnahme von Songs wie Palm Springs vom Ray Anthony Orchestra und Hey Jacque von Eartha Kitt geben dem Hörer die erstmalige Chance, obskure Einspielungen von weltbekannten Künstlern im Zusammenhang mit Eden Ahbez zu entdecken. Auf der zweiten Seite erkannt man, wie sich der Songschreiber mit absurden Rock- und Exotica-Titeln wie Wild Boy und Surfer John sowie süßlichem Psychedelic-Pop wie dem unveröffentlichten Monterey (mit Paul Horn an der Flöte) 'Eden's Island' und der eigentlichen Hippiebewegung nähert. Das Album endet mit der Ode an einen Kumpel aus Baja, CA, ein bärtiger Einsiedler wie Eden Ahbez selbst: The Clam Man, ein bislang unveröffentlichter Titel. Insgesamt bietet 'Wild Boy: The Lost Songs Of Eden Ahbez' mit sieben unveröffentlichten Aufnahmen und ebensovielen seltenen Singles einen Überblick über die verschollenen Werke der Jahre 1949 - 1971.

Mag man bei Eden Ahbez hulluzinogene Inhalte vermissen, so macht er dieses Defizit mit einfachen Akkorden, weitreichenden Arrangements und Texten über das Reisen, Freizeit, freie Liebe und Spiritualität wett. Somit wird der Maßstab für Psychedelic Music und jener des allerersten Hippies neu bewertert.
Wild Boy: The Lost Songs of Eden Ahbez
180–Gramm Vinyl
Songs
Eden Ahbez - Wild Boy - The Lost Songs Of Eden Ahbez (180g Vinyl)

Medium 1
1:
India (unissued)
Eden Ahbez
2:
Child Of Nature (unissued)
Eden Ahbez
3:
Anna Was Mine (demo/unissued)
Eden Ahbez
4:
Nature Boy
The Talbot Brothers
5:
Land Of Love (Come My Love And Live With Me)
Nat King Cole
6:
Hey Jacque
Eartha Kitt
7:
Palm Springs
The Ray Anthony Orchestra
8:
Umgowah (unissued)
Eden Ahbez
9:
Wild Boy
Mort Wise and the Wisemen (with Rocky Holman)
10:
Surfer John
Nature Boy and Friends
11:
Eden's Island
Arthur Lyman
12:
Monterey (unissued)
Eden Ahbez - John Harris
13:
Overcomers Of The World (unissued)
Eden Ahbez - John Harris
14:
The Clam Man (unissued)
Eden Ahbez
Artikeleigenschaften von

Eden Ahbez: Wild Boy - The Lost Songs Of Eden Ahbez (180g Vinyl)
Interpret:

Eden Ahbez

Albumtitel:

Wild Boy - The Lost Songs Of Eden Ahbez (180g Vinyl)

Artikelart

LP

Genre

Beat

Edition 2

Deluxe Edition

Plattengröße

LP (12 Inch)

Vinyl weight

180g Vinyl

Geschwindigkeit

33 U/min

Record Grading

Mint (M)

Sleeve Grading

Mint (M)

Erscheinungsjahr

2016

Label

Bear Family Productions

Preiscode

BAF

SubGenre

Rock - Psychedelic Rock

EAN:

5397102180187

Gewicht in Kg:

0.300
Interpreten-Beschreibung

"Ahbez, Eden"
Eden Ahbez
When Eden Ahbez died at the age of eighty-six in 1995, he was, from the view of pop culture history that revolves around movements, the forefather of psychedelic music and the first West Coast hippie.
Labels as such seem to reduce the individual to a series of descriptors intended to measure him against standards of the form, which is problematic itself on a number of levels. Yet the lingering question surrounding Ahbez and his legacy seems to remain: just how closely does he presage psychedelic icons like Jimi Hendrix, the Grateful Dead, John Lennon, and Pink Floyd?
For starters, his catalog is comparatively small: a few rare albums and a smattering of even scarcer 45s and 78s. The autobiographical Nature Boy is easily Ahbez's best-known song; Nat 'King' Cole had the first hit with it, in 1948, though by today's count there are well over 3500 documented versions (including last year's duet by Tony Bennett and Lady Gaga).
The other established Ahbez work is his lone solo album, 'Eden's Island.' First released on Del-Fi Records in 1960, it sold less than 500 copies. During the tiki revival of the 1990s, however, 'Eden's Island' was rediscovered and became a cult item. It has since enjoyed a growing reputation as one of the earliest psychedelic concept albums.
This new LP is mostly comprised of songs that fall somewhere between Nature Boy and 'Eden's Island,' and show Ahbez both struggling to replicate the success of his inaugural hit and slowly transforming himself from Tin Pan Alley songwriter into offbeat solo artist. As such, half the album's tracklist is taken up by other artists performing Ahbez compositions (e.g. Hey Jacque by Eartha Kitt and Palm Springs by Ray Anthony). These stand as a kind of middle ground between beatnik and hippie, fitting neatly into neither category.
The composer first performed under his own name in October 1951; producer Bob Bertram funded the session, which yielded four unreleased Ahbez recordings. Each are arranged by the Harry Geller Orchestra, with backing vocals by the Randy Van Horn Singers, best known for their zippy chants on Fifties albums by Juan Garcia Esquivel. Two tracks from the session—India and Child Of Nature—are released here for the first time.
The session came three years after Ahbez's breakout success with Nature Boy, which the composer tried equalling several times in new works sung by top jazz singers of the day, including Herb Jeffries, Hoagy Carmichael, Doris Day, and April Stevens. Nat Cole himself recorded Ahbez's Land of Love—the eagerly-anticipated follow-up to Nature Boy—which, despite 'Billboard' magazine describing it a "highly poetical tea-with-lemon tune," failed to chart.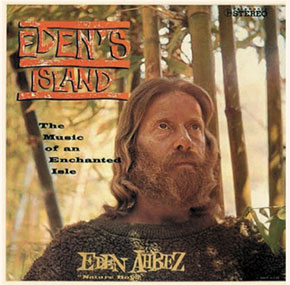 The aforementioned Carmichael—whose Stardust Melody was perhaps the most recorded song of the 20th century—tackled Ahbez's Sacramento in a Decca Records single of 1951. It failed to chart, though Ahbez—who also performed the song with Carmichael on the TV program 'You Asked for It'—took something of a cue from the elder composer.
The Ahbez/Bertram session of 1951 is especially evident, especially the song India. Arranged in the style of Carmichael's Hong Kong Blues, its plunky marimbas, snake-charmer flutes, and orientalist gongs became common in many Ahbez productions, though, according to Michael Cudahy of '90s exotica band Combustible Edison, "there is nothing in the songwriting itself that calls for exotica arrangement, except maybe the lyrics." Cudahy calls Ahbez's writing style "primitive, like something out of the Garden of Eden," and says that he rarely goes beyond two chords, in the diatonic scale.
Where other proto-hippies, like Moondog and Harry Partch, found new intonations and structures in the savage and the arcane, Ahbez was scarcely avant-garde or musically inventive. (In 1951, he was sued by a Yiddish songwriter named Herman Yablokoff, who claimed Nature Boy plagiarized a theater ballad of his from 1935.) Ahbez's originality lay instead with his ability to graft social-consciousness onto the standard form.

As for being covered by the other masters of exotica—Les Baxter, Martin Denny, Arthur Lyman—Ahbez barely passes their radar during the 1950s. None recorded Nature Boy, for instance, though Baxter as copyist for orchestrator Frank DeVol during the late '40s may've actually written the arrangement for Nat Cole's version. Lyman, amazingly, recorded a 1963 version of 'Eden's Island,' the title song to Ahbez's solo album that few in its time even heard. Denny recorded Hong Kong Blues and other Carmichael tunes in the exotica style, but never touched Ahbez.
Eden Ahbez
Wild Boy: The Lost Songs Of Eden Ahbez (180gram Vinyl)

Read more at: https://www.bear-family.com/detail/index/sArticle/519881
Copyright © Bear Family Records
Presseartikel über

Eden Ahbez - Wild Boy - The Lost Songs Of Eden Ahbez (180g Vinyl)