Der Artikel wurde erfolgreich hinzugefügt.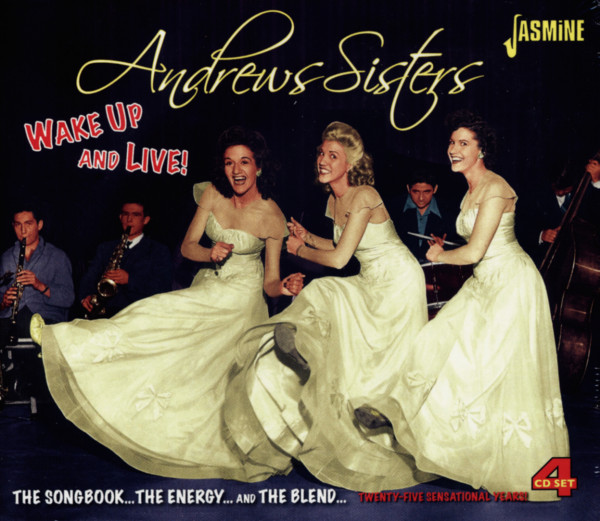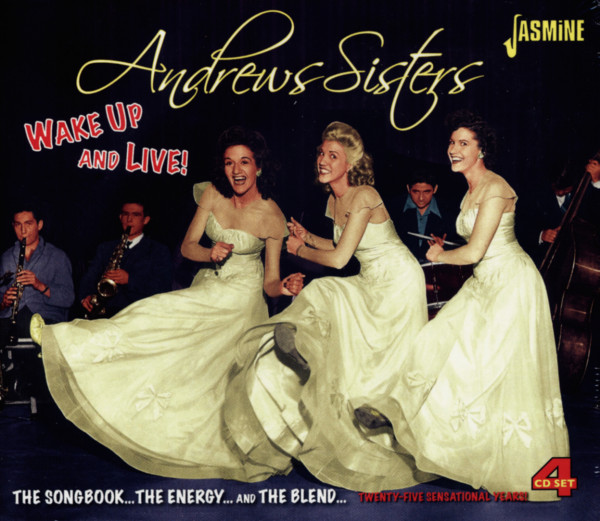 Artikel-Nr.:

CDJASBOX324

Gewicht in Kg.:

0.3
(2014/Jasmine) 124 tracks
mehr
The Andrews Sisters: Wake Up And Live! (4-CD)
(2014/Jasmine) 124 tracks

Artikeleigenschaften von

The Andrews Sisters: Wake Up And Live! (4-CD)
Albumtitel:

Wake Up And Live! (4-CD)

Genre

Pop

Artikelart

CD

EAN:

0604988033212

Gewicht in Kg:

0.3
Andrews Sisters, The - Wake Up And Live! (4-CD)

CD 1
01
Jammin'
02
There's A Lull In My Life
03
Wake Up An Live
04
I Married An Angel
05
Let's Pack Our Things And Trek
06
Oh, He Loves Me
07
Mean To Me
08
The Nickel Serenade
09
At Sonya's Café
10
Sweet Molly Malone (Cockles And Mussels)
11
I Wish I Had A Dime
12
Why Don't We Do This More Often?
13
He Said, She Said
14
Boolee Boolee Boon (Toy Balloon)
15
The Humming Bird
16
East Oft The Rockies
17
Sing (Live)
18
One, Two, Three O'leary
19
Ain't It A Shame About Mame? (Live)
20
Lonesome Mama
21
Underneath The Arches
22
Down In The Valley
23
Staighten Up And Fly Right
24
What Did I Do?
25
Never Too Busy To Say Hello (Live)
26
Riders In The Sky (Live)
27
Twenty-Four Hours Of Sunshine (Live)
28
Sabre Dance (Live)
29
Wunderbar (Live)
30
Nobody's Darlin' But Ine
31
Too Fat Polka
Andrews Sisters, The - Wake Up And Live! (4-CD)

CD 2
01
Near You
02
Rumors Are Flyin
03
It's A Pity To Say Goodnight
04
Red River Valley
05
Money Is The Root Of All Evil
06
Johnny Fedora
07
Zoom Zoom
Zing Zing
08
All The World To Me
09
Muskrat Ramble
10
The Blue Tail Fly
11
I'm Goin' Down The Road
12
I Wish I Knew
13
I Didn't Know The Gun Was Loaded
14
Walk With A Wiggle
15
Toolie Oolie Doolie
16
One For The Wonder
17
Idle Chatter
18
The House Of Blue Lights
19
Sabre Dance
20
This Little Piggy Went To Market
21
Six Times A Week And Twice On Sunday
22
Great Day
23
Smile! Smile! Smile! (Pack Up Your Troubles In Your Old Kit Bag)
24
My Sin
25
I'd Love To Call You My Sweetheart
26
Teresa
27
Quicksilver (Live)
28
Have I Told You Lately That I Love You? (Live)
29
Adieu
Andrews Sisters, The - Wake Up And Live! (4-CD)

CD 3
01
Your Red Wagon
02
There Will Never Be Another You
03
Can't We Talk It Over?
04
I'm Gonna Paper All My Walls With Your Love Letters
05
Jack Jack Jack
06
The Lady From 29 Palms
07
I Don't Know Why (I Love You Like I Do)
08
I'm Bitin' My Fingernails (Thinking Of You)
09
Don't Rob Another Man's Castle
10
Hurry! Hurry! Hurry!
11
Goodbye Darling, Hello Friend
12
On The Avenue
13
Civilization (Bongo Bongo Bongo)
14
The Woody Woodpecker Song
15
Underneath The Linden Tree
16
The Turntable Song
17
Malaguena
18
Put That Ring On My Finger
19
How Lucky You Are
20
Don't Fence Me In (Live)
21
I Can Dream, Can't I? (Live)
22
The Tennessee Waltz (Live)
23
The Wedding Samba (Live)
24
Lock, Stock, And Barrel (Live)
25
The Freedom Train
26
The Liberty Network Interview
27
High On The List
28
Life Is So Peculiar
29
National Safety Council (Promotion # 1)
30
National Safety Council (Promotion # 2)
Andrews Sisters, The - Wake Up And Live! (4-CD)

CD 4
01
Carmen's Boogie
02
Let A Smile Be Your Umbrella
03
Oh, You Sweet One
04
Now! Now! Now Is The Time
05
Charley, My Boy
06
She Wore A Yellow Ribbon
07
You Call Everybody Darling
08
Sing A Tropical Song
09
I've Just Gotta Get Out Of The Habit
10
I'm Sorry
11
Here In My Heart
12
Crazy Arms
13
I Want To Linger
14
Silver Bells
15
A Child's Christmas Song
16
No, Baby
17
Rum And Coca-Cola
18
Stars, Stars
19
Give Me Back My Heart
20
I'm Goin' Home
21
By His Word
22
Melancholy Moon
23
One Mistake
24
Torero
25
Sunshine
26
My Love Is A Kitten
27
I've Got An Invitation To A Dance
28
Mr Bass Man
29
My Midnight Prison
30
Bei Mir Bist Du Schon (Live)
31
South America, Take It Away (Live)
32
I'll Be With You In Apple Blossom Time (Live)
33
The Pennsylvania Polka (Live)
34
Beer Barrel Polka (Live)
The Andrews Sisters The Andrews Sisters, who were of Norwegian-Greek descent, were...
mehr
"The Andrews Sisters"
The Andrews Sisters
The Andrews Sisters, who were of Norwegian-Greek descent, were born in Minneapolis, in the state of Minnesota. In their youth, Patti had been a tap-dancing champion, and LaVerne had seriously considered a career as a concert pianist, but it was Maxene who saw the possibili-ties of the three of them singing together, for their harmonizing together at school events had been very well received. So when bandleader Larry Rich, having seen them perform at a Kiddie Revue, offered them a job, they immediately grabbed it. Patti was 12, Maxene 14, and LaVerne 17, when they began with Rich on what turned out to be a tour of vaudeville theaters that covered the whole of the United States. However, the arrival of talking pictures proved to be the death-knell for vaude-ville, but somehow the sisters managed to get through two years of touring on their own. It was a long hard slog, with many disappointments along the way, but they never gave up hope at any time and kept knocking on the doors of agents, directors and producers, in spite of there being a deep economic depression in full spate.

They sang in hotels with Leon Belasco's orchestra (with whom they made their very first recording), before moving into the club and theater circuit, and it wasn't long before radio offers came their way, which led to recordings being made, which in turn led to their being more in demand than ever. Thereafter, their life became a busy succession of radio, night club and theater engagements. Then motion pictures made a claim on them, and over an eight-year period they appeared in well over a dozen movies, including an appearance in one of the most popular of all the Bob Hope-Bing Crosby-Dorothy Lamour Road' films, "Road to Rio". Meanwhile their recordings produced one big hit after another. They are probably the most famous sisters-act the world of show-business and popular entertainment has ever known, for only the four King Sisters spring to mind as having been anyt-hing remotely similar, and the Dolly Sisters were from a totally different era entirely. Patti, Maxene and LaVerne Andrews together made an extraordinarily successful singing trio, and their time' could best be said to have dated from 1937, the year when their huge hit "Bei Mir Bist Do Schoen" had propelled them into instant popularity. The song made them, and they made the song.

Their particular brand of showmanship was considered somewhat brash at the time, but which was nevertheless highly effective on novelty or jazzy' numbers. They certainly sang well in harmony, and achieved a particularly tasteful blend on ballads. Patti, the blonde one, sang lead and solo, and with her very agreeable personality also acted as spokesperson for the trio. The Second World War found them probably at the height of their fame, and apart from their own big wartime hits such as, for example, "Rum and Coca Cola", "Boogie Woogie Bugle Boy" and "Don't Sit Under The Apple Tree", they also combined with the Old Groaner hinself, Bing Crosby, on other mission-sellter such as "Pistol Packin' Momma and "Don't Fence Me In"
Bewertungen lesen, schreiben und diskutieren...
mehr
Kundenbewertungen für "Wake Up And Live! (4-CD)"
Bewertung schreiben
Bewertungen werden nach Überprüfung freigeschaltet.
Weitere Artikel von The Andrews Sisters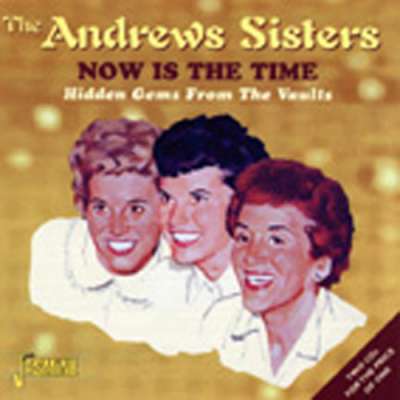 The Andrews Sisters: Now Is The Time - Hidden Gems 2-CD
Art-Nr.: CDJAS387


Sofort versandfertig, Lieferzeit** 1-3 Werktage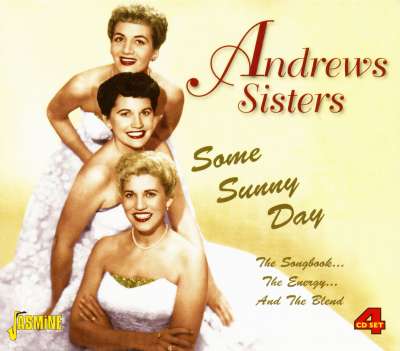 ANDREW SISTERS: Some Sunny Day (4-CD)
Art-Nr.: CDJASBOX29


Sofort versandfertig, Lieferzeit** 1-3 Werktage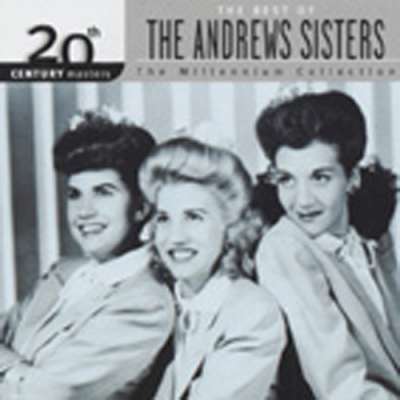 The Andrews Sisters: 20th Century Masters - The Millenium Collecti
Art-Nr.: CDMCA112230


Artikel muss bestellt werden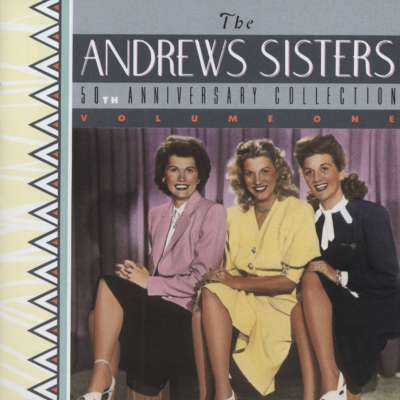 The Andrews Sisters: 50th Anniversary Collection, Vol.1 (CD)
Art-Nr.: CDMCA42044


Sofort versandfertig, Lieferzeit** 1-3 Werktage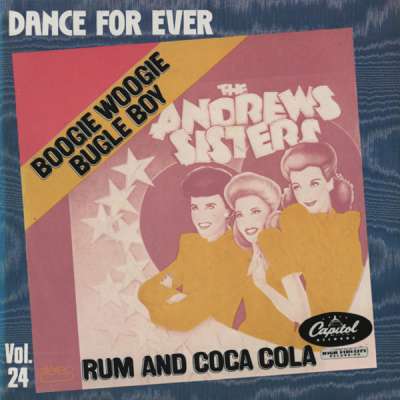 The Andrews Sisters: Boogie Woogie Bugle Boy - Rum & Coca...7inch,...
Art-Nr.: PM95227


Artikel muss bestellt werden