Der Artikel wurde erfolgreich hinzugefügt.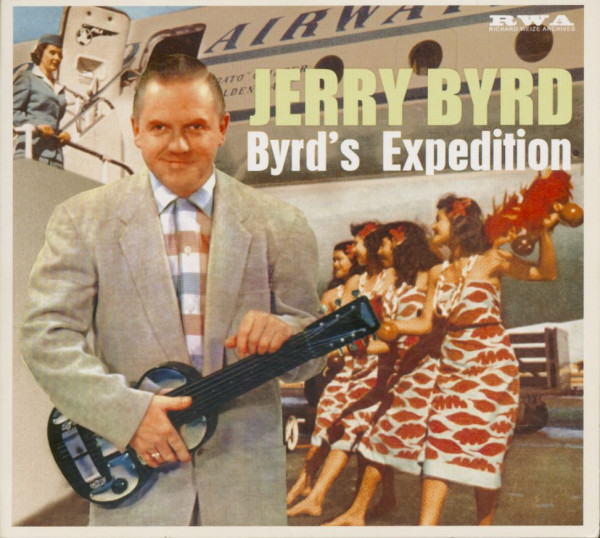 Artikel-Nr.:

ACD12550

Gewicht in Kg.:

0.1
1-CD digipac - 50-page booklet - 30 tracks - Die erste umfassende Veröffentlichung der...
mehr
Jerry Byrd: Byrd's Expedition (CD)
1-CD digipac - 50-page booklet - 30 tracks

- Die erste umfassende Veröffentlichung der berühmten MERCURY-Instrumentals des legendären Lap Steel-Gitarristen. - 30 Stücke, digital remastert in bestmöglicher Qualität - Mit Unterstützung der Gitarristen Zeke Turner und Chet Atkins Die Musik der Pedal Steel-Virtuosen Speedy West, Buddy Emmons und Bud Isaacs geht in den Kopf und in die Beine die Songs von Lap Steel Meister Jerry Byrd (1920-2005) hingegen berühren das Herz.

DeWitt Scott, der verstorbene Gründer von Steel Guitar International in St. Louis, ehrte ihn als den 'Meister der gefühlvollen Klänge'. Jim Crockett, langjähriger Herausgeber des Magazins 'Guitar Player', bejubelte ihn als 'den letzten der großartigen non-pedal Steelgitarristen'.

Jerry Garcia von The Grateful Dead flog einmal nach Honolulu in der Hoffnung, daß Byrd ihn als Schüler annehmen würde. Das gleiche unternahmen der Bluesmusiker Jimmie Vaughn und sein berühmter jüngerer Bruder, Stevie Ray. Byrds Werk ist auf vielen CDs dokumentiert, die jedoch einen reifen selbstzufriedenen Musiker präsentieren, der Touristen in Waikiki-Lounges unterhält. Einige dieser Wiederveröffentlichungen widmen sich seiner Zeit bei MONUMENT RECORDS ? dabei handelt es sich größtenteils um ambitionierte 'space age pop'-Produktionen im Stil jener Zeit. Seit Jahrzehnten haben sich Steelgitarren-Enthusiasten und Countrymusik- Sammler die Wiederveröffentlichungen von Byrds zeitlosem Country- Material herbeigesehnt, insbesondere die Instrumentals, die er von 1949 - 1954 für MERCURY aufgenommen hatte. Die Mehrzahl dieser Stücke ist hier vertreten, zusammmen mit einer beträchtlichen Auswahl von seinen Songs im hawaiianischenStil. Und keine Wiederveröffentlichung von Byrds MERCURY- Aufnahmen wäre vollständig ohne Steelin' The Blues mit Western- Balladensänger Rex Allen.

Die frühen Stücke präsentieren Byrds Band aus Cincinnati, mit Zeke Turner (elektrische Leadgitarre), Louis Innis (Rhythmusgitarre) und Tommy Jackson (Geige). Diese Band trug wesentlich zur Prägung des klassischen 'Honky Tonk'-Sounds bei, der die Countrymusik von 1947 bis Mitte der 50er Jahre bestimmte. Jukebox-Hits wie Red Foleys Tennessee Saturday Night und Lovesick Blues von Hank Williams sind typische Beispiele dafür.

Die späteren Songs reflektieren Byrds Anfangszeit in Nashville, viele mit Chet Atkins. Dave Samuelsons Linernotes bieten einen Einblick in Byrds frühe Begeisterung für die Steelgitarre, seine Schallplatten- und Radiohits sowie das Verblassen seines Ruhms durch das Auftauchen einer jungen Generation von Pedal-Steelgitarristen aus Nashville, und seine musikalische Wiedergeburt auf den hawaiianischen Inseln.
Video von Jerry Byrd - Byrd's Expedition (CD)
Artikeleigenschaften von

Jerry Byrd: Byrd's Expedition (CD)
Albumtitel:

Byrd's Expedition (CD)

Genre

Country

Edition 2

Deluxe Edition

Artikelart

CD

EAN:

4260072724501

Gewicht in Kg:

0.1
Byrd, Jerry - Byrd's Expedition (CD)

CD 1
01
Right out the door
02
Almost home
03
Steady as she goes
04
Downhill blues
05
Old new orleans r&b
06
Dancing steel
07
Truckstop
08
Snowballs in june
09
Cajun potatoes
10
The eagle
11
But i do
12
The frog invasion-r
13
Lonely boys like me
14
Winding down
15
Thanksgiving blessing
16
What went wrong
17
Drivin' & jivin'
18
Misty morn
19
Spider trap
20
Waltzing matilda
21
Conversation
22
Desperado
23
Big black machine
24
Old time friend
25
Bouncing off the trees
26
Dreaming at the bar
27
Mongoose
geb. 9. 3. 1920 in Lima - Ohio Record Labels: Mercury, Decca, RCA, Monument, Starday Jerry...
mehr
"Jerry Byrd"
geb. 9. 3. 1920 in Lima - Ohio Record Labels: Mercury, Decca, RCA, Monument, Starday Jerry Lester Byrd, einer der wichtigsten Steel Guitar Virtuosen, der noch immer die sogenannte "Hawaii-Linie" vertritt Byrd wurde in Nashville zu einem gesuchten Sessionmusiker, kam zur Grand Ole Opry, spielte mit Ernest Tubb, Red Foley und Bobby Lord und lebt heute in Honolulu - Hawaii.
Bewertungen lesen, schreiben und diskutieren...
mehr
Kundenbewertungen für "Byrd's Expedition (CD)"
Von:
Auslegerkanu Club 'Perle der Südsee'
Am:
07.06.2017
KLASSE!!
super sound macht spass haben wir lange drauf gewartet
Bewertung schreiben
Bewertungen werden nach Überprüfung freigeschaltet.