Der Artikel wurde erfolgreich hinzugefügt.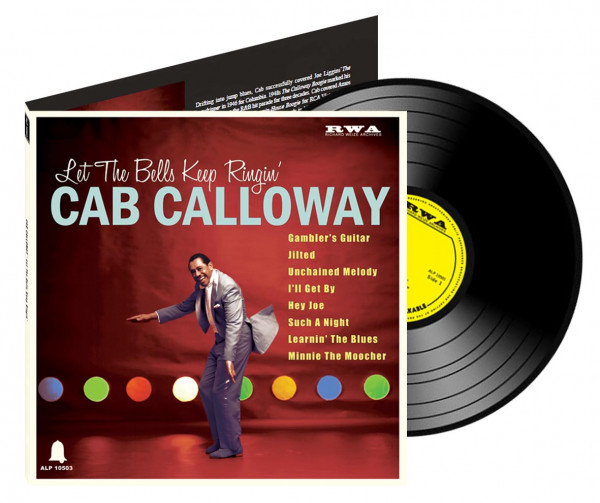 Artikel-Nr.:

ALP10503

Gewicht in Kg.:

0.22
10" LP - Gatefold cover - Klappcover - 8 tracks - 21:08min. Minnie The Moocher war über 50...
mehr
Cab Calloway: Let The Bells Keep Ringin' (10inch LP)
10" LP - Gatefold cover - Klappcover - 8 tracks - 21:08min.
Minnie The Moocher war über 50 Jahre lang das musikalische Markenzeichen für den temperamentvollen Bandleader Cab Callo- way. 1931 nahm er den Song zum ersten Mal auf, und seine spritzige Wiederaufnahme für 'The Blues Brothers' aus dem Jahr 1980 ist eines der ewigen Highlights dieses Films.
Arthur Shimkins Label BELL RECORDS war zweifellos erfreut, Cab im Jahr 1954 ins Boot zu holen. Das New Yorker Label war darauf spezialisiert, gleichklingende Versionen von aktuellen Hits zu niedrigen Preisen zu veröffentlichen – Cabs Raubkatzenstimme blieb jedoch stets unverwechselbar. Auf dieser 10-inch LP sind die acht Songs zu hören, die Calloway für BELL aufgenommen hat, und es gibt auch einige echte Überraschungen: Cab interpretiert Carl Smiths Country-Fetzer Hey Joe und Teresa Brewers lebhaftes Jilted als ob diese Songs speziell für ihn verfaßt worden wären (ebenso Jim Lows dramatisches Gambler's Guitar und das majestätische Unchained Melody).
Sogar den lasziven R&B-Superhit Such A Night von Clyde McPhatter and the Drifters und Frank Sinatras sanftes Learnin' The Blues waren wie gemacht für Calloways einzigartige Stimmbänder, und er lieferte eine erfri- schend lebhafte Version von Minnie The Moocher für BELLs ständig wachsenden Katalog. Mit Jimmy Carroll als Dirigent des Orchesters und den Four Bells, die die Backing Vocals liefern, ist diese wunder- bare Sammlung eine Erinnerung an Calloways kurzen aber unvergeßlichen Aufenthalt bei BELL VON 1954-55.
Artikeleigenschaften von

Cab Calloway: Let The Bells Keep Ringin' (10inch LP)
Albumtitel:

Let The Bells Keep Ringin' (10inch LP)

Genre

Rock'n'Roll

Geschwindigkeit

33 U/min

Record Grading

Mint (M)

Sleeve Grading

Mint (M)

Plattengröße

LP (10 inch)

Artikelart

LP

EAN:

4260072725034

Gewicht in Kg:

0.22
Calloway, Cab - Let The Bells Keep Ringin' (10inch LP)

LP 1
01
Gambler's Guitar
02
Jilted
03
Unchained Melody
04
I'll Get By
05
Hey Joe
06
Such A Night
07
Learnin' The Blues
08
Minnie The Moocher
Cap Calloway Thanks to New York's budget-priced Bell Records, veteran orchestra leader...
mehr
"Cab Calloway"
Cap Calloway
Thanks to New York's budget-priced Bell Records, veteran orchestra leader Cab Calloway wrapped his rafter-rattling pipes around some of the biggest selling songs of the mid-1950s.
The label's business model was an intriguing one. Arthur Shimkin launched it in 1952 as an offshoot of Golden Records, which he'd established four years earlier. Both were financially backed by New York's Simon and Schuster publishing company.
Shimkin covered the hits of the day with competent singers and musicians both famous and unknown, packaged Bell's singles in colorful picture sleeves, priced them at 39 cents each, and sold them in grocery stores, bookstores, and other outside-the-box outlets. The concept clicked.
Calloway's endlessly swinging orchestra had been a national sensation during the 1930s and '40s that obliterated racial barriers with its musical innovations and dazzling showmanship. His roaring pipes, elastic dance moves, and wild zoot-suited attire made him the epitome of pre-war hep. He appeared in mainstream movies, led his orchestra on network radio, and headlined the finest venues. But hits grew scarce for Cab by the late '40s. By 1954 they'd dried up.
Cabell Calloway III wasn't the first member of his family to take the show biz plunge. That honor went to older sister Blanche, a pianist who recorded with Louis Armstrong in 1925 (much later, she managed singer Ruth Brown). Cab was born Christmas Day of 1907 in Rochester, N.Y. and was raised in Baltimore from age six. His middle-class family had high hopes of him becoming a lawyer, but Calloway had other plans. He met up with Blanche in Chicago in 1927 and began singing professionally. Cab led an 11-piece orchestra, the Alabamians, but when they lost a 1929 battle of the bands at New York's Savoy Ballroom, he quit.
Broadway manager Irving Mills teamed Cab with another outfit, the Missourians. Mills snagged the band an engagement at Harlem's famed Cotton Club, and Calloway was on his way. He settled into the swinging nightclub in 1930 for an extended engagement that lasted for years. Performing for well-heeled Caucasians, Cab unleashed his huge voice and wielded a mean baton, whirling, dancing, singing, and mugging his way to stardom. He made his recording debut that year and scored a hit with an outrageous rendition of W.C. Handy's St. Louis Blues.
In 1931, Calloway and his band skyrocketed with the number that would become his lifelong theme. Minnie The Moocher featured a surreal storyline, a slinky groove, and a "hi-de-ho" singalong chorus (his penchant for scatting had commenced when he forgot some lyrics during a show and had to improvise). Cab's treatment of the minor-key moaner St. James Infirmary was also popular, his ebullient vocal delivery ensuring the mood didn't grow too morose.
Calloway's vibrancy was tailor-made for the silver screen. He performed Minnie The Moocher in the 1932 romantic comedy 'The Big Broadcast' and led his outfit through a torrid Reefer Man the next year in 'International House.' Cab even turned up in a handful of early '30s Betty Boop cartoons. In 1937 Calloway and his orchestra were featured in their own nine-minute short 'Hi-De-Ho.' He co-starred as a hepster in the 1943 big-budget musical 'Stormy Weather' and headlined his own full-length '47 film, also titled 'Hi De Ho.' Working all the angles, Cab penned 'The Hepster's Dictionary' in 1938 (updated in several later editions), providing a handy glossary of cool cat lingo for his legion of followers.
Bewertungen lesen, schreiben und diskutieren...
mehr
Kundenbewertungen für "Let The Bells Keep Ringin' (10inch LP)"
Bewertung schreiben
Bewertungen werden nach Überprüfung freigeschaltet.
Weitere Artikel von Cab Calloway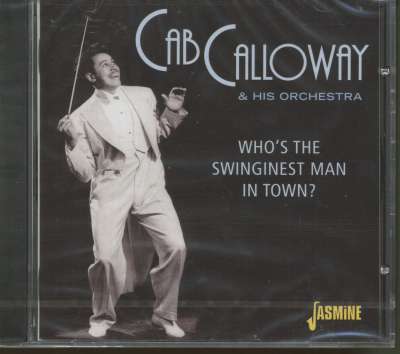 Cab Calloway: Who's The Swinginest Man In Town (CD)
Art-Nr.: CDJAS2588


Sofort versandfertig, Lieferzeit** 1-3 Werktage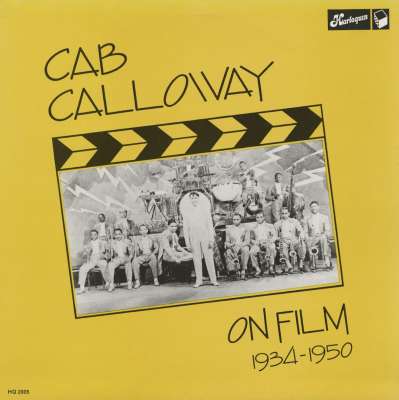 Cab Calloway: Cab Calloway On Film - 1934-1950 (LP)
Art-Nr.: LPHQ2005


Sofort versandfertig, Lieferzeit** 1-3 Werktage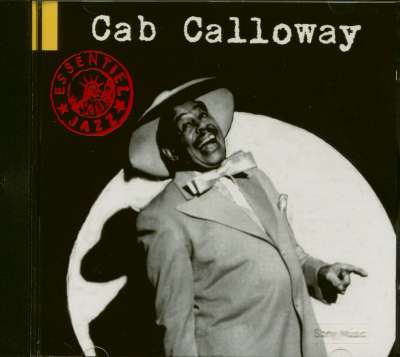 Cab Calloway: Essentiel Jazz (CD)
Art-Nr.: CDCOL4716892


Sofort versandfertig, Lieferzeit** 1-3 Werktage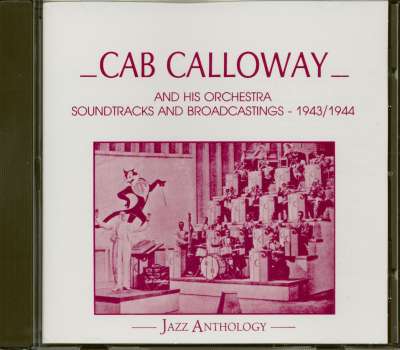 Cab Calloway: Jazz Anthology (CD)
Art-Nr.: CD550232


Sofort versandfertig, Lieferzeit** 1-3 Werktage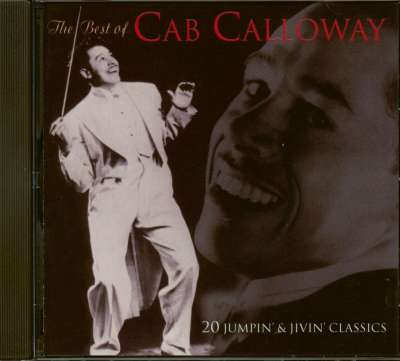 Cab Calloway: The Best Of Cab Calloway (CD)
Art-Nr.: CD306522


Sofort versandfertig, Lieferzeit** 1-3 Werktage