Der Artikel wurde erfolgreich hinzugefügt.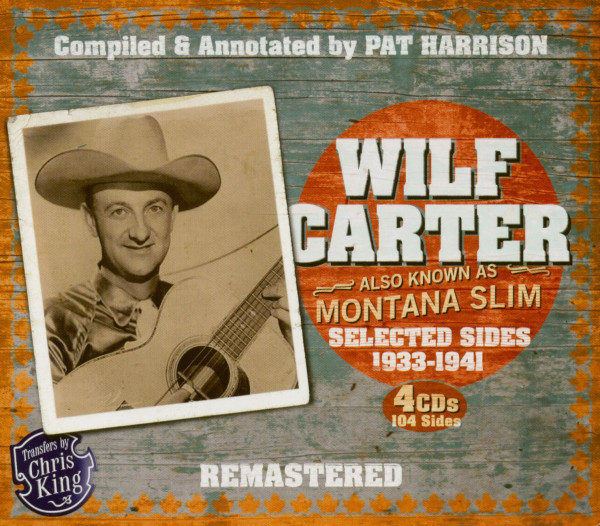 Benachrichtigen Sie mich, sobald der Artikel lieferbar ist.
inkl. MwSt. / zzgl. Versandkosten
Artikel derzeit nicht verfügbar, Lieferfristen von bis zu 2-3 Wochen sind zu erwarten. (soweit verfügbar beim Lieferanten - kann schneller gehen, manchmal aber leider auch nicht)
Artikel-Nr.:

CDJSP77162

Gewicht in Kg.:

0.4
(JPS Records) 104 tracks Obwohl er in den USA wenig in Erinnerung bleibt, ist der...
mehr
Wilf Carter: Selected Sides 1933-1941 (4-CD)
(JPS Records) 104 tracks
Obwohl er in den USA wenig in Erinnerung bleibt, ist der Countrysänger, Songwriter, Gitarrist und Jodler Wilf Carter zusammen mit Hank Snow, dem Pate der kanadischen Countrymusik, in seinem Heimatland weiterhin verehrt. Wilf Carter schrieb hunderte von Liedern, von Country und Western-Balladen bis hin zu Folk-Stücken und Penner- und Cowboyliedern, von denen er die meisten nur mit seiner Akustikgitarre aufnahm und viele von ihnen von seinem gekonnten Jodeln unterbrochen wurden.
Seine Seiten wurden in Kanada unter seinem eigenen Namen veröffentlicht, aber in den Staaten wurde er als Montana Slim anerkannt, ein Name, den er ebenfalls annahm. Diese ausladende Vier-Scheiben-, 104-Spur-Box vermessen seine frühen Jahre, von 1933 bis 1941, nach denen, obwohl er nach wie vor sehr beliebt in Kanada, begann seine Verkäufe in den Vereinigten Staaten zu sinken.

Artikeleigenschaften von

Wilf Carter: Selected Sides 1933-1941 (4-CD)
Albumtitel:

Selected Sides 1933-1941 (4-CD)

Genre

Country

Artikelart

CD

EAN:

0788065716226

Gewicht in Kg:

0.4
Carter, Wilf - Selected Sides 1933-1941 (4-CD)

CD 1
01
Rootin' Tootin' Cowboy
02
Yodelling Hillbilly
03
Rescue From Moose River Gold Mine
04
There'll Be No Blues Up Yonder
05
The Fate Of Old Strawberry Roan
06
Answer To Swiss Moonlight Lullaby
07
The Cowboy's Airplane Ride
08
Keep Smiling Old Pal
09
There's A Loveknot In My Lariat
10
My Little Yoho Lady
11
Where Is My Boy Tonight
12
The Hindenburg Disaster
13
When The Sun Says Goodnight To The Prairie
14
Everybody's Been Some Mother's Darling
15
The Little Red Patch On The Seat Of My Trousers
16
Down The Yodelling Trail At Twilight
17
Dusty Trails
18
By The Grave Of Nobody's Darling
19
What A Friend We Have In Mother
20
It Makes No Difference Now
21
I'm Only A Dude In Cowboy's Clothes
22
My Honeymoon Bridge Broke Down
23
Golden Lariat
24
Yodelling Love Call
25
We'll Meet Again In Peaceful Valley
26
My Dream's Come True
Carter, Wilf - Selected Sides 1933-1941 (4-CD)

CD 2
01
Swiss Moonlight Lullaby
02
The Capture Of Albert Johnson
03
When I Say Hello To The Rockies
04
Golden Memories Of Mother And Dad
05
My Old Canadian Home
06
Echoing Hills Yodel Back To Me
07
Let's Go Back To The Bible
08
Old Chuck Wagon Days
09
My Texas Sweetheart
10
If You Don't Really Care
11
My True And Earnest Prayer
12
Why Did We Ever Part?
13
I'm Thinking Tonight Of My Blue Eyes
14
Just One More Ride
15
Yodelling My Babies To Sleep
16
Memories That Never Die
17
He Rode The Strawberry Roan
18
Take Me Back To Old Montana
19
My Little Grey Haired Mother In The West
20
A Little Old Log Shack I Can Always Call My Home
21
I Miss My Swiss
22
Sway Back Pinto Pete
23
The Life And Death Of John Dillinger
24
Awaiting The Chair
25
Calgary Round Up
26
Pete Knight, King Of The Cowboys
Carter, Wilf - Selected Sides 1933-1941 (4-CD)

CD 3
01
The Cowboy's High-Toned Dance
02
I Bought A Rock For A Rocky Mountain Gal
03
Streamlined Yodel Song
04
By The Silvery Moonlight Trail
05
My Blues Have Turned To Sunshine
06
Sundown Blues
07
The Dying Mother's Prayer
08
Cowboy's Mother
09
Smoke Went Up The Chimney Just The Same
10
I'm Gonna Ride To Heaven On A Streamlined Train
11
The Two Gun Cowboy
12
Cowboy Lullaby
13
Lonesome For My Baby Tonight
14
Hillbilly Valley
15
Roundup Time In Heaven
16
Dreamy Prairie Moon
17
Answer To It Makes No Difference Now
18
Roll Along Kentucky Moon
19
It's All Over Now (I Won't Worry)
20
Rattlin' Cannonball
21
Why Should I Be Sorry For You Now
22
Beautiful Girl Of The Prairie
23
What A Wonderful Mother Of Mine
24
You Are My Sunshine
25
You Were With Me In The Waltz Of My Dreams
26
When That Somebody Else Were You
Carter, Wilf - Selected Sides 1933-1941 (4-CD)

CD 4
01
Waiting For A Train
02
I'm Hittin' The Trail
03
I'm Gonna Ride To Heaven On A Streamlined Train
04
Why Did We Ever Part?
05
The Last Letter
06
That First Love Of Mine
07
Dreaming Of My Blue Eyes
08
No Letter Today
09
You'll Get Used To It
10
Put Me In Your Pocket
11
Old Shep
12
My Queen Of The Prairies
13
I Ain't Gonna Be A Hobo No More
14
A Sinner's Prayer
15
My Blue Skies
16
Don't Be Mean, I Wasn't Mean To You
17
It's A Cowboy's Night To Howl
18
Red River Valley Blues
19
The Two Gun Cowboy
20
He Left The One Who Loved Him For Another
21
My Old Lasso Is Headed Straight For You
22
Call Of The Range
23
It's Great To Be Back In The Saddle Again
24
We'll Meet Again In Peaceful Valley
25
Under The Light Of The Texas Moon
26
I'm Still Waiting For You
Wilf Carter geb. 18. 12. 1904 in Port Hilford - Nova Scotia - Kanadagest. 5. Dezember 1996 in...
mehr
"Wilf Carter"
Wilf Carter
geb. 18. 12. 1904 in Port Hilford - Nova Scotia - Kanadagest. 5. Dezember 1996 in Scottsdale, ArizonaRecord Labels: RCA, Decca, Apex, Starday, Bear Family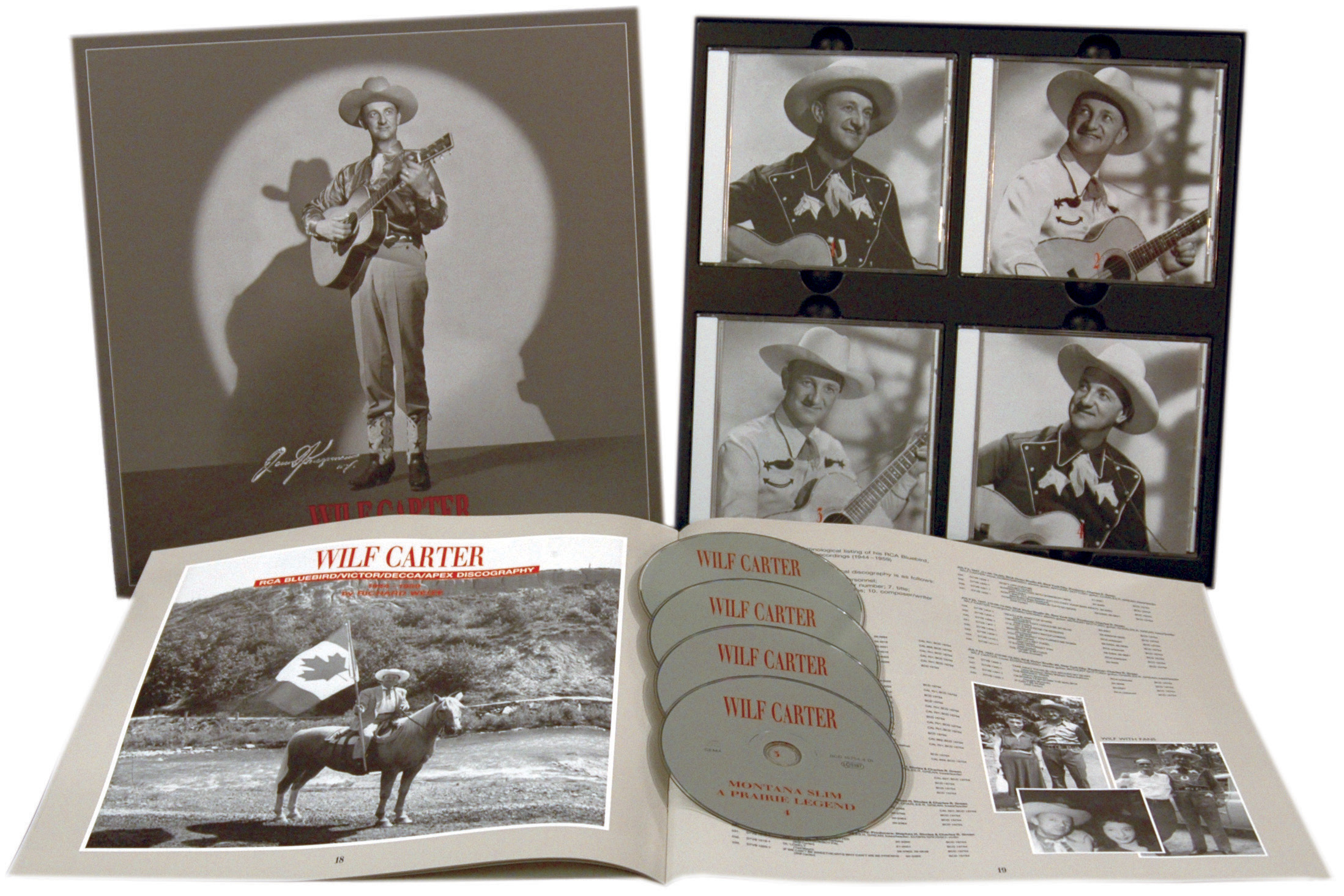 Wilf Carter, in den USA auch als Montana Slim bekannt geworden, war der erste große kanadische Country Star und dies, obwohl er nie in den überregionalen Hitparaden aufgetaucht war. Carter war stark von der Musik Jimmie Rodgers' beeinflusst und bediente sich immer erfolgreich des Cowboy Images. Seine Karriere begann Wilf Carter in den frühen 30er Jahren bei der Radiostation CF CN in Calgary, wenig später nahm er ein Angebot des CBS Networks an. Seine erste Schallplatte nahm er im Dezember 1933 in den RCA Studios von Montreal auf. lm Verlauf der Jahre hat Wilf Carter weit über 500 Songs geschrieben und unzählige Platten aufgenommen. Sein Vater war, wie er erst kürzlich in einem Interview erklärte, gebürtiger Schweizer."
Wilf Carter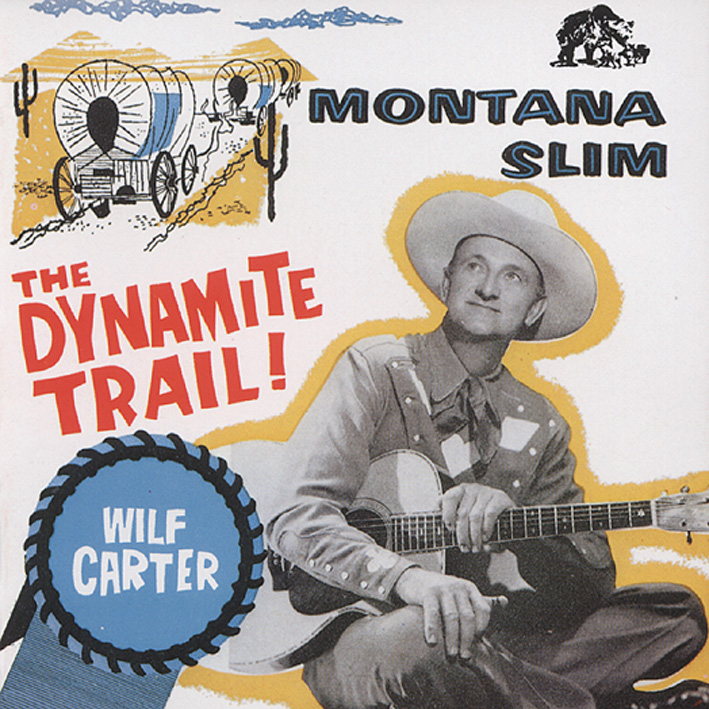 Vielleicht startete der vollendete kanadische Country-Sänger Wilf Carter (1904-1996) seine Karriere im selben Jahr, als Jimmie Rodgers starb. Carter zeigte wenig musikalische Affinität zu Rodgers' Blue Yodels und bevorzugte stattdessen seine Balladen, westlichen Songs und pop-orientiertes Material. Als Jodler tendierte Carter zu konventionellen Schweizer Stilen, eine Technik, die er wahrscheinlich von Schallplatten und Vaudevillianern gelernt hat, die durch seine Heimatstadt Nova Scotia gingen. Obwohl er in seinem Heimatland Kanada als Wilf Carter angekündigt wurde, kannte ihn das amerikanische Publikum als Montana Slim, ein Spitzname, der feststeckte, als Ansager Bert Parks seinen Namen während einer CBS-Radiosendung vergaß. Carter nahm sein erstes Rodgers-Cover, Roll Along Kentucky Moon, während einer Bluebird-Session 1939 in New York auf. Diese Version von Whisper Your Mother's Name stammt aus Carters zweiter Anstellung bei RCA, die hauptsächlich Material für preisgünstige kanadische Alben generierte. (Dave Samuelson)
Bewertungen lesen, schreiben und diskutieren...
mehr
Kundenbewertungen für "Selected Sides 1933-1941 (4-CD)"
Bewertung schreiben
Bewertungen werden nach Überprüfung freigeschaltet.
Weitere Artikel von Wilf Carter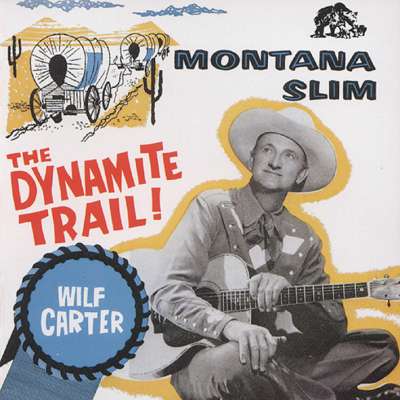 Wilf Carter: Dynamite Trail
Art-Nr.: BCD15507


Sofort versandfertig, Lieferzeit** 1-3 Werktage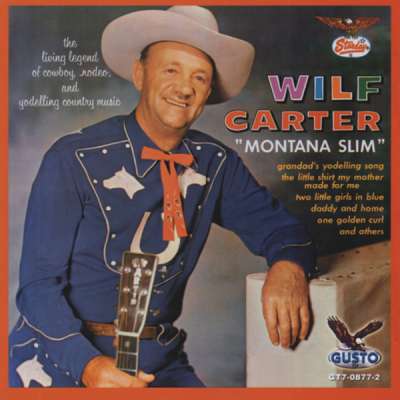 Wilf Carter: Montana Slim
Art-Nr.: CDGT0877


Artikel muss bestellt werden