Der Artikel wurde erfolgreich hinzugefügt.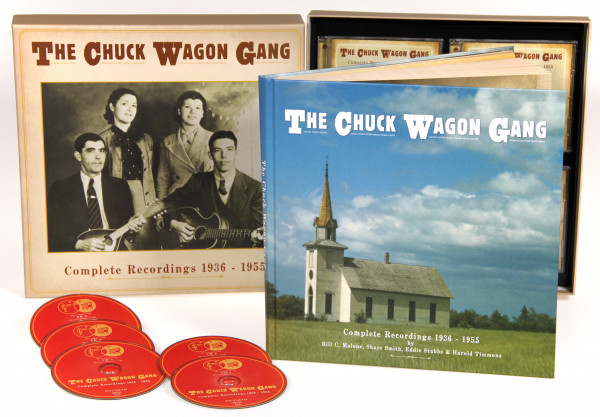 99,95 € *
109,95 € *
(9,1% gespart)
inkl. MwSt. zzgl. Versandkosten
Sofort versandfertig, Lieferzeit** 1-3 Werktage
5-CD Box (LP-Format) mit 148-seitigem gebundenen Buch, 152 Einzeltitel. Gesamtspieldauer ca. 410...
mehr
CHUCK WAGON GANG: The Complete Recordings 1936-1955 (5-CD Box)
5-CD Box (LP-Format) mit 148-seitigem gebundenen Buch, 152 Einzeltitel. Gesamtspieldauer ca. 410 Minuten.
Seit ihrer Gründung im Jahr 1936 führt die Chuck Wagon Gang bis zum 
heutigen Tag die traditionellen Gospelsongs auf, so wie sie 'Dad' Carter seinen Kindern beigebracht hat.
Sie nahmen über 800 Songs auf und verkauften weltweit 40 Millionen 
Schallplatten.
Diese Box enthält die kompletten Aufnahmen mit Gründer 'Dad' Carter von 
1936 - 1955 inklusive unveröffentlichter Aufnahmen und Raritäten.
Das Begleitbuch enthält Abhandlungen von Bill C. Malone, Eddie 
Stubbs, Harold Timmons and Gruppenmitglied Shaye Smith, plus seltene Fotos und Illustrationen aus dem Privatarchiv der Chuck Wagon Gang.
Vorwort von Marty Stuart.
Auszüge aus dem Vorwort:
"Es begab sich Anfang der 1930er Jahre.
Gott sprach, und aus der staubigen Erde von Texas erschallte ein Klang…
und dieser wird uns für immer als der Gesang der
Chuck Wagon Gang in Erinnerung bleiben."
Wie wunderschön müssen diese Harmonien geklungen haben, als die Sonne im Westen unterging. Die Worte und die Musik waren sicherlich ein wohltuender Balsam für ein ermüdetes Volk. Weiß der Himmel, wieviele Herzen durch diese Musik berührt wurden.
Jetzt, im 21. Jahrhundert, können wir uns immer noch um die Chuck Wagon Gang herum versammeln und haben die besondere Ehre, uns ihre himmlischen Lieder anzuhören, die Frieden, Hoffnung und Verheißung versprechen für uns alle, die wir hier unten in dieser lauten, lärmenden Welt wandeln.
Marty Stuart
PDF Download
Video von CHUCK WAGON GANG - The Complete Recordings 1936-1955 (5-CD Box)
Artikeleigenschaften von

CHUCK WAGON GANG: The Complete Recordings 1936-1955 (5-CD Box)
Albumtitel:

The Complete Recordings 1936-1955 (5-CD Box)

Genre

Country

Preiscode

EK

Edition 2

Deluxe Edition

Artikelart

Box set

EAN:

5397102173486

Gewicht in Kg:

1.5
Chuck Wagon Gang - The Complete Recordings 1936-1955 (5-CD Box)

Box set 1
01
The Son Hath Made Me Free
02
We Miss You Mother
03
Kneel At The Cross
04
A Beautiful Life
05
A Beautiful Life (take 2)
06
The Church In The Wildwood
07
The Church In The Wildwood (take 2)
08
I'd Rather Have Jesus
09
Standing Outside
10
Will You Meet Me Over Yonder?
11
Massa's In The Cold, Cold Ground
12
Take Me Back To Renfro Valley
13
At The Rainbow's End
14
Take Me Back To Col-ler-rad-da Fer To Stay
15
Take Me Back To Col-ler-rad-da Fer To Stay (take 2)
16
Carry Me Back To The Mountains
17
Echoes From The Hills
18
Mother Of The Valley
19
Mother Of The Valley (take 2)
20
Wonder Valley
21
Wonder Valley (take 2)
22
I'll Be All Smiles Tonight
23
Put My Little Shoes Away
24
Sunny South By The Sea
25
My Wild Irish Rose
26
My Wild Irish Rose (take 2)
27
Where The River Shannon Flows
28
The Engineer's Child
29
The Engineer's Child (take 2)
30
I Want To Be A Real Cowboy Girl
31
The Little Green Mound On The Hill
32
Oklahoma Blues
Chuck Wagon Gang - The Complete Recordings 1936-1955 (5-CD Box)

Box set 2
01
The New Frontier
02
The New Frontier (take 2)
03
Cowboy Yodel
04
Cowboy Yodel (take 2)
05
Will You Love Me (When My Hair Has Turned To Silver?)
06
Mississippi Valley Blues
07
Mississippi Valley Blues (take 2)
08
Texas Star
09
Texas Star (take 2)
10
After The Sunrise
11
Higher
12
I Love To Tell Of His Love
13
Getting Ready To Leave This World
14
Heaven Is My Home
15
We Are Climbing
16
Lord, Lead Me On
17
An Empty Mansion
18
I've Found A Hiding Place
19
Holding To His Hand Of Love
20
Sunset Is Coming (But The Sunrise We'll See)
21
Holy Be Thy Great Name
22
He Set Me Free
23
He Set Me Free (take 2)
24
Wonderful
25
Love Is The Key
26
Coming
27
I'll Be No Stranger There
28
We Shall Have Glory Afterwhile
29
We Shall Have Glory Afterwhile (take 2)
30
O Rock Of Ages, Hide Thou Me
Chuck Wagon Gang - The Complete Recordings 1936-1955 (5-CD Box)

Box set 3
01
He's Coming Again
02
I Love My Savior, Too
03
I Love My Savior, Too (take 2)
04
On The Jericho Road
05
Jesus, Hold My Hand
06
Mighty Close To Heaven
07
Mighty Close To Heaven (take 2)
08
If We Never Meet Again
09
If We Never Meet Again (alt)
10
The Sunshine Special
11
Looking For A City
12
I'll Have A New Life
13
Sinner, You'll Miss Heaven
14
Echoes From The Burning Bush
15
I'll Fly Away
16
Dream Boat
17
Help Me, Lord, To Stand
18
Shall We Gather At The River?
19
The Signs By The Side Of The Road
20
Perfect Joy
21
My Soul Shall Live On
22
My Soul Shall Live On (alt)
23
When The Saints Go Marching In
24
On And On We Walk Together
25
No Tears In Heaven
26
Come Unto Me
27
My Home, Sweet Home
28
Springtime In Glory
29
I Am Bound To Travel On
30
Stormy Waters
31
A Happy Day
Chuck Wagon Gang - The Complete Recordings 1936-1955 (5-CD Box)

Box set 4
01
Travelling On
02
Somebody Called My Name
03
Camping In Canaan's Land
04
Help Me To Be Ready, Lord
05
He Said If I Be Lifted Up
06
I'm Telling The World About His Love
07
Is Your Name In The Book Of Life?
08
I've Changed My Mind
09
Way Up In Glory
10
Walk And Talk With Jesus
11
Get A Touch Of Heaven In Your Soul
12
Whisper My Name In Prayer
13
Way Up In Glory
14
Blessed Light, Shine On
15
I Know My Savior Cares
16
All God's Children Rise And Shine
17
After Awhile
18
Just Veil Between
19
We'll Be Happy All The Time
20
At The Dawning
21
When He Calls I'll Fly Away
22
Hide Me, Rock Of Ages
23
There's Glory On The Winning Side
24
Love Leads The Way
25
Home Of The Soul
26
Jesus Calls For Workers
27
I'm Finding New Joy
28
God Put A Rainbow In The Cloud
29
A Soul Winner For Jesus
30
Angels Rock Me To Sleep
31
As The Life Of A Flower
Chuck Wagon Gang - The Complete Recordings 1936-1955 (5-CD Box)

Box set 5
01
I Want To Be Ready To Meet Him
02
I've A Precious Friend
03
In My New Home
04
In The Garden
05
I'll Shout And Shine
06
Wonderful Saviour
07
After Awhile
08
Joshua Led God's Children
09
Joy To The World
10
Silent Night, Holy Night
11
The First Nowell
12
Hark! The Herald Angels Sing
13
O Little Town Of Bethlehem
14
O Come, All Ye Faithful (Adeste Fideles)
15
It Came Upon A Midnight Clear
16
Tattler's Wagon
17
While Shepherds Watched Their Flocks
18
I've Got That Old Time Religon In My Heart
19
O Why Not To-Night?
20
In The Sweet Forever
21
There's Gonna Be Shouting And Singing
22
I'm Gonna See Heaven
23
I'm Glory Bound
24
I've Been With Jesus
25
When The Sun Sets Over Jordan
26
A Lot Of Heaven
27
I'm Bound For The Kingdom
28
I'm Gonna Take A Ride
The Chuck Wagon Gang Die Chuck Wagon Gang Original Mitglieder: Rose Carter...
mehr
"CHUCK WAGON GANG"
The Chuck Wagon Gang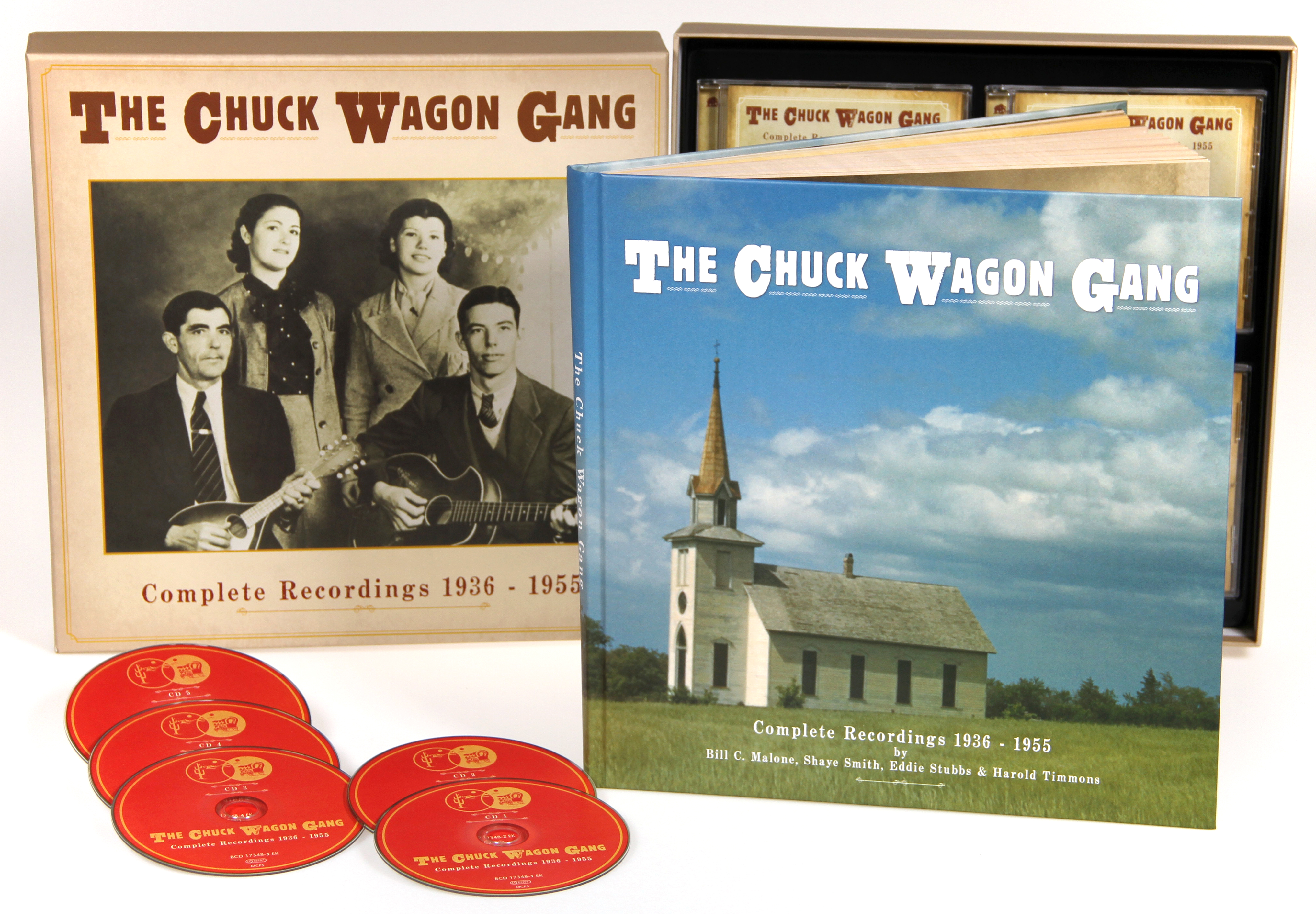 Die Chuck Wagon Gang
Original Mitglieder: Rose Carter Karnes, Anna Carter, D.P. Dad Carter, Ernest Jim Carter Plattenfirmen: ARC, Columbia, Harmony Die Chuck Wagon Gang ist die wichtigste und am längsten existierende Country Gospel Gruppe. Aus Bledsoe - Texas stammend, begann Vater D.P. Carter mit seinen drei Kindern als The Carter Quartet 1935 bei der Radiostation KYFO in Lubbock - Texas. 1936 zog die Gruppe nach Fort Worth, wo sie bei der Station WBAP Arbeit fand und wenig später den Namen ,Chuck Wagon Gang von einer anderen Gruppe übernahm. Bin 25. 11. 1936 dann die ersten Schall- Plattenaufnahmen für ARC, eine Firma, die später von Columbia übernommen wurde. Die Chuck Wagon Gang, die in den ersten Jahren auch noch Western Songs im Repertoire hatte, spezialisierte sich rasch ganz auf Gospel Songs. Im Verlauf der Jahrzehnte änderte sich auch die Besetzung. Als sich in den 50er Jahren Dad Carter aus gesundheitlichen Gründen zurückziehen musste trat Sohn Eddie Carter an seine Stelle. Weitere Mitglieder der Gruppe: Pat McKeehan, Jimmy Wesson, Howard Gordon und Roy Carter. Die Gruppe blieb schnell 40 Jahre bei Columbia und hat 408 Songs eingespielt. Bin 3. 4. 1985 wurde D.P.Carter posthum in die ,Gospel Music Associations Hall Of Fame aufgenommen.
Zu Beginn der 1930er Jahre sprach Gott und rief aus dem texanischen Staub ein Geräusch hervor.... ein Geräusch, das für immer als das der Chuck Wagon Gang bekannt sein wird.
David Parker 'Dad' Carter, Rose, Anna, Ruth Ellen, Anne und Bettye zusammen mit den Brüdern Jim, Roy und Eddie - sowie einer Vielzahl von Sängern und Musikern in den nächsten Jahrzehnten - würden ein profundes Werk mit zeitloser Ausstrahlung schaffen. Der Himmel weiß nur, wie viele Herzen die Musik der Chuck Wagon Gang berührt hat.
Ähnlich wie die Carter-Familie (keine Verwandte) der Appalachian Mountains of Virginia, die bei der Gründung der Country-Musikindustrie anwesend waren, wurde die Carter-Familie von Texas aufgefordert, den Grundstein der amerikanischen Gospelmusik zu legen. In den einfachsten und doch elegantesten musikalischen Begriffen, bewaffnet mit nur einer Gitarre und einem Lied, sang die Chuck Wagon Gang das amerikanische Publikum aus der Weltwirtschaftskrise, durch Kriege, Attentate, Revolutionen, Fahnenverbrennungen, Kirchen- und Staatsskandale, zahlreiche Präsidenten und eine Drehtür der wechselnden Zeiten. Damals wie heute dient ihre Musik als leitendes Licht, das von einem friedvollen, fernen Ufer einlädt. Ihre Botschaft trägt die Wahrheit, aber sie verurteilt niemanden. Die Texte der Chuck Wagon Gang stellen jedoch die gleiche Frage wie der alte Gewerkschaftssong Which Side Are You On? Die Entscheidung liegt beim Zuhörer.
Wenn die Chuck Wagon Gang nichts anderes getan hätte, als die Originalversion von Albert E. Brumleys I'll Fly Away aufzunehmen, wäre ihr Vermächtnis als amerikanische Gospelgrößen sicher gewesen. Das Lied ist heute so weltweit bekannt und wurde auf so viele Arten interpretiert, dass es oft durch das Gewicht seines eigenen Ruhmes zerquetscht wird. Doch beim Hören der Originalaufnahme wird man an ihre Schönheit erinnert und bekommt einen Einblick in die Majestät des Himmels: Gesang, Songwriter und Boten in perfekter Einheit. Die Aufnahme scheint nur ein guter Country-Gesang eines bekannten alten Liedes zu sein. Doch je weiter man in die Rillen vordringt, umso mehr entfaltet sich Schicht für Schicht die Größe. Die Töne und Nuancen in diesem Country-Gesang sind jenseits der Welt, geheimnisvoll, weitläufig. Wenn du tief genug schaust, kannst du fast die gesalbte Kraft sehen, die mich in die Ewigkeit treibt.
Die Schönheit der Chuck Wagon Gang war, wie bescheiden sie im Geiste inmitten der Sache waren. Die Gruppe tauchte einfach bei einem Aufnahmetermin auf, stimmte die Gitarre, wärmte sich auf, schlug den berühmten Akkord, versammelte sich um das Mikrofon und sang ein Lied, an das sie glaubten. Ich wäre bereit, auf der Farm zu wetten, dass auf dem Heimweg von der Sitzung niemand sagte: "Dieser Fly Away Song, den wir heute gemacht haben, wird die Welt in Brand stecken." Das Lied hat sie ausgewählt.
Einer der Zuhörer, die die Chuck Wagon Gang mit diesem Lied berührte, war ein Arlington, Mississippi-Baumwollbauer namens Elry Lee Johnson. Er war mein Opa. Ich war in seiner Gegenwart, als ich die Gruppe das erste Mal singen hörte. Es war um die Mittagszeit an einem Wochentag Mitte der 60er Jahre, als Pa nach der Arbeit auf dem Feld zum Mittagessen ins Haus kam. Nach dem Mittagessen stimmte er sich in Philadelphia, Mississippis WHOC-Radiosender, ein, um ihre Mittags-Gospel-Sendung zu hören, bevor er zu seiner Arbeit zurückkehrte. Ich habe nie den Blick auf seinem Gesicht vergessen, als er mit geschlossenen Augen in seinem Lieblingsstuhl saß, seine staubige Arbeitskleidung und Broganschuhe trug und der Chuck Wagon Gang beim Singen zuhörte. Während das Lied gespielt wurde, streichelte er seinen Fuß gerade so weit, dass ich die Nagelköpfe auf seinen Ledersohlen leicht auf dem Linoleumboden hören konnte. Sein Gesichtsausdruck kann nur als perfektes Porträt von Ruhe und Zufriedenheit beschrieben werden. Als es vorbei war, stand er auf und sagte: "Das ist sehr gut", setzte seinen Hut auf und ging wieder an die Arbeit. Es war Macht

Forword by Marty Stuart for our CHUCK WAGON GANG The Complete Recordings 1936-1955 (5-CD Box)
Read more at: https://www.bear-family.de/chuck-wagon-gang-the-complete-recordings-1936-1955-5-cd-box.html Copyright © Bear Family
Bewertungen lesen, schreiben und diskutieren...
mehr
Kundenbewertungen für "The Complete Recordings 1936-1955 (5-CD Box)"
Von:
BF Presse
Am:
14.07.2015
Gold standard
Bluegrass Unlimited 6/15 "Bear Family sets are today's gold standard for country and bluegrass archival production, and this one is no exception."

Von:
BF Presse
Am:
25.06.2015
Zeitreise der besonderen Art
KulturSPIEGEL 3/15 "Die 5 CDs dieser Box bieten eine Zeitreise der besonderen Art."

Bewertung schreiben
Bewertungen werden nach Überprüfung freigeschaltet.
Weitere Artikel von CHUCK WAGON GANG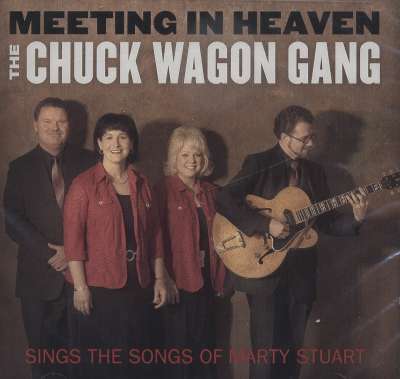 CHUCK WAGON GANG: Meeting In Heaven
Art-Nr.: CDNH728109


Sofort versandfertig, Lieferzeit** 1-3 Werktage