Der Artikel wurde erfolgreich hinzugefügt.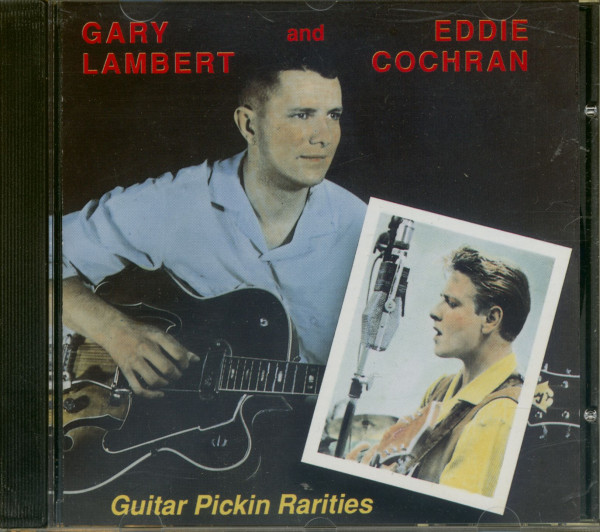 Dieser Artikel ist gestrichen und kann nicht mehr bestellt werden!
Benachrichtigen Sie mich, sobald der Artikel lieferbar ist.
Artikel-Nr.:

CDSJ594

Gewicht in Kg.:

0.1
(1992/Sunjay) ​GARY LAMBERT & EDDIE COCHRAN Back in 1957/8, at the point where pure Rockabilly...
mehr
Eddie Cochran & Gary Lambert: Guitar Pickin' Rarities (CD)
(1992/Sunjay)
​GARY LAMBERT & EDDIE COCHRAN
Back in 1957/8, at the point where pure Rockabilly was giving way to mainstream Rock 'n' Roll & Teen Pop, Glen Glenn & his Merrie Men, solidly caught in a timewarp somewhere in California, produced some blistering pure Rockabilly records, such as 'Everybody'sMovin-, 'Blue Jeans & a Boys Shirt' & 'I'M glad my baby's gone away', all licensed to Era Records. As it happened, these great 45's were not destined to knock Perry Como off the charts & it was not until 1977, when Ace records issued their classic album 'Hollywood Rock 'n' Roll', that the public began to take more notice of these spinetingling Rockers.
One point often forgetten by the public is that without the Musicians, these records would simply never have been made &, in this instance, it would be hard to ignore the almost unbearably exciting guitar breaks strongly featured on Glen's records. ... Meet GARY LAMBERT.
Glen & Gary were high school friends, who would frequent the Sunday 'Squeakin- Deacon' Radio show put out from the Riverside Rancho. Glen & Gary won first prize on the show performing 'Dim Lights, Thick Smoke' & began to call themselves 'The Missouri Mountain Boys', although Gary was a Californian!
From 1954 - 1956, the duo worked regularly in clubs, theatres & were featured on the Country Barn Dance every saturday, shown on TV & made regular appearances on Cliffie Stone'sHometown Jamboree. It was at the Barn Dance that they first met up with the Maddox Brothers & Rose & it was Fred, who suggested to Glen that they should move towards the new music' called Rock 'n' Roll. The duo recorded some acetates at the KXLA Studios in 1955, which still exist & Gary can be heard hitting some fine 'licks', which border on Rockabilly. Later they were to tour Southern California with Marty Robbins, Wanda Jackson & Tom Tall. Finally, in April 1956, Glen saw Elvis performing & the Missouri Mountain Boys moved towards Rock 'n' Roll, although a superb Country Music session exists made in September 1956, which features Ralph Mooney & Gary. Still, it was not until December 3rd. 1957, that Gary & Glen entered Garrison Studio, Long Beach to cut the original versions of One Cup of Coffee/ Kathleen' to be followed on January 15th. 1958 by a visit to Goldstar Studios, Hollywood, where the boys laid down 'Everybody's Movin-, 'I'm glad my baby's gone away', 'Would ja' & another version of One cup of Coffee'. Most of Glen's records feature Gary on lead guitar & there are many 'Live' tapes, which also feature his controlled, exciting playing, Virtually everything is worth listening too & there can be no doubt that Gary's individual guitar work is a major contributory factor in the artistic success of Glen's recordings.

Gary, however, had a strong interest in the playing style of Chet Atkins & he would mix this style in with his own to sit at home & play standards. This ultimately lead to this historic recording, unreleased until now. Every night, at Midnight, KWOW Radio, 1600 on the dial, would broadcast a Record show, which would often feature Local Talent that might come in to play 'Live' or perhaps to have a tape played on the air, which had been locally recorded. D.J's were Skip Graves & Jack Morris & it was on this show that the tapes for this release were first heard.
Eddie Cochran was in a strangely similar position to Gary. He was an accomplished guitar player, and had some record success, but was caught up in having to always play basic Rock 'n" Roll Guitar in public. He was a tremendous Rock guitarist, but yearned to play other styles & sometime back in the summer or fall of 1957, Gary & Eddie converged on Gary's parents home & recorded nearly 40 titles over a period of 18 hours. Eddie was 3 1/2 years younger than Gary, but Gary himself explained that Eddie was the only guitarist, anywhere near his own age, who could play this style of guitar & they just wanted the chance to commit something onto tape to see how they sounded. Gary asked Eddie to play on a session for Tommy Brooks in December 1959, but Eddie was unavailable. Finally, in early 1960, Eddie & Gary 'crossed guitars' again at a jam session in a club in Ei Monte, California. They never met again & shortly after Eddie was gone.
This 20 track package is fascinating in that, there are just the Two Guitar players featured, running through a little Rock 'n' Roll, some Blues, some Country, some song Standards & some pure instrumentals. Gary plays Lead guitar on 14 of the titles featured here with Eddie taking the lead on the remaining 6. Gary & Eddie both play rhythm guitar to the other's Lead.
In the 1960's, Gary more or less left the Music business & went into construction, something at which he has been extremely successful. He lives comfortably in San Bernadino, California with his wife Jean, herself, at one time part of the Smith Sisters act, who sang on several of Glens's early recordings. Gary still plays extensively in private, visits Chet Atkins conventions & has proved to be a fine player, but he has absolutely no plans to return to the hurly burly world of show business & is content to enjoy the acknowledgements he receives for his recorded work in the 1950's & 1960's.
This release coordinated by Johnny Sandberg / SUNJAY Sleevenotes by Dave Travis Frontpicture coloured by Ulf EkstrOm Special Thanks to Gary Lambert
DAVE TRAVIS -June 1991


Artikeleigenschaften von

Eddie Cochran & Gary Lambert: Guitar Pickin' Rarities (CD)
Albumtitel:

Guitar Pickin' Rarities (CD)

Genre

Rock'n'Roll

Artikelart

CD

EAN:

7029683671027

Gewicht in Kg:

0.1
Lambert, Gary & Eddie Cochran - Guitar Pickin' Rarities (CD)

CD 1
01
Boogie Woogie Breakdown
02
Tea For Two
03
Dixie
04
Jersey Bounce
05
T.D.'s Boogie
06
Rock Around The Clock
07
Memphis Blues
08
Rock A Bye Boogie
09
Elmar's Tune
10
Bye Bye Blues
11
Steel Guitar Rag
12
High Rocking Swing
13
St. Louis Blues
14
Jazz Me Blues
15
Wabash Blues
16
Til I Waltz Agan With You
17
Blue Steel Blues
18
Panhandle Rag
19
Gary's Tune
20
Gary's Tune
Bewertungen lesen, schreiben und diskutieren...
mehr
Kundenbewertungen für "Guitar Pickin' Rarities (CD)"
Bewertung schreiben
Bewertungen werden nach Überprüfung freigeschaltet.