Der Artikel wurde erfolgreich hinzugefügt.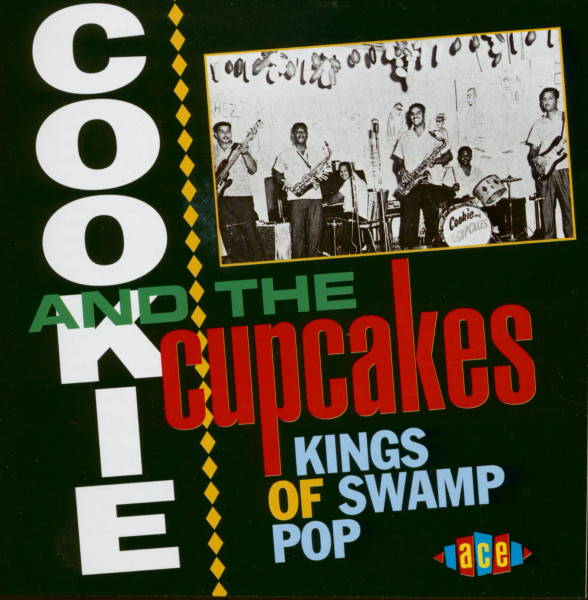 Artikel-Nr.:

CDCHD142

Gewicht in Kg.:

0.1
(Ace Records) 30 Titel 1956-64 (79:17) mit 12-seitigem Booklet. - Ich vermute, dass im...
mehr
Cookie & The Cupcakes: Kings Of Swamp Pop (CD)
(Ace Records) 30 Titel 1956-64 (79:17) mit 12-seitigem Booklet.
-
Ich vermute, dass im goldenen Zeitalter des Sumpfpop, das oft von 1958 bis 1963 genannt wird, nur wenige Menschen in diesem Land von Cookie und den Cupcakes gehört haben.
Ich gestehe Ignoranz bis in die 70er Jahre, als ich ihre Neuauflage-LPs auf dem Jin-Label kaufte. Heute wird jeder Liebhaber sofort Mathilda als das herausragende Angebot der Cupcakes zitieren. In seinem Buch'South To Louisiana' beschreibt John Broven es so: Wenn der Swamp-Pop eine charakteristische Melodie, eine Hymne hat, muss es die Quintessenz'Mathilda' sein.
Aufgenommen für George Khoury's Lyric Label und vermietet an Judd (im Besitz von Judd Phillips of Memphis), stieg die Single Anfang 1959 auf Platz 47 der Billboard Charts. Mathilda wäre sicher mit einer größeren Firma dahinter höher gegangen. Cookie's weinende Stimme war umwerfend. Billboard hatte Recht, als es bemerkte, dass "die Katze einen Klang hat und er ihn als tho' aus den Sümpfen gürtet". Die instrumentale Unterstützung der Cupcakes, die Saxophone, das Tripleting Piano und die wirbelnde Gitarre über einem wallenden Beat, war ebenso majestätisch, während der Song selbst denkwürdig melodisch war.
Noch heute akzeptiert jeder, dass, wenn eine lokale Band Mathilda spielt und niemand tanzt, die Musiker genauso gut packen und nach Hause gehen können. Johnnie Allan spricht über Cookie's großen Einfluss auf andere Künstler und darüber, wie Mathilda auf allen Radiostationen, Cajun, Country und Western, Rock'n'Roll und R&B gespielt wurde. Geschrieben um 1956, aber erst 1958 aufgenommen, nachdem er unter anderem von Eddie Shuler und Don Robey abgelehnt wurde, ist es diese Hitversion, die die CD schließt und nicht mit dem ebenfalls enthaltenen Remake von 1962 verwechselt werden sollte.
Ausgehend von den Boogie Ramblers und mit Huey'Cookie' Thierry erst kürzlich beigetreten, unterschrieben die Cupcakes im Juli 1952 bei Eddie Shuler's Goldband Label, aber aus irgendeinem Grund wurde die Single Cindy Lou /Such As Love, mit Originalmitglied Shelton Dunaway am Gesang, erst 1955 veröffentlicht. Dieses historische Angebot wird hier vorgestellt. Cookie wurde gemeinsam mit Shelton zum Anführer, der sich Gesang und Tenorsaxophon teilte. Weitere Mitglieder waren Sidney'Hot Rod' Reynaud, Tenorsax-.-Marshall LeDee, Gitarre-.-Ernest Jacobs, Piano-.-Joe'Blue' Landry, Bassgitarre-.-und Ivory Jackson, Schlagzeug.
Um 1963 kam Little Alfred (Babino) nach seinem Erfolg mit Walking Down The Aisle hinzu, der mit den Berry Cups aufgenommen wurde, die den Cupcakes nachempfunden waren. Zwischen 1959 und 1964 erschien ein Haufen emotionaler Sumpf-Pop-Klassiker, darunter Until Then, I've Been So Lonely, Even Though, the lively I Cried and the wonderful Belinda. Auch Coverversionen erschienen, angepasst an den unnachahmlichen Cupcakes-Stil, aber meist originalgetreu, wie der traditionelle Betty & Dupree-Got You On My Mind, der Big John Greer R.&B-Hit von 1952-.-Ivory Joe Hunter's I Almost Lost My Mind-.-Jiving Gene's Breaking Up Is Hard To Do-.-Shirley and Lee's Feel So Good-.-Pat Philips' Sea Of Love-.-Joe Turner's Honey Hush-.-Chuck Willis' Charged With Cheating-.-and the Platters' The Great Pretender featuring Carol Fran.
Alle Tracks wurden neu gemastert, um den bestmöglichen Sound zu erzielen, und das zeigt sich im Vergleich zur japanischen P-Vine CD von 1990, der einzigen anderen Veröffentlichung in diesem Format, von der ich weiß, dass sie einige der 30 Tracks enthält. Shane K. Bernards Booklet-Notizen erzählen auch die Geschichte von Cookies Verschwinden aus South Louisiana Mitte der 60er Jahre (er zog nach Los Angeles) - von den Gerüchten über seine Behinderung oder gar den Tod - und von seiner Wiederentdeckung durch Cupcakes' Pianisten Ernest Jacobs im Jahr 1992. Er war behindert, konnte aber mit Hilfe eines Stockes laufen, wie er 1995 bei der Blues Estafette in Utrecht, unterstützt von den wiederbelebten neunteiligen Cupcakes mit Shelton Dunaway, Ernest Jacobs,'Hot Rod' Reynaud, Little Alfred und Marshall LeDee.
Es war ein denkwürdiger Auftritt und dies ist eine denkwürdige CD.
Artikeleigenschaften von

Cookie & The Cupcakes: Kings Of Swamp Pop (CD)
Albumtitel:

Kings Of Swamp Pop (CD)

Genre

Rock'n'Roll

Artikelart

CD

EAN:

0029667114226

Gewicht in Kg:

0.1
Cookie & Cupcakes - Kings Of Swamp Pop (CD)

CD 1
01
Got You On My Mind
02
Mathilda
03
I'm Twisted
04
The Great Pretender
05
I've Been So Lonely
06
I Cried
07
Breaking Up Is Hard To Do
08
Betty And Dupree
09
I Almost Lost My Mind
10
Feel So Good
11
Charged With Cheating
12
Sea Of Love
13
Close Up The Back Door
14
Until Then
15
Even Though
16
Honey Hush
17
Belinda
18
Trouble In My Life
19
Who Would Have Thought It
20
I Had The Blues
21
Walking Down The Aisle
22
Franko-Chinese Cha Cha Cha
23
Shake'em Up
24
Mary Lou Doin' The Pop-Eye
25
Just One Kiss
26
Since Your Love Has Grown Cold
27
Cindy Lou
28
Such As Love
29
Married Life
30
Mathilda
Bewertungen lesen, schreiben und diskutieren...
mehr
Kundenbewertungen für "Kings Of Swamp Pop (CD)"
Bewertung schreiben
Bewertungen werden nach Überprüfung freigeschaltet.