Der Artikel wurde erfolgreich hinzugefügt.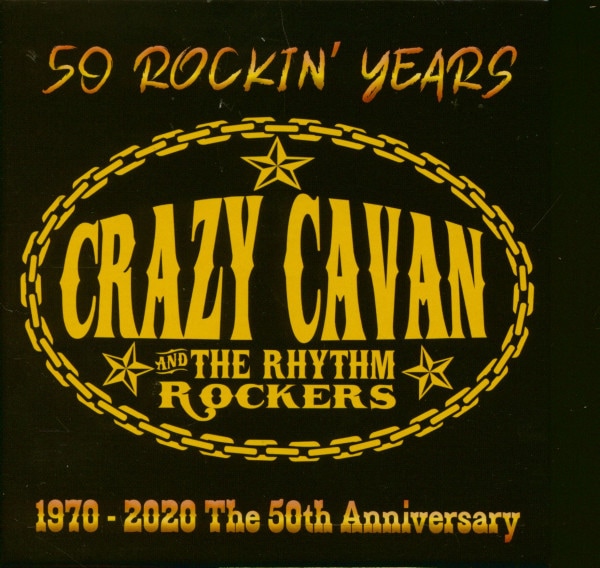 inkl. MwSt. / zzgl. Versandkosten - Abhängig vom Lieferland kann die MwSt. an der Kasse variieren.
nur noch 1x verfügbar
Sofort versandfertig, Lieferzeit** 1-3 Werktage
Artikel-Nr.:

CDCR17

Gewicht in Kg.:

0.21
(Crazy Rhythm) 72 Titel - Box-Set im CD-Format Das lang erwartete 50th Anniversary Album Box-Set...
mehr
Crazy Cavan & The Rhythm Rockers: 50 Rockin' Years (3-CD)
(Crazy Rhythm) 72 Titel - Box-Set im CD-Format

Das lang erwartete 50th Anniversary Album Box-Set

- 3 goldfarbene CDs in atemberaubender Klangqualität
- 72 Tracks - darunter 23 bisher unveröffentlichte Aufnahmen
- Tracks von der allerersten Crazy Rhythm EP zum ersten Mal auf CD
- 84-seitiges Booklet mit vielen ungesehenen Fotos und der Geschichte der Band von 1970 bis 2020
Artikeleigenschaften von

Crazy Cavan & The Rhythm Rockers: 50 Rockin' Years (3-CD)
Albumtitel:

50 Rockin' Years (3-CD)

Genre

Rock'n'Roll

Artikelart

CD

EAN:

5051078983820

Gewicht in Kg:

0.21
Crazy Cavan & The Rhythm Rockers Das Beste aus dem Teddyboy-Rock 'n' Roll! Und durchgehend...
mehr
"Crazy Cavan & The Rhythm Rockers"
Crazy Cavan & The Rhythm Rockers
Das Beste aus dem Teddyboy-Rock 'n' Roll! Und durchgehend in der Originalbesetzung:
Cavan Grogan - Vocal
Lyndon Needs - Lead Guitar
Terry Walley - Rhythm Guitar
Mike Coffey - Drums
Don Kinsella, Graham Price, Steve Vincent - Bass Guitar
Die Geschichte
In den frühen 1960er Jahren besuchte Lyndon Needs seinen Cousin Terry Walley, der in der Nähe von Newport in Südwales in einem Ort namens Goldcrest lebte. Sie übten Gitarrenriffs, und zusammen mit Lyndons Schulfreund Gerald Bishop, der Schlagzeug spielte, begannen sie, Shadows Instrumentalstücke zu spielen. Sie brauchten einen Platz zum Üben und konnten einen kleinen Raum auf einem Wohnwagenplatz an der Pye Corner mieten.
Es gab einen jungen Rock 'n' Roll-Fan, Cavan Grogan, der mit seinen Eltern, seinen Brüdern und seiner Schwester auf dem Platz wohnte, und es dauerte nicht lange, bis er der Band beitrat und seine eigenen musikalischen Einflüsse mitbrachte, zum Beispiel Bo Diddley, Screamin' Jay Hawkins und Carl Perkins....es war ein Abschied von "Apache" und "Foot Tapper" für immer! Graf Dracula & die Vampire wurden "geboren". Als Lyndon Cavans LPs, insbesondere Carl Perkins "Dance Album" hörte, wurde er zum ersten Mal mit Rockabilly konfrontiert und dies war ein entscheidender Moment in der musikalischen Entwicklung der Band.
Cavan stellte Lyndon einem anderen in der Pye Corner ansässigen "Breathless" Dan Coffey vor, einem Teddyboy wie Cavan und einem großen Rock 'n' Roll-Fan.
Dan war der Herausgeber von "The Boppin' News", einem der ersten Rock 'n' Roll-Fanzines. 1966 besuchte Dan zum ersten Mal Amerika und begann, Kiste um Kiste mit Rock 'n' Roll-Platten, insbesondere von Sun Label, zurück nach Newport zu schicken. Die Musik von Junior Thompson, Sonny Burgess, Billy Lee Riley und Charlie Feathers hatte einen großen Einfluss auf die Band. Sie gehörten zu den ersten Menschen, die die Platten hörten, die wir heute alle gut kennen. Cavan - "wir sahen das Rockabilly-Ding kommen, und viele Fans der Musik begannen, sich auf ihre Wurzeln zu besinnen, der Swing kam sogar für eine Weile in die Rock'n'Roll-Szene, wie Louis Jordan, Louis Prima ect. Auch Hillbilly und Blues, viele junge Bands entstanden in ganz Europa, was zur heutigen Szene führte.
1969 änderte die Band ihren Namen in "The Sundogs", ein Name, der von Alan Freed's Tag "Moondogs" aus seiner Radioshow und der Liebe der Band zu Sun Records inspiriert wurde. Die letzte Namensänderung kam, weil sie von einer neuen Band in Penarth S.Wales , Shakin' Stevens and the Sunsets gehört hatten, sie wollten nicht, dass Shaky und Co. denken, sie hätten den "Sun"-Teil ihres Namens kopiert. 1970 hatte Mike Coffey Gerald Bishop am Schlagzeug ersetzt, und Don Kinsella spielte die Bassgitarre. Crazy Cavan and the Rhythm Rockers nahmen ihren endgültigen Namen an, und die Szene war vorbereitet. Nach ihrem ersten Auftritt auf der nahe gelegenen Airbase in Caerwent war die Band auf dem Weg und bekam etwa 15 bis 20 Pfund pro Auftritt! Bald wagten sie sich weiter in die Ferne und spielten an Universitäten und Rugby-Clubs. Ein früher Höhepunkt war die Unterstützung von Gene Vincent in Swansea 1971.
Später in diesem Jahr warben Melody Maker für Rock 'n' Roll-Bands, die in London spielen sollten.
Im Juni 1971 reiste die Band 6 Stunden auf der Autobahn nach London, um im The Fishmongers Arms, auch bekannt als "The Houndog Club", zu spielen. Sie wurden später im selben Jahr erneut gefragt und waren eine Sensation. Von da an trat die Band regelmäßig in London auf und spielte an den Wochenenden in der Pier Bar in Southend an 5 oder 6 Abenden pro Woche.
Nach der Veröffentlichung ihrer ersten EP 1974, fragte Rockhouse Records, ob die Band daran interessiert wäre, für ein ganzes Album nach Amsterdam zu reisen. 1975 wurden sie auch eingeladen, einen ganzen Monat lang im "The Hard Rock Cafe" in Kopenhagen zu spielen. Die Entscheidung, eine professionelle Band zu werden, kam zustande, weil die Jungs der Band so viel Zeit widmeten, dass sie einen nach dem anderen ihren Job verloren. Es war eine großartige Erfahrung und brachte die Band zusammen, weil sie an 5 Abenden in der Woche zusammen auf der Bühne standen, und zwar drei 45-Minuten-Sets pro Abend! Nach den Auftritten in Dänemark ging es nach Amsterdam, um die erste LP "Crazy Rhythm" einzuspielen, ein klassisches Album und eine Sensation, als sie '75 veröffentlicht wurde.
Und so war dies der frühe Teil der CC&RR-Geschichte, es folgten Tausende von Auftritten, viele Alben, die Tausende von Kilometern weltweit zurücklegten und ihren einzigartigen "Crazy Rhythm"-Stil des Rockens zu den Massen brachten.
43 Jahre später und immer noch stark, immer noch auf Tournee, immer noch Alben machend.
Ihre Karriere ist ein Beweis für das Engagement der Band, die den Teddyboy Rock 'n' Roll in die Rock 'n' Roll-Szene gebracht hat.
Artikel von Louise Barrell
Crazy Cavan 'n' the Rhythm Rockers Band/Fanclub-Sekretärin für das "Ted Style"-Magazin © Crazy Cavan 2012
Die Band war bis zum plötzlichen unerwarteten Tod des Sängers 'Crazy' Cavan John Grogan am 15. Februar 2020 aktiv, gab regelmäßig Konzerte und war Gast auf den großen Festivals in Europa und Übersee. Auch für 2020 waren bereits mehrere Auftritte geplant. Ihr letztes Konzert gab die Band am 18. Januar 2020 auf der 'Rockers Reunion Party'.
Bewertungen lesen, schreiben und diskutieren...
mehr
Kundenbewertungen für "50 Rockin' Years (3-CD)"
Bewertung schreiben
Bewertungen werden nach Überprüfung freigeschaltet.
Weitere Artikel von Crazy Cavan & The Rhythm Rockers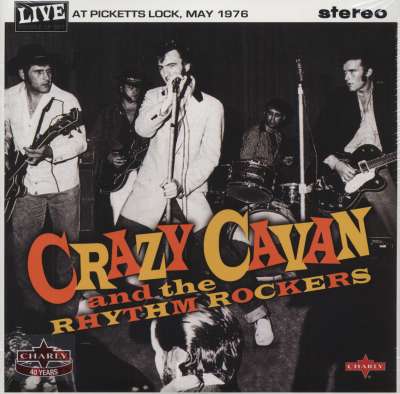 Crazy Cavan & The Rhythm Rockers: Live At Picketts Lock, May 1976 (2-LP, 10inch,...
Art-Nr.: LPCRL147


nur noch 2 verfügbar
Sofort versandfertig, Lieferzeit** 1-3 Werktage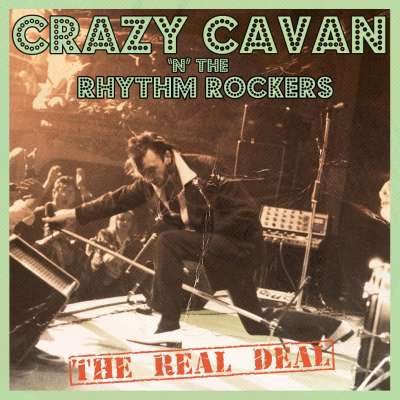 Crazy Cavan & The Rhythm Rockers: The Real Deal (CD)
Art-Nr.: CDCR016


nur noch 1 verfügbar
Sofort versandfertig, Lieferzeit** 1-3 Werktage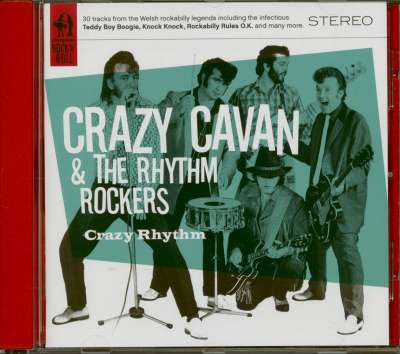 Crazy Cavan & The Rhythm Rockers: Crazy Rhythm - Best Of (CD)
Art-Nr.: CDSROLL849


Sofort versandfertig, Lieferzeit** 1-3 Werktage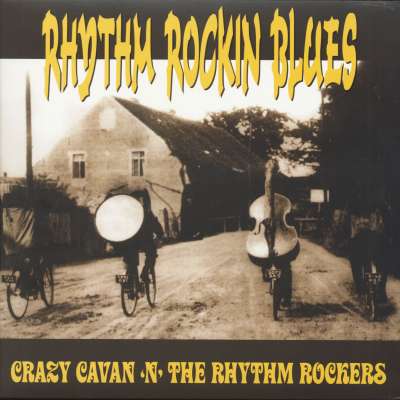 Crazy Cavan & The Rhythm Rockers: Rhythm Rockin Blues (LP)
Art-Nr.: LPCC1117


Artikel muss bestellt werden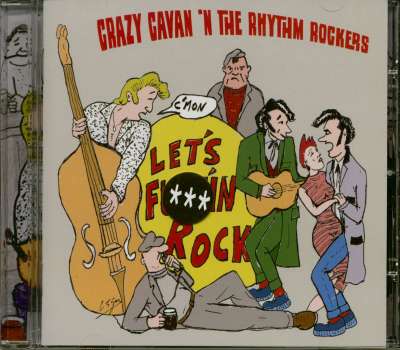 Crazy Cavan & The Rhythm Rockers: C'mon Let's F***in' Rock (CD)
Art-Nr.: CDCR13


nur noch 1 verfügbar
Sofort versandfertig, Lieferzeit** 1-3 Werktage