Der Artikel wurde erfolgreich hinzugefügt.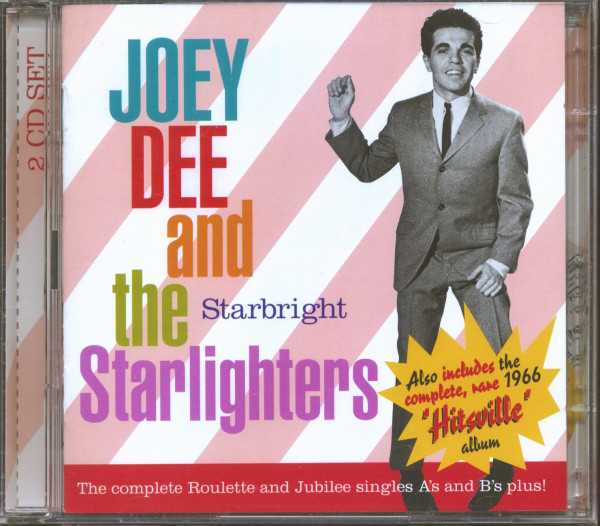 Dieser Artikel ist gestrichen und kann nicht mehr bestellt werden!
Benachrichtigen Sie mich, sobald der Artikel lieferbar ist.
Artikel-Nr.:

CDWESD219

Gewicht in Kg.:

0.2
The complete Roulette and Jubilee singles plus his rare Hitsville album - 46 tracks (Westside...
mehr
Joey Dee: Starbright (2-CD)
The complete Roulette and Jubilee singles plus his rare Hitsville album - 46 tracks (Westside 1999) - few copies !!!
Artikeleigenschaften von

Joey Dee: Starbright (2-CD)
Joey Dee Joey Dee (richtiger Name: Joseph Di Nicola) wurde am 11. Juni 1940 in Passaic, New...
mehr
"Joey Dee"
Joey Dee
Joey Dee (richtiger Name: Joseph Di Nicola) wurde am 11. Juni 1940 in Passaic, New Jersey, als jüngstes von zehn Kindern geboren. Schon als Achtjähriger brachte er sich das Mundharmonikaspiel bei und begann im örtlichen Kirchenchor zu singen. Als er in der High School war, beherrschte er die Klarinette, ein Instrument, das er sich von seiner Schwester geliehen hatte - ein weiteres Musical von Di Nicola, die in der Schulband spielte. Ein paar Monate später hielt sich der kleine Joey für reif genug, um einen weiteren Schritt zu machen; er organisierte seine eigene Combo und machte sich gut auf privaten Partys und Schulfesten. Als der Altosaxophonist die Gruppe verließ, übernahm der junge Mr. Dee seinen Stuhl und bläst seitdem den Alt. Ursprünglich war Joey Dees großes Ziel, Geschichtslehrer zu werden. Jeder Cent, den er als Bandleader verdiente, ging in sein Studium. Aber die Buchungen wurden größer und besser, und da die große Familie Di Nicola das Geld sicher gebrauchen konnte, beschloss Joey, Musik zu seinem Beruf zu machen.

Die Wahl war klug: 1960 wurden Joey Dee & The Starliters (so nannte er seine Gruppe) von einem obskuren Manhattan West Side Boite, "The Peppermint Lour1ge", angeheuert. Und damit fing alles an: die Karriere von Joey Dee - seine Starliters - und.... Der Twist ! Oktober 1961: Die "Peppermint Lounge" - das Publikum freut sich immer mehr über ein gutaussehendes Kind, das vor seiner wilden kleinen Band singt und zittert und schreit. Das Publikum fängt schnell an - übernimmt das Wort und kopiert Mr. Dee und seine Männer. The Twist ist geboren und verbreitet sich wie ein Lauffeuer in ganz New York, in den USA und (später) in der ganzen Welt. Teenager in Bluejeans und High Society Bluebloods, Ivy Leaguers, Junior Leaguers und Little Leaguers und einfach nur Mr. und Mrs. America - jeder macht den Twist. Und "The Peppermint Lounge" macht mehr Schlagzeilen als das Taj Mahal ! Seit diesem explosiven Beginn macht sich Joey Dee eine erstaunliche Karriere.

Er schneidet Platten für ROULETTE, er tritt in der Ed Sullivan Show, der Dick Clark Show auf, er spielt im Paramount-Film "Hey, Let's Twist" und im Columbia-Flimmern "Two Tickets To Paris". Er ist Gast im New Yorker Hotel Plaza, im Restaurant "Four Seasons" und in einem weiteren Hotel von Weltruhm: The Astor, wo der New Yorker Major Robert Wagner sofort zum Fan wird. In Miami Beach entsteht eine Nachbildung der "Peppermint Lounge", und auch dort feiern Joey Dee & The Starliters große Erfolge. Er geht nach Europa und wird in den skandinavischen Ländern und im "Starclub", Hamburg, zum wilden Knaller. Joey Dee ist in ! Joey Dee ist gemacht!

Seine bisher heißesten Platten waren "Peppermint Twist" und "Ya Ya Ya" - beide ursprünglich für sein L. P. Album "Damn' The Twist At The Peppermint Lounge" (ROULETTE MGRL 9411) gewachst. Für seine Radierung "Ya Ya Ya" gewann er eine Goldene Schallplatte für alle drei sowie einen ganz besonderen europäischen Preis: den Löwen von Radio Luxem-burg. Auf diesem L.P. hört man ihn als feinen, begeisterten Sänger, einen echten Mister Twister, der seine Starliters mit viel Kraft und Vitalität führt und gelegentlich ein Saxophon-Solo bläst. Außerdem ist Joey ein tolles Kind mit dem angenehmsten Lächeln der Welt.

Ein junges Lächeln - denn seine Musik ist die der Jugend unterwegs!


Bewertungen lesen, schreiben und diskutieren...
mehr
Kundenbewertungen für "Starbright (2-CD)"
Bewertung schreiben
Bewertungen werden nach Überprüfung freigeschaltet.