Der Artikel wurde erfolgreich hinzugefügt.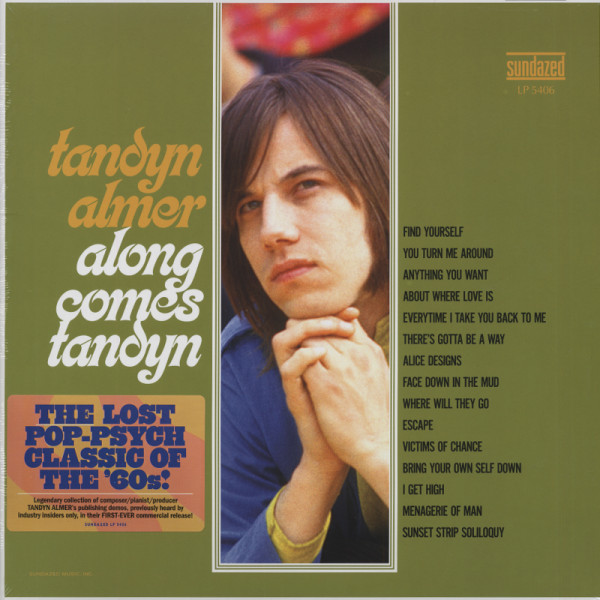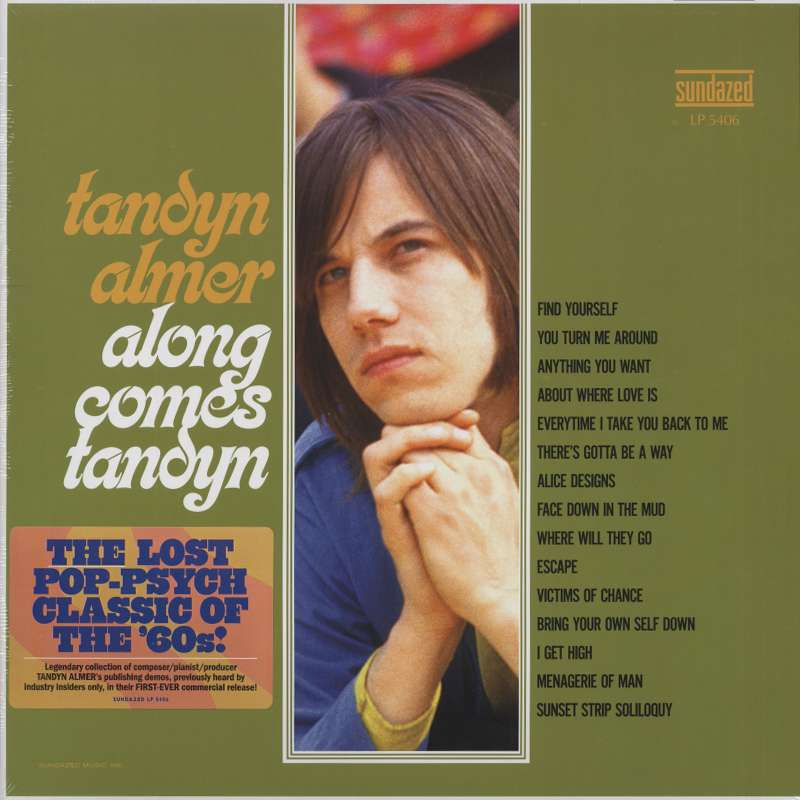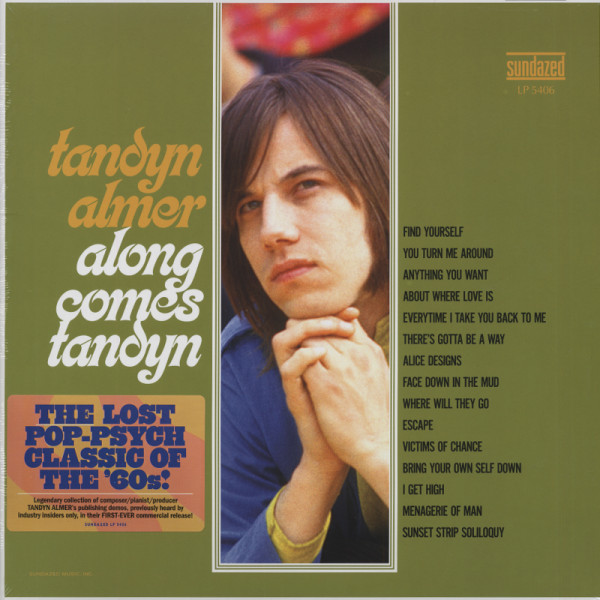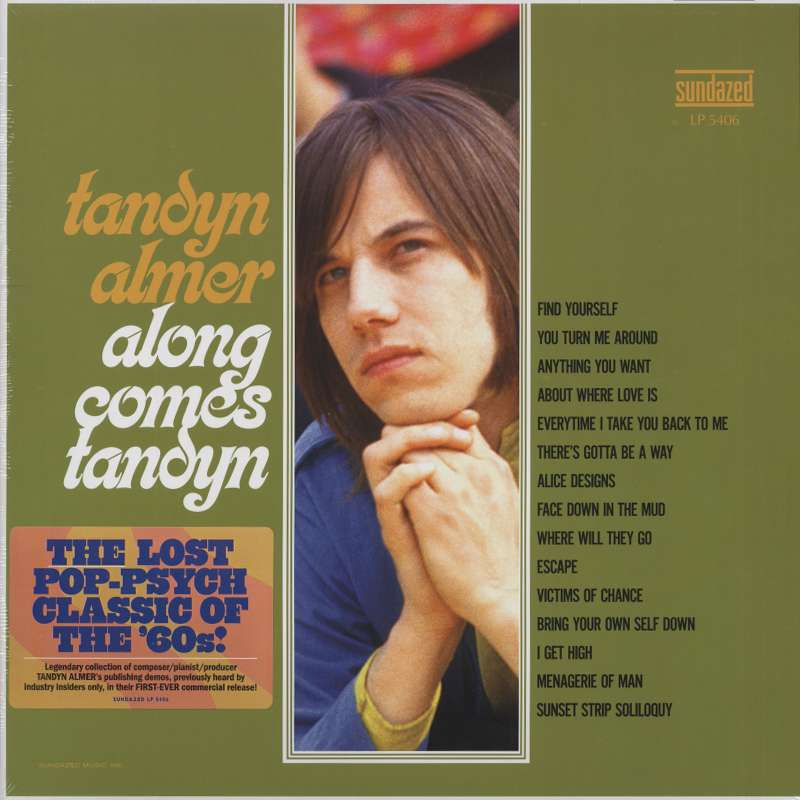 Artikel-Nr.:

SLP5406

Gewicht in Kg.:

0.36
(2013/SUNDAZED) 15 tracks 1965/66 - Gatefold/Klappcover. vinyl The Lost Pop-Psych Classic Of The...
mehr
Tandyn Almer: Along Comes Tandyn
(2013/SUNDAZED) 15 tracks 1965/66 - Gatefold/Klappcover.

vinyl
The Lost Pop-Psych Classic Of The '60's!

The late, great composer/pianist/producer/MENSA member Tandyn Almer first emerged in pop culture consciouness as the writer of the 1966 smash single by The Association, "Along Comes Mary." Its seemingly innocuous lyric about a girl became a point of intense scrutiny as rumors of marijuana references wafted through a society fraught with generational conflict. One of those listeners on the far side of the gap, Leonard Bernstein, recognized the song's musical sophistication and deft wordplay as something noteworthy. Consequently, Bernstein chose Almer as an interview subject for his CBS News documentary Inside Pop: The Rock Revolution, which aired on Tuesday, April 25th, 1967. It was a groundbreaking special, with Almer's cool media attitude working well to calm the controversial storm surrounding the movement that would soon blossom into the Summer of Love.

If this were a Hollywood film script, Almer would have then been catapulted to the upper echelons of pop stardom, rubbing elbows with hottest hitmakers of the day. Instead, while he released one single of his own, "Degeneration Gap," and wrote and produced several more pop-psyche gems, Almer's career path took a much more enigmatic route. He did collaborate with fellow melodic savant Brian Wilson, most notably as the co-writer of "Sail On Sailor," and published a songbook of his new compositions. In service of these songs, a 15-track demo LP was recorded and pressed in a small quantity by his publisher, Davon Music, to distribute to potential recording clients.

Through the years, word of this LP spread through the collecting world, its legend increasing with each telling and its price increasing with each resale for those lucky enough to find a copy. Included within this demonstration disc is the nasty, buzzing fuzztone and haunting vocals of The Purple Gang's version of "Bring Your Own Self Down," the engaging Pop feel of "Find Yourself," the smooth groove of "Anything You Want" and "Victims of Chance" (recorded as an instrumental by L.A. jazz combo The Afro Blues Quintet), along with the straight-ahead Folk-Rock of "About Where Love Is" and "Sunset Strip Soliloquy" -- the latter about the atmosphere which led to the demonstrations of late '66. At long last, Sundazed Music has rescued this "holy grail" album and presents the first-ever commercial release of Along Comes Tandyn. A stunning collection covering a wide stylistic range, it is a resounding confirmation Almer's harmonic genius. After one listen, you'll understand why Tandyn was always the smartest guy in the room.

Artikeleigenschaften von

Tandyn Almer: Along Comes Tandyn
Albumtitel:

Along Comes Tandyn

Genre

Rock'n'Roll

Preiscode

VLP2

Geschwindigkeit

33 U/min

Plattengröße

LP (12 Inch)

Record Grading

Mint (M)

Sleeve Grading

Mint (M)

Artikelart

LP

EAN:

0090771540614

Gewicht in Kg:

0.36
Almer, Tandyn - Along Comes Tandyn

LP 1
01
Find Yourself
02
You Turn Me Around
03
Anything You Want
04
About Where Love Is
05
Every Time I take You Back To Me
06
There's Gotta Be A Way
07
Alice Designs
08
Face Down In The Mud
09
Where Will They Go
10
Escape
11
Victims Of Change
12
Bring Your Own Self Down
13
I Get High
14
Menagerie Of Man
15
Sunset Strip Soliloquy
Bewertungen lesen, schreiben und diskutieren...
mehr
Kundenbewertungen für "Along Comes Tandyn"
Bewertung schreiben
Bewertungen werden nach Überprüfung freigeschaltet.
Weitere Artikel von Tandyn Almer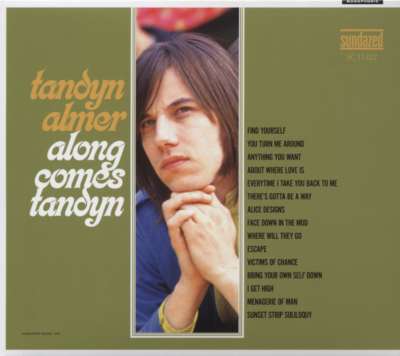 Tandyn Almer: Along Comes Tandyn
Art-Nr.: CDSC11222


Sofort versandfertig, Lieferzeit** 1-3 Werktage