Der Artikel wurde erfolgreich hinzugefügt.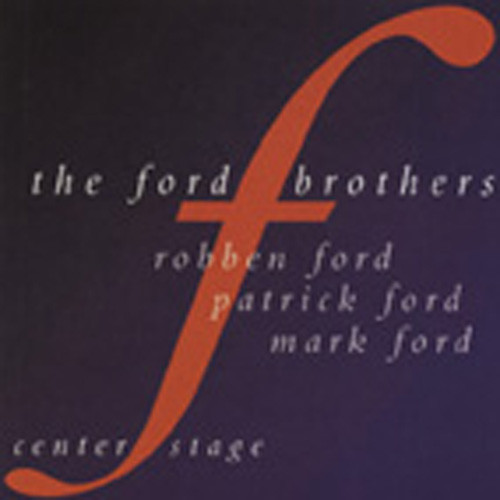 Dieser Artikel ist gestrichen und kann nicht mehr bestellt werden!
Benachrichtigen Sie mich, sobald der Artikel lieferbar ist.
Artikel-Nr.:

CDBR139

Gewicht in Kg.:

0.1
(2002 'Blue Rock'It') (54:39/07) Spätestens seit den gemeinsamen Tagen in der Charles Ford Band...
mehr
FORD BROTHERS: Center Stage
(2002 'Blue Rock'It') (54:39/07) Spätestens seit den gemeinsamen Tagen in der Charles Ford Band Anfang der 70er Jahre zählen die Ford-Brüder aus Ukiah in Nordkalifornien zu den populären Mitgliedern einer rockbeeinflussten Bluesszene an der Westküste. Die Karrieren der Brüder verliefen in unterschiedlichen Bahnen. Doch mit schöner Regelmäßigkeit trifft man sich, um den Familiengeist zu beschwören: Robben kommt als bekanntestes Familienmitglied mit einer beindruckenden Vita (Jimmy Witherspoon, Joni Mitchell, Miles Davis) und dem Ruf eines der besten us-amerikanischen Blues- und Jazzgitarristen - Patrick Ford als ältester der drei Brüder blickt als Schlagzeuger, Produzent und Label-Besitzer auf ein bewegtes Leben zurück. Bleibt Mark. Als junger Harpspieler mit innovativem, expressivem Spiel gefeiert zieht er sich oft für lange Zeit vollkommen zurück und taucht nur in seltenen Momenten wieder auf - wie z.B. für dieses Konzert, bei dem aktuelle Besetzung der Ford Blues Band von Robben Ford bereichert wurde. Auch für Robben sind die Abende mit seinen Brüdern etwas Besonderes, findet er ansonsten kaum die Gelegenheit, derart entspannt seine Leidenschaft für den Blues ausleben zu können. Diese Liveaufnahmen von 2002 bieten sicherlich wenig Neues - dafür liefern sie Spielfreude pur, ausgedehnte Soli mit viel Dynamik und Spieltechnik auf hohem Niveau - kalifornischer Blues, beeinflusst von Mike Bloomfield und Paul Butterfield / Since working together in the Charles Ford Band during a short period in the early '70s, the Ford brothers from Ukiah are ranking amongst the best of the rock-inspired bluesmen from the west coast. After the Charles Ford Band broke up, their careers went different ways. Robben soon became a much-in-demand sesson player (Joni Mitchell, Jimmy Witherspoon) and later formed one of the most energetic blues/rock trios in the US. Patrick became a record proudcer, label owner and continued to play drums in his own Ford Blues Band. Mark, the youngest of the brothers, must be regarded one of the finest contemporary harmonica players. His style is fluid, powerful and extremely fast. Although inactive from time to time, he joins his brothers occasionally and is a member of the Ford Blues Band's current line-up. These live recordings from 2002 are not re-inventing the blues. But this CD will deliver the fun of blues playing, extended solos, a lot of dynamics and interplay on a mix of originals, and classics. Good sound quality. ROBBEN FORD - gtr/voc, MARK FORD - hca/voc, PATRICK FORD - drums, VOLKER STRIFLER - gtr/voc, DEWAYNE PATE - bass. Special guest: CHRIS CAIN - gtr (1 track). - ACHTUNG / PLEASE, NOTE: lieferbar ab ca. 15.11.2004 / in stock c. 11/15/2004.
Artikeleigenschaften von

FORD BROTHERS: Center Stage
Albumtitel:

Center Stage

Genre

Blues

Artikelart

CD

EAN:

0727566013922

Gewicht in Kg:

0.1
Ford Brothers - Center Stage

CD 1
01
Mellow Down Easy
02
Another Fine Day
03
Good Morning Little Schoolgirl
04
Nothing To Nobody
05
Tired Of Talkin'
06
Feelin' Disconnected
07
Up From The Streets
08
Lovin' Cup
Bewertungen lesen, schreiben und diskutieren...
mehr
Kundenbewertungen für "Center Stage"
Bewertung schreiben
Bewertungen werden nach Überprüfung freigeschaltet.