Der Artikel wurde erfolgreich hinzugefügt.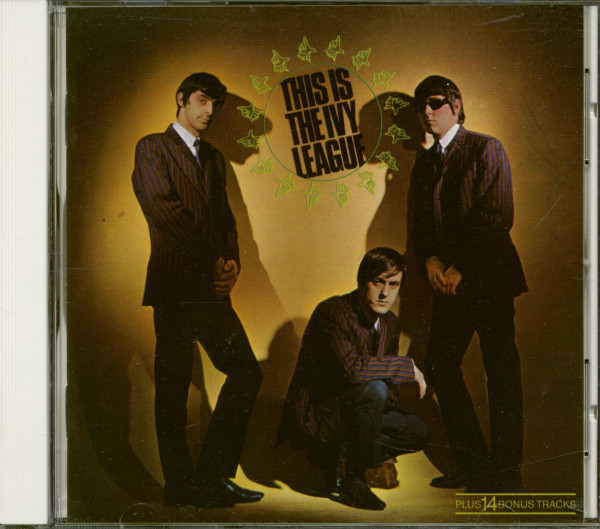 inkl. MwSt. / zzgl. Versandkosten - Abhängig vom Lieferland kann die MwSt. an der Kasse variieren.
die letzten 2 verfügbar
Sofort versandfertig, Lieferzeit** 1-3 Werktage
Artikel-Nr.:

CDRR4094

Gewicht in Kg.:

0.107
(Repertoire Records) 26 tracks
mehr
The Ivy League: This Is The Ivy League (CD)
(Repertoire Records) 26 tracks

Artikeleigenschaften von

The Ivy League: This Is The Ivy League (CD)
Albumtitel:

This Is The Ivy League (CD)

Genre

Beat

Artikelart

CD

EAN:

4009910409428

Gewicht in Kg:

0.107
Obwohl British Beat mehrere Stränge des amerikanischen Pop absorbierte, gelang es nur wenigen,...
mehr
"The Ivy League"
Obwohl British Beat mehrere Stränge des amerikanischen Pop absorbierte, gelang es nur wenigen, die enge Harmonie wiederherzustellen. Falsettostil der Four Freshmen, der wiederum die Beach Boys beeinflusste. Fügen Sie einen Spritzer Four Seasons und eine englische Perspektive hinzu und das Ergebnis war das ausgezeichnete I, Liga. Die Gruppe basierte zunächst auf zwei Songwritern, John Carter und Ken Lewis, die zuvor Carter Lewis und die Southerners geführt hatten. Als solche nahmen sie mehrere Singles für Piccadilly, Ember und Oriole auf und hatten mit'Your Momma's out of Town' einen kleinen Hit geschnitten. Ebenfalls in der Gruppe waren (kurz) Jimmy Page und Viv Prince, aber die zunehmende Arbeit des Duos als Tunesmiths führte zum Zusammenbruch der Südstaatler.

Bereits 1962 hatten Carter und Lewis Mike Sarne mit'Will I What' eine Nr. 1 gegeben, und ihre anderen Kompositionen umfassten Lieder für die Maurauders. Brenda Lee, P.J. Proby, die großartigen McKinleys (die sie auch produzierten) und vieles mehr. Doch bis 1964 wurden sie wieder von der Idee einer Gruppe angezogen und gründeten die Ivy League mit einem anderen etablierten Hinterzimmerkünstler, Perry Ford. Ford war ein Teil von Bert Weedons Gruppe gewesen und war ein weiterer Songwriter, eine Kombination aus Stimmen und Erfahrung, die die neue Gruppe so unverwechselbar machen sollte. Während ihrer Debüt-Single. "What More Do You Want", war so etwas wie ein Flop, die Fortsetzung. Funny How Love Can be', war im Januar 1965 ein Hit und etablierte sowohl den Namen als auch den Stil der Gruppe. Aufeinanderfolgende Singles.

That's Why I'm Crying' und'Tossing and Turning' waren ebenfalls erfolgreich. Aber die Gruppe schien dann an Popularität zu verlieren und die folgenden Veröffentlichungen hatten Probleme. Das war unverdient, man kann ihre Qualität nicht leugnen, insbesondere die stimmungsvolle "My World Fell Down", die die Liga auf einem kreativen Höhepunkt brachte. John Carter verließ die Gruppe M 1966. Er öffnete die Personalumwälzungen, die dann folgen sollten. Ken Lewis würde auch ausscheiden, obwohl Perry Ford neben einer Reihe von Ersatzkräften am Steuer blieb, von denen einer ein weiterer Session-Sänger war. Tony Burroughs. Noch 1969 war Perry da drin. Aber die Gruppe war längst von den Flowerpot Men und anderen Carter/Lewis-Verkaufsstellen abgelöst worden. Hier sind alle I, League's A-Seiten bis Oktober 1967 enthalten.
Bewertungen lesen, schreiben und diskutieren...
mehr
Kundenbewertungen für "This Is The Ivy League (CD)"
Bewertung schreiben
Bewertungen werden nach Überprüfung freigeschaltet.