Der Artikel wurde erfolgreich hinzugefügt.
Elmore James
The Sky Is Crying - The Ultimate Collection (3-CD)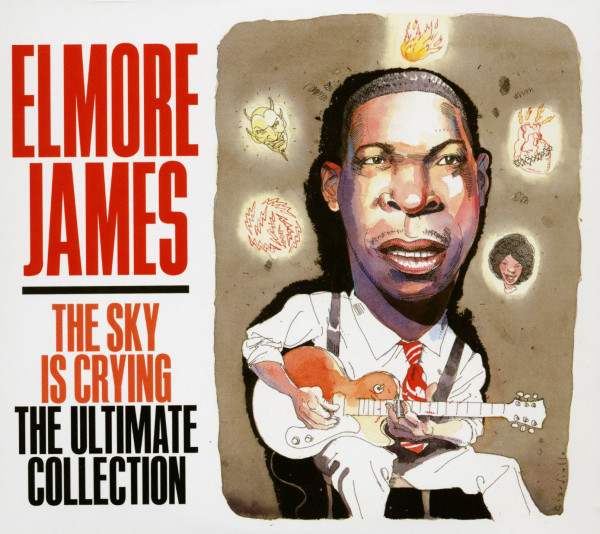 Benachrichtigen Sie mich, sobald der Artikel lieferbar ist.
inkl. MwSt. / zzgl. Versandkosten - Abhängig vom Lieferland kann die MwSt. an der Kasse variieren.
Artikel derzeit nicht verfügbar, Lieferfristen von bis zu 2-3 Wochen sind zu erwarten. (soweit verfügbar beim Lieferanten - kann schneller gehen, manchmal aber leider auch nicht)
Artikel-Nr.:

CDSBR7947

Gewicht in Kg.:

0.107
(Sunset Blvd Records) 54 tracks, digisleeve Elmore James letzte große Aufnahmen entstanden...
mehr
Elmore James: The Sky Is Crying - The Ultimate Collection (3-CD)
(Sunset Blvd Records) 54 tracks, digisleeve

Elmore James
letzte große Aufnahmen entstanden in den 1960er Jahren, als er vom New Yorker Produzenten/Label-Inhaber Bobby Robinson (Fire, Fury & Enjoy Records) unterschrieben wurde. Im Gegensatz zu vielen seiner Zeitgenossen wurde Elmore James im Laufe der Jahre scheinbar besser. Diese Aufnahmen sind auf so vielen verschiedenen Kompilationen aufgetaucht - alle mit unterschiedlichen Klangqualitäten. Glücklicherweise haben wir diese dreistellige 58-Song-Box, die mindestens eine bestehende Aufnahme von allem, was Elmore mit Robinson am Steuer aufgenommen hat, zusammenfasst.
Zusammen mit den Standards Dust My Broom, The Sky Is Crying the classic One Way Out, bricht die Mehrheit dieses Box-Sets neue Wege und gilt als eine der emotionalsten Arbeiten von Elmore. Dazu gehörten die letzten Sessions unserer Elmore vor seinem Tod und mehrere Tracks, die er als Session-Gitarrist für Bobby Robinson aufgenommen hat. Am 24. Mai 1963 erlitt James einen Herzinfarkt, der ihm im Alter von 45 Jahren das Leben kostete. Zu den Musikern, die er inspirierte, gehören The Allman Brothers,
Jimi Hendrix
,
Fleetwood Mac
und Brian Jones of the
Rolling Stones
, sind nur einige der vielen Musiker, die er im Laufe ihrer Karriere beeinflusst hat. 1980 wurde er in die Blues Foundation Hall of Fame gewählt, und 1994 wurde Elmore in die Rock'n' Roll Hall of Fame aufgenommen. Das Rollling Stone Magazin hat ihn in die Liste der 30 besten Gitarristen aller Zeiten aufgenommen!
Artikeleigenschaften von

Elmore James: The Sky Is Crying - The Ultimate Collection (3-CD)
Albumtitel:

The Sky Is Crying - The Ultimate Collection (3-CD)

Genre

Blues

Artikelart

CD

EAN:

0708535794721

Gewicht in Kg:

0.107
Elmore James <p >Es machte offensichtlich keinen großen Unterschied, ob Bobby...
mehr
"Elmore James"
Elmore James
<p
>Es machte offensichtlich keinen großen Unterschied, ob Bobby Robinson, Chef des Fire-Labels aus dem New Yorker Stadtteil Harlem, in Chicago, New York oder New Orleans ein Studio buchte, um den Slidegitarrenmeister Elmore James aufzunehmen. Elmore schaffte sich im Sommer 1961 im Studio von Cosimo Matassa in New Orleans in seinen eigenen Song Shake Your Moneymaker voll hinein; Robinson war in den Süden gereist, um die Session zu beaufsichtigen.
Nachdem er Elmores 59er Comeback-Hit The Sky Is Crying in Chicago mit der kraftvollen Unterstützung durch dessen eigene Broomdusters produziert hatte (siehe Teil 2, CD 2), leitete Robinson ein paar Sessions mit James in den Beltone Studios in New York; dabei hatte er die besten Blues-Sessionmusiker der Stadt hinter sich. Aber Elmore lebte inzwischen zumeist in Jackson, Mississippi (Probleme mit der Musikergewerkschaft in Chicago machten es für ihn praktisch unmöglich, dort aufzutreten), also traf sich James mit Bobby in New Orleans, um dort mit seiner Band aus Jackson aufzunehmen. Johnny 'Big Moose' Walker haute in die Klaviertasten, Sammy Lee Bully zupfte den Elektrobass, King Mose Taylor saß am Schlagzeug.
Die an der Gewerkschaft vorbei organisierte Session fand in brütender Hitze statt, was den Schwung der heißen kleinen Combo jedoch offensichtlich überhaupt nicht bremste; Moneymaker gleitet flüssig mit einem anderen Groove als dem schroffen Vorwärtsdrang seiner früheren Platten voran. Dies ist kein Dust My Broom-Aufguss, sondern frisches Territorium für James, dessen Gesang manchmal kaum zu verstehen, aber durchweg absolut überzeugend ist. Seine wilde Slidegitarrenarbeit klinkt sich natürlich so souverän wie immer ein.
Robinson hatte lange intensiv nach Elmore gesucht, bis er ihn schließlich für die Aufnahme von The Sky Is Crying aufspürte, und der Produzent blieb ihm bis zum Schluss treu. Das traurige Ende kam unerwartet am 24. Mai 1963, als James im Haus seines Bassisten 'Homesick' James Williamson in Chicago einem Herzanfall erlag. Er war nur 45 Jahre alt und hatte seit langem Herzprobleme. Mit Unterstützung des lokalen DJs Big Bill Hill hatte Elmore seine langjährigen Streitigkeiten mit der Gewerkschaft geklärt und war zum Zeitpunkt seines Todes bereit, wieder in der Windy City aufzutreten; auch eine erste Europatournee war geplant.
Der elektrische Blues hat über die Jahrzehnte eine ganze Reihe exzellenter Slidegitarristen hervorgebracht. Für viele Liebhaber des Genres gibt es jedoch kein besseres Beispiel für die krachende Power eines kalten Flaschenhalses oder Stahlröhrchens auf sechs heißen, verstärkten Gitarrensaiten als das klassische Eröffnungs-Lick von Elmores Dust My Broom.
Bill Dahl
Chicago, Illinois
PLUG IT IN! TURN IT UP!
Electric Blues 1939–2005 – The Definitive Collection!
Volume 3: 1960–1969
Bewertungen lesen, schreiben und diskutieren...
mehr
Kundenbewertungen für "The Sky Is Crying - The Ultimate Collection (3-CD)"
Bewertung schreiben
Bewertungen werden nach Überprüfung freigeschaltet.
Weitere Artikel von Elmore James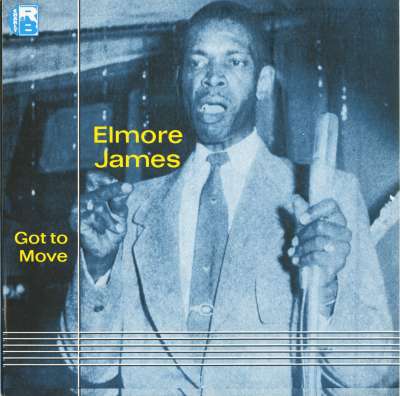 Elmore James: Got To Move (LP)
Art-Nr.: LP30112718


Sofort versandfertig, Lieferzeit** 1-3 Werktage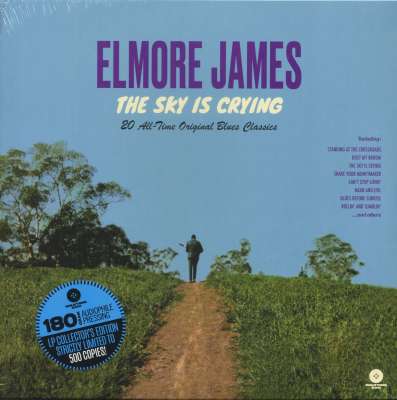 Elmore James: The Sky Is Crying (LP, 180g Vinyl, Ltd.)
Art-Nr.: LPWAX408741


Artikel muss bestellt werden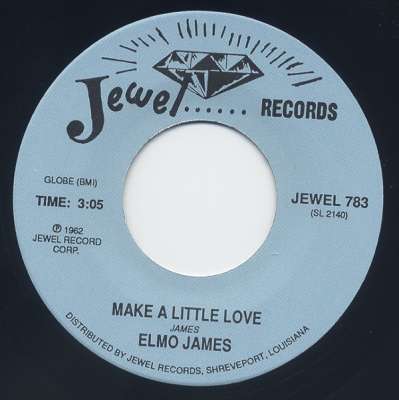 Elmo James: Make A Little Love - Catfish Blues
Art-Nr.: 45J783


Artikel muss bestellt werden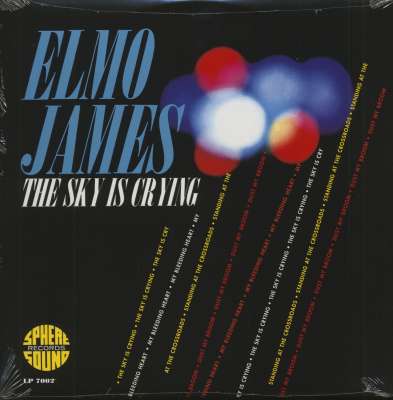 Elmore James: The Sky Is Crying (LP)
Art-Nr.: SPH7002


nur noch 2 verfügbar
Sofort versandfertig, Lieferzeit** 1-3 Werktage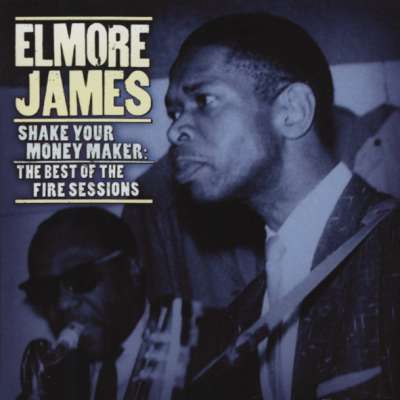 Elmore James: Shake Your Moneymaker: The 'Fire' Sessions
Art-Nr.: CD997812


Artikel muss bestellt werden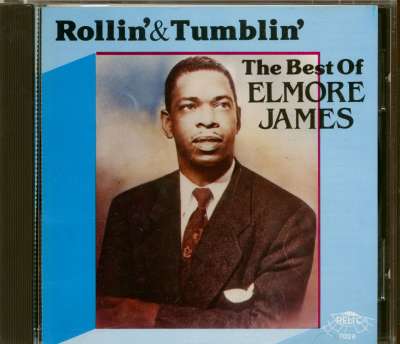 Elmore James: Rollin' & Tumblin' (CD)
Art-Nr.: CD702620


nur noch 1 verfügbar
Sofort versandfertig, Lieferzeit** 1-3 Werktage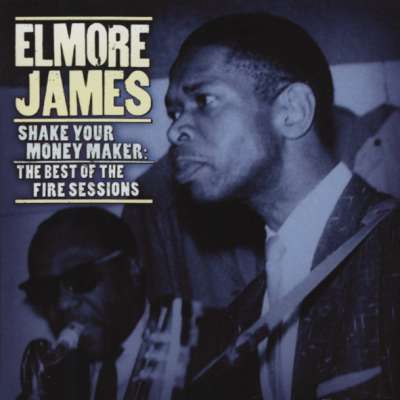 Elmore James: Shake Your Moneymaker: The 'Fire' Sessions
Art-Nr.: CD997812


Artikel muss bestellt werden