Der Artikel wurde erfolgreich hinzugefügt.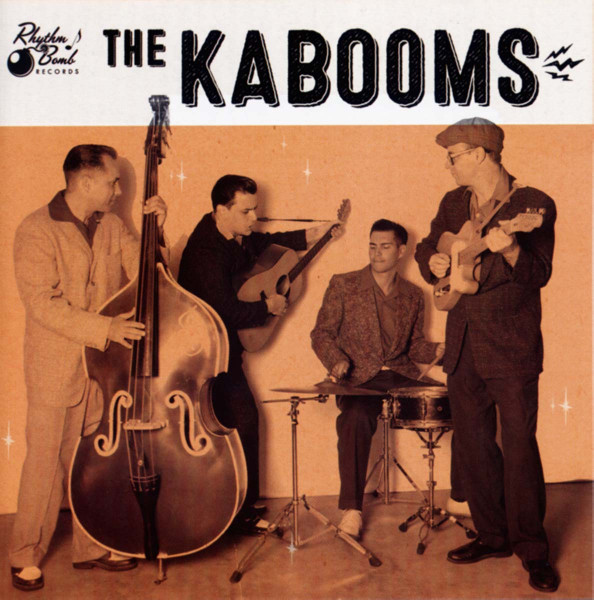 inkl. MwSt. zzgl. Versandkosten
Artikel derzeit nicht verfügbar, Lieferfristen von bis zu 2-3 Wochen sind zu erwarten. (soweit verfügbar beim Lieferanten - kann aber auch schneller gehen)
Artikel-Nr.:

CDRBR5807

Gewicht in Kg.:

0.1
(2015/Rhythm Bomb) 14 Titel, The Kabooms - Spanische Newcomer Rockabilly Band! Alle Titel sind...
mehr
Kabooms: The Kabooms
(2015/Rhythm Bomb) 14 Titel, The Kabooms - Spanische Newcomer Rockabilly Band! Alle Titel sind Eigenkompositionen - die Linernotes hat Jerry Chatabox, der Veranstalter des Rockabilly Rave Festivals geschrieben!

Artikeleigenschaften von

Kabooms: The Kabooms
Albumtitel:

The Kabooms

Genre

Rock'n'Roll

Artikelart

CD

EAN:

4260072723078

Gewicht in Kg:

0.1
Kabooms - The Kabooms

CD 1
01
Beggin' On My Knees
02
Only Mine
03
Black Days
04
Johnny Rocket
05
Pretty Baby
06
Let's Do It
07
One More Time
08
Point Blank Range
09
Always Late
10
Burn The House
11
My Baby Don't Bop
12
She's My Woman
13
Pack Your Things And Go
14
Hunter With No Gun
Bewertungen lesen, schreiben und diskutieren...
mehr
Kundenbewertungen für "The Kabooms"
Von:
Fred Turgis - the Rockabilly Chronicle
Am:
28.08.2015
Awesome 50's sounding rockabilly
One says that a reviewer should never talk or write about him and I agree with that. But I have to make an exception for the Kabooms debut album. I now listen to Rockabilly for something like 30 years and I began to write for fanzines in the early 90's. With the years, my knowledge of the genre grew up and it became harder and harder to impress me. When you discover a genre everything seems good but as the years go by you realize that you don't find albums like Big Sandy's On the Go or bands like Go Cat Go every week or month (and if you find one by year you're lucky.) Sometimes I regret the time when each record I bought had a huge impact on me, a new stone to the building of my rockabilly culture.
The Kabooms made me feel young again. From the very first song, this Spanish quartet sent me signals that I was not just listening to another « good-but-not-so-spectacular-band ». Do you remember the frst time you listen to Fly Right with Big Sandy. That was a similar experience.
The Kabooms, who are Matt Olivera on vocals, El Lega on lead guitar, Javier Carrasco on upright bass and Alex Granero on drums, prove that you can still write (all 14 songs are originals) and play 50's sounding rockabilly and bring new ideas. To quote Jerry Chatabox's liner notes: they make it look and sound easy, it's not.
Stylewise they remind you of Johnny Powers, Johnny Burnette and closer to us Rip Carson and the Flea Bops. This is not wild rockabilly, this is intense rockabilly, full of rage inside that just ask to explode at the right moment. As usual the perfect sound of Lightnin Recorders in Berlin (with Axel Praefcke at the console) one of today's best recording studio make it sound even better.
Keep an eye and two ears on this guys.
Bewertung schreiben
Bewertungen werden nach Überprüfung freigeschaltet.