Der Artikel wurde erfolgreich hinzugefügt.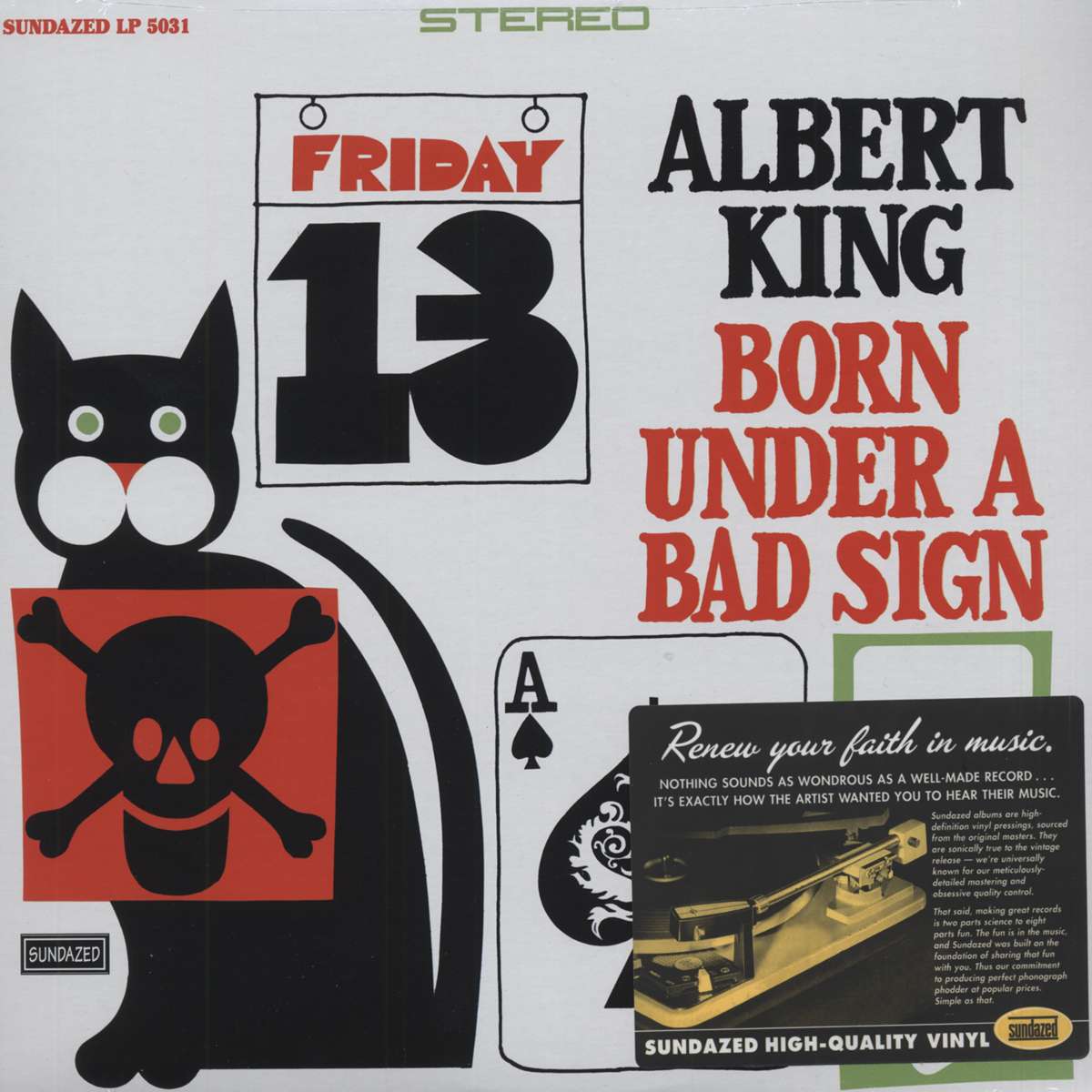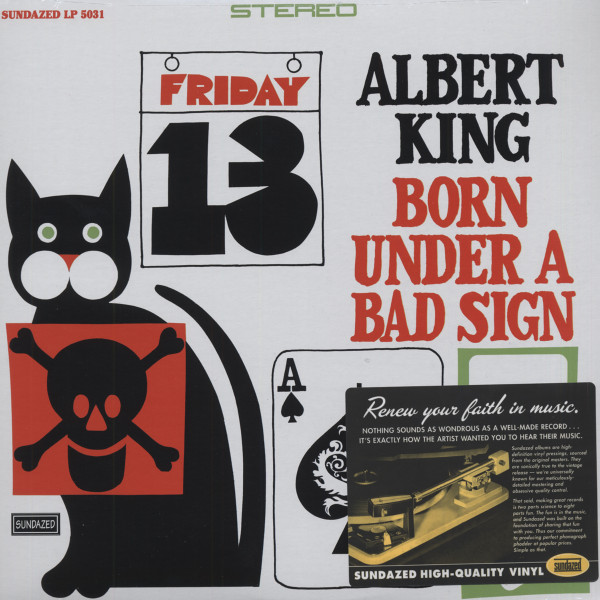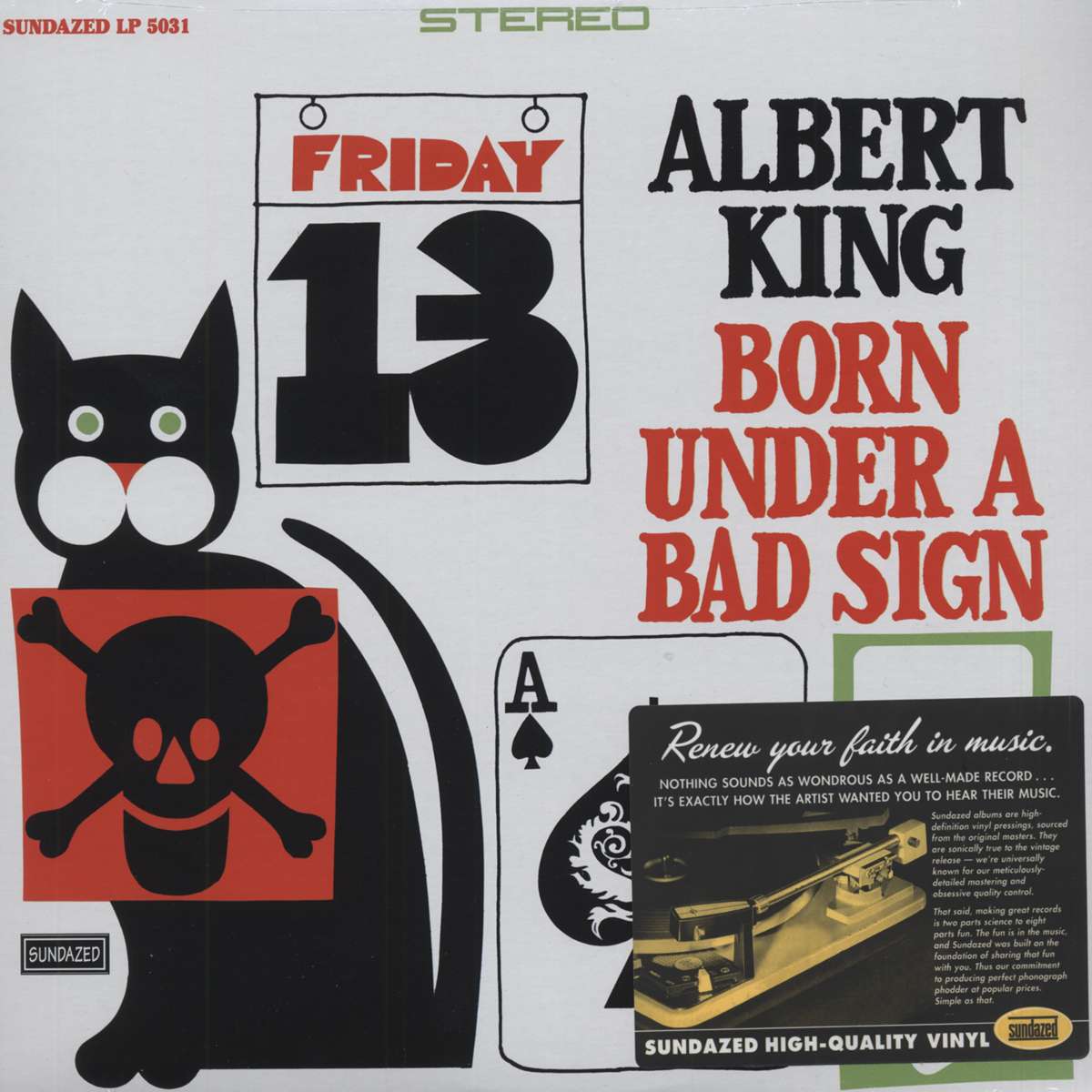 Dieser Artikel ist gestrichen und kann nicht mehr bestellt werden!
Benachrichtigen Sie mich, sobald der Artikel lieferbar ist.
Artikel-Nr.:

SLP5031

Gewicht in Kg.:

0.2
(1966/67 'Stax') (34:43/11) Audiophile LP, 180 grm. ALBERT KING - voc/gtr, w/ BOOKER T &amp, THE...
mehr
Albert King: Born Under A Bad Sign (180g Vinyl)
(1966/67 'Stax') (34:43/11) Audiophile LP, 180 grm. ALBERT KING - voc/gtr, w/ BOOKER T &amp, THE MGs, MEMPHIS HORNS.
Along with B.B. and Freddie,
Albert King
will forever be hailed as one of the original 'Three Kings of the Blues Guitar.' Cutting a dynamic 6' 4' figure on stage while playing his 1958 Gibson Flying V upside down to accommodate his left-handedness (paging Mr. Hendrix!), Albert earned the nickname 'The Velvet Bulldozer' due to his forceful yet subtle style. An enormous influence on the British blues scene,
Eric Clapton
was perhaps King's most vocal fan, crediting
Cream
classics like 'Strange
Brew
' as direct extensions of King's playing. Other axemen falling under his sway were the afore-mentioned
Jimi Hendrix
,
Jimmy Page
,
Mick Taylor
,
Joe Walsh
, Robbie Robertson and
Stevie Ray Vaughan
. By the late 1960s, King was headlining rock shows around the country and turning on generation of American fans to electric blues.
To record Born Under a Bad Sign, King walked 'Lucy,' his well-worn Flying V, down Memphis' McLemore Avenue and straight into Stax Studios. Once inside, he enlisted the aid of Booker T. and the MGs as well as the
Memphis Horns
. Talk about a backing band! The combination proved absolutely explosive as the MGs solid groove allowed King to lay down stinging solos with abandon. Though rightly hailed for his guitar prowess, King was also an incredibly soulful singer as he definitively demonstrates throughout the album. Often, he used his guitar as an extension of his voice, answering a vocal line with an equally descriptive lick. Just listen to the back-and-forth of 'Laundromat Blues' for a prime example. The album's title track, which became King's signature song, also features fiery vocal and guitar interplay. For the 'velvet' side of the bulldozer, try King's tender treatment of the Tin Pan Alley chestnut, 'The Very Thought of You.'
Upon release in 1967, Born Under a Bad Sign was hailed as an instant classic. It has since been recognized as one of the all-time great blues albums, with a Grammy Hall of Fame Award, placement in Rolling Stone's '500 Greatest Albums of All Time' and induction into the Blues Foundation Hall of Fame's '
Classics
of Blues Recordings' among its many accolades. No thorough blues or rock collection is complete without it. Sundazed has sourced this edition directly from the original Stax analog masters to ensure that every lick, every line, every shout is captured. In addition to the album's eleven original tracks, this Sundazed release adds two King rare mono single sides, 'Funk-Shun' and 'Overall Junction.' This 'bad sign' ain't nothin' but good!
Artikeleigenschaften von

Albert King: Born Under A Bad Sign (180g Vinyl)
Albumtitel:

Born Under A Bad Sign (180g Vinyl)

Genre

R&B, Soul

Preiscode

VLP2

Geschwindigkeit

33 U/min

Plattengröße

LP (12 Inch)

Record Grading

Mint (M)

Sleeve Grading

Mint (M)

Vinyl weight

180g Vinyl

Artikelart

LP

EAN:

0090771503114

Gewicht in Kg:

0.2
Albert King I'll Play The Blues For You Hauptsächlich wegen seiner Klassiker...
mehr
"Albert King"
Albert King
I'll Play The Blues For You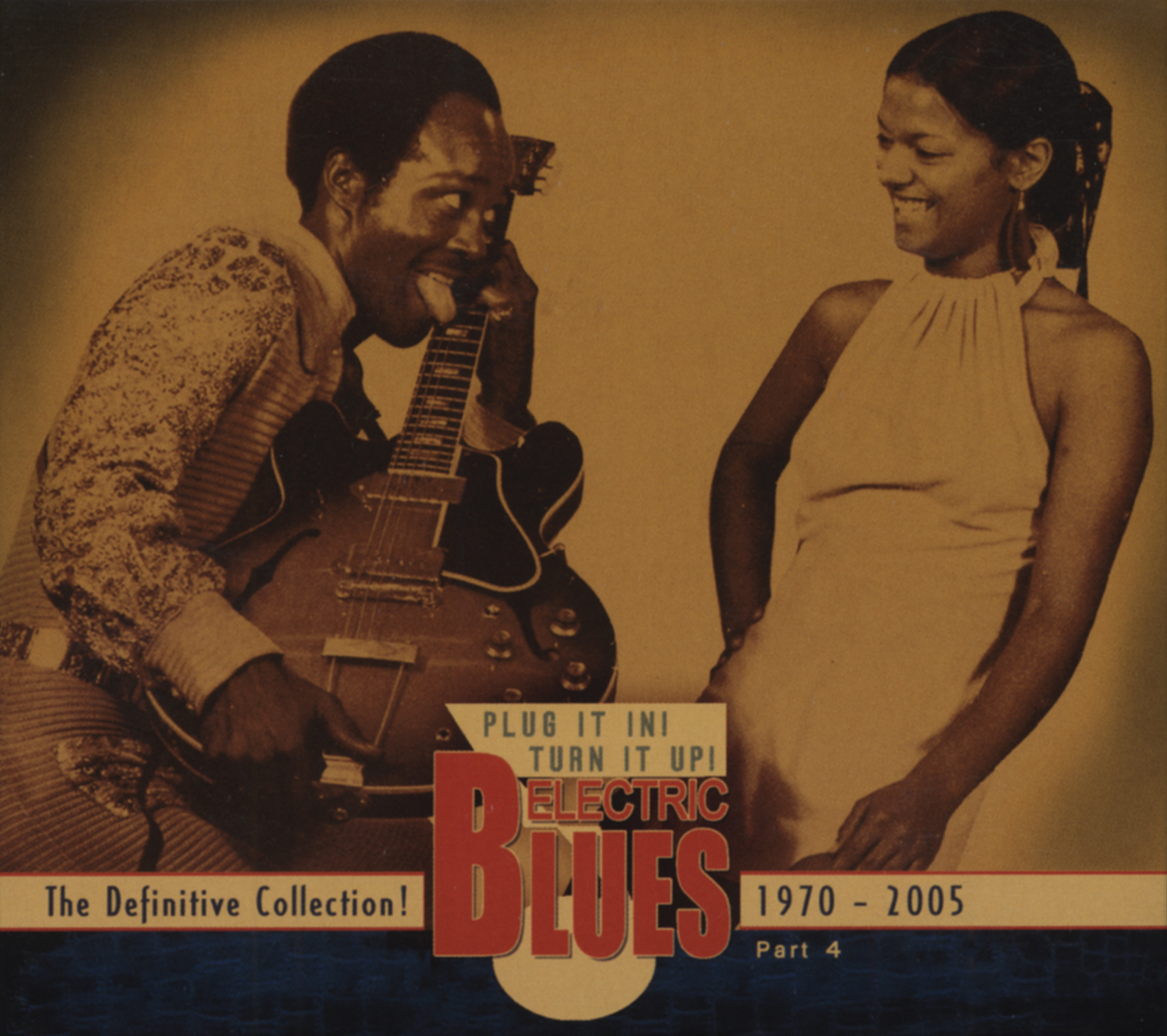 Hauptsächlich wegen seiner Klassiker Crosscut Saw und Born Under A Bad Sign trat Albert King 1967 als kraftvoller 'neuer' Bluesgitarrist hervor, obwohl er schon seit 1953 Aufnahmen machte und eine Reihe von hervorragenden Platten für das Bobbin-Label in St. Louis eingespielt hatte, lange bevor er bei Stax unterschrieb. Junge weiße Rockfans begannen gerade, sich für seine Gitarrentechnik mit extremer Saiten-Dehnung auf einem links herum gespielten Rechtshändermodell – also mit den hohen Saiten oben – und seinem vergleichsweise samtigen Gesang zu begeistern. King trat verstärkt im Vorprogramm ihrer langhaarigen Rock-Idole auf, und Koryphäen wie Eric Clapton bauten seine Markenzeichen-Riffs in ihren eigenen Stil ein.
King hatte 1968 zwei kleinere Hits, Cold Feet und (I Love) Lucy (eine Ode auf seine markante Gibson Flying V Gitarre), und er kam auch mit dem stampfenden Can't You See What You're Doing To Me 1970, dem ironischen Everybody Wants To Go To Heaven 1971 und dem flehenden Angel Of Mercy 1973 in die R&B-Charts. Keiner dieser Songs reichte jedoch nur annähernd an den Erfolg von I'll Play The Blues For You heran, das zu Kings bekanntester Nummer wurde, obwohl sie eine große stilistische Veränderung für den stattlichen Linkshänder darstellte. Der Komponist Jerry Beach hatte einige zusätzliche Akkorde eingebaut – und der Gesamtcharakter ist mittelschnell und sanft, besonders wenn Albert in der Mitte des Songs eine junge Dame mit einem gesprochenen Textteil verführen will (schwer zu sagen, ob er damit ankam).
"Ich war im Studio und suchte nach einem Song, den ich spielen könnte", sagte King. "Sie schlugen mir dieses 'I'll Play The Blues For You' vor. Sie hatten den Song schon da. Ein anderer Typ hatte ihnen den zugeschickt. Und wir haben's dann hingekriegt." Begleitet wurde er von den neu formierten Bar-Kays, die wieder aktiv waren, nachdem einige ihrer Mitglieder beim selben Flugzeugabsturz ums Leben gekommen waren, der auch Otis Redding tötete. Von der Originalbesetzung waren nur noch der Bassist James Alexander und der Trompeter Ben Cauley übrig; die Rhythmusgruppe wurde jetzt durch Michael Toles (Gitarre), Willie Hall (Schlagzeug) und Allen Jones am Keyboard vervollständigt (Jones fungierte auch mit dem Stax-Toningenieur Henry Bush als Co-Produzent).
I'll Play The Blues For You erreichte im Sommer 1972 Platz 31 der R&B-Charts, aber diese relativ niedrige Notierung spiegelt den Status des Titels in der großen Bandbreite von Kings gesammelten Werken nicht adäquat wider. Der Songtitel prangte groß auf der Seite seines Tourbusses, und das völlig zu Recht, denn genau das machte Albert King: Er spielte den Blues für seine Fans. Bis zum Schluss – er starb am 21. Dezember 1992 in Memphis, dort, wo dieser Song und so viele andere seiner großartigen Stax-Titel entstanden – wusste King, dass die Musik fortbestehen würde, für die er so wichtig war.
"Den Blues wird es geben, solange die Welt existiert", prophezeiteAlbert voller Überzeugung. "Daran wird sich nichts ändern."
Various - Electric Blues - Plug It In! Turn It Up! Vol.4 Electric Blues 1970 - 2005 (Deutsch)

Read more at: https://www.bear-family.de/various-electric-blues-plug-it-in-turn-it-up-vol.4-electric-blues-1970-2005-deutsch.html
Copyright © Bear Family Records
Bewertungen lesen, schreiben und diskutieren...
mehr
Kundenbewertungen für "Born Under A Bad Sign (180g Vinyl)"
Bewertung schreiben
Bewertungen werden nach Überprüfung freigeschaltet.
Weitere Artikel von Albert King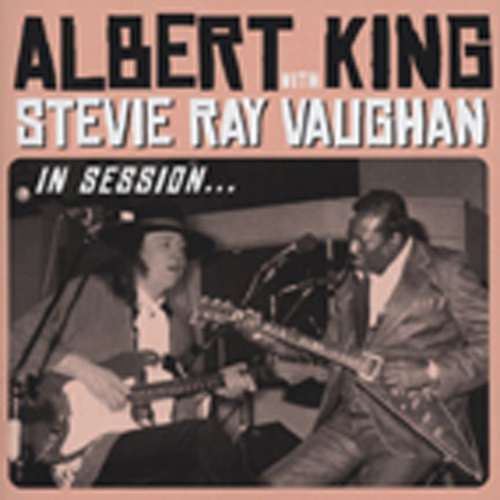 Albert King & Stevie Ray Vaughan: In Session (CD & DVD)
Art-Nr.: CD31839


Artikel muss bestellt werden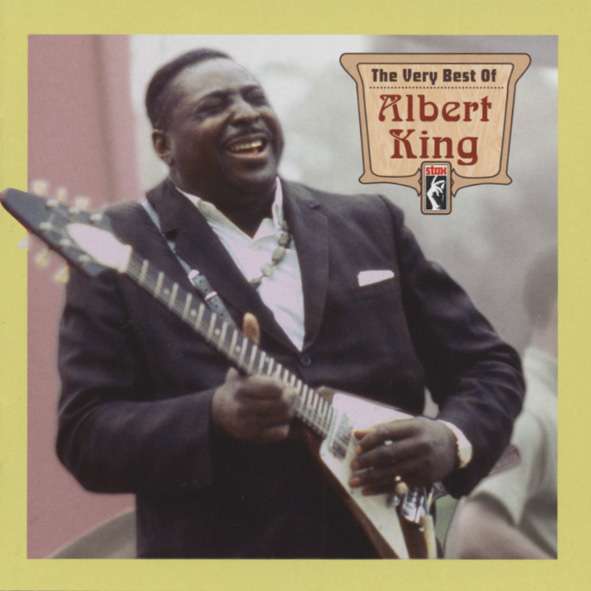 Albert King: The Very Best Of Albert King
Art-Nr.: CD302962


Artikel muss bestellt werden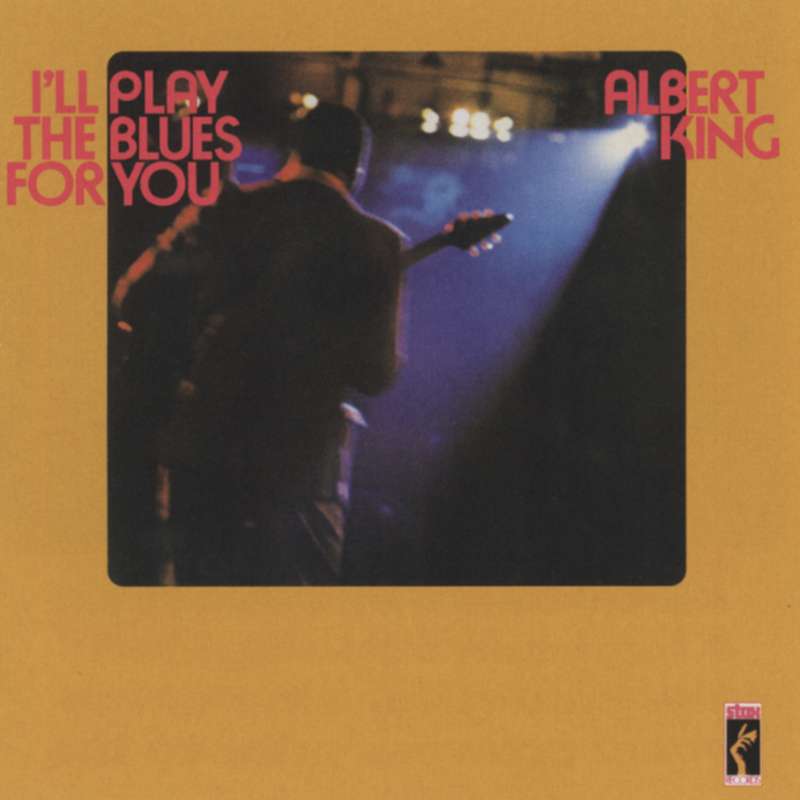 Albert King: I'll Play The Blues For You
Art-Nr.: CD33716


Artikel muss bestellt werden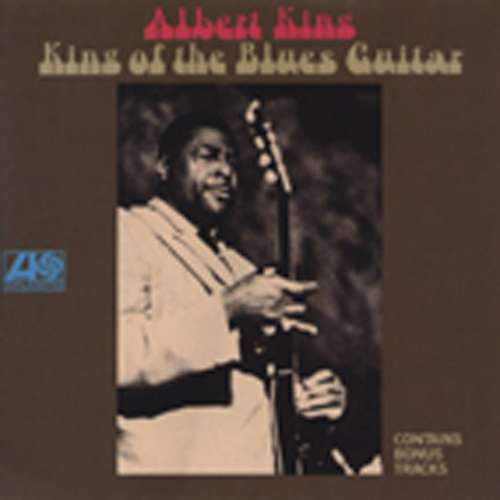 Albert King: King Of The Blues Guitar
Art-Nr.: CD82132


Artikel muss bestellt werden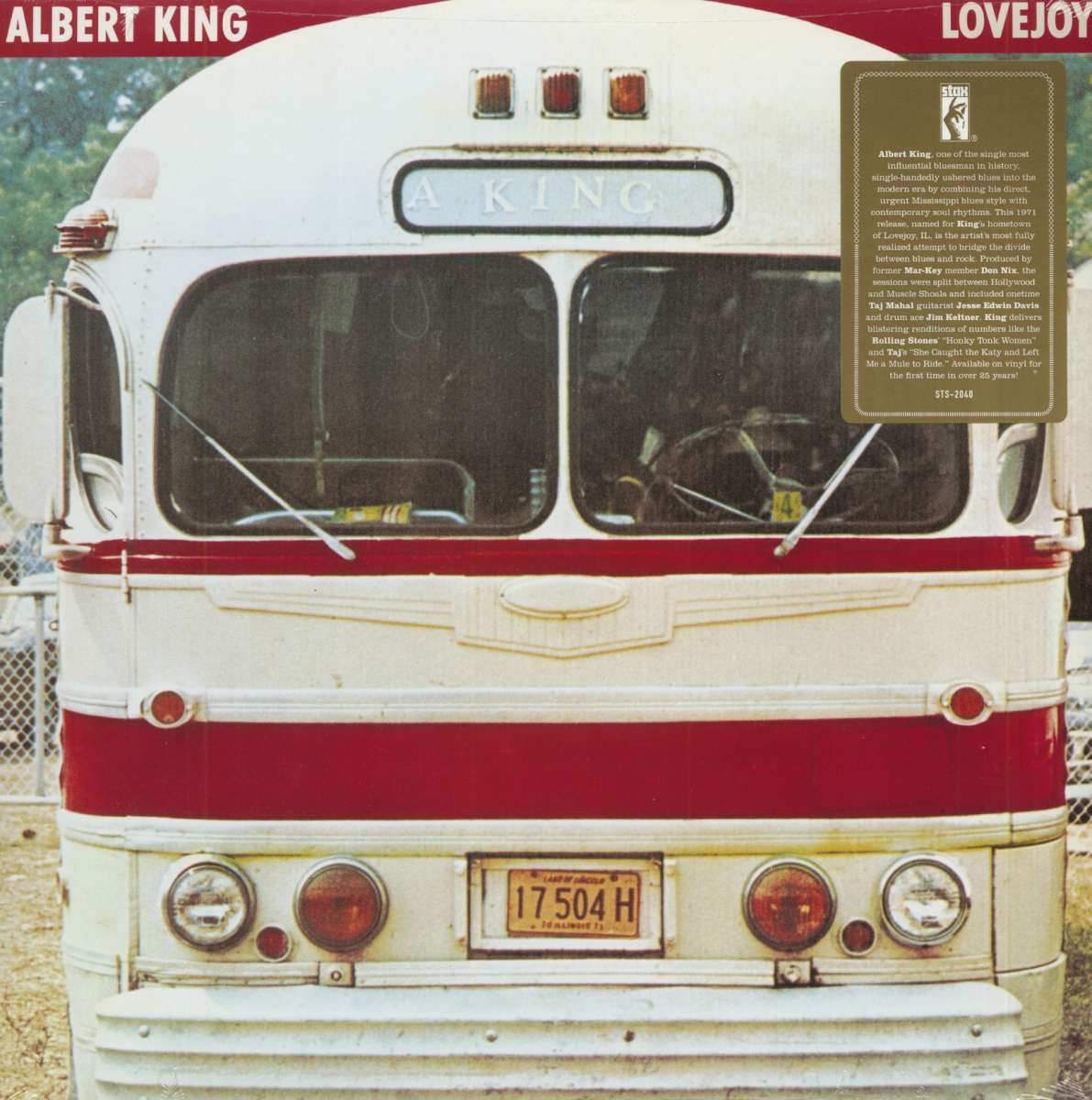 Albert King: Lovejoy (LP)
Art-Nr.: LPSTS2040


Artikel muss bestellt werden