Der Artikel wurde erfolgreich hinzugefügt.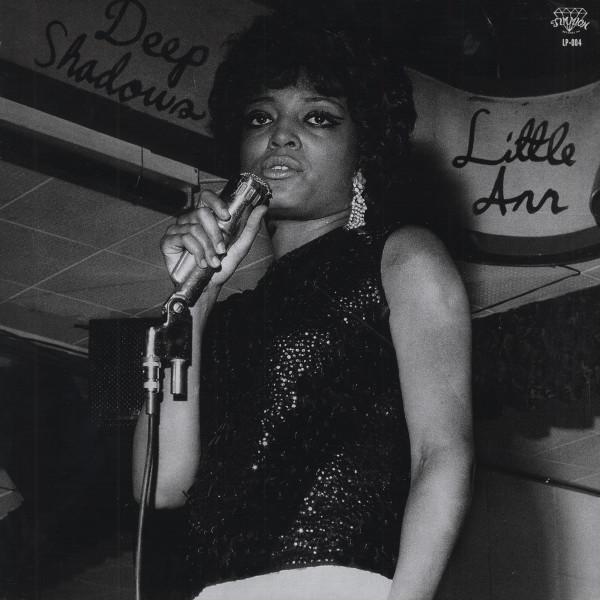 Dieser Artikel ist gestrichen und kann nicht mehr bestellt werden!
inkl. MwSt. zzgl. Versandkosten
Artikel derzeit nicht verfügbar, Lieferfristen von bis zu 2-3 Wochen sind zu erwarten. (soweit verfügbar beim Lieferanten - kann aber auch schneller gehen)
Artikel-Nr.:

LPT004

Gewicht in Kg.:

0.32
(2014/Timmion) 8 tracks Re-Release dieses raren Meisterwerks des Detroit/Northern Soul! Neu...
mehr
LITTLE ANN: Deep Shadows
(2014/Timmion) 8 tracks Re-Release dieses raren Meisterwerks des Detroit/Northern Soul! Neu verpackt im Deluxe Tip On Gatefold Sleeve! In deinen Händen könntest du ein Album halten, das zur Zeit seiner ursprünglichen Veröffentlichung niemals gehört wurde. Denn über 30 Jahre lang schlummerte das Album im Archiv des Produzenten und Musikers Dave Hamilton, einem der unbesungenden Helden der Detroiter Soulszene. Auf der Schachtel, in der die Bänder gefunden wurden, stand einfach nur 'The Possible Little Ann Album'. Die Geschichte der Entdeckung der Tracks, von denen hier einige zum ersten Mal überhaupt auf Vinyl erscheinen, ist eine aufregende Zusammenkunft von britischer und amerikanischer Soulkultur.Es war 1988, als zwei britische Soulfans im Haus von Hamilton durch alte Bänder stöberten. Ein Track ließ sie aufhorchen. Tatsächlich wurden sie von der Entdeckung des LITTLE ANN Tracks 'What Should I Do' aus den Schuhen geblasen. Obwohl der Song insgesamt langsamer lief, war er ihnen bekannt als ein geheimnisvoller ROSE VALENTINE Track von den legendären Soul Allnighters im britischen Wigan Casino.Die wahre Identität der Sängerin war niemals entschlüsselt worden und die beiden Fans waren bass erstaunt, als Hamilton ihnen eröffnete, dass die Stimme LITTLE ANN gehörte, einer unbekannten Künstlerin, die eine einzige Veröffentlichung auf dem amerikanischen Ric Tic Label hatte. Bevor sich ANN in die Ric Tic Studios begab, arbeitete sie im Studio von Dave Hamilton und Darrell Goolsby an ihren Songs. Goolsby war ein junger Sänger und Schreiber, der zusammen mit dem erfahrenen Dave Hamilton Mitte der Sechziger die Da Da Music Productions gründete. Dort nahm ANN sämtliche Albumtracks auf - darunter die Originalversion von 'Going Down A One Way Street', die auf diesem Album noch 'I Got To Have You' heißt.Doch weil ihre Veröffentlichung unbeachtet blieb, verstaubten die Bänder im Haus von Hamilton, bis Ace Records die Schätze ans Tageslicht holte.
Artikeleigenschaften von

LITTLE ANN: Deep Shadows
Albumtitel:

Deep Shadows

Genre

R&B, Soul

Geschwindigkeit

33 U/min

Plattengröße

LP (12 Inch)

Record Grading

Mint (M)

Sleeve Grading

Mint (M)

Artikelart

LP

Edition 2

EAN:

3700398705569

Gewicht in Kg:

0.32
Little Ann - Deep Shadows

LP 1
01
Deep Shadows
02
Who Are You Trying To Fool
03
Sweep It Out In The Shed
04
What Should I Do
05
I Got To Have You
06
Lean Lanky Daddy
07
The Smile On Your Face
08
Who Are You Trying To Fool
Bewertungen lesen, schreiben und diskutieren...
mehr
Kundenbewertungen für "Deep Shadows"
Von:
Funky Drummer
Am:
13.11.2014
Bewertung schreiben
Bewertungen werden nach Überprüfung freigeschaltet.