Der Artikel wurde erfolgreich hinzugefügt.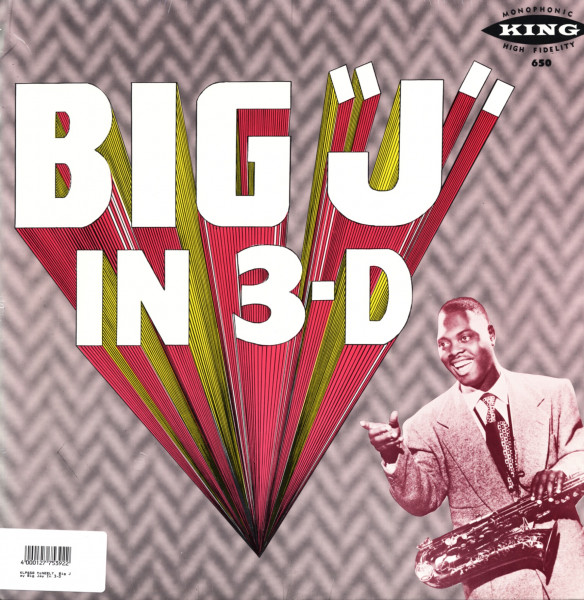 inkl. MwSt. / zzgl. Versandkosten - Abhängig vom Lieferland kann die MwSt. an der Kasse variieren.
nur noch 1x verfügbar
Sofort versandfertig, Lieferzeit** 1-3 Werktage
Artikel-Nr.:

LPK650

Gewicht in Kg.:

0.21
(King) 12 tracks - Re-issue of the original 1959 'King' LP album Big Jay McNeely, the greatest...
mehr
Big Jay McNeely: Big Jay In 3-D (LP)
(King) 12 tracks - Re-issue of the original 1959 'King' LP album
Big Jay McNeely
, the greatest jazz sensa-tion to come out of California since
Lionel Hampton
, is known to his thousands of fol-lowers as the 'Go! Go! Go!' boy. He plays a powerful lot of tenor saxophone. In fact, he has been known to devote 45 minutes to blowing hot and sweet in one number. It left him exhausted. A jazz devotee, Big Jay has studied under modern music greats. He has become the new jazz Pied Piper of teen-agers; has been called 'the greatest jazz artist since
Louis Armstrong
,' and also, 'California's hottest showman-saxophonist.' As Big Jay himself tells it, 'I first came to Los Angeles on April 29, 1927. I did not come there to get into the movies. I just came there to be born.' His was a musical family. Both parents and two brothers, Robert and Dillard, were musical. But Big Jay was 16 before he 'inherited' his first musical instru-ment.
While attending grade school, Big Jay thought it would be nice to take up the trom-bone. But Papa McNeely took inventory of the bankroll and decided the world would have to do without Big Jay's trombone toot-ing. So Big Jay went on to
Jefferson
High School, majored in music (harmony and the-ory), but couldn't get an instrument to play. Brother Robert had inherited an alto saxo-phone from a cousin. Since he now was em-ployed, he decided to go out and splurge on a tenor. That's how Big Jay came to 'inherit' the alto. Shortly thereafter, Uncle Sam sum-moned Robert, and his parting gift to Big Jay was his treasured tenor. That Big Jay made good use of the gift is musical history. He was a 16 year old high school student at the time. He and the tenor became the best of friends. Within six months he organized a 15 piece dance band, 'The
Earls
Of 44', after Fatha Earl Hines.
Withal, Big Jay lacked confidence in his musical prowess. He appeared in an amateur contest as a comedian—and was hooted off. Hurt, but mostly mad, Big Jay came back the next week. This time he had his sax along. He took second prize. The third week he won first prize with his torrid tenor.
Family
hardship actually started Big Jay off on his march to fame. His brothers were in the Army. His mother was a complete in-valid. Then his father took sick and couldn't work. Big Jay had to find a job. He formed a five man combo and went before the Union board for special dispensation. It was grant-ed, and Big Jay went to work at the Club Savoy, but because he was under-age, he had to leave the club between sessions and remain outside as long as he was off the stand. He finished high school while playing such clubs as the Rendezvous, Zanzibar, and Last word. Next thing he knew he was a hit on wax. By 1949, at the age of 22, he was on the national popularity and best-selling lists. H
is records have been favorites in pop-ular sales and have been spun in juke boxes and by disk jockeys from coast to coast. Recently, Big Jay's 'Jazz Concerts' at Shrine and Olympic Auditoriums in Los An-geles attracted thousands of Southern Cali-fornia teen-agers, who scream, shout, stomp and chant 'Go! Go! Go!' in mounting ex-citement to his rhythmic rompings. His agon-ized blue notes left them limp, disheveled and white with exhaustion as the perspiring Big Jay sank to his knees, played from a jack-knife position and finally stretched out on his back, still torturing his tenor. Most of Big Jay's fans are of high school and college age, but the older folks find his music contagious, too. At the Shrine jazz con-certs, one woman came night after night and sat there, just knitting placidly. 'Oh, I feel it, all right', she said, 'I feel it. It's all inside.'
Artikeleigenschaften von

Big Jay McNeely: Big Jay In 3-D (LP)
Albumtitel:

Big Jay In 3-D (LP)

Genre

R&B, Soul

Geschwindigkeit

33 U/min

Plattengröße

LP (12 Inch)

Record Grading

Mint (M)

Sleeve Grading

Mint (M)

Artikelart

LP

EAN:

4000127753922

Gewicht in Kg:

0.21
Big Jay McNeely and Band There Is Something On Your Mind Big Jay McNeely and Band,...
mehr
"Big Jay McNeely"
Big Jay McNeely and Band
There Is Something On Your Mind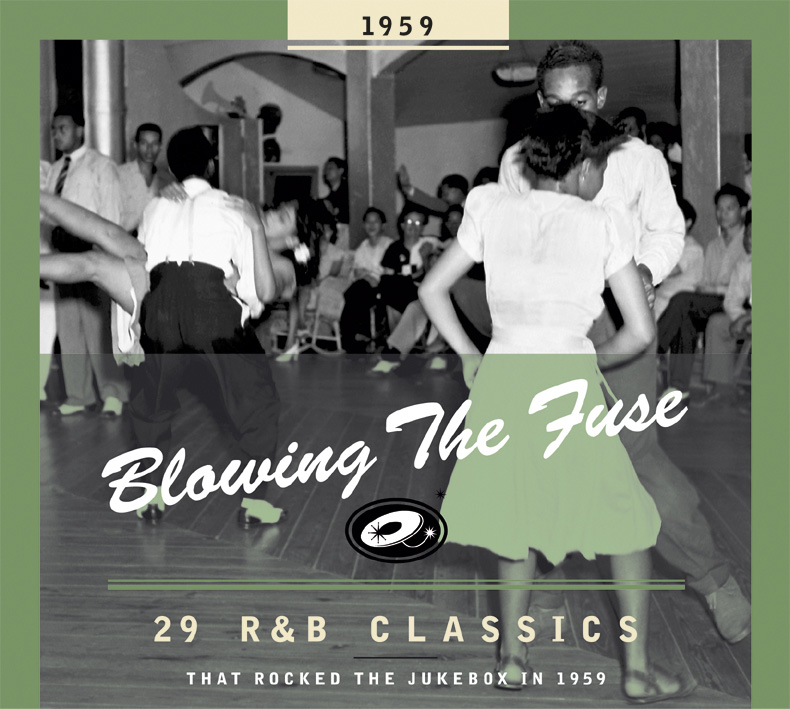 Big Jay McNeely and Band, vocal by Little Sonny
There Is Something On Your Mind
We last encountered Big Jay McNeely ten years earlier in 1949 when he was honking and squealing his way through Deacon's Hop. Although his muscular saxophonics had laid the groundwork for rock 'n' roll, Jay was sidelined during rock's early days, and found himself confined to multi-artist tours and club work. He didn't record at all from 1956 until he cut this. By the time he re-entered the studio, he'd hired Lloyd Price's former valet, Little Sonny Warner, as a singer. Warner was from Falls Church, Virginia (born October 30, 1930) and began his career imitating Ray Charles. He met McNeely around 1955, and joined him soon thereafter. "Jay bought that song ['There Is Something On Your Mind'] outright for about $85," Warner told Dan Kochakian, although when McNeely talked to Bill Millar, he set the price at twenty-five dollars. "[Turner] Rocky Wilson, who sang with the Rivingtons, wrote the song," said Warner. "Rocky was going with a girl who left him, and he got on the junk and wrote it." According to McNeely, "Rocky liked Fats Domino and had the tune going like Fats.
I told him, 'What you need to do is cut everything in half,' and I slowed everything down and rearranged it. I knew it was gonna be a hit. I wanted to record it with Rocky, but he wanted to get back down South…We recorded it in a guy's basement after we got off work one night…I told Sonny, 'Sing the song exactly like it is on Rocky's tape, no Ray Charles or nothing.'" According to Warner, "We cut it in a basement studio in Seattle in 1957. Tom Ogilvy [who later owned Seafair and Bolo Records in the northwest] arranged for us to do that.
The first time, Jay had it like Fats Domino…but Jay said, 'You keep trying to find a way to sing it.' Jay took the song to Hunter Hancock in Los Angeles." Writing to the Doo-Wop Society of Southern California in 1988, Hancock said, "In 1959 my business partner, Roger Davenport, and I started our own record label, Swingin' Records. Our first release was a homemade tape that Big Jay McNeely, the great saxophonist, brought me called 'There Is Something On Your Mind.' It was a huge hit for us." Indeed it was. According to Warner, Hunter Hancock played the song incessantly, and it became a Top 5 R&B hit and a Top 50 pop hit. Just as it was breaking, Warner was busted for marijuana possession, and remembered hearing the record on the prison sound system. The song, of course, had legs, and became an even bigger hit the following year for Bobby Marchan, and a hit again for Baby Ray in 1966. As a postscript, it appears that Rocky Wilson wrote the song in an apartment belonging to Jacqueline Baldain aka Jackie Day. When she heard the record over the air, she wrote to McNeely asking him where and how he'd acquired it. They corresponded back and forth and married in 1960.
Various - Blowing The Fuse 1959
Classics That Rocked The Jukebox

Read more at: https://www.bear-family.de/various-blowing-the-fuse-1959-classics-that-rocked-the-jukebox.html
Copyright © Bear Family Records
Bewertungen lesen, schreiben und diskutieren...
mehr
Kundenbewertungen für "Big Jay In 3-D (LP)"
Bewertung schreiben
Bewertungen werden nach Überprüfung freigeschaltet.
Weitere Artikel von Big Jay McNeely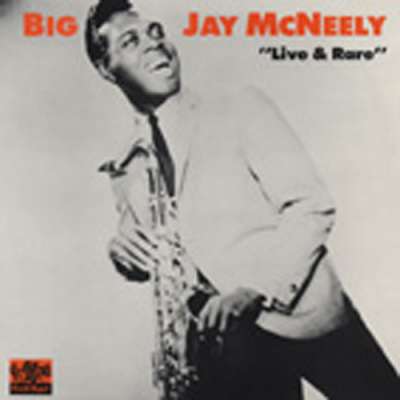 Big Jay McNeely: Live & Rare
Art-Nr.: JD908


Artikel muss bestellt werden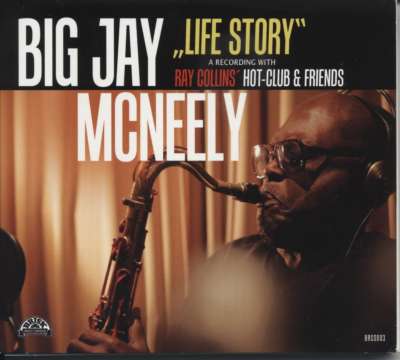 Big Jay McNeely: Life Story - with Ray Collin's Hot-Club (CD)
Art-Nr.: CDBRISK03


Sofort versandfertig, Lieferzeit** 1-3 Werktage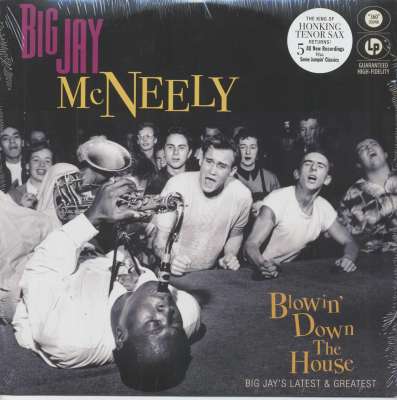 Big Jay McNeely: Blowin' Down The House - Big Jay's Latest &...
Art-Nr.: LPCLO0384


Artikel muss bestellt werden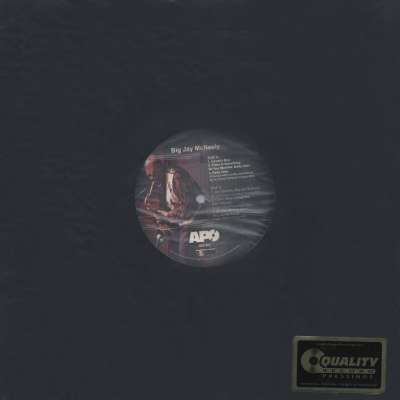 Big Jay McNeely: Big Jay McNeely
Art-Nr.: APO027


Artikel muss bestellt werden
Big Jay McNeely: Best (1947-57)
Art-Nr.: BP1300


Sofort versandfertig, Lieferzeit** 1-3 Werktage