Der Artikel wurde erfolgreich hinzugefügt.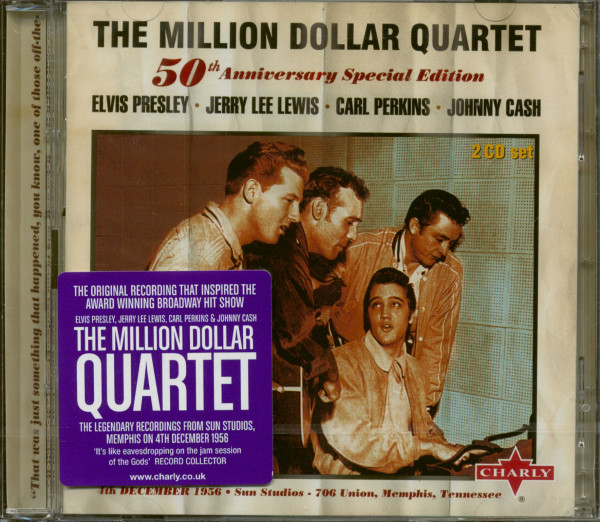 Dieser Artikel ist gestrichen und kann nicht mehr bestellt werden!
Benachrichtigen Sie mich, sobald der Artikel lieferbar ist.
Artikel-Nr.:

CDSNAJ551

Gewicht in Kg.:

0.2
(Charly) 41 tracks 1956 plus bonus CD (32 original Sun recordings) Original Promotext:...
mehr
The Million Dollar Quartet: 50th Anniversary Special Edition (2-CD)
(Charly) 41 tracks 1956 plus bonus CD (32 original Sun recordings)
Original Promotext:

Die legendäre Session von
Elvis Presley
,
Carl Perkins
,
Jerry Lee Lewis
und
Johnny Cash
in den Sun Studios. Dieses 2CD-Set enthält auch Solo-Highlights von allen vier Mitgliedern.
In diesem Jahr wird der 50. Jahrestag eines einmaligen Treffens der Rock'n'Roll-Giganten in den Sun Studios am 4. Dezember 1956 gefeiert. Die Aufnahmen, die an diesem Tag vom sogenannten Million Dollar Quartet gemacht wurden, haben wirklich legendären Status.
Carl Perkins war gerade dabei, eine Aufnahmesitzung abzuschließen, bei der Jerry Lee Lewis für ihn am Klavier gespielt hatte, als Elvis Presley vorbeikam, um seine alten Freunde bei Sun zu besuchen, wo er einige Jahre zuvor seine ersten bahnbrechenden Aufnahmen gemacht hatte. Der Schauplatz war eine außergewöhnliche, improvisierte Jam-Session, die glücklicherweise von
Sam Phillips
für die Nachwelt aufgenommen wurde.
Unterstützt von Carl Perkins' Band durchliefen Elvis, Carl und Jerry spontan eine Mischung aus populären Liedern der damaligen Zeit, Country-Lieblingen sowie alten Country-Gospel-Melodien, die das Trio so beeinflussten.
Die tatsächliche Beteiligung von Johnny Cash an den überlieferten Stücken ist seit vielen Jahren eine Frage von Vermutungen. Obwohl seine Stimme auf keinem der überlieferten Titel zu erscheinen scheint, haben mehrere zuverlässige Autoritäten, darunter Cash selbst in seiner Autobiografie, erklärt, dass er definitiv anwesend war und bei mehreren Liedern aufgetreten ist.
Die Musik, die wir hören, ist eine Mischung aus Liedschnipseln, Dialogpassagen sowie mehreren vollständigen oder fast vollständigen Liedern. In einem besonders faszinierenden Abschnitt spricht und singt Elvis drei seiner damaligen eigenen Songs - aktuelle Songs, "Don't Be Cruel", "Paralysed" und "That's Where Your Hearttaches Begin".
Disc One dieses besonderen Jubiläums-Doppel-Sets enthält alle Aufführungen des Quartetts, die bis heute gefunden wurden. Es ist zwar bekannt, dass an diesem Tag auch andere Lieder aufgeführt wurden, aber sie wurden nicht gefunden und sind nun vermutlich für immer verloren.
Disc 2 dieses einzigartigen Sets enthält acht speziell ausgewählte Solotitel von jedem Mitglied des Quartetts.
Artikeleigenschaften von

The Million Dollar Quartet: 50th Anniversary Special Edition (2-CD)
Albumtitel:

50th Anniversary Special Edition (2-CD)

Genre

Rock'n'Roll

Artikelart

CD

EAN:

0803415255122

Gewicht in Kg:

0.2
Million Dollar Quartet, The - 50th Anniversary Special Edition (2-CD)

CD 2
01
That's All Right
PRESLEY, Elvis
02
Movie Magg
PERKINS, Carl
03
You're A Heartbreaker
PRESLEY, Elvis
04
My Treasure
CASH, Johnny
05
I Don't Care If The Sun Don't Shine
PRESLEY, Elvis
06
You're My Baby
CASH, Johnny
07
I'm Left, You're Right, She's Gone
PRESLEY, Elvis
08
New Mexico
CASH, Johnny
09
I Forgot To Remember To Forget
PRESLEY, Elvis
10
That Lucky Old Sun
LEWIS, Jerry Lee
11
Turn Around
PERKINS, Carl
12
Dixie
LEWIS, Jerry Lee
13
Honky Tonk Gal
PERKINS, Carl
14
Milkcow Blues Boogie
PRESLEY, Elvis
15
Belshazar (undubbed version)
CASH, Johnny
16
The Marine's Hymn
LEWIS, Jerry Lee
17
Sure To Fall
PERKINS, Carl
18
Train Of Love
CASH, Johnny
19
Will The Circle Be Unbroken
LEWIS, Jerry Lee
20
Keeper Of The Key
PERKINS, Carl
21
I Was There When It Happened
CASH, Johnny
22
Old Time Religion
LEWIS, Jerry Lee
23
Be Honest With Me
PERKINS, Carl
24
Silver Threads (Among The Gold)
LEWIS, Jerry Lee
25
Mystery Train
PRESLEY, Elvis
26
Lonely Street
PERKINS, Carl
27
Goodnight Irene
CASH, Johnny
28
The Great Speckled Bird
LEWIS, Jerry Lee
29
Forever Yours
PERKINS, Carl
30
Leave That Junk Alone
CASH, Johnny
31
Hand Me Down My Walking Cane
LEWIS, Jerry Lee
32
Baby, Let's Play House
PRESLEY, Elvis
Bewertungen lesen, schreiben und diskutieren...
mehr
Kundenbewertungen für "50th Anniversary Special Edition (2-CD)"
Bewertung schreiben
Bewertungen werden nach Überprüfung freigeschaltet.
Weitere Artikel von The Million Dollar Quartet
The Million Dollar Quartet: The Complete Million Dollar Quartet 50th (US)
Art-Nr.: CDRCA88935


Artikel muss bestellt werden