Der Artikel wurde erfolgreich hinzugefügt.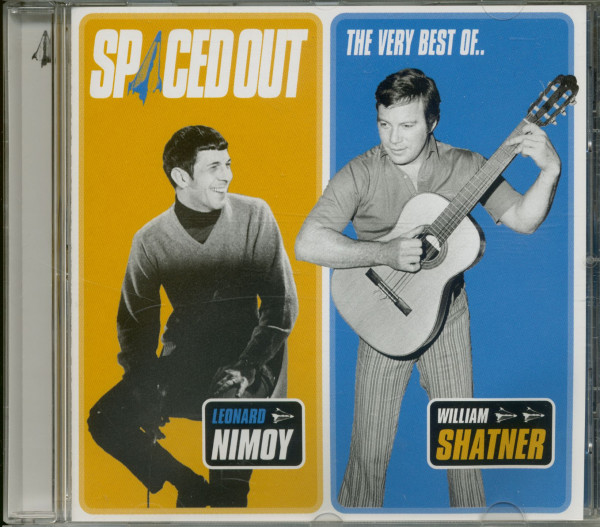 Dieser Artikel ist gestrichen und kann nicht mehr bestellt werden!
Benachrichtigen Sie mich, sobald der Artikel lieferbar ist.
Artikel-Nr.:

CD380455

Gewicht in Kg.:

0.107
(Universal) 24 tracks A collection of curiously compelling recordings, brought together for the...
mehr
Leonard Nimoy & William Shatner: Spaced Out - Best (CD)
(Universal) 24 tracks

A collection of curiously compelling recordings, brought together for the first time, summarising the talents of two artists who hold cult status in the worlds of both T.V. and music.

The original Star Trek has polarised opinion among genre enthusiasts since its debut an American television in 1966. The series' hardcore fans have proved a resilient bunch, defending such perceived idiosyncrasies as flimsy alien landscapes, flimsier aliens, and a starship captain with a legendary libido. It seems Trekkers will stick up for just about any aspect of the classic space opera. Except one.
The cast members of Star Trek needed little excuse to burst into song, and the albums recorded by the actors from the original series are prized items in the collections of many a kitsch connoisseur. Dot Records were the first to boldly venture where no record company had gone before when, in December 1966, they approached the producers of Star Trek with an appealing proposition. A memo by Desilu Studios' executive Herbert F Solow indicates his enthusiastic response: "I think we should push any record company that wants to do an outer space or Vulcan or any other single record or album, be it straight dramatic music, weird music, Nichelle Nichols singing, Bill Shatner doing bird calls or even the sound of Gene Roddenberry polishing a semi-precious stone on his grinder"
The first result of this collaboration was the 1961 Dot IP Produced under the guidance of Star Trek creator Gene Roddenberry, the album embraced the Summer of love's ebullient spirit in a heady musical brew. Nimoy, who was allowed to pose without his trademark pointy ears on the back cover — rose to the challenge of everything from protest songs to Broadway standards in his own inimitable style. A Visit TO A Sad V. (released at the time as a single], Music To Watch Space Girls By and the sensual are all reproduced here. The popularity of Spock (although second billed to Shatner's Kirk, Nimoy's character was a firm favourite among America's burgeoning space cadet constituency helped ensure a Billboard placing of 83 for the album, and a follow-up was released in 1968. Although allowed to pose without the ears for the front cover of The Two Sides Of Leonard Nimoy, the actor's Vulcan alter-ego was very much in evidence on an album that presented a 50/50 selection of Spock tunes and lounge croons. Side one featured a jaw-dropping array of musical melodramas sung in character (two of the very best — Highly illogical and Spock Thoughts — are featured here]. Leonard let his hair down on side two, as evidenced by the wistful Gentle fin My Mind, the earnest ff I Was A Carpenter and the bookers Ballad Of Mho Baggins. Nimoy's ill-advised foray into Tolkien whimsy predated led Zeppelin's excursions into similar territory by over three years, and came with the added bonus of a promotional video showcasing a gaggle of pointy-eared popsies dancing around our hero.

Nimoy's difficult third album, - , was issued by Dot later in the same year, and hinted at a new direction; listen to Both Sides Now and the stirring If 1 Had A Hammer for a taste of Nimoy's maturing sound during this era. The jubilant Sunny reminds us that, amidst the sadness and injustice in the world, there is always time to smile. The opening track, love Making love To You, was also released as a single. The only concession to the Spock persona that had dominated his earlier recorded work was the spoken word lament Where It's At. By this time, however, Nimoy's music had evolved beyond the sound of the novelty records that launched his career
• carried a misty portrait of the eponymous artist exploring psychedelic territory on its bold front cover; the tunes therein were an expression of his growing musical freedom. The Star Trek links were preserved with the Spock-style Contact and Maiden Wine, a song featured in the episode Plato's Stepchildren. But there was little point in Dot Records exploiting their star's green-blooded namesake any longer — Star Trek was cancelled in 1969. Now free from the shadow of his screen persona, Nimoy could pursue his unique blend of cabaret-style showmanship and sincere soul-searching unfettered. It is therefore sadly ironic that his next album of new material for Dot would prove to be the last.

was released in 1910, and took its singer deep into the heart of American folk with reworkings of such classics as Rtthy a..IVI'o iiigva? and I W.3Ik Tho lin. The new world of Nimoy was a dark, uncompromising place with little of the light relief that listeners had come to expect from his more commercial albums. Nimoy went on to tread the boards in fiddler On The Roof, but his later recordings were strictly of the spoken word variety. The compilation albums Space Odyssey and Outer Space/Inner Mind were issued in the early Seventies; the misunderstood and oft-maligned songs you can hear on this album were subsequently archived in the musical equivalent of the N-Files.

Although the most prolific Trek tunesmith, Nimoy was by no means the only Enterprise crew-member to beam up a record deal. William Shatner's notorious IP The Iransiormed Man was released by Decca Records in 196B, and has enjoyed numerous re-issues. A bewildering collision of Dylan, Shakespeare and The Beatles narrated over a strangely disconnected free-for-all, ME TrariSfm#1011 Mna was initiated by Shatner's desire to bond with his audience in new ways. "I've been entranced with music for the longest time," he explained in 1912, "and the bane of my life is 1 really can't sing... I'm kind of feeling my way into an area that I'm discovering." Discover Bill's staggering interpretations of Mr. Tambourine Mae and lay In The Sky With Diamonds and you'll get a pretty good handle on his evocative style. If the remaining Transformed Man tracks on this compilation don't scale such dizzy heights, it's only because they're up against impossible odds. Shatner later took his show on the road; the curious would be well-advised to acquire a copy of the double IP it.:;ar.5 D3-for Live! for a stimulating memento of his 'dramatic narratives with a musical background'.
Nichelle Nichols, Grace lee Whitney and, more recently, Brent Spinet; also joined the ranks of Star Trek actors who committed their voices to vinyl. While their work may have been enriched by a technical quality, or an irony, perhaps lacking in the recordings collected here, the curiously compelling music of Leonard Nimoy and William Shatner is assured an appreciative audience in this, and the next, generation.
Marcus Hearn
Titan Magazines



Artikeleigenschaften von

Leonard Nimoy & William Shatner: Spaced Out - Best (CD)
Albumtitel:

Spaced Out - Best (CD)

Genre

Pop

Artikelart

CD

EAN:

0602438045525

Gewicht in Kg:

0.107
Nimoy, Leonard & William Shatner - Spaced Out - Best (CD)

CD 1
01
King Henry The Fifth
02
Elegy For The Brave
03
Highly Illogical
04
If I Had A Hammer (The Hammer Song)
05
Mr Tambourine Man
06
Where Is Love
07
Music To Watch Space Girls By
08
If Was A Very Good Year
09
Ruby Don't Take Your Love To Town
10
Hamlet
11
A Visit To A Stad Planet
12
Abraham, Martin and John
13
Lucy In the Sky With Diamonds
14
If I Was A Carpenter
15
How Insensitive
16
I'd Love Making Love To You
17
Put A Little Love In Your Heart
18
Sunny
19
Gentle On My Mind
20
I Walk The Line
21
Ballad Of Bibo Baggins
22
Everybody's Talkin'
23
Both Sides Now
24
Spock Thoughts
Bewertungen lesen, schreiben und diskutieren...
mehr
Kundenbewertungen für "Spaced Out - Best (CD)"
Bewertung schreiben
Bewertungen werden nach Überprüfung freigeschaltet.