Der Artikel wurde erfolgreich hinzugefügt.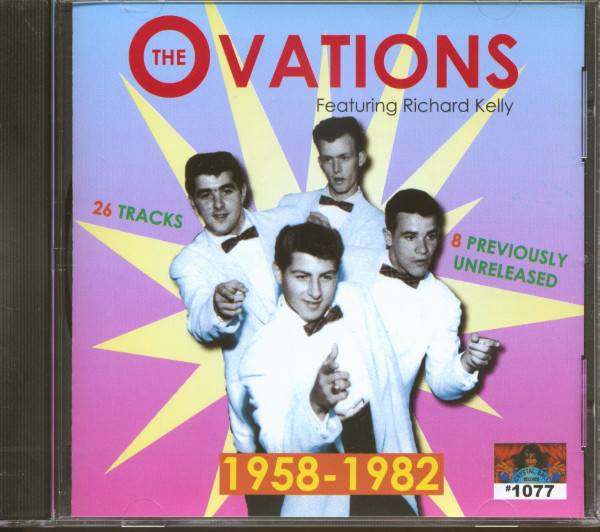 27,95 € *
29,95 € *
(6,68% gespart)
inkl. MwSt. / zzgl. Versandkosten
Sofort versandfertig, Lieferzeit** 1-3 Werktage
Artikel-Nr.:

CDCB1077

Gewicht in Kg.:

0.1
(Crystal Ball) 26 Titel Es begann 1958 in Harrison, New Jersey. Richard Kelly kam gerade aus...
mehr
The Ovations: Richard Kelly & The Ovations 1958-1982 (CD)
(Crystal Ball) 26 Titel
Es begann 1958 in Harrison, New Jersey. Richard Kelly kam gerade aus der Marine, wo er Acapella sang. Er war 22 Jahre alt und traf sich mit Paul Omeletski-Bass, Mario Venancio-Baritone und Gus Ottobreist Tenor, alle 16 und 17 Jahre alt. Das waren die Ideals, die eine Veröffentlichung auf dem Cool-Label hatten.

Innerhalb eines Jahres ersetzte Paul Sansone Omeletski als Bassist und die Ovations wurden gegründet. Lässt jede mögliche Durcheinander vermeiden, indem es diese Gruppe als die NJ Ovations (reich ist ursprünglich von Newark) anders als die Königinnen, NY Gruppe anführt, die von Sammy Cantos geführt wird, die bereits eine CD auf Kristallkugel haben. Und denken wir auch an die Gruppe auf Goldwax, die schließlich die NJ Ovations zwingen würde, ihren Namen in In-Ovations zu ändern. Diese Gruppe hätte eine Veröffentlichung auf Epic Records und einige unveröffentlichte Seiten wie "Lisa" zum ersten Mal hier auf CD.

Nach Epic wechselte die Gruppe zu Andie Records (59/60), die bald zu Rust, einer Division von Laurie, wurde. Durch ihren Manager Freddie Parker wurde ein Deal mit Hy Weiss von Old Town Records abgeschlossen, und eine alternative Version von My Lullaby wurde mit The Day We Fell In Love als B-Seite veröffentlicht. Das war eigentlich "Oh What A Day", das zuvor auf Epic Records, einer Abteilung von Columbia, veröffentlicht wurde. Die Gruppe würde eine weitere Veröffentlichung auf einem Major-Label Capitol haben, die erst aussterben würde, nachdem sie anfing, ein wenig Lärm zu machen, weil eine neue Gruppe namens The Beatles gefördert wurde.

Rich würde Ende 64 eine eigene Platte unter dem Namen Cal Richards für das Label Vitose veröffentlichen. Hier unterstützten ihn zwei Gründungsmitglieder der 4-Seasons, Tommy De Vito und Nick Massi. Bis 1965 musste die Gruppe ihren Namen in In-Ovations ändern und zwischen 65-67 hatten sie drei Veröffentlichungen auf Ascot, einer Abteilung von United Artists, Amy unter der Leitung von Ellie Greenwich und ihre letzte Veröffentlichung auf RCA.

Dieses Paket enthält früh unveröffentlichte Acapella-Seiten von 59/60 Lovely Way to Spend An Evening und Rich's original Bye Bye Baby. Die beiden Titel der Ascot und Amy 45's sind die gleichen, aber sie sind zwei verschiedene Songs.

Rich gründete schließlich die Friendship Band, die über 20 Jahre zusammen war und durch den NJ-Bereich spielte. Auf diesem Paket, das diese Ära repräsentiert, steht "Morse Code Of Love". Ein weiterer interessanter Punkt ist, dass Tony Testa mehrere Jahre lang Mitglied der Gruppe war.

Heute singt Tony mit dem Dupree's. Es ist mir eine große Freude, Ihnen die NJ Ovations vorzustellen, zumal ich bereits die Queens NY Ovations veröffentlicht habe. Richard Kelly war schon immer sehr sammelbar, seine erste Platte als The Ideals gilt als eine der 50 seltensten weißen Gruppe 45er Jahre.
Lehnen Sie sich zurück und genießen Sie, während Richard und die Ovations Sie unterhalten.

Ed Engel, Crystal Ball Records


Artikeleigenschaften von

The Ovations: Richard Kelly & The Ovations 1958-1982 (CD)
Albumtitel:

Richard Kelly & The Ovations 1958-1982 (CD)

Genre

Doo-Wop

Artikelart

CD

EAN:

0764942013725

Gewicht in Kg:

0.1
Ovations (Richard Kelly), The - Richard Kelly & The Ovations 1958-1982 (CD)

CD 1
01
Do I Have The Right
02
You Won't Like It
03
Oh What A Day
04
Real True Love
05
My Lullaby
06
Whole Wide World
07
Lovely Way To Spend An Evening
08
Bye Bye Baby
09
My Lullaby
10
I Don't Wanna Cry
11
Loneliness Never Entered My Mind
12
Let Him Get His Own Girl
13
Small Town Girl
14
Lisa (acap.)
15
Too Young To Know (acap.)
16
Loneliness (acap.)
17
I Don't Wanna Cry (acap.)
18
Morse Code Of Love
19
Things Ain't The Same
20
This Ain't Real
21
Shadow Of Her Man
22
Things Ain't The Same (diff. song)
23
Your Times Gonna Come
24
Heartaches And Headaches
25
I Can Make It Without You
26
A Small Café Mam'sellé
Bewertungen lesen, schreiben und diskutieren...
mehr
Kundenbewertungen für "Richard Kelly & The Ovations 1958-1982 (CD)"
Bewertung schreiben
Bewertungen werden nach Überprüfung freigeschaltet.