Zurück zur Übersicht
Ab 55 € versandkostenfrei (innerhalb DE)
DHL Versand - Auslieferung auch Samstags
Über 60.000 Artikel direkt ab Lager lieferbar.
Johnny Powers
Rock! Rock! Rock! with Johnny Powers (LP)
Artikel-Nr.: LPROLL2010
Gewicht in Kg: 0,210
Sofort versandfertig, Lieferzeit** 1-3 Werktage
Johnny Powers: Rock! Rock! Rock! with Johnny Powers (LP)
(1986/Rollercoaster) 20 tracks - The early rockin' sides of Johnny Powers
He was big in Detroit, Michigan, and an even bigger star in the UK thanks to the 70s rockabilly revival. All Johnny's best early recordings are here, including many issued for the first time. Long blond hair, Rock rock, Honey let's go (to a rock'n'roll show), Your love, I'm walkin', Treat me right, Be-bop-a-lula, Mean mistreater, Trouble, With your love, with your kiss, Be mine all mine, Me and my rhythm guitar, Waiting for you, Oh so far away, Kiss-a-me baby, Falling star, The bigger they are (the harder they fall in love), Please return my love, Someone's gonna hurt you, Seventeen
Songs
Johnny Powers - Rock! Rock! Rock! with Johnny Powers (LP)

Medium 1
1:
Long Blond Hair
2:
Rock Rock
3:
Honey Let's Go
4:
Your Love
5:
I'm Walkin
6:
Treat Me Right
7:
Be Bop A Lula
8:
Mean Mistreater
9:
Trouble
10:
With Your Love, With Your Kiss
11:
Be Mine All Mine
12:
Me And My Rhythm Guitar
13:
Waiting For You
14:
Oh So Far Away
15:
Kiss A Me Baby
16:
Falling Star
17:
The Bigger They Are
18:
Please Return My Love
19:
Someone's Gonna Hurt You
20:
Seventeen
Artikeleigenschaften von

Johnny Powers: Rock! Rock! Rock! with Johnny Powers (LP)
Interpret:

Johnny Powers

Albumtitel:

Rock! Rock! Rock! with Johnny Powers (LP)

Artikelart

LP

Genre

Rock

Music Genre

Rock 'n' Roll

Music Style

Vinyl - Rock & Roll

Music Sub-Genre

553 Vinyl - Rock & Roll

Plattengröße

LP (12 Inch)

Geschwindigkeit

33 U/min

Record Grading

Mint (M)

Sleeve Grading

Mint (M)

Erscheinungsjahr

1986

Label

ROLLERCOASTER

Preiscode

VLP5

SubGenre

Rock - Rock'n'Roll

EAN:

5012814020100

Gewicht in Kg:

0.210
Interpreten-Beschreibung

"Powers, Johnny"
Johnny Powers (John Leon Pavlik)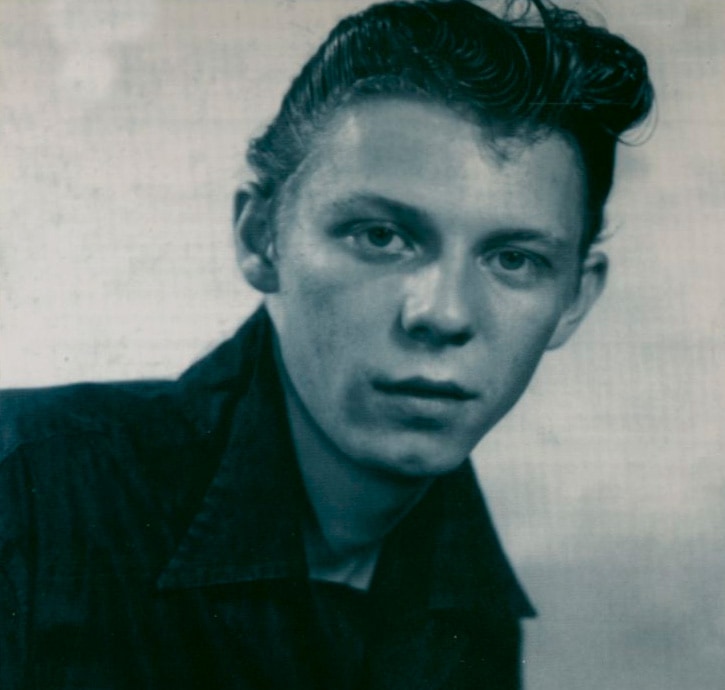 Der als John Leon Pavlik 1938 in East Detroit, Michigan, geborene Johnny Powers lernte mit 15 Jahren von seinem Vater das Gitarrespielen. 1954 schloss er sich einer Band mit dem Namen "Jimmy Williams & The Drifters" an, in der er die Rhythmus Gitarre spielte.
Dieser Jimmy Williams wurde mit seiner Band durch eine Radiosendung so populär, das sich das Label Drifters-Records entschloss,zwei Songs mit Williams und seiner Band aufzunehmen. Mit der Nummer 101 erschienen dann auch die Titel "Teardrops & Memories" und "Rainbow Heart" auf diesem Label.
1955 verließ Johnny Powers diese Band und stellte seine eigene Band zusammen:"Johnny Powers & The Rockets". Zu dieser Band gehörten Stan Getz, Marvin Maynard und Johnny Clark. Stan Getz hatte zuvor bei Jack Scott gespielt. Mit dieser Band spielte er dann bei Fortune Records die Titel "Honey Let's Go (To The Rock & Roll Show)" und "Your Love" ein, die 1956 als Fortune 199 veröffentlicht wurden.
Danach formierte Johnny Powers seine Band um, für Marvin Maynard kam Larry Lick. 1957 bekam dann Johnny Powers einen Vertrag bei FOX-Records in Detroit. Bei diesem Label nahm er acht Titel auf, von denen allerdings nur die beiden Songs "Rock Rock" und "Long Blond Hair" veroffentlicht wurden.Weitere vier Titel wurden dann erst viel später von OLYMPIC-Records veröffentlicht. Es waren die Songs "Mean Mistreater", "I Walk", 'Treat Me Right" und "Somebody 's Gonna Hurt You".
Am 12.August 1959 ging ein Traum von Johnny Powers in Erfullung: eine Session im legendaren SUN-Studio in Memphis. Bei den Aufnahmen wurde er von Martin Wills, Charlie Rich, Brad Suggs, Billy Lee Riley und Jimmy van Eaton begleitet. Es wurden die Titel "With Your Love, With Your Kiss", "Be Mine All Mine", "Me And My Rhythm Guitar" und "Waitin' For You" eingespielt.Die beiden erstgenannten Titel wurden unter dem gelben SUN Etikett unter der Nummer 327 am 15.September 1959 veröffentlicht, während die beiden anderen Titel erst zwanzig Jahre später in Frankreich als SUN 604 veröffentlicht wurden.
Johnny Powers, der nie den großen Hit hatte, gehört dennoch zu den Rock&Rollern die mit nur wenigen Songs in die Geschichte des Rock'nRoll eingingen.
Claus D. Röglin
Presseartikel über

Johnny Powers - Rock! Rock! Rock! with Johnny Powers (LP)