Der Artikel wurde erfolgreich hinzugefügt.
13,95 € *
15,95 € *
(12,54% gespart)
inkl. MwSt. zzgl. Versandkosten
Sofort versandfertig, Lieferzeit** 1-3 Werktage
Artikel-Nr.:

BCD15763

Gewicht in Kg.:

0.107
1-CD mit 16-seitigem Booklet, 28 Einzeltitel. Spieldauer ca. 65 Minuten. Heute ist er ein...
mehr
Dave Rich: Ain't It Fine
1-CD mit 16-seitigem Booklet, 28 Einzeltitel. Spieldauer ca. 65 Minuten.

Heute ist er ein berühmter Evangelist. 1955 jedoch war er ein junger Country-Sänger mit einer erstaunlichen Bandbreite. Als Rock 'n' Roll ausbrach, war Dave Rich eins der großen, unentdeckten Talente der Country-Musik. Auch als Rock 'n' Roller hätte er den Durchbruch schaffen können. Die Lieder waren toll, und Dave Rich konnte so überzeugend rocken wie er Country singen konnte. Hier sind alle 28 RCA-Aufnahmen von 1955 bis 1959 einschließlich Rosie Let 's Get Cozy, School Blues und Burn On Love Fire. Die Highlights sind jedoch City Lights, das er mehrere Monate vor der Ray Price-Version aufnahm, und die vielleicht stärkste Version aller Zeiten von Lonely Street, Jahre später ein Hit für Andy Williams. Testen Sie diese Stimme an!
Artikeleigenschaften von

Dave Rich: Ain't It Fine
Albumtitel:

Ain't It Fine

Genre

Country

Preiscode

AH

Artikelart

CD

EAN:

4000127157638

Gewicht in Kg:

0.107
Rich, Dave - Ain't It Fine

CD 1
01
Your Pretty Blue Eyes
02
Ain't It Fine
03
I'm Glad
04
Didn't Work Out, Did It
05
I'm Sorry Goodbye
06
Darling I'm Lonesome
07
Tuggin' On My Heart Strings
08
I Love 'em All
09
I Forgot
10
I Think I'm Gonna Die
11
Lonely Street
12
Our Last Night Together
13
City Lights
14
Rosie Let's Get Cozy
15
Burn On Love Fire
16
Red Sweater
17
I've Learned
18
Red Beads
19
School Blues
20
Sunshine In My Heart
21
Chicken House
22
That's What This Whole World Needs
23
Saved From Sin
24
Brand New Feeling
25
Where Else Would I Want To Be
26
The Key To My Heart
27
I've Thought It Over
28
Just Like Mine
Dave Rich RCA's A&R chief, Chet Atkins, had high hopes of breaking Dave Rich in the...
mehr
"Dave Rich"
Dave Rich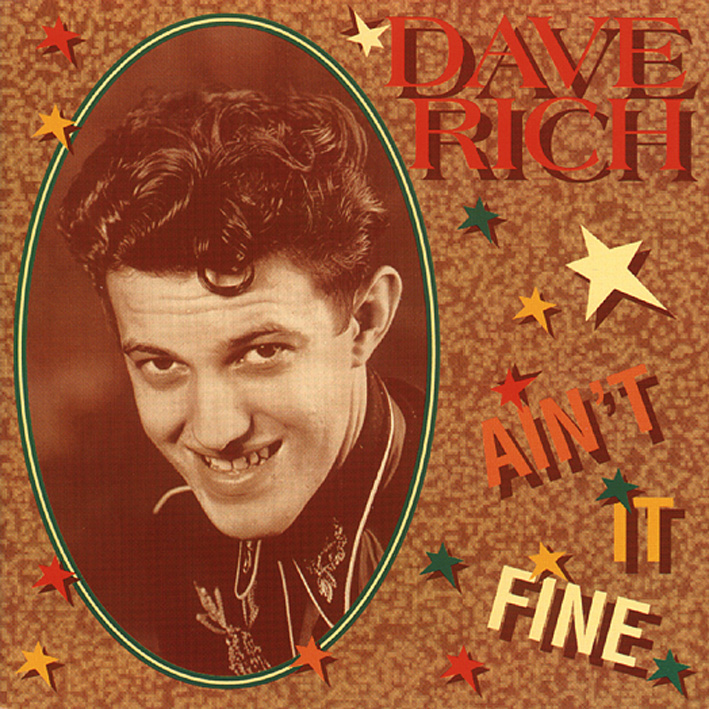 RCA's A&R chief, Chet Atkins, had high hopes of breaking Dave Rich in the teen sweeps, and Red Sweater might have done it had events not conspired otherwise. Rich was from Kentucky, born in Briar Creek on February 3, 1936. He got into the music business circa 1950 singing with his brother Spider's band, the Bar-X Cowboys. Spider (aka James Rich) became a Nashville session man, and can be heard on our Boots Randolph cut, Percolator (he later wrote Yakety Sax for Randolph). Dave cut his first record with the Bar-X Cowboys, then traveled the country with the band until he fell ill. "Up to then," he said, "I got so many turndowns because people said I sounded like this guy or that guy." He set about refining his own style. "I was different," he says. "I did all kinds of tricks with my voice. I'd slide, pump, and go real high. I had a real range." Spider was already in Nashville, and Chet Atkins (who covered Yakety Sax as Yakety Axe) was hearing about Spider's brother, Dave. Chet auditioned Dave, signing him in September 1955. When rock 'n' roll exploded, Dave Rich changed gears. His pop records, like Red Sweater, could well have made a big splash, but by 1959 Rich had decided to go into the ministry. "My mind was made up," he says. "The other musicians were out partying, and I'd be praying, seeking the Lord. Probably in the next six months I would have had a big one, but I finally got to the place where it didn't make any difference if had I million-seller the day I stopped." Check out our CD 'Ain't It Fine' (BCD 15763)
Dave Rich Ain't It Fine
Read more at: https://www.bear-family.com/rich-dave-ain-t-it-fine.html
Copyright © Bear Family Records
Bewertungen lesen, schreiben und diskutieren...
mehr
Kundenbewertungen für "Ain't It Fine"
Bewertung schreiben
Bewertungen werden nach Überprüfung freigeschaltet.