Der Artikel wurde erfolgreich hinzugefügt.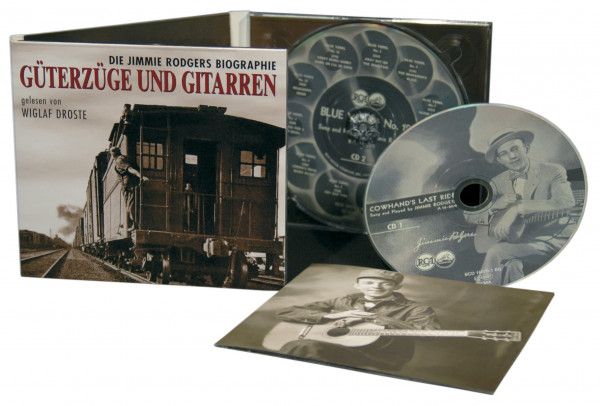 Artikel-Nr.:

BCD16079

Gewicht in Kg.:

0.25
2-CD Digipak (6-seitig) als Hörbuch mit 12-seitigem Booklet, 42 Einzeltitel. Spieldauer ca. 153...
mehr
Jimmie Rodgers: Biografie - gelesen von Wiglaf Droste
2-CD Digipak (6-seitig) als Hörbuch mit 12-seitigem Booklet, 42 Einzeltitel. Spieldauer ca. 153 Minuten.

'Güterzüge und Gitarren - Die Jimmie Rodgers Biografie, gelesen von Wiglaf Droste. Nach einem exklusiven Hörbuch-Manuskript von Bettina Greve.

Jimmie Rodgers ist der Wegbereiter der Country Music, 20 Jahre vor Hank Williams. Hier wurde nun seine erste Audio-Biographie als Hörbuch auf CDs verewigt. Wiglaf Droste, 1961 geboren, Kolumnist der taz und des WDR, liest die erste Audio-Biographie von Jimmie Rodgers. Bob Dylan: 'Jimmie Rodgers is one of the guiding lights of the 20th century.' Hörbuch mit zusätzlich 21 Original Jimmie Rodgers-Liedern.
Artikeleigenschaften von

Jimmie Rodgers: Biografie - gelesen von Wiglaf Droste
Albumtitel:

Biografie - gelesen von Wiglaf Droste

Preiscode

BG

Edition 2

Deluxe Edition

Artikelart

CD

EAN:

4000127160799

Gewicht in Kg:

0.25
Rodgers, Jimmie - Biografie - gelesen von Wiglaf Droste

CD 1
01
Jimmie The Kid
02
T For Texas/Blue Yodel #1
03
Land Of My Boyhood Dreams
04
Daddy And Home
05
Train Whistle Blues
06
T.B. Blues
07
Brakeman's Blues
08
Sleep, Baby, Sleep
09
Waitin' For A Train
10
In The Jailhouse Now
11
Hobo Bill's Last Ride
12
Mississippi River Blues
13
Blue Yodel #8
14
My Rough And Rowdy Ways
15
Travellin' Blues
16
Why There's A Tear In My Eyes
17
When The Cactus Is In Bloom
18
My Time Ain't Long
19
Miss The Mississippi And You
20
Years Ago
21
Jimmie Rodgers' Last Blue Yodel
Jimmie Rodgers The importance of Jimmie Rodgers (1897-1933) to the history of country music...
mehr
"Jimmie Rodgers"
Jimmie Rodgers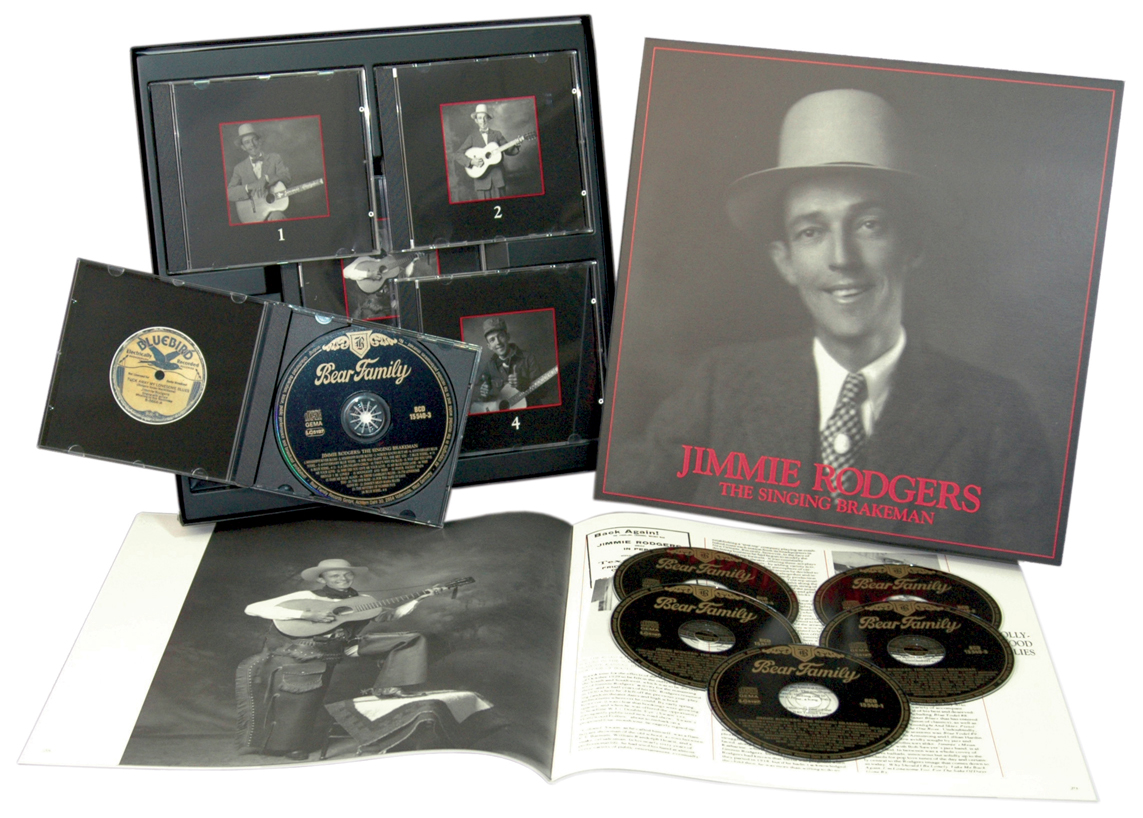 The importance of Jimmie Rodgers (1897-1933) to the history of country music is a subject that has been analyzed extensively in the more than 70 years since his death in 1933. The true mark of an enduring musical form is its ability to change and evolve, and, for better or worse, country music still survives, although in a much different form than Rodgers or anyone else from his era could have imagined. It's difficult to discern, however, the influence of Rodgers in a performance by any of today's stars, such as Big and Rich, Toby Keith, or Carrie Underwood, but, nevertheless, it is there just the same. Every so often, one of these artists will sing a Rodgers song, usually one of Jimmie's most popular, such as Waiting For A Train or T For Texas, and the flickering flame shines a little bit brighter.
Rodgers' fire will never really go out because country music grew from his example, not only from the catalog of songs he sang, but from his personality, his attitudes, and his devotion to aspects of life that are still embraced by Americans as well as lovers of country music from around the world. Rodgers sang of many things. His songs dealt with devotion to family, hell-raising, work, illness, storytelling, tragedy, and love of family, much of this coming from his own personal experiences. All of these topics are still used by today's country performers. Although the songs might not be the same, and the instrumentation has morphed into a form that would have been unrecognizable to country music's early fans, the influence is still there, and it can all be traced back to Rodgers.
Jimmie Rodgers was country music's first star. Before he came along, hillbilly music, as it was then known, was seldom performed professionally. Its purveyors were common folk, musically untrained, with a lifestyle that centered on other professions. There were a few exceptions to this. Uncle Dave Macon had been in vaudeville for years and was a seasoned entertainer by the time he began recording in 1924. Vernon Dalhart had become a star through his recording of The Prisoner's Song, also in 1924, but Dalhart's fame was based on his interpretation of what a folk performer should sound like. His personality, like that of every other popular vocalist of his era, remained hidden and undefined.
Other than these few artists, early hillbilly performers were primarily employed in some other line of work. Rodgers, himself, was a brakeman, before tuberculosis forced him to find another, less strenuous way to earn a living. The only other thing he knew how to do was sing, and so, performing became his vocation. Even though Rodgers was far from the first person to record what would become country music, the genre was really born with his first session in August 1927. Before Rodgers, it didn't really matter who sang a folk song because the song was what mattered, not the singer.
Rodgers' catalog of songs drew from a variety of sources: traditional folk songs, Tin Pan Alley compositions, songs from vaudeville, blues, jazz, risqué novelty numbers, and Rodgers' own compositions. Rodgers infused each of these song with his own personality so effectively, that his fans thought he had written everything he sang, and that his life was full of pistol packin' papas, mean mamas, bounders, and rounders. In truth, only a handful of his songs had to do directly with his own life: most notably, the train songs (Waiting For A Train) and songs about his illness (T.B. Blues). But Jimmie Rodgers changed country music from a song-oriented genre to one that focused on the personality of the performer. The Carter Family, who made their recording debut at the same session as Rodgers, the famous Victor sessions in Bristol, Virginia, were more influential for the songs they sang than from their own personalities. Although their respective influence has been substantial in their own field, it was Rodgers who became a star.
Jimmie Rodgers The Singing Brakeman (6-CD)
Read more at: https://www.bear-family.com/rodgers-jimmie-the-singing-brakeman-6-cd.html
Copyright © Bear Family Records
Bewertungen lesen, schreiben und diskutieren...
mehr
Kundenbewertungen für "Biografie - gelesen von Wiglaf Droste"
Bewertung schreiben
Bewertungen werden nach Überprüfung freigeschaltet.
Weitere Artikel von Jimmie Rodgers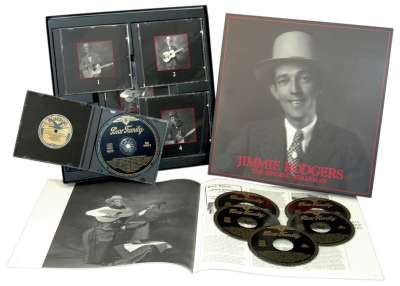 Jimmie Rodgers: The Singing Brakeman (6-CD)
Art-Nr.: BCD15540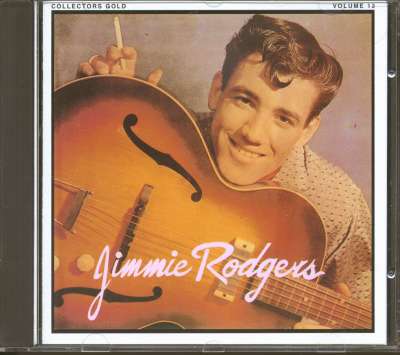 Jimmie Rodgers: Collector's Gold - Jimmie Rodgers (CD)
Art-Nr.: CD2502017


Sofort versandfertig, Lieferzeit** 1-3 Werktage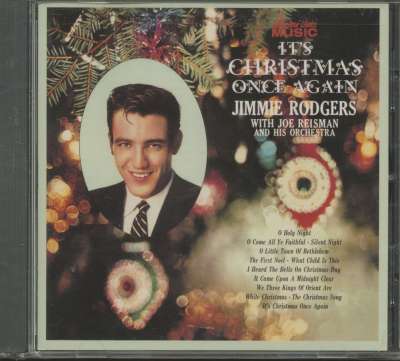 Jimmie Rodgers: It's Christmas Once Again - 1959 Stereo Album (CD)
Art-Nr.: CDCCM0409


Sofort versandfertig, Lieferzeit** 1-3 Werktage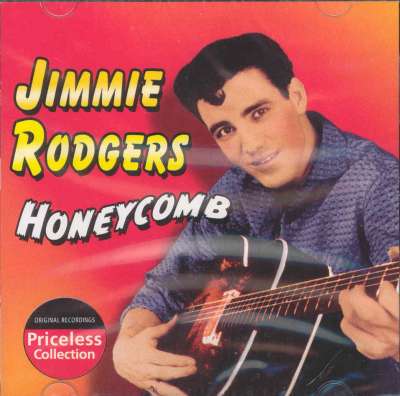 Jimmie Rodgers: Honeycomb
Art-Nr.: CDCOL9933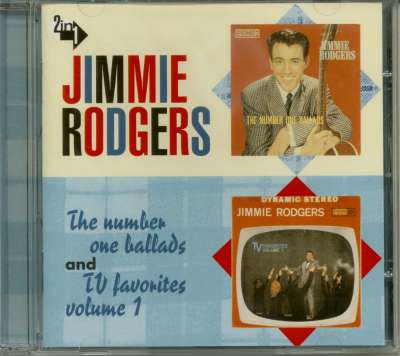 Jimmie Rodgers: Number One Ballads - TV Favorites (CD)
Art-Nr.: CDWESA879


Sofort versandfertig, Lieferzeit** 1-3 Werktage