Der Artikel wurde erfolgreich hinzugefügt.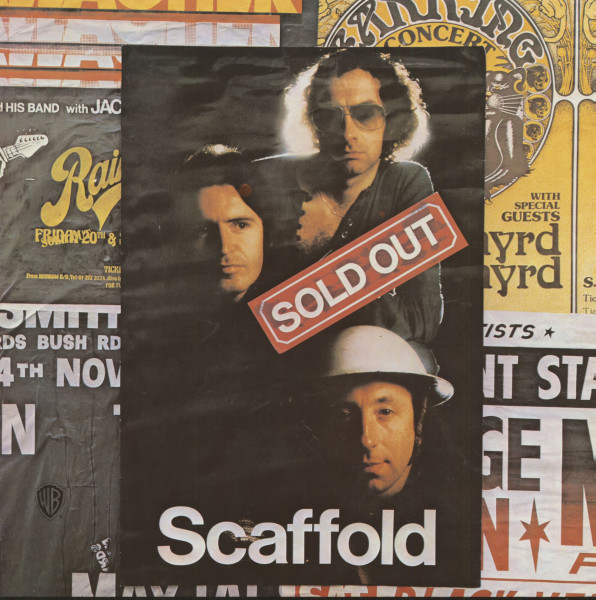 Artikel-Nr.:

LPWB56097

Gewicht in Kg.:

0.3
(Warner bros.) 12 tracks - Original 1975 'Warner Bros.' LP album Scaffold are a lovesome thing,...
mehr
SCAFFOLD: Sold Out (LP)
(Warner bros.) 12 tracks - Original 1975 'Warner Bros.' LP album

Scaffold are a lovesome thing, God wot sort of a liner-note is this going to be? I thought they had gone out of style. (They had, but theyce back, along with ration-books grinning and bearing it cheer up it could be worse. 'Oh'.)

So, Scaffold recorded this album in Stockport mostly, a bloody nice town Stockport. It's no Liverpool, but it's A-OK. The band ioCC have studios there, Strawberry Studios, on a hill, near the station and nearer a pub.

Mr. McCartney produced brother McGear's album McGear of the same name there for wondrous Warner Bros. and Neil Sedaka records there, likewise 10CC.
Good old Stockport. Thy 'eart beats strong and thou hart more than 'atmakers. Lol Cream of ioCC plays gysmo on this album, which is one way of introducing you to some of the performers. Arise Roger McGough, John Gorman and Mike McGear from the blazing success of your single Liverpool Lou, and be acknowledged as fine album makers. Roger is a poet, a major poet and you know that. Is John Gorman the masked poet? He has to be unseen to be disbelieved and even then ... Christ! Michael McGear is a poet and singer. I recently squired him around America and it was a pleasure.

They are a happy lot and they have had their ups and downs but for ten years they have pleased, probably millions, certainly hundreds of thousands of very choosy people with a curious, inimitable pot of scouse. They have had a lot of hits, made quite a lot of money, blew most of it on a Generous Arts Venture, but they survived and blended into Grimms another odd, but brilliant combination of music, words and fun from whence for this album they culled wry Andy Roberts (electric and acoustic guitar). Andy has played in bands (like Liverpool Scene, Grimms and Plainsong), alone, and on good sessions.

Step forward, with a grin, zany Zoot Money, you from Georgie Fame so long ago, and Big Roll Band and much other music besides, on electric piano. His WC Fields is good as anyone else's, too. Zoot Money toured America with Eric Burdon. He is an asset. Another good plus is mad lead guitarist Oli Housal of Patto fame and presently with Kevin Ayers' band, much admired by musicians, much loved by Scaffold.

Dave Richards, on bass is an old Grimms pal, was with Andy in Plainsong (on the subject of which it might be said, pity Plainsong didn't score ... they wuz good lads). From Family, dear Family, Scaffold drew Rob Townsend, an excellent drummer and a charming man, great husband and father. (Pity Leceister aren't having a good season).

If your ears discern percussion on the track 'Potato Clock', as well they might, (recorded at IBC Studios eng. by Mike Claydon) you will hear Frank Ricotti, and on a flying visit to Strawberry Studios, Helen Cox (who is married to Martyn Cox, a splendid Warner's promotion man working the middle of England) said, 'Ah Ahs' on the Okey Cokey. Once upon a time she sang 'Wild Thing' did it well and it did well. Brian Jones plays a mean saxophone ... Gerry Conway, superb on drums, works oft times and well with Cat Stevens. So to Meggo ...

John Megginson, who produced the album with Mike McGear. Meggo is a special case. He looks as if he couldn't put his foot through a wet Echo (regional joke) but he is a clever young man of some modesty. He plays lovely piano on the album and did a lot of worrying with Mike to get things right. He was famous from Renshaw Street to Goodison as a member of Casper's Engine, and he has a most awful voice.

On Liverpool Lou, a nice top ten surprise in 1974, you will hear Denny Laine, Linda McCartney and Jimmy McCullough of whom it has been said. Thanks to them and salaams to Paul for producing that track. In conclusion, ladies and gentlemen and little children, it gives me great pleasure ... this album. Scaffold give me great pleasure. Ain't nobody like them ... Give them a big hand, but first put it in your pocket. This is good value for fifty bob. Can't get a decent Chinese meal for two for dat dese days.'End'.

Liner notes by Derek Taylor.


Artikeleigenschaften von

SCAFFOLD: Sold Out (LP)
Albumtitel:

Sold Out (LP)

Genre

Rock

Geschwindigkeit

33 U/min

Plattengröße

LP (12 Inch)

Record Grading

Mint (M)

Sleeve Grading

Mint (M)

Artikelart

LP

EAN:

4000127824493

Gewicht in Kg:

0.3
Scaffold - Sold Out (LP)

LP 1
01
Liverpool Lou
02
Potato Clock
03
Mingulay Boating Song
04
Ramsbottom
05
Beilins Boneyard
06
Liverpool Girls
07
Cokey Cokey
08
Pack Of Cards
09
Mummy Won't Be Home For Christmas
10
Leaving Of Liverpool
11
Julery Shop Lesley
12
Lord Of The Dance
SCAFFOLD Scaffold were formed in the summer of 1962. Consisting of John Gorman born 4th...
mehr
"SCAFFOLD"
SCAFFOLD
Scaffold were formed in the summer of 1962. Consisting of John Gorman born 4th
January 1936 in Birkenhead, Mike McGear (Michael McCartney) born 7th January
1944 in Walton, Liverpool and Roger McGough born 9th November 1937 in
Liverpool. The trio met up when Post Office engineer John Gorman was
organising the Merseyside Arts Festival, here he was introduced to Roger
McGough who was an English teacher and poet. They both then met apprentice
hairdresser Mike McGear who together trWth painter Adrian Henri and 2 girls,
fennel:I The Liverpool One Fat Lady All Eectric Show!.
In December 1963 the group were performing comedy sketches at Liverpool's
Everyman Theatre when an ABC-TV talent scout pickeeil out the three boys and
under the name of Scaffold signed them to supply comedy material for the late
night TV show Gazette. As a result of the success of this they decided to turn
professional in 1964.
Until now all of the trio's material had been either comedy sketches or poetry. The
first musical item they used was at the Everyman Theatre and was called 2 day's
Monday. It was only a matter of time before the group hit the charts. In 1967, to
thank their theatre audiences Mike McGear ,Wrote Thank U Very Much for the
Aintree Iron, (Prime Minister Harold Wilson's favourite record). The track was
released as a single and was an instant success, reaching number 4 on the ,
national charts. It was whilst the song was in the charts that it was reveal ' that
it's composer was the younger brother of one Paul McCartney. Mike wand to
work and be a success in his own right without using his brother's Beatles i,
, connections, hence he'd changed his name to McGear. The track has been used
/ for sometime in an advertising campaign by Cadbury's Chocolate, yoa know the
( one "Thank U very much for Cadbury's Roses, thank U very much thanlil Ou very
very very much
The folow up single Do You Remember only reached number 34 in theicharts, bat
one year after the release of Thank U Very Much, Lily The Pink hit the airwaves /
iand had everyone in the country singing along to it's infectiOus lyrics. I
The track was co-produced by Tim Rice who also sang the nar nar nee ar nar's
on the Jennifer Eccles verse, and the actual verse was sung by Graham Nash not
Roger McGough, and amazingly bass was played by Jack "Cream" Bruce! The
song was all about an American "quack" doctor called Lydia E. Pinkham who'd
invented a medicinal compound to cure all ill's, and was based on an old rowdy
rugby song. It stayed in the charts for 24 weeks and was ttke Christmas number
one in 1968, selling well over one million copies.
November 1969 saw Gin Gan Goolie in the charts and the groups final chart entry
produced by Paul McCartney was Liverpool Lou which reached number 7 in 1974,
which was also the year that the album Sold Out was released.
Following this, the band members each persued solo careers. Mike McGear
became a very talented photographer and has had 11 images bought by the
National Portrait Gallery (one of which is the cover of this album). He has also just
had two pictures chosen for the 100 greatest rock 'n' roll photographs of all time
by Q magazine. Roger McGough returned to a successful career writing poetry
and John Gorman began working in television, most famously on Tiswas with
Chris Tarrant, Lenny Henry and Sally James. The 4 entered the charts in 1980 as
the Bucketeers with The Bucket of Water Song.
This collection of Scaffold material proves what a talented bunch of writers and
performers they were, and look out! they are reforming in 2002 to help Liverpool's
bid for the European Capital of Culture.
Steve Woof
Thank U Very Much To Mike Mcgear


Bewertungen lesen, schreiben und diskutieren...
mehr
Kundenbewertungen für "Sold Out (LP)"
Bewertung schreiben
Bewertungen werden nach Überprüfung freigeschaltet.
Weitere Artikel von SCAFFOLD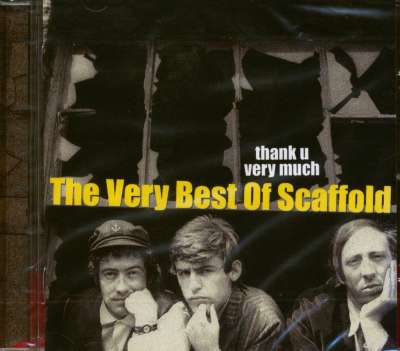 SCAFFOLD: Very Best Of Scaffold (CD)
Art-Nr.: CDP538474


Sofort versandfertig, Lieferzeit** 1-3 Werktage