Der Artikel wurde erfolgreich hinzugefügt.
Del Shannon
Greatest Hits And Finest Performances (LP, 180g Vinyl)
Artikel-Nr.:

ALP12004

Gewicht in Kg.:

0.3
(2017/Richard Weize Archives) 16 tracks - Del Shannon is known as the Runaway hitmaker of 1961,...
mehr
Del Shannon: Greatest Hits And Finest Performances (LP, 180g Vinyl)
(2017/Richard Weize Archives) 16 tracks - Del Shannon is known as the Runaway hitmaker of 1961, with a string of hits to follow in the early '60s. One story that may not be as well known is that he was the first American artist to record and release a Lennon/McCartney composition in From Me To You in the summer of 1963. Shannon's version charted higher than The Beatles' original on the U.S. charts that summer, a song that Shannon had produced himself! Del's first attempt producing a session tasted sweet and he wanted to explore that opportunity more in depth. Del Shannon cut ties briefly with his managers in the latter half of '63 and wrote, recorded, produced, and released his own records for a stint on his own label, albeit short-lived, Ber-Lee Records.
Artikeleigenschaften von

Del Shannon: Greatest Hits And Finest Performances (LP, 180g Vinyl)
Albumtitel:

Greatest Hits And Finest Performances (LP, 180g Vinyl)

Genre

Rock

Geschwindigkeit

33 U/min

Plattengröße

LP (12 Inch)

Record Grading

Mint (M)

Sleeve Grading

Mint (M)

Vinyl weight

180g Vinyl

Artikelart

LP

EAN:

4260072726048

Gewicht in Kg:

0.3
Shannon, Del - Greatest Hits And Finest Performances (LP, 180g Vinyl)

LP 1
01
Runaway (Mono Version)
02
Hats Off To Larry
03
Hey Little Girl (Mono)
04
Little Town Flirt
05
Handy Man
06
Keep Searchin'
07
Stranger In Twon
08
Move It On Over
09
From Me To You
10
Sue's Gotta Be Mine
11
Now She's Gone
12
That's The Way Love Is
13
Time Of The Day
14
Give Her Lots Of Lovin' (alternate take)
15
Flat No.3 (unissued)
16
I Go To Pieces
Del Shannon Als Charles Westover wurde der amerikanische Teenstar der frühen 60er Jahre...
mehr
"Del Shannon"
Del Shannon
Als Charles Westover wurde der amerikanische Teenstar der frühen 60er Jahre am 30.12.1939 in Grand Rapids im US-Staat Michigan geboren. Als Disc-Jockey beim amerikanischen Soldatensender AFN in Deutschland sammelte er erste Erfahrungen und bekam Hunger auf eine Karriere als Sänger. Sein Kollege Ollie Mc Laughlin entdeckte ihn dann und verschaffte ihm einen Plattenvertrag. 1961 hatte der Junge mit der kräftigen, hohen Stimme seinen ersten Hit "Runaway'. Bis 1965 folgten "Hey Little Girl', "Little Town Flirt', "Two kind of Teardrops' und "Keep searchin' An seine Zeit in Deutschland erinnert Del Shannon in seinem Hit "Swiss Maid' (1962). 1967 ging er als Produzent nach Australien.

Original Presse-Info: United Artists Records GmbH
Del Shannon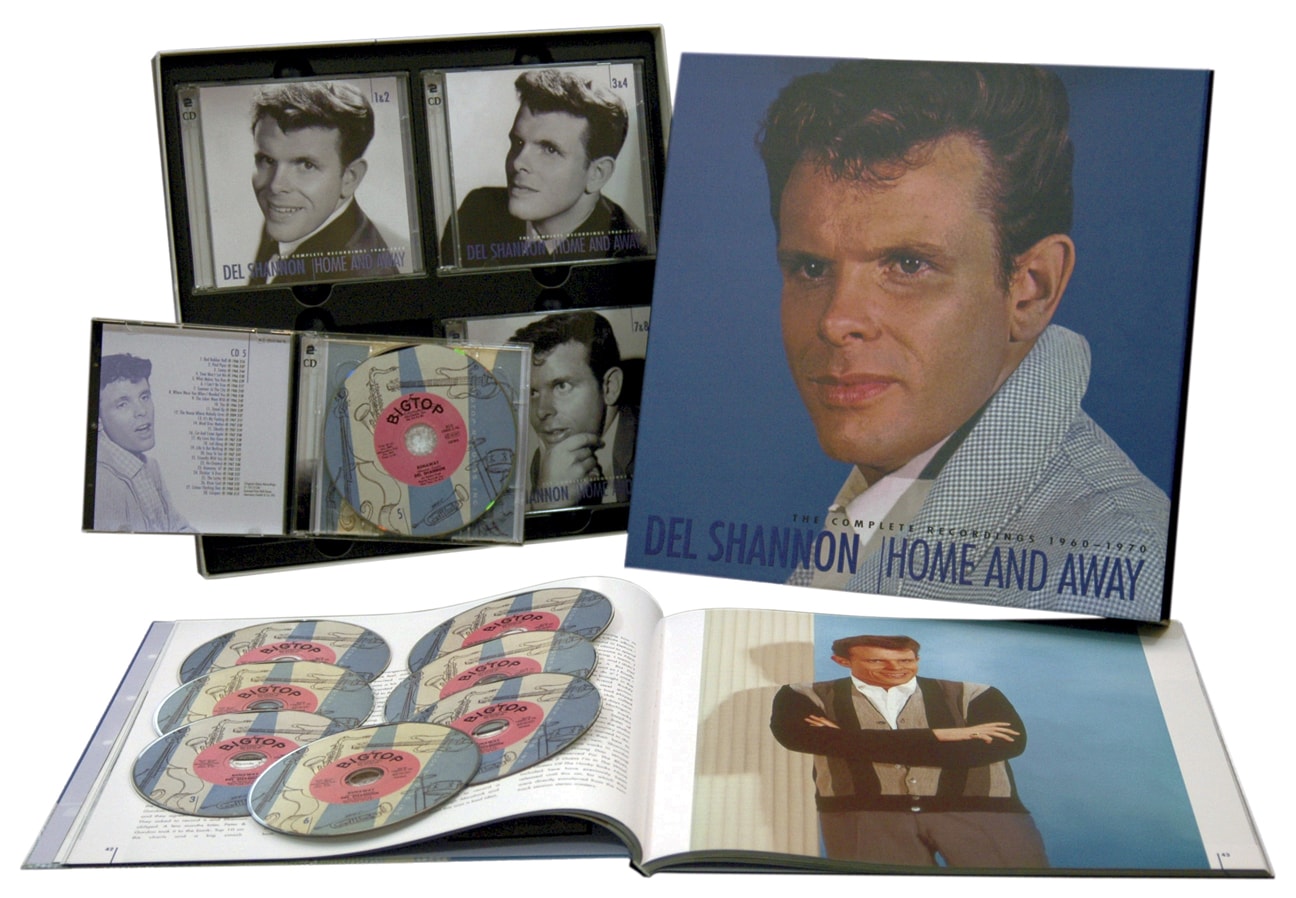 Del Shannon was one of the handful of American Rock 'n' Rollers of the 1960s to survive the crashing tide of the British Invasion. Among the few were Elvis, Dion, Roy Orbison, and Del Shannon.
Del Shannon was born Charles Weedon Westover on December 30, 1934 in Grand Rapids, Michigan. The son of Bert and Leone, his family lived in nearby Coopersville, a small and rural farming community just outside Grand Rapids. There, he would learn to play ukulele from his mother and grow up the oldest of three children. He had two sisters, Blanche and Ruth Anne.
Young Westover grew up listening to country and western music. His favorite artists included Hank Williams, Hank Snow, and Lefty Frizzell. The Ink Spots were also among his favorites, and he claims he learned falsetto from songs like We Three. Charles Westover bought his first acoustic guitar for $5.00. His fingers bled from it. He had no pick, just pieces of cardboard and dreams. At the age of 14, he walked to the Coopersville train station to await the arrival of his first new Sears and Roebuck guitar. He was proud of it, played it everywhere. "His guitar was his crutch," explained Russell Conran, his former high school principal. "Charles played his guitar everywhere he went, at football games, in class, in the hallways, at noon hour, everywhere. I finally had to allow him time to play in the boy's locker room, so that he wouldn't distract his fellow classmates."
"That's where I learned all about 'bathroom acoustics'," Westover (by then Del Shannon) recalled in an interview with Dick Clark on 'Rock, Roll, and Remember.' "I would get this great echo sound. Later, when I bought an electric guitar and amp, I would set the amp on the toilet seat and play in bathrooms for hours and hours, just to get a great sound. You know, from bouncing off the bathroom tile."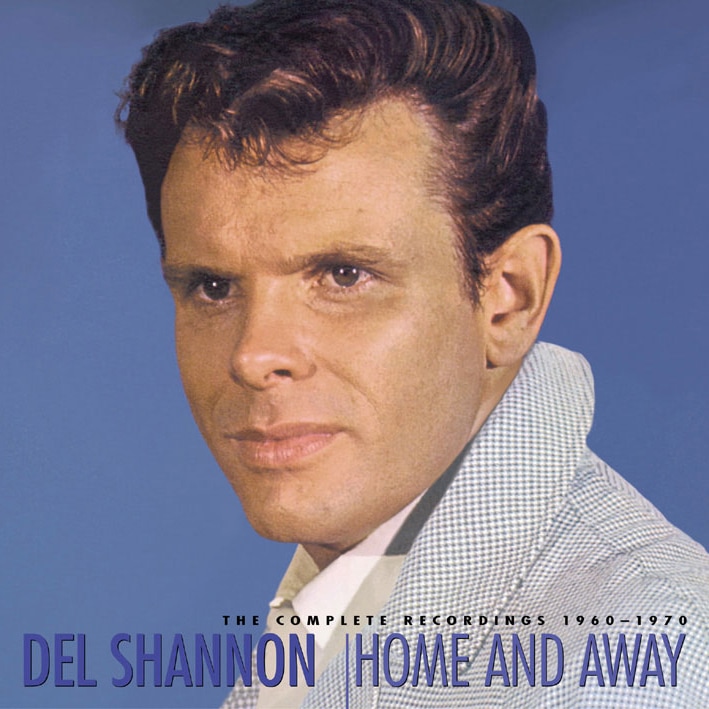 Westover was a small man, about 5-foot-six and 140 pounds. In high school, he was too small to play football, and if you couldn't play football in Coopersville, you didn't amount to much. Westover was the waterboy, who brought his guitar to the games to entertain. Young Charles was never quite popular with the girls in school. One day he asked a girl named Karen if she would go to the senior prom with him. She said yes. Two weeks later, as the prom drew nearer, she dumped Westover for another boy, one of Charles' rivals. This put Westover in a huge depression he seemingly never recovered from, for many of the songs he would write later in his adult life would result from his feelings of early loss, hurt, and betrayal.
One day Charles Westover met Shirley Nash, a local Michigan girl. She came from a big family, six brothers and six sisters. Shirley first met Charles at the Coopersville theatre, where they were all catching a film with his friend Sonny Marshall. In 1954, he was drafted into the U.S. Army. "Jobs were hard to come by anyway," Shirley remembers. "Chuck picked strawberries in the fields of Coopersville, and later drove a delivery truck selling flowers. We met at the theatre on Main Street in Coopersville. We spent a stint in Fort Knox, Kentucky, followed by a three year tour in Stuttgart, Germany." In Germany, Westover joined the Army's 'Get Up and Go' radio program, and played guitar in a band called the Cool Flames. Standards of the day were the usual set list. Westover won a best musician award, not for his singing ability, but for his guitar playing. At Christmas time, the Westovers attended a holiday party at the Stuttgart orphanage, where they sponsored orphan children. This was an early sign of Westover's compassionate side.
When his army service ended, Charles returned to Michigan with Shirley, settling down in Battle Creek, a town best known for its production of cereals, including Kellogg's and Post. Westover worked at Brunswick Furniture hammering feet onto chairs as a production line worker. It bored the hell out of him. He soon graduated to lift truck driver but that bored him too. In 1958, he found a job by day selling carpets, working at the Carpet Outlet for a man named Peter Vice. By night, he found a part-time job moonlighting at a dumpy bar called the Hi-Lo Club. He was hired as a guitar player by then front-man Doug DeMott, who had organized a group called the Midnight Ramblers. DeMott was a heavy drinker who had managed to release two failing singles, I'm Stepping Out Tonight b/w My Lonely Prayer in 1956 for Excellent Records, followed by Fingers On Fire/Upside Down Boogie. Neither made a dent in sales or airplay.
The Midnight Ramblers consisted of DeMott as lead singer and lead guitarist, Charles Westover as rhythm guitarist, and Loren Dugger as bass player. DeMott was a good mentor for young Westover. He gave him the chance to sing a few songs on stage, play lead, and encouraged him to write songs. DeMott was soon fired by the Hi-Lo Club's manager, Larry Gilbert, who hired Westover as the new front man of the club band. Westover gave himself the stage name Charlie Johnson and dubbed the new band the Big Little Show Band.
Westover made many friends as a guitarist and drinker at the Hi-Lo Club. Wes Kilbourne was a club regular and worked with Westover at Brunswick. He played guitar but wasn't part of the band. He was part of the crowd however, and they would sing, play, and drink into the wee hours. Charlie Marsh, Battle Creek disc jockey extraordinaire, attended nights at the Hi-Lo frequently looking for talent. Marsh became Westover's first manager. "I'm forgotten in the Del Shannon history," says Marsh, "basically because I never did anything for him. I shopped demo tapes for him just like Ollie (McLaughlin) did, but Ollie was the one that got him the recording contract."
Del Shannon Home And Away 1960-70 (8-CD)
Read more at: https://www.bear-family.com/shannon-del-home-and-away-1960-70-8-cd.html
Copyright © Bear Family Records
Bewertungen lesen, schreiben und diskutieren...
mehr
Kundenbewertungen für "Greatest Hits And Finest Performances (LP, 180g Vinyl)"
Bewertung schreiben
Bewertungen werden nach Überprüfung freigeschaltet.
Weitere Artikel von Del Shannon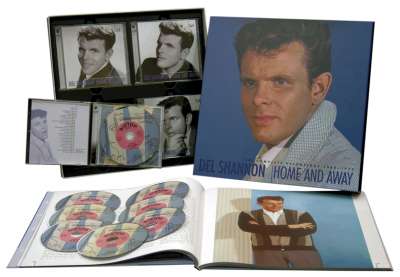 Del Shannon: Home And Away 1960-70 (8-CD)
Art-Nr.: BCD15925


Sofort versandfertig, Lieferzeit** 1-3 Werktage
Del Shannon: Rock On! (1991)
Art-Nr.: CD74929


Sofort versandfertig, Lieferzeit** 1-3 Werktage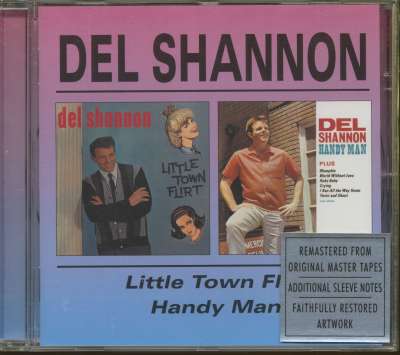 Del Shannon: Little Town Flirt - Handy Man (CD)
Art-Nr.: CDBGO388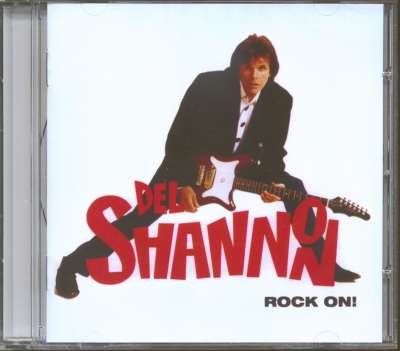 Del Shannon: Rock On!...plus (CD)
Art-Nr.: CDGEL8147


Sofort versandfertig, Lieferzeit** 1-3 Werktage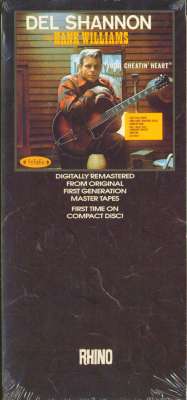 Del Shannon: Del Shannon Sings Hank Williams (CD Longbox)
Art-Nr.: CDRN70982


Sofort versandfertig, Lieferzeit** 1-3 Werktage