Der Artikel wurde erfolgreich hinzugefügt.
Stray Cats
Rock This Town - Live New York '88 (CD)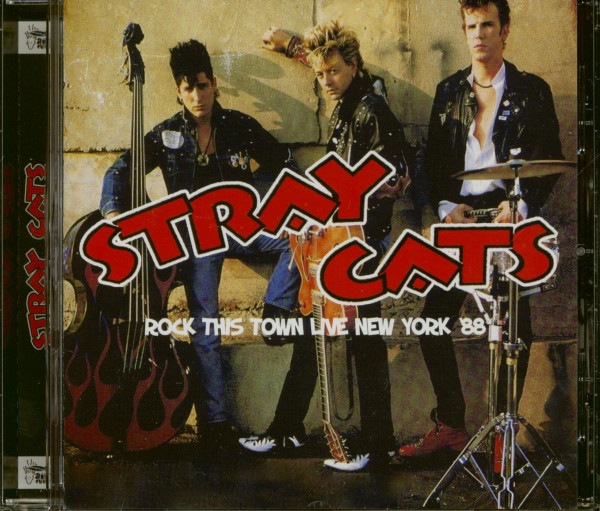 Dieser Artikel ist gestrichen und kann nicht mehr bestellt werden!
Benachrichtigen Sie mich, sobald der Artikel lieferbar ist.
Artikel-Nr.:

CDAC8002

Gewicht in Kg.:

0.107
(Air Cuts) 11 tracks (48:00) jewelcase. & , With hits like "Rock This Town," "Stray Cat...
mehr
Stray Cats: Rock This Town - Live New York '88 (CD)
(Air Cuts) 11 tracks (48:00) jewelcase.
& ,
With hits like "Rock This Town," "
Stray
Cat Strut," "Runaway
Boys
," and "(She's) Sexy + 17," the Stray Cats brought rockabilly back to the top of the charts in the 1980s. This WNEW-FM broadcast of a show at New York's Ritz on October 18, 1988 features live performances of all of these songs, including an eight-minute version of "Rock This Town:' They also charged through other highlights of their early albums, as well as unveiling newer material from their late-`80s album
Blast Off
!
& ,
"Rockabilly Rules" is not just the title of one of the songs the Stray Cats sing on this CD, it might as well serve as the motto for their . music, if not their life. In the 1980s, no act did more to revive rockabilly music, a style very much associated with rock'n'roll's birth in the mid-1950s, but one that hadn't sold many records for decades.
The Stray Cats
brought the music back with a vengeance, first in England, where they'd moved from Long Island, and then in their native US, where their 1982 album hit #2 in the national charts. The Stray Cats might not have been scoring such high chart hits by the time they played New York's Ritz on October 18, 1988, but they still knew how to rouse an audience. That's clear from the performance on this CD, taken from an FM broadcast for the King Biscuit Flower hour radio program.& ,
Guitarist
Brian Setzer
, bassist Slim Jim Phantom, and drummer
Lee Rocker
blast through nearly a dozen rockabilly numbers on these selections, including their Top Ten hits "Rock This Town" (in an eight-minute version), "Stray Cat Strut," and "(She's) Sexy + 17," as well as other highlights from their 1980s albums. Although rock history is dotted with American artists that only made it big after moving to the UK (
Jimi Hendrix
being the biggest), the Stray Cats' path to stardom was not just unusual, but downright unique for the early 1980s. After forming in 1979 in Massapequa, New York, success seemed like a long shot considering rockabilly music had been out of fashion since the 1950s.& ,
Rockabilly fashion wasn't even in fashion. "We were the only band in Long Island who were doing anything like this," Brian Setzer told Record Mirror's Mark Cooper in 1980. "The rest of the bands either had long hair and were covering
Led Zeppelin
or they were covering the
Grateful Dead
. We were getting the kids down there with their girls and sure, they wouldn't dress, but they'd dance and they'd really dig it and nobody dances to rock in the States anymore." To break out of Long Island, the Stray Cats had to move across the ocean. "We'd heard about the rockabilly scene and we were bored—we weren't going anywhere," explained Setzer in Record Mirror. "Sure we had a big crowd and we'd been playing for about a year but we were standing still. And the record companies there, they don't wanna hear about anything...So we just headed off."& ,
About half of the songs on this CD date from the Stray Cats' meteoric rise to stardom in the UK, replicated shortly afterward in the US. "Runaway Boys," a British Top Ten hit when it was released as their debut UK single in late 1980, wasn't issued in the US at the time, but helped build their Stateside following when it got airplay on commercial FM stations as an import. It, "Rock This Town," "Stray Cat Strut," and "Rumble in Brighton" all appeared on 1981 debut LP Stray Cats, demonstrating their ability to write rockabilly-based material with a modern bent. "Double Talkin' Baby," which also appeared on that album, was not a band original, but a cover of a mid-`50s song by rockabilly star
Gene Vincent
, one of their biggest influences.& ,
All of these songs also appeared on their official US debut album, 1982's Built For Speed, which in fact drew from both Stray Cats and the UK follow-up LP, Gonna Ball. The Top Five hit "(She's Sex) + 17" comes from their 1983 album Rant 'N Rave with the Stray Cats, which despite the single failed to hit the Top Ten. In late 1984 the group broke up...but not for long. By the time they played the Ritz in late 1988, in fact, the Stray Cats had been back together for a couple years. Their 1986 album
Rock Therapy
hadn't hit the Top 100, and was, to the disappointment of some fans, half-comprised of non-original material.& ,
Perhaps eager to show they weren't a spent force, the Ritz show included four songs from their next album, Blast Off!, which would bear a 1989 release date. Besides the title track, these included "Gina" (introduced from the stage as having "a
Buddy Holly
beat to it"), "
Nine Lives
," and "Rockabilly Rules." Blast Off! also missed the Top 100, but at least it made the charts, a feat none of their four subsequent albums managed. Not that chart success seemed like the most important thing on Setzer's mind when he looked back on the band's legacy the first time they broke up. "Musically, we were a good group and we had some classic cuts," he told Jeff Tamarkin in Creem in 1986. "Maybe we became pigeonholed by some people because we had eccentric haircuts and clothes, but I think the music will hold up.& ,
Twenty years from now, oldies stations will be playing 'Rock This Town.' I'm glad the Cats made it on our own terms. I didn't compromise anything. And it certainly was fun to have rockabilly hits on the charts alongside
Foreigner
."
Artikeleigenschaften von

Stray Cats: Rock This Town - Live New York '88 (CD)
Albumtitel:

Rock This Town - Live New York '88 (CD)

Genre

Rock'n'Roll

Artikelart

CD

EAN:

5292317800212

Gewicht in Kg:

0.107
Stray Cats Neo Rockabilly ist eine britische Erfindung, dennoch stammt die populärste...
mehr
"Stray Cats"
Stray Cats
Neo Rockabilly ist eine britische Erfindung, dennoch stammt die populärste Band des Genres aus Amerika: Stray Cats! Ursprünglich vom traditionellen Rockabilly kommend, mit großen Einflüssen der 1950er Jahre Helden Gene Vincent und Eddie Cochran, mixten die Stray Cats ihren Sound mit New Wave und sogar einigen Punk Rock Elementen.
Stray Cats wurden im Sommer 1979 von Brian Setzer (Gesang, Gitarre – jetzt Kopf des Brian Setzer Orchestra), Slim Jim Phantom (Drums – richtiger Name James McDonell) und Lee Rocker (Kontrabass – richtiger Name Leon Drucker) unter dem Namen 'Brian Setzer & The Tomcats' gegründet.
Die Band änderte alsbald ihren Namen zu 'Stray Cats' (Streunende Katzen) und streunten im Juni 1980 hinüber nach Großbritannien, da sie durch das große europäische Rockabilly Revival, mit Kernpunkt England und Bands, wie Matchbox, Polecats, Shakin' Stevens, Restless und viele mehr, größere Chancen sahen. Es dauerte nicht lange und erste Single-Veröffentlichungen nebst dem legendären Debut-Album, produziert von dem großartigen Dave Edmunds, landeten Ende 1980-Anfang 1981 auf den Ladentischen.
Stray Cats kreierten definitiv einen neuen, ihr eigenen Sound innerhalb der Rockabilly Bewegung! Es passierte im Frühjahr 1981, als ich in einen Szene-Laden ging, der sowohl Klamotten, als auch Schallplatten verkaufte. Ich wollte ein Paar Jeans und hielt mich dementsprechend im Souterrain des Geschäftes auf, als ein nie dagewesener eigener Sound meine Ohren erreichte. Er kam aus dem Kellergeschoß des Ladens, dort wo die Schallplatten verkauft wurden. Ich rannte hinunter und fragte nach der Band. Es waren die Stray Cats und ihr Klassiker 'Runaway Boys'. Ich war elektrisiert! Natürlich lief ich stolz mit der Platte nach Hause und die Jeans war Geschichte...
Ich war nie derartig von einem Sound buchstäblich gefangen genommen worden (wenn man einmal von Elvis Presley absieht – aber das ist eine andere Story)!
1982 waren Stray Cats im Vorprogramm der Rolling Stones auf U.S. tour. 1983 wurde dann das Tournee-Jahr schlechthin, auch um das damals neue Album 'Rant'n'Rave With The Stray Cats' zu promoten. 1984 kam dann die erste Bandauflösung. Setzer machte solo weiter und die beiden anderen Cats gründeten 'Phantom, Rocker & Slick'. Aber bereits 1986 taten sich Stray Cats wieder zusammen und brachten das Album 'Rock Therapy' heraus. Die Folgejahre bis 1992 bescherte uns eine gewisse Kontinuität der Band, es erschienen weitere Alben und sie gingen regelmäßig auf Tournee. 1992 kam die nächste Band-Auflösung und Brian Setzer startete sein höchst erfolgreiches Projekt 'The Brian Setzer Orchestra'. Die nächste Wiedervereinigung der Stray Cats fand in den Jahren 2003-2004 statt und es wurde die Live-CD/DVD 'Rumble In Brixton' produziert. Eine letzte Wiedervereinigung der Band gab es dann 2008, als sie erneut auf Welttournee gingen.
Stray Cats sind wahre Legenden in der weiten Welt des Rock'n'Roll-Rockabilly! - Marc M/Bear Family Records
Bewertungen lesen, schreiben und diskutieren...
mehr
Kundenbewertungen für "Rock This Town - Live New York '88 (CD)"
Bewertung schreiben
Bewertungen werden nach Überprüfung freigeschaltet.
Weitere Artikel von Stray Cats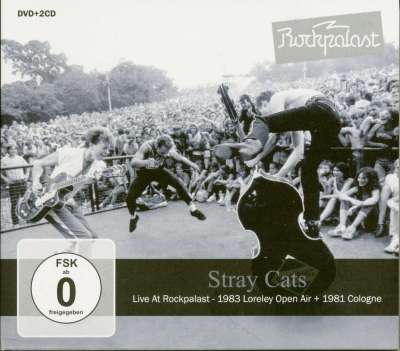 Stray Cats: Live At Rockpalast (2-CD & DVD)
Art-Nr.: CDMIG90622


Sofort versandfertig, Lieferzeit** 1-3 Werktage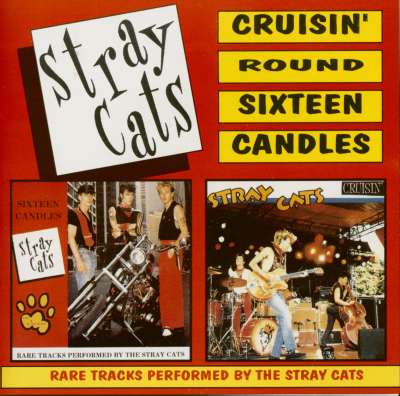 Stray Cats: Cruisin' Round Sixteen Candles (CD)
Art-Nr.: CDCR813912


Sofort versandfertig, Lieferzeit** 1-3 Werktage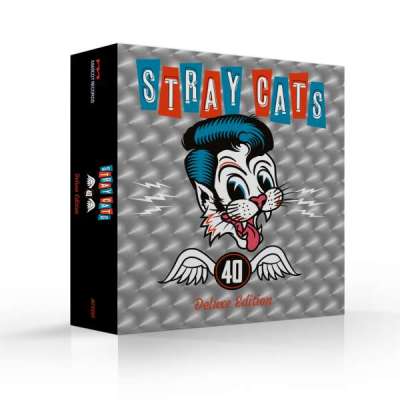 Stray Cats: 40 (CD, Box Set, Ltd.)
Art-Nr.: CDSTRAY40BOX


nur noch 1 verfügbar
Sofort versandfertig, Lieferzeit** 1-3 Werktage
Stray Cats: 40 (LP, Silver Vinyl, Ltd.)
Art-Nr.: LPSTRAY40SILVER


Artikel muss bestellt werden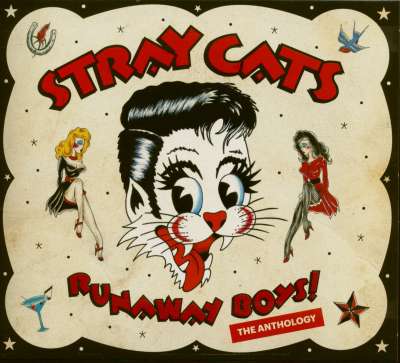 Stray Cats: Runaway Boys (2-CD, 40th Anniversary Edition)
Art-Nr.: CDSTRAY97748


Artikel muss bestellt werden