Der Artikel wurde erfolgreich hinzugefügt.
Artikel-Nr.:

LPJAN8011

Gewicht in Kg.:

0.21
(Star-Club) 16 tracks - Original 1957 to 1977 'Jan', 'Alta', 'Capri' and 'Lake County'...
mehr
Gene Summers: The Texan Rebel (LP)
(Star-Club) 16 tracks - Original 1957 to 1977 'Jan', 'Alta', 'Capri' and 'Lake County' recordings, incl. a lot of unreleased stuff


Gene Summers was born in Dallas, Texas in 1939. He falls into the ranks of artists who despite an obvious natural talent have failed to achieve national stardom. The Dixie Rebels subsequently abridged to just the Rebels were culled together from 3 members of Arlington State College: Gene Summers on vocals and guitar, James McClung on lead guitar and Gary Moon on drums. Completing the ensemble was Benny Williams on bass who came from Thomas Jefferson High.

Gene's first professional engagement was on Dallas TV channel 4's Country Picnic Show. This exposure brought Gene and the Rebels to the attention of Jed Tarver, who in turn helped Gene obtain a recording contract with the newly formed Dallas label Jan Records. Throughout the country Gene's appearances with various stars on TV and stage shows reads like a Who's Who of the Entertainment world and he has shared billing with such stars as Bobby Darin, Fats Domino, Bo Diddley, Big Joe Turner, Chuck Berry Ray Sharpe, Gene Vincent, Duane Eddy, Eddie Fontaine, Jerry Lee, Carl Perkins, Ron-nie Hawkins, Johnny Carroll, Sid King and Joe Poovey to name but a few.

Chuck Berry described Gene as ... 'a great crooner', and Gene Vincent publicly stated that ... 'Gene Summers will be a big star'. Johnny Carroll wrote ... 'Gene Sum-mers was and is one of a kind as well as being a big part of the rockabilly scene that started in the 50's and he still endures today. Gene always puts his unique style into every song as he has at the concerts, hops and especially when he is recording this kind of music. 'It is therefore even more surprising that in spite of all these glowing testimonials Gene has never made it in a big way. That essential element of luck has always eluded him. After leaving the Jan-Jane label. Gene recorded for Chess (1960) as the Bill Smith Combo, Alta (1962), La-fayette (1962) and Donnybrook (1963). In 1962 Gene re-corded 2 tracks for Mel-O-Records of Chicago which re-main unissued. It was on Donnybrook that 'Blue Diamond' first appeared before being picked up by Huey Meaux' Capri label which issued it in 1963, with Jamie putting it out a year later.

With this record Gene had his second regional hit - the first being Straight skirt/ School of Rock'n'roll on the Jan label, his first record - but it was his second Capri rele-ase, the racous 'Alabama Shake' that really confirmed his stature as the fine singer that he is. The song is a piece of vintage rockabilly. Following on from Capri, Gene next appeared on Shane (1964), Donnybrook (1966), Capri again (1966) and Charay (1966) where he recorded The Clown/Green Eyed Monster for Major Bill Smith. After its initial release on Charay 47 it was aquired for national release by Mercury. Further titles were issued on Soft (another Major Bill Smith label) and teardrop in 1966.

In 1968 Gene formed Domino Records as an outlet for his own material which he recorded for Silicon Music Productions - a company he had formed back in 1962. The first record to be released on this label was 'Who stole the marker (from the grave of Bonnie Parker) / The table on my right (Domino 101), recorded in a country-pop vein. After this there were records on Domino in 1970. 1971 and 1975, Charay in 1971, Maridene 1971, Front Row 1976 where he recorded under the pseudonym of Ricky Ring-side, Teardrop (1977) and currently in 1979. LeCam Records. In 1971 Gene had a record issued in Australia on W&G label which coupled Hot Pants/The Young Voice Of Child-ren. In 1977 Straight Skirts/School Of RnRoll was issued in England on Record Mart. The Swiss Lake County label run by Michel Cattin has issued two albums from Gene -which combine titles specially recorded for the label and older material. Gene's immediate plans are the same as they have al-ways been: namely performing and recording, and to meet the fans who have stood behind him through the years. His investments in real estate over the years have secured his future for him and his family. In August 1979, Gene and his son Steve signed a contract with Century Casting for TV commercials and films. The Summers family, wife Dea and sons Dusty Steve and Shaun, reside in Garland, Texas. Gene and Dea have been married for 18 years, and now Gene's ambition is to get that elusive hit record: it's an achievement he is determined to make, 'I will never give up and some day it will be mine'.



Artikeleigenschaften von

Gene Summers: The Texan Rebel (LP)
Albumtitel:

The Texan Rebel (LP)

Genre

Rock'n'Roll

Geschwindigkeit

33 U/min

Plattengröße

LP (12 Inch)

Record Grading

Mint (M)

Sleeve Grading

Excellent (EX)

Artikelart

LP

EAN:

4000127824134

Gewicht in Kg:

0.21
Bewertungen lesen, schreiben und diskutieren...
mehr
Kundenbewertungen für "The Texan Rebel (LP)"
Bewertung schreiben
Bewertungen werden nach Überprüfung freigeschaltet.
Weitere Artikel von Gene Summers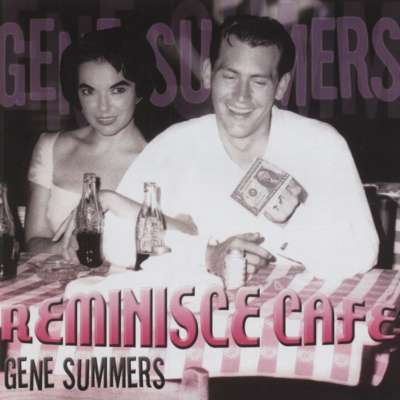 Gene Summers: Reminisce Cafe
Art-Nr.: CDSCD110


Artikel muss bestellt werden
Gene Summers: School Of Rock & Roll 7inch, 45rpm, EP
Art-Nr.: RCEP127


Sofort versandfertig, Lieferzeit** 1-3 Werktage