Der Artikel wurde erfolgreich hinzugefügt.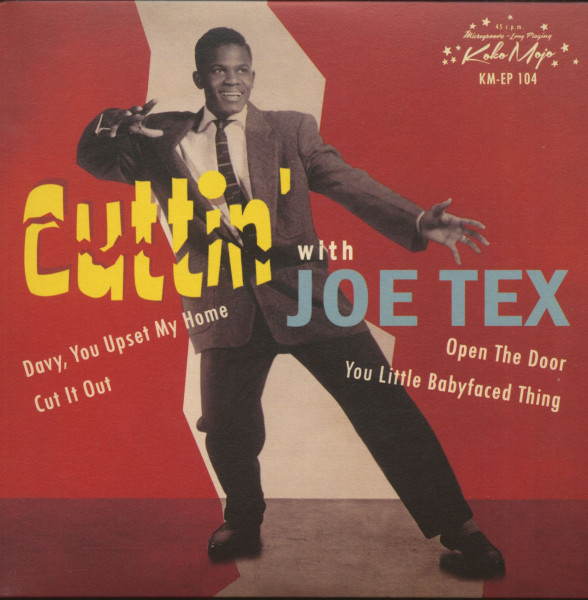 inkl. MwSt. / zzgl. Versandkosten - Abhängig vom Lieferland kann die MwSt. an der Kasse variieren.
nur noch 1x verfügbar
Sofort versandfertig, Lieferzeit** 1-3 Werktage
Artikel-Nr.:

45KMEP104

Gewicht in Kg.:

0.07
(Koko Mojo) 4-Track EP - Mit Bildhülle, 45 U/Min, großem Innenloch - Joe Tex wurde am 8....
mehr
Joe Tex: Cuttin' With Joe Tex (7inch, EP, 45rpm, PS)
(Koko Mojo) 4-Track EP - Mit Bildhülle, 45 U/Min, großem Innenloch -
Joe Tex
wurde am 8. August 1935 in Rogers, Texas, als
Joseph
Arrington Jr. geboren, wuchs aber in Baytown auf. Als er noch ein kleiner Schuljunge war, arbeitete er als Zeitungsjunge, Schuhputzer und er sang und tanzte immer für die Kunden. Er sang auch im Schulchor und im Kirchenchor. In der High School spielte er Tenorsaxophon und begann bei Talentwettbewerben zu singen.
In seinem Juniorjahr an der High School gewann Tex eine Talentshow in Houston mit 300 Dollar, eine Reise nach New York und eine Woche Aufenthalt im Hotel Teresa in Harlem. Er trat im Apollo Theater (im Amateurbereich) auf und gewann viermal den Amateur Night Wettbewerb. Der Talentsucher
Arthur Prysock
stellte Tex Henry Glover vor, einem A&R-Mann bei King Records, der ihm einen Vertrag mit King anbot. Glover hatte kürzlich einen anderen südlichen Sänger entdeckt und verpflichtet, der Joe sehr ähnlich war, nämlich
James Brown
. Joe musste noch die High School abschließen, also musste er ein ganzes Jahr warten, um seine Mutter nicht zu enttäuschen.
So nahm er kurz nach dem Tag der Graduierung seine Debüt-Single für King Records Come In This House Davy auf. You Upset My Home (King 4840) wurde im Oktober 1955 herausgebracht. Tex, der beide Songs schrieb und ein gewisses Talent zum Songwriting entdeckte. Seine berühmte Rivalität mit
James Brown
begann etwa zu dieser Zeit. Nach Ansicht vieler stahl Brown Joe Tex einfach viele seiner Tanzbewegungen und die Mikrofonständertricks, die ihn berühmt machten, ganz zu schweigen von dem "Rappen" über die Musik, die er auch von Tex bekam.
Nachdem er drei weitere Singles für King aufgenommen hatte, die sich nur sehr wenig verkauften und in den Charts keinen Einfluss hatten, unterschrieb Joe bei Ace Records. Seine erste Single auf dem Label Cut It Out I Just For You And Me erschien im Januar 1958 als'JOE TEX The Rock an Roll
Cowboy
'. Später in diesem Jahr schnitt er You Little Baby Face Thing (Ace 550) und davor nahm er Open The Door (Ace 547) mit dem jungen New Orleanser Klaviergenie LITTLE BOOKER (alias
James Booker
) auf.
Joe Tex ist der unbestrittene Sänger auf dieser Platte. Man schätzt, dass beide Lieder einen starken New Orleans-Geschmack haben und kurz nachdem
Little Richard
aus der weltlichen Musik "verschwunden" war, um sich auf Bibelarbeiten zu konzentrieren - wahrscheinlich der Versuch, genauso gut wie Richard zu sein. Leider hat keine dieser großartigen Platten etwas verkauft oder es in die Charts geschafft. Trotz dreißig großer Singles und vielen seiner Songs, die zu großen Hits für andere Künstler wurden, musste Joe Tex leider bis 1964 warten, um seinen ersten Hit zu bekommen. Danach hörte der Erfolg nicht mehr auf. Er hatte einen Schlag nach dem anderen, aber das ist eine andere Geschichte! -
Little Victor
(alias DJ "Mojo Man")
Artikeleigenschaften von

Joe Tex: Cuttin' With Joe Tex (7inch, EP, 45rpm, PS)
Albumtitel:

Cuttin' With Joe Tex (7inch, EP, 45rpm, PS)

Genre

Rock'n'Roll

Record Grading

Mint (M)

Sleeve Grading

Mint (M)

Geschwindigkeit

45 U/min

Plattengröße

EP (7 inch)

Artikelart

7inch

EAN:

4260072728981

Gewicht in Kg:

0.07
Geboren als Joseph Arrington Jr. am 8. 8. 1933 im texanischen Rogers, verstorben am 13. 8. 1982...
mehr
"Joe Tex"
Geboren als Joseph Arrington Jr. am 8. 8. 1933 im texanischen Rogers, verstorben am 13. 8. 1982 in seinem Haus in Navasota, Texas.
Joe Tex
Hold What You've Got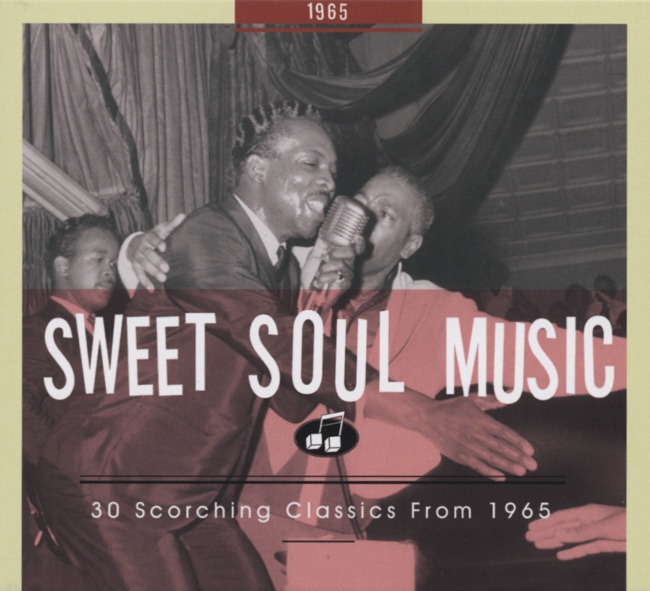 Joe Tex
Hold What You've Got
Nashville producer Buddy Killen was on the verge of losing dynamic soul singer Joe Tex after releasing 10 Tex 45s on his Dial label starting in 1961. "One day he called me," said the late Killen. "He said, 'Hey, man, how about letting me go? You said you would, if I wanted out of my contract.' I said, 'On one condition.' He said, 'What's that?' I said, 'Let me record the way I want to one time. Don't fight with me. Let's just do it, and if it doesn't work, then I'll turn you loose.'
"So I set up some time down at Fame Studios in Muscle Shoals, and I got some of my players that did my records here in Nashville—(guitarist) Kelso Herston and (pianist) Ronnie Wilkins. I think Joe South came over from Atlanta to work with us. And Joe (Tex) brought Clyde (Williams), the drummer, and his bass player. So we got in there and worked for seven hours on 'Fresh Out Of Tears.' It was okay. It was nothing great. Now it's three o'clock in the morning, and I said, 'Joe, what's the other little old song that you sang for me?'" It was the wise, half-spoken ballad Hold What You've Got, which Tex wrote en route while thinking about a long-ago childhood sweetheart and his pregnant wife. He scribbled the idea down on a paper sack.
Tex's bassist, J. Alfred Cook, devised an arrangement that opened with a single chord by Herston on an acoustic axe he'd borrowed from Roger Miller. After Joe overdubbed a harmony vocal, the session ended with everyone disappointed. "On my way back to Nashville, I thought, 'I don't give up that easily.' So I immediately went to RCA Studios, and went into the editing room," said Buddy. "I started making copies of these two takes. I'd cut a little piece here, a little piece there, and I finally found one chorus that I could edit out of some other choruses and make it hold together enough to use it." Atlantic Records boss Jerry Wexler was so impressed with the results that Buddy gave him Dial's distribution. Hold What You've Got was the breakthrough Joe had searched for over the last decade, blasting up to #5 pop and #2 R&B. No one was more shocked than Tex. "He called me, and he said, 'Look here, man, you done said you were gonna let me out of my contract!'" said Killen. "I said, 'Joe, we've sold a quarter of a million records!' 'Look here, man—wha-a-a-t?'"
Born Joseph Arrington, Jr. in Rogers, Texas on August 8, 1933, Joe was raised up in the church and dug country music too. He parlayed a Houston amateur show victory into a trip to the Apollo Theatre, where he won another contest. King Records pacted him in 1955, his stage name reflecting his Lone Star home turf. Despite terrific rockers for King and Ace and a handful of 45s for Detroit's Anna Records, Tex was treading water until well after Killen came into his life. After Hold What You've Got, Joe scored a raft of Dial smashes confirming Killen's faith in him.
- Bill Dahl -
Various - Sweet Soul Music
Various - Sweet Soul Music 30 Scorching Classics From 1965

Read more at: https://www.bear-family.de/various-sweet-soul-music-30-scorching-classics-from-1965.html
Copyright © Bear Family Records

Der Soul-Sänger wurde 1954 bei einem Talentwettbewerb entdeckt und nahm zunächst für King, Ace und Anna auf. Hits wie "Hold What You've Got' (1965), 'S.Y.S.L.J.F.M.' (= Save Your Sweet Love Just For Me- 1966) und andere gelangen jedoch erst, als Joe Tex beim Dial-Label unter Vertrag stand.

1972 und 1977 platzierte er mit "I Gotcha' und 'Ain't Gonna Bump No More (With No Big Fat Woman)' späte Treffer in den US-Charts. Nachdem er im Juli 1972 zum Islam konvertiert war, nannte sich der Interpret Yusef Hazziez und arbeitete zwischenzeitlich als Prediger. 'Sure Is Good' wurde am 30.4.1969 in den Columbia Studios in Nashville eingespielt und am 8.11.1969 veröffentlicht. Im gemischtsprachigen Text singt Joe Tex mehrmals die Zeile '...da ische gudde', was er an anderer Stelle ' - erklärt': '...da ische gudde in German means 'Sure ls Good'...'. Gemeint ist offenbar '. ..das ist gut'.

Aus dem Bear Family Buch - 1000 Nadelstiche von Bernd Matheja - BFB10025 -
Bewertungen lesen, schreiben und diskutieren...
mehr
Kundenbewertungen für "Cuttin' With Joe Tex (7inch, EP, 45rpm, PS)"
Von:
Roland SCHALL
Am:
18.04.2019
Cuttin' With Joe Tex (7inch, EP, 45rpm, PS)
Bewertung schreiben
Bewertungen werden nach Überprüfung freigeschaltet.
Weitere Artikel von Joe Tex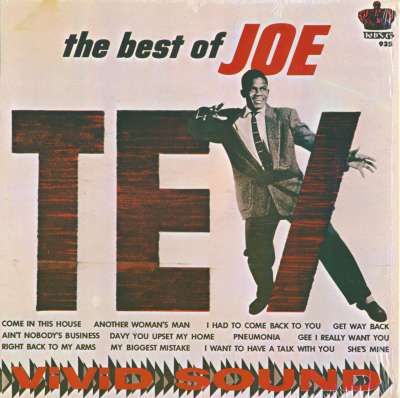 Joe Tex: The Best Of Joe Tex (LP Album)
Art-Nr.: LPK935


die letzten 2 verfügbar
Sofort versandfertig, Lieferzeit** 1-3 Werktage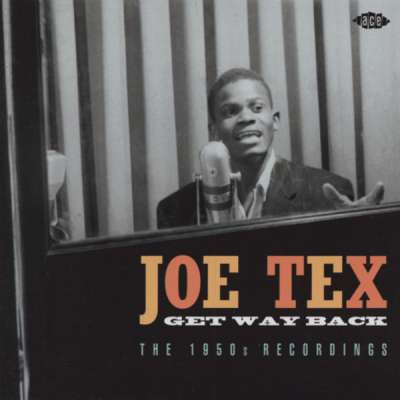 Joe Tex: Get Way Back - The 1950s Recordings
Art-Nr.: CDCHD1197


Artikel muss bestellt werden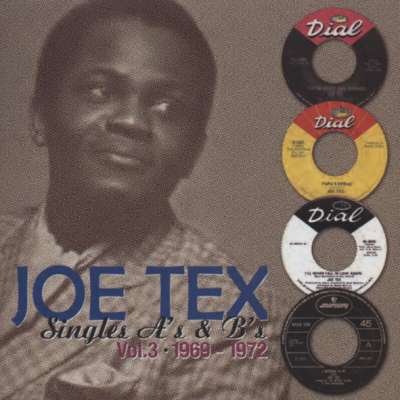 Joe Tex: Vol.3, Singles A's & B's (1968-72)
Art-Nr.: CDSHOUT72


Artikel muss bestellt werden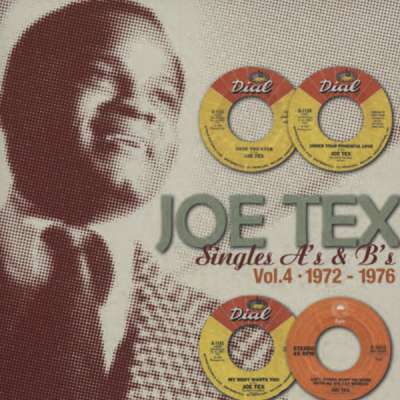 Joe Tex: Vol.4, Singles A's & B's (1972-76)
Art-Nr.: CDSHOUT76


Artikel muss bestellt werden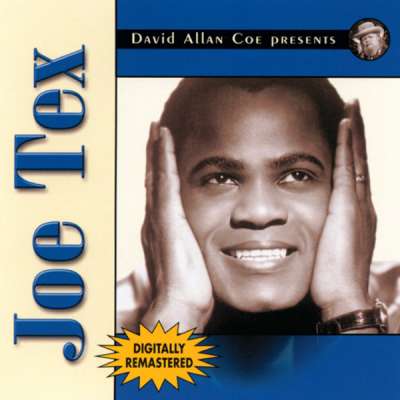 Joe Tex: DAC Presents Series
Art-Nr.: CDCOE1704


die letzten 2 verfügbar
Sofort versandfertig, Lieferzeit** 1-3 Werktage