Der Artikel wurde erfolgreich hinzugefügt.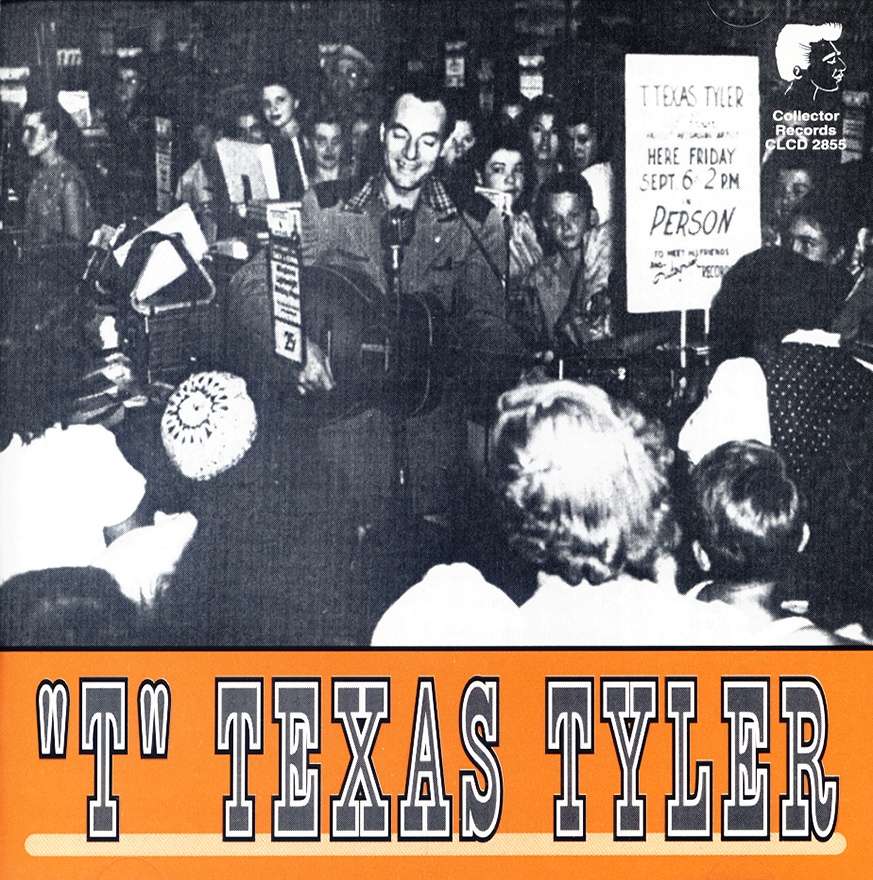 Dieser Artikel ist gestrichen und kann nicht mehr bestellt werden!
Benachrichtigen Sie mich, sobald der Artikel lieferbar ist.
Artikel-Nr.:

CDCL2855

Gewicht in Kg.:

0.1
CD on COLLECTOR RECORDS by T. Texas Tyler - T' Texas Tyler
mehr
T. Texas Tyler: T' Texas Tyler
Artikeleigenschaften von

T. Texas Tyler: T' Texas Tyler
Albumtitel:

T' Texas Tyler

Genre

Country

Artikelart

CD

EAN:

0741084028558

Gewicht in Kg:

0.1
David Luke Myrick wurde in Mena, Arkansas, geboren. Er nahm zuerst für Black & White Records...
mehr
"T. Texas Tyler"
David Luke Myrick wurde in Mena, Arkansas, geboren. Er nahm zuerst für Black & White Records als Mitglied von The Six Westernaires und für 4 Star Records (Hollywood) von September 1945 bis Ende der 1950er Jahre auf. Einige mittlerweile legendäre Aufnahmen im Country Boogie (oder Pre-Rockabilly) Stil wurden für das Label mit Top-Session-Musikern auf der Steel- und E-Gitarre produziert, z.B. das treibende Instrumental "Guitar Boogie Woogie" (4 Star-1114; aufgenommen im Mai 1946). Die begleitenden Musiker wurden als The Oklahoma Melody Boys auf den Plattenfirmen verrechnet.

Tyler schrieb und nahm "The Deck of Cards" 1948 auf. Die Spoken-Word-Hit-Single, die sein größter Hit war, erzählt die Geschichte eines Soldaten aus dem Zweiten Weltkrieg, der erklärt, wie ihm ein Kartenspiel als Bibel, Almanach und Gebetbuch dient. Dem folgte eine weitere Rezitation, die weinerliche Mary Jean Shurtz Komposition "Dad Gave My Dog Away". Seine Popularität führte zu einer Buchung in der Carnegie Hall in New York City[1].

Er war ein häufiger Darsteller in der Grand Ole Opry und Louisiana Hayride, sowie Gastgeber seiner eigenen Fernsehshow in Los Angeles, Kalifornien im Jahr 1950. Einige seiner 4-Star-Aufnahmen wurden von 1952-1955 an US-Decca Records lizensiert. Seine Karriere wurde Ende der 1950er Jahre durch persönliche Probleme behindert, obwohl einige Alben auf King Records (USA) mit 4 Star Material und Hymnen veröffentlicht wurden. In den 1960er Jahren erlebte Tyler ein Revival, als er zwei Alben (eines mit Hymnen) für Capitol Records und 1966 ein weiteres für Starday Records aufnahm.

Nach dem Tod seiner ersten Frau Claudia im Jahr 1968 heiratete Tyler Dorie (geb. Susanna Falk Buhr) und ließ sich in Springfield, Missouri, nieder, wo er einer örtlichen Gemeinde predigte und gelegentlich auftrat. Er starb am 28. Januar 1972 in Springfield an Magenkrebs.
Bewertungen lesen, schreiben und diskutieren...
mehr
Kundenbewertungen für "T' Texas Tyler"
Bewertung schreiben
Bewertungen werden nach Überprüfung freigeschaltet.