Der Artikel wurde erfolgreich hinzugefügt.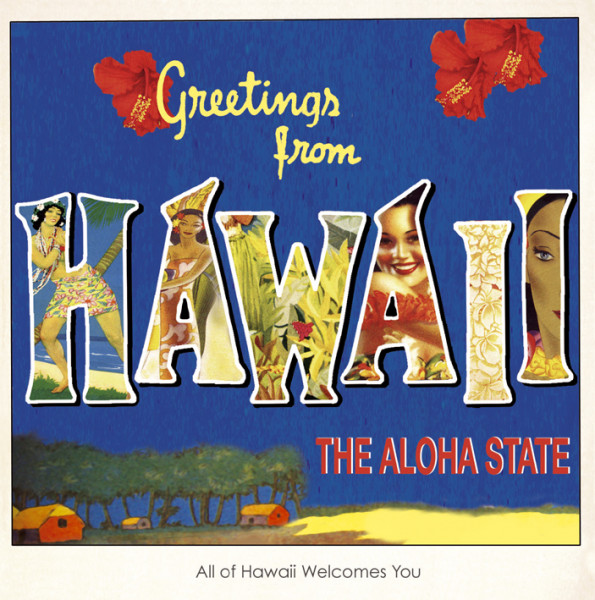 Dieser Artikel ist gestrichen und kann nicht mehr bestellt werden!
Benachrichtigen Sie mich, sobald der Artikel lieferbar ist.
Artikel-Nr.:

ACD25014

Gewicht in Kg.:

0.115
Greetings From Hawaii Back in 1958, one of my teachers thought it would be a good idea...
mehr
Various - Greetings From: Greetings From Hawaii
Greetings From Hawaii
Back in 1958, one of my teachers thought it would be a good idea to get us to talk about the possibility of statehood for Hawaii. Having a bunch of kids discuss current events seemed like a fine way to get our minds off sex and music. And so, like many Americans, he asked "Should Hawaii become a state?" After some silence, one of my classmates raised his hand and said, "No. Because it isn't touching."
This rather quaintly phrased objection expressed what many people felt back then. States were supposed to be pieces of land that bordered other states, and the US of A was a big hunk of land composed of adjacent little pieces. To include some islands way out in the Pacific that took god-knows how long to reach before jet travel was commonplace just didn't make sense.
But actually it did. And on August 21, 1959, Hawaii (along with Alaska – another non-contiguous piece of land) was granted statehood. Hawaii became the 50th state, stoking an upturn in the flag industry, as Americans rushed to update their 48-starred red, white and blue banners. Under all that national pride, the reasons for growth were not quite so pure. America had actually annexed Hawaii in 1898 and made it a territory in 1900, hoping to keep its economic advantages out of the hands of the Europeans. There was plenty of intrigue and some threats of violence surrounding these events, and more than another half century would pass before political and racial resistance to statehood would subside.
States all have their own unique identities, but none is more exotic and ethnically diverse than Hawaii. It's quite commonplace for Americans from the mainland who visit Hawaii to think of it as a foreign vacation. To this day, travelers arrive in Honolulu and ask what kind of money the locals use.
While it's true that American culture often assimilates everything in sight, it also leaves many superficial trappings intact. Thus, almost everyone has a sense of what 'Hawaiian music' sounds like. Unfortunately, for many of us, this conjures up images of Don Ho (or one of his numerous clones) singing Pretty Bubbles. In fact, this is unfair to Mr. Ho. Long before his popularity spread in the 1970s, there was an earlier epidemic of watered down Hawaiian music spreading across the US. At the turn of the century, Hawaiian songs were normally sung in their native language and rarely left the islands. In 1912, a stage play called 'Bird Of Paradise' opened on Broadway and was a smash hit. The show featured a troop of Hawaiian musicians performing in their native language. The 'New York Times' called the music "weirdly sensuous," which drew even larger audiences. After that, the play began to tour, taking this new music to listeners outside New York City. Just as this was happening, a 1915 San Francisco exposition of Pacific culture featured a show by the Royal Hawaiian Quartette, bringing native Hawaiian music and dancing to a west coast audience.
The American appetite for this strange new music grew almost overnight and non-Hawaiian songwriters struggled to produce Hawaiian-sounding product. Naturally, there was a limit to what Americans could digest, and so Hapa Haole songs were born. Strictly speaking, Hapa Haole means 'half foreign' although colloquially its meaning may be closer to "songs the accursed white man has stolen from us and exploited for his financial gain." The truth is, however, that Hawaiians, too, were making good money as the market for their native music spread to a whole new continent and brought tourism to their door.
Much Hapa Haole music contains just enough Hawaiian language to sound authentic. It wasn't uncommon for early Tin Pan Alley songwriters (whose Hawaiian vocabularies consisted of "Aloha!" ) to write gibberish that sounded Hawaiian and, with a ukulele and steel guitar to accompany it, who was likely to know, much less complain? Even standard pop songs in English could be made to sound Hawaiian if you threw in a few Hawaiian-sounding touches - some words, the right stringed instruments or a Hula rhythm. In the 1920s and 1930s, Hawaiian-based music literally flooded the market and accounted for a surprisingly large share of record and sheet music sales. On into the 1950s and later decades, Hawaiian songs were often viewed as 'novelty records.' Amazingly, they have retained their appeal across massive changes in American values. In fact, the impact of Hawaiian music has never been far from American popular culture ever since 'The Bird Of Paradise' hit the Broadway stage in 1912.
Greetings From ... CD-Album-Series by Bear Family &nbsp,&nbsp,
Music about the US Staates re-released on CDs by Bear Family

Read more at:&nbsp,https://www.bear-family.com/bear-family/country-series/greetings-from/
Copyright © Bear Family Records
Artikeleigenschaften von

Various - Greetings From: Greetings From Hawaii
Albumtitel:

Greetings From Hawaii

Genre

Country

Preiscode

AH

Artikelart

CD

EAN:

4000127250148

Gewicht in Kg:

0.115
Various - Greetings From - Greetings From Hawaii

CD 1
01
Hawaii's Calling Me
ROBBINS, Marty
02
Me Rock A Hula
HALEY, Bill
03
Beyond The Reef
SONS OF THE PIONEERS
04
On That Old Haweiian Shore Whith You
SNOW, Hank
05
Hula Love
KNOX, Buddy
06
My Little Grass Shack In Kealakekua, Hawaii
WEST, Speedy & Jimmy Bryant
07
Blue Hawaii
LOCKLIN, Hank
08
My Isle Of Golden Dreams
ROBBINS, Marty
09
Hawaiian Sea Breeze
McDONALDS, Skeets
10
Hillbilly Hula
CARMEN, Jenks Tex
11
Blue For Old Hawaii
SNOW, Hank
12
Bop A Hula
NEWMANN, Jimmy
13
Hawaiian Bells
IVES, Burl
14
Hawaiian Cowboy
ALLEn, Rex
15
Aloha Oe
ROBBINS, Marty
16
Little Hula Shack In Hawaii
CAMPBELL, Cecil
17
Lula Rock A Hula
BREWER, Teresa
18
Hawaiian Wedding Song
REEVES, Jim
19
Stars Above Hawaii
SONS OF THE PIONEERS
20
Everybody Does It In Hawaii
RODGERS, Jimmie
21
Sweet Leilani
ROBBINS, Marty
22
Hootchy Kootchy Henry From Hawaii
TOROK, Mitchell
23
Hawaiian War Chant
VAUGHN, Billy
24
Hula Rock
SNOW, Hank
25
Hawaiian Farewell
WINSTON, Winnie & Hank Davis
Postkarten aus Amerika 1x USA pauschal gefällig? Gern, aber vergessen Sie TUI, l'tur,...
mehr
"Various - Greetings From"
Postkarten aus Amerika
1x USA pauschal gefällig? Gern, aber vergessen Sie TUI, l'tur, Neckermann!
Wir empfehlen statt dessen 'amb' – ein Unternehmen, das Sie.....
.....hinbringt, ohne wegfahren zu müssen;
.....informiert, ohne zu belehren;
.....unterhält, ohne zu langweilen.
Und all das – und noch mehr – zu Preisen an der Grenze zum Geschenk.
'amb' könnte für 'amerika billig' stehen, ist aber – natürlich – das Kürzel für '...and more bears', das noch junge Label von Bear Family Records.
Also alles nur Spinnerei? Nein. Denn 'amb' lädt tatsächlich ein zu exklusiven Entdeckungsreisen in die (musikalische) Historie der USA – akribisch sortiert nach Bundesstaaten von Nord nach Süd, von West nach Ost. Jeder dieser speziellen Trips ist untergebracht auf 12 Zentimetern Durchmesser – damit kleiner als jeder wissenschaftliche Atlas und mit dem vielfachen Inhalt dessen, was eine noch so bunte Hochglanzpostkarte bieten kann:
Dies sind echte, authentische, erlebte und weitergegebene 'Greetings From. . .' !
Selbstverständlich kompetent und fundiert - aber ohne Oberlehrerhaftes, ohne Staubtrockenes (auch wenn es schon mal in die Wüste gehen kann), ohne touristisches Gehetze von einem Museum zum nächsten Wasserfall.
Texas und Tennessee waren bereits im Angebot, Oklahoma und Hawaii, Georgia und Alabama kamen anschließend hinzu. Und, mal ehrlich, wer außer '...amb' könnte Reiseleiter mit dem Bekanntheitsgrad eines Johnny Cash, Willie Nelson oder Waylon Jennings präsentieren? Von der Bedeutung eines Jim Reeves, Don Gibson oder Bill Monroe? Von der Klasse eines Tex Ritter, Roy Rogers Louis Jordan, oder Hank Snow?
Sie alle (und viele andere) präsentieren ihre Heimat - Land und Leute, Terrains und Typen - auf ihre ganz eigene, unverwechselbare Art und Weise. Und geben musikalisch Details auf Fragen preis, von denen übliche Prospekte oder geschönte Werbefilmchen nur träumen können:
Was war da los mit den Wassermelonen in Georgia? Wie fanden auf Hawaii Rock 'n' Roll und Hula zusammen? Und welche Bedeutung hatte eigentlich der dicke Sam aus Alabama? 'Greetings From....' geben die Antworten !
Wie waren die Honky Tonk Girls in Oklahoma wirklich? Klangen die Kirchenglocken in Tennessee schon immer so? Und wem war das Wiegenlied in Texas gewidmet? 'Greetings From....' klären auf nach Noten!
Tauchen Sie ein in die Riffe vor Hawaii, hüten Sie sich vor dem Knast in Alabama, wippen Sie mit zum Walzer in Oklahoma, zu Polka, Jive und Two Step in Tennessee! 'Greetings From....' laden dazu ein !
Erleben Sie nordamerikanische Geschichte(n), Geographie und Traditionen zum Anfassen – durch vertonte Episoden aus erster Hand.
Postkarten aus Amerika
Die CD-Cover dieser Reihe sind klassischen amerikanischen Postkarten nachempfunden, in denen der Schriftzug des jeweiligen Staates mit repräsentativen Fotos unterlegt ist.

Read more at: https://www.bear-family.de/bear-family/country-serien/greetings-from/
Copyright © Bear Family Records
Bewertungen lesen, schreiben und diskutieren...
mehr
Kundenbewertungen für "Greetings From Hawaii"
Bewertung schreiben
Bewertungen werden nach Überprüfung freigeschaltet.
Weitere Artikel von Various - Greetings From