Der Artikel wurde erfolgreich hinzugefügt.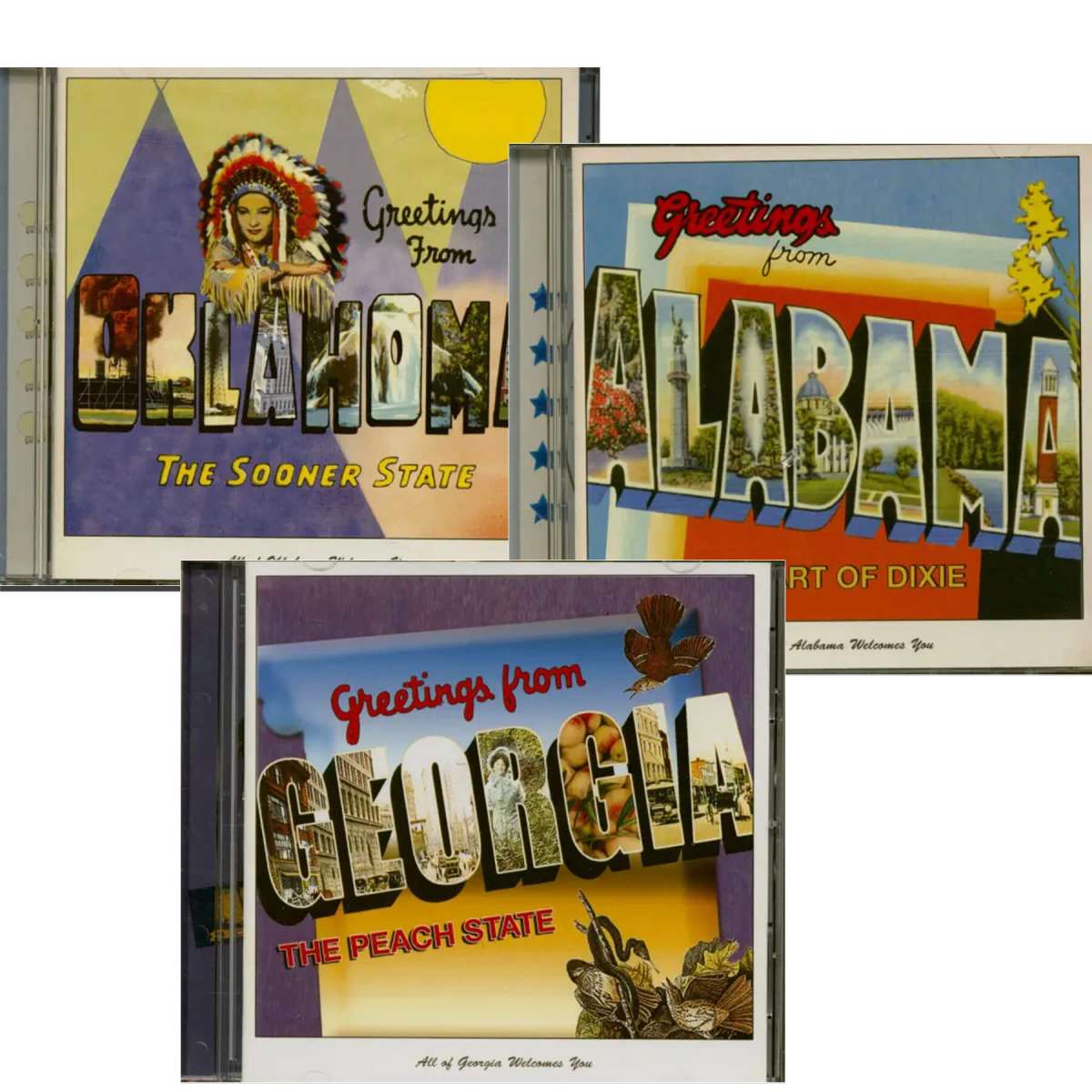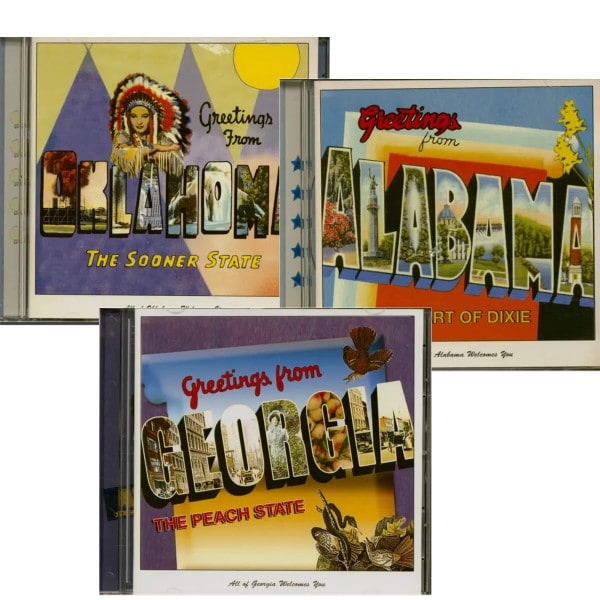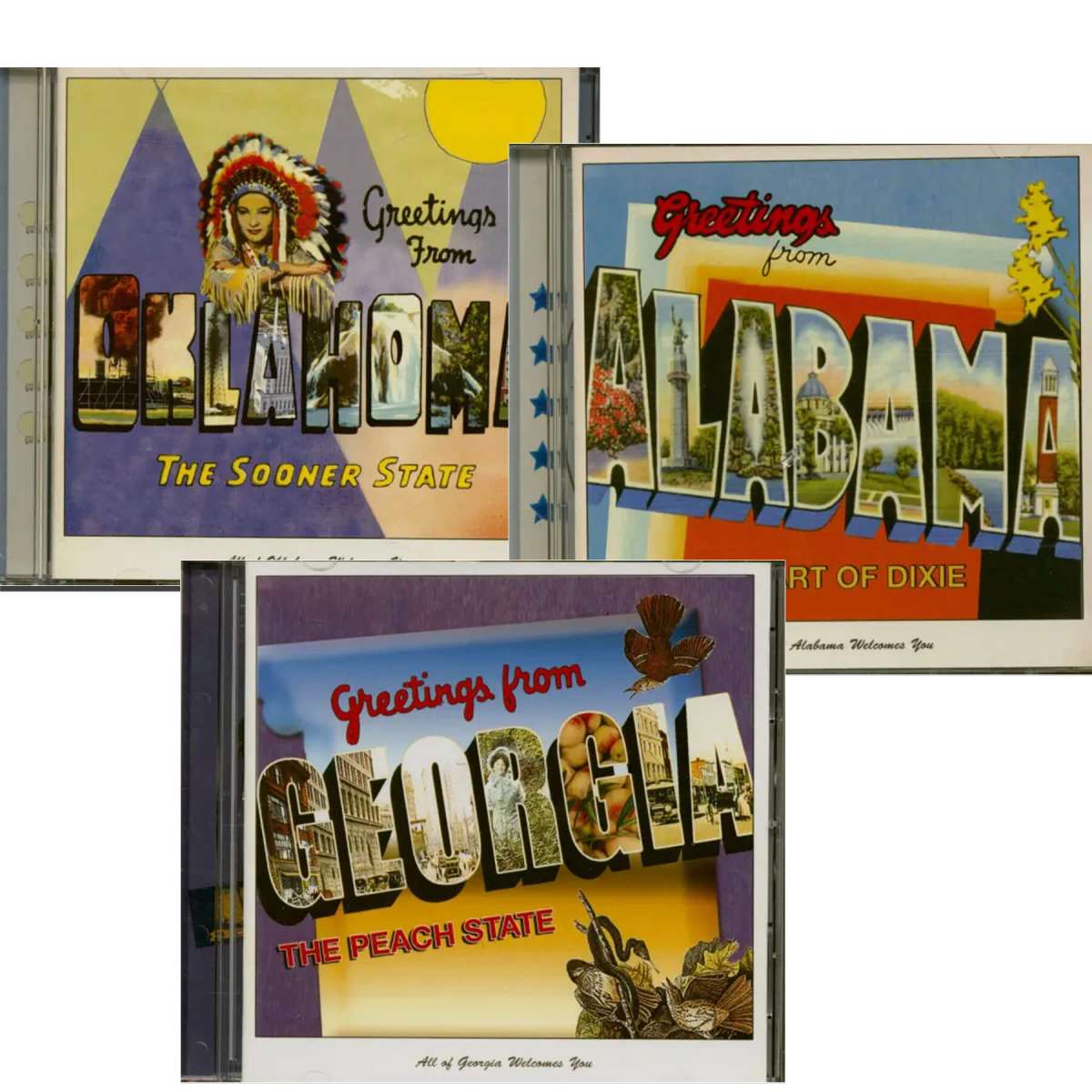 19,95 € *
47,85 € *
(58,31% gespart)
inkl. MwSt. / zzgl. Versandkosten - Abhängig vom Lieferland kann die MwSt. an der Kasse variieren.
Sofort versandfertig, Lieferzeit** 1-3 Werktage
Artikel-Nr.:

ACD25013-bu

Gewicht in Kg.:

0.345
Mit der Veröffentlichung von 'Greetings From Texas' und 'Greetings From Tennessee' startete...
mehr
Various - Greetings From: Greetings From Oklahoma - Georgia - Alabama (3-CD)
Mit der Veröffentlichung von 'Greetings From Texas' und 'Greetings From Tennessee' startete '...and more bears records' das Projekt zum Thema 'Regionale Musik'. Jetzt kommen 'Greetings From Oklahoma', 'Greetings From Hawaii', 'Greetings From Georgia' und 'Greetings from
Alabama
' hinzu. Jede CD dieser Serie wird eine stattliche Zahl von Liedern enthalten, in denen sich alles um einen konkreten US-Bundesstaat dreht. Genauer gesagt: In gewohnter '...and-more-bears'-Machart werden wir eine Mischung aus bekannten Songs (wie etwa Oklahoma Hills und Everybody Does It Hawaii) und eher obskuren Titeln aus den Katalogen diverser Plattenfirmen präsentieren. Egal, ob Patriot oder Plattensammler – diese Serie wird alle überraschen. Jede einzelne Folge stellt außerdem berühmte Künstler wie
Hank Williams
oder
Willie Nelson
neben Interpreten, die oft nicht einmal in ihrer Heimat bekannt gewesen sind. Ihr gemeinsames Ziel: den Heimatstaat angemessen darzustellen und ein Loblied auf ihn singen.
Die einzelnen US-Staaten haben spezielle Eigenheiten, in denen sie sich von anderen unterscheiden. Wenn zum Beispiel TV-Moderator Jay Leno in den Monologen seiner 'Tonight Show' auch nur den Namen eines Staates erwähnt, ist fast immer ein Aufschrei beim Studiopublikum die Folge. Jeder versteht das – diese Reaktion soll Millionen sagen: "Hey, ich komme von dort! Und ich bin stolz darauf, aus Tennessee, Alabama oder Virginia zu stammen, daß ich hier so applaudiere." Stolz auf seine Herkunft zu sein, hat mit Leidenschaft zu tun, und manchmal macht diese Form von Stolz nicht mal an Landesgrenzen halt. Diese Serie hat jedoch in erster Linie mit Lokal-Patriotismus zu tun ("Klar, ich komme aus Amerika! Aber natürlich bin ich auch Texaner!").
Jede CD wird ferner einen ebenso launigen wie informativen Begleittext des Musikgeschichtlers
Hank Davis
enthalten. Die ausgewählten Songs stammen aus den 40er bis 90er Jahren; das Gros wird jedoch ursprüngliche, traditionelle und klassische Country Music repräsentieren. Keine Sorge: Es geht dabei einzig und allein um den Spaß an der Freude! Keine der Kopplungen wird etwas von einem oberlehrerhaften Angebot angestaubter Steinzeitware haben. Man soll diese Zusammenstellungen ganz einfach gut anhören können, und sie sollen gleichzeitig den patriotischen Nerv treffen. Und, versprochen: Niemand muß unbedingt aus Oklahoma, Hawaii, Georgia, Alabama, Texas oder Tennessee stammen, um Freude für die Musik empfinden zu können, die diese großen Staaten hervorgebracht haben.
Artikeleigenschaften von

Various - Greetings From: Greetings From Oklahoma - Georgia - Alabama (3-CD)
Albumtitel:

Greetings From Oklahoma - Georgia - Alabama (3-CD)

Genre

Country

Artikelart

CD

EAN:

4000127250254

Gewicht in Kg:

0.345
Greetings From … Eine Bear Family Records ® Serie, die die verschiedenen...
mehr
"Various - Greetings From"
Greetings From …
Eine Bear Family Records® Serie, die die verschiedenen Regionen der Vereinigten Staaten vorstellt, mit dem Fokus auf die wichtigsten Regionen der Nation für Country-Musik, Texas, Oklahoma, Georgia und Alabama. Jede CD enthält großzügige 25 Tracks, wobei die Compilations Bekanntes mit weniger Bekanntem kombinieren, sowohl was die Künstler als auch die Songs angeht.
Mit dem Namen des Bundesstaates in jedem Songtitel bietet die Texas-Sammlung: Ernest Tubbs "Waltz Across Texas", Roy Rogers' "Yellow Rose Of Texas" und Bob Wills/Leon Rausch's "Deep In The Heart Of Texas" bedürfen sicherlich keiner Einführung, während "Love You As Big As Texas", "Texas Silver Zephyr", "Two Texas Boys" und "A Texas Honky Tonk" für viele Hörer neu sein dürften.
Die Auswahl der Künstler (die nicht immer Bürger des Staates sind, dessen Tugenden sie verkünden) reicht ebenfalls von sehr berühmten bis hin zu relativ obskuren Künstlern. Ernest Tubb, Tex Ritter, Rex Allen, Willie Nelson, Hank Snow, Pee Wee King, Hank Williams, Bobby Bare und Johnny Cash gehören zu den bekanntesten Vertretern dieser Musik, während Jimmie Logsdon, Zeb Turner, Jimmie Dolan, Gene O'Quin und Ole Rasmussen wahrscheinlich nur den spezielleren Plattenkäufern bekannt wären (und einige von ihnen überhaupt nicht, wenn es nicht die Veröffentlichungen der Bear Family gäbe). Es gibt ein paar Kuriositäten in der Texas-Sammlung: Say Pardner von Cowboys And Indians (ein Outfit, von dem niemand etwas zu wissen scheint, abgesehen von der Tatsache, dass diese Platte in einer längst vergangenen Zeit auf AFN gespielt wurde) und die nicht nach Country klingende Gruppe The Offenders (Can't Get The Hell Out Of Texas), die eigentlich aus Willie Nelson, Johnny Bush, Jimmy Day und David Zettner bestand.
Diese sehr unterhaltsamen, hochgradig hörenswerten CDs werden von vollfarbigen Booklets begleitet, in denen Hank Davis einen nicht allzu gelehrten Blick auf die Geschichte des jeweiligen Staates und der Musik wirft, zusammen mit einer Fotogalerie aller Künstler.
Bewertungen lesen, schreiben und diskutieren...
mehr
Kundenbewertungen für "Greetings From Oklahoma - Georgia - Alabama (3-CD)"
Bewertung schreiben
Bewertungen werden nach Überprüfung freigeschaltet.
Weitere Artikel von Various - Greetings From