Der Artikel wurde erfolgreich hinzugefügt.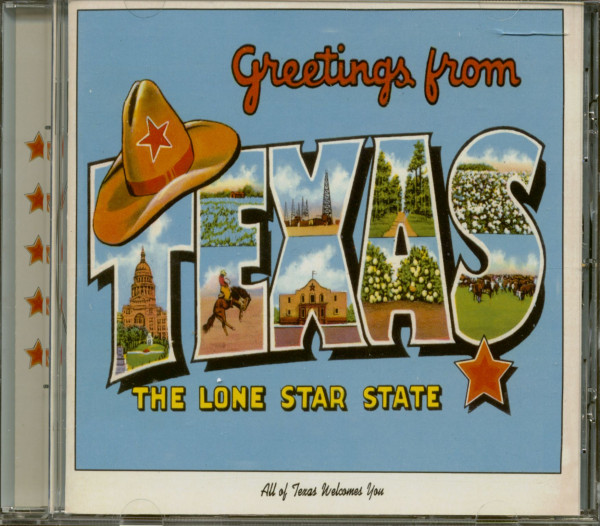 Dieser Artikel ist gestrichen und kann nicht mehr bestellt werden!
Benachrichtigen Sie mich, sobald der Artikel lieferbar ist.
Artikel-Nr.:

ACD25011

Gewicht in Kg.:

0.115
Various Greetings From Texas When Americans meet each other, the first question they...
mehr
Various - Greetings From: Greetings From Texas (CD)
Various Greetings From Texas
When Americans meet each other, the first question they usually ask is, "Where you from?"
If the answer is 'New
Jersey
,' '
Kansas
' or 'Rhode Island,' there's often a polite silence. Followed by a change of subject. But if the answer is 'Texas,' it's not unusual to hear some genuine enthusiasm. "Really! What's it like?"
Like it or not, there is awe surrounding Texas. Sure, it's big. In fact, it's almost the biggest state there is. The Sons of Sam Houston probably still haven't forgiven those upstart Alaskans. But in any case the response you get goes beyond land mass. There's something about Texas. Texas is a culture. It's a way of life. People from Texas are not simply average Americans. They're Texans. There have probably been more movies about Texas than any other state, and as far as music goes….well, just read on.
Mind you, not all the qualities associated with Texas are admirable. Like movies and music, there are probably more jokes about Texas than there are about any other state in the union. Texans take a fair amount of ribbing about who they are and what they do. Ribbing, of course, is the least you can expect when your national cuisine is barbeque. Who can count all the jokes about Texans who die, go to Heaven (or Hell) and end up getting barbeque sauce all over the place? One way or another they manage to antagonize the guy in charge. St. Peter complains because there are pickup trucks or empty six packs all over the streets of gold. The Devil complains because a bad day in Hell is "like a spring day in Amarillo." And besides, the damned Texans are barbequing on the fires of Hell and have installed air conditioning just in case it really heats up a bit. In short, Texans take their culture with them wherever they travel, including the hereafter.
Texans, as well as visitors from more temperate climes, have a lot to say about Texas weather. The heat is a big topic of conversation. Texans pick their parking places by shade, not distance. They know that a seat belt in
July
does a pretty good imitation of a branding iron. Droughts, too, are a way of life. Texans long ago stopped associating bridges with water. As folks in the country say, "It's so dry the trees are bribin' the dogs."
Just about every quality of Texas life – whether good, bad or indifferent – is on display on this collection. Twenty-five songs telling you a whole lot of what you need to know about Texas and Texans. Here are the things that Texans are proudest of, right along side a few other qualities they may not be quite as proud of, but they sure ain't ashamed enough to stop writing and singing songs about them.
You'd think that a collection like this would consist solely of native Texans singing their pride, but that's not the case. Admittedly many of these artists hail from Texas – men like
Ernest Tubb
,
Willie Nelson
, and
Tex Ritter
, but there are plenty of exceptions. And speaking of Mr. Ritter, when a guy adopts the name of a state as his first name, you know you're on to some serious identity issues. And Tex Ritter is just the tip of the iceberg.
Think
about
Tex Williams
– who came from Illinois! There just aren't too many guys out there calling themselves 'Illinois Williams' or 'New Jersey Jones' or 'Pennsylvania Smith.'
Along with Williams, there are quite a few non-Texans on this collection proudly singing about the joys and perils of life in the Lone Star state. When you have a guy of Scandinavian ancestry like
Ole Rasmussen
(whose California-based band was named the Nebraska Cornhuskers) or a Canadian from Nova Scotia singing about Texas, you know there's something powerful going on. And
Hank Snow
isn't the only Canadian on board this train. There's fellow Nova Scotian
Wilf Carter
as well. And there are lots of out-of-state Americans like
Sanford Clark
(Oklahoma),
Hank Locklin
(Florida),
Rex Allen
(Arizona), and old
Roy Rogers
, himself, who hailed from Ohio. Nothing stopped these non-Texans from singing the praises of Texas.
Artikeleigenschaften von

Various - Greetings From: Greetings From Texas (CD)
Albumtitel:

Greetings From Texas (CD)

Genre

Country

Preiscode

AH

Artikelart

CD

EAN:

4000127250117

Gewicht in Kg:

0.115
Various - Greetings From - Greetings From Texas (CD)

CD 1
01
Say Pardner
COWBOYS AND INDIANS
02
Miles And Miles Of Texas
ASLEEP AT THE WHEEL
03
A Texas Honky Tonk
McCALL, Darrell
04
Waltz Across Texas
TUBB, Ernest & Sammi Smith
05
There's A Little Bit Of Everything In Texas
TUBB, Ernest
06
Did The Man In The Moon Come From Texas
RASMUSSEN, Ole
07
All Alone In Texas
DOLAN, Jimmie
08
Texas Moon
DUNCAN, Tommy
09
Down Texas Way
LOCKLIN, Hank
10
Texas Boogie
O'QUIN, Gene
11
Love You As Big As Texas
RITTER, Tex
12
You Can Tell A Texan Everytime
WILLIAMS, Tex & T. Ernie Ford
13
Yellow Rose Of Texas
ROGERS, Roy
14
Texas Tornado
ALLEN, Rex
15
Deep In The Heart Of Texas
WILLS, Bob
16
X's From Down In Texas
CARTER, Wilf
17
Two Texas Boys
ALLEN, Rex & Tex Williams
18
Texas In My Soul
NELSON, Willie
19
Can't Get The Hell Out Of Texas
OFFENDERS
20
Mother Texas
CLARK, Sanford
21
Texas Lullaby
COE, David Alan
22
T For Texas
JONES, Grandpa
23
Texas Silver Zephyr
SNOW, Hank
24
Texas Rose
PAUL, Billy
25
I've Never Been Out Of Texas
WALKER, Charlie
Greetings From … Eine Bear Family Records ® Serie, die die verschiedenen...
mehr
"Various - Greetings From"
Greetings From …
Eine Bear Family Records® Serie, die die verschiedenen Regionen der Vereinigten Staaten vorstellt, mit dem Fokus auf die wichtigsten Regionen der Nation für Country-Musik, Texas, Oklahoma, Georgia und Alabama. Jede CD enthält großzügige 25 Tracks, wobei die Compilations Bekanntes mit weniger Bekanntem kombinieren, sowohl was die Künstler als auch die Songs angeht.
Mit dem Namen des Bundesstaates in jedem Songtitel bietet die Texas-Sammlung: Ernest Tubbs "Waltz Across Texas", Roy Rogers' "Yellow Rose Of Texas" und Bob Wills/Leon Rausch's "Deep In The Heart Of Texas" bedürfen sicherlich keiner Einführung, während "Love You As Big As Texas", "Texas Silver Zephyr", "Two Texas Boys" und "A Texas Honky Tonk" für viele Hörer neu sein dürften.
Die Auswahl der Künstler (die nicht immer Bürger des Staates sind, dessen Tugenden sie verkünden) reicht ebenfalls von sehr berühmten bis hin zu relativ obskuren Künstlern. Ernest Tubb, Tex Ritter, Rex Allen, Willie Nelson, Hank Snow, Pee Wee King, Hank Williams, Bobby Bare und Johnny Cash gehören zu den bekanntesten Vertretern dieser Musik, während Jimmie Logsdon, Zeb Turner, Jimmie Dolan, Gene O'Quin und Ole Rasmussen wahrscheinlich nur den spezielleren Plattenkäufern bekannt wären (und einige von ihnen überhaupt nicht, wenn es nicht die Veröffentlichungen der Bear Family gäbe). Es gibt ein paar Kuriositäten in der Texas-Sammlung: Say Pardner von Cowboys And Indians (ein Outfit, von dem niemand etwas zu wissen scheint, abgesehen von der Tatsache, dass diese Platte in einer längst vergangenen Zeit auf AFN gespielt wurde) und die nicht nach Country klingende Gruppe The Offenders (Can't Get The Hell Out Of Texas), die eigentlich aus Willie Nelson, Johnny Bush, Jimmy Day und David Zettner bestand.
Diese sehr unterhaltsamen, hochgradig hörenswerten CDs werden von vollfarbigen Booklets begleitet, in denen Hank Davis einen nicht allzu gelehrten Blick auf die Geschichte des jeweiligen Staates und der Musik wirft, zusammen mit einer Fotogalerie aller Künstler.
Bewertungen lesen, schreiben und diskutieren...
mehr
Kundenbewertungen für "Greetings From Texas (CD)"
Von:
Beate
Am:
05.01.2018
Bewertung schreiben
Bewertungen werden nach Überprüfung freigeschaltet.
Weitere Artikel von Various - Greetings From