Der Artikel wurde erfolgreich hinzugefügt.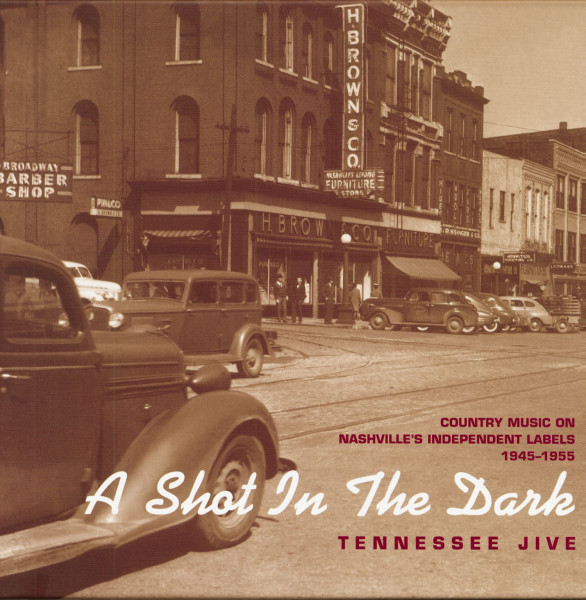 Dieser Artikel ist gestrichen und kann nicht mehr bestellt werden!
Benachrichtigen Sie mich, sobald der Artikel lieferbar ist.
Artikel-Nr.:

BCD15854

Gewicht in Kg.:

3.25
Heute ist Nashville eines der drei großen Aufnahmezentren in den Vereinigten Staaten. Sie hat...
mehr
Various - History: Tennessee Jive, 1945-1955 8-CD-Box & 276-BOOK
Heute ist Nashville eines der drei großen Aufnahmezentren in den Vereinigten Staaten. Sie hat sich über ihre Basis in der Country-Musik hinaus zu dem entwickelt, wofür sie sich längst bekannt hat: Music
City
USA.
Der Aufstieg von Nashville in den Jahren nach dem Zweiten Weltkrieg war meteorisch und wurde meist mit dem Begriff "The Nashville Sound" erklärt. Es ist von zentraler Bedeutung für die Mythologie der Country-Musik, dass der Nashville Sound es der Country-Musik ermöglichte, ihre Regionalität abzuschütteln und den Mittelgrund zu kolonisieren, der einst von Easy Listening-Musik besetzt war. Das stimmt zwar in gewisser Weise, ignoriert aber vieles von dem, was in Nashville geschah, bevor der Nashville Sound in den späten fünfziger Jahren geboren wurde. Insbesondere ignoriert sie die Ursprünge des Nashviller Musikgeschäfts in den Jahren nach dem Zweiten Weltkrieg und die Tatsache, dass die Countrymusik nie die einzige Musik war, die dort gespielt wurde.
1945, als der Krieg endete, hatte Nashville keine hochwertigen Studios, keine Karrieresessions, keine Plattenfirmen und nur ein oder zwei Musikverlage. Noch 1946 galten Los Angeles,
Atlanta
, Cincinnati und vor allem
Chicago
als die Zentren des Country-Musikgeschäfts. Das änderte sich sehr schnell, und es ging Hand in Hand mit der wachsenden Bedeutung der Grand Ole Opry auf dem WSM von Nashville. In den vierziger Jahren gab es Hunderte von Radioscheunen-Tänzen, aber die Opry zog die Stars an, die das Nachkriegspublikum hören wollte, und ab 1943 hatte sie allein die kostbaren 30 Minuten Netzwerk-Airtime von Küste zu Küste. Die Stars zogen nach Nashville, und das Geschäft folgte.
Die Rolle der Opry in Nashvilles Wachstum kann nicht unterschätzt werden, aber sie neigt dazu, die Rolle einer anderen lokalen Hoch-Megawattstation, WLAC, bei der Förderung eines ganz anderen Nashville Sounds zu verdecken. Nachts überflutete das R&B-Programm von WLAC den Osten der Vereinigten Staaten und legte den Grundstein für eine florierende Black Music Recording Szene in Nashville, die bis weit in die 70er Jahre dauerte. Es gab einige Wechselwirkungen zwischen Nashvilles Country-Musikszene und der schwarzen Musikszene, aber im Allgemeinen existierten sie als Paralleluniversen.
Mitte der fünfziger Jahre waren die meisten großen Plattenfirmen dauerhaft in Nashville vertreten. In den letzten zehn Jahren war die einzige ständige Vertretung der Plattenfirma jedoch eine Handvoll kleiner lokaler Labels. Während die Majors Nashville nur in Bezug auf die Countrymusik sahen, überbrückten die unabhängigen Labels die beiden Einsamkeiten der Schwarzweißmusik und nahmen viel anderes auf, darunter Poporchester und Gospelmusik. Mit anderen Worten, sie spiegelten die Musikszene von Nashville so wider, wie sie wirklich war.
Dies ist ein Versuch, die lebenswichtigen, aber vergessenen Jahre zwischen 1945 und 1955 zu dokumentieren, in denen Nashville zu einem lebensfähigen Aufnahmezentrum wurde. Die Geschichte wird von zwei Ereignissen begleitet, die damals kaum eine Erwähnung fanden. Im Dezember 1945 unterbrach
Bullet
Records seine erste Session, und im Januar 1956 kam
Elvis Presley
nach Nashville, um seine ersten Aufnahmen für RCA, darunter Heartbreak Hotel, zu machen.
Anstatt die Geschichte in Form von großen Stars und großen Plattenfirmen zu erzählen, liegt der Fokus hier auf den lokalen Helden und lokalen Labels, die den Grundstein für so viel von dem gelegt haben, was in den kommenden Jahren geschah. Die Interpreten der beiden begleitenden CD-Sets waren sehr oft diejenigen, die für weiße Nashvillianer spielten, während die Opry-Stars die ganze Woche durchs Land tourten, oder für schwarze Nashvillianer in den lokalen Clubs und Bars. Die hier vorgestellten Plattenlabels stammten alle aus Nashville oder seiner unmittelbaren Umgebung und wurden von einigen einflussreichen, optimistischen Unternehmern geführt, die die freilaufende, gesetzwidrige Mentalität des unabhängigen Musikgeschäfts teilten. Einige waren Träumer, andere Realisten und wieder andere Betrüger, die hofften, den Ruf des Musikgeschäfts für schnelle Gewinne zu nutzen. Heute weitgehend vergessen, spielten die kleinen Labels wie Bullet, Nashboro, Tennessee und Republic eine wichtige Rolle, um Nashville zum Synonym für Musik zu machen, und sie gaben vielen großen Künstlern von Chet Atkins bis
B.B. King
die wichtige erste Pause. Sie bauten das Fundament, auf dem Nashvilles legendäres Musikgeschäft wuchs. Sie waren auch für mehrere nationale Treffer verantwortlich. Als Near You auf Bullet Records zur meistverkauften Pop-Platte von 1947 wurde, muss es so ausgesehen haben, als wäre absolut alles möglich gewesen.
Bullet Records war mit einem Logo versehen, das eine Kugel zeigt, die auf ein Ziel zusteuert, das über der lobenswert hoffnungsvollen, wenn auch nicht immer genauen Legende "Always A Smash Hit" steht. In Wirklichkeit war Bullet 1945 eher ein Schuss im Dunkeln. Doch innerhalb von zehn Jahren gab es in der Stadt eine florierende Plattenindustrie. Bald würde Elvis Presley dort aufnehmen und Rock'n' Roll mitbringen. Bereits ein prophetisches Lied, Music City USA, war in Nashville geschrieben und aufgenommen worden. Es wurde 1950 veröffentlicht, als Nashvilles Musikgeschäft im Dunkeln immer weniger zu einem Schuss wurde.
Während der fünfundzwanzigjährigen Entstehungsgeschichte dieses Projekts wurde ich häufig von einem klassischen Cartoon verfolgt, der auf einem Witz des verstorbenen britischen Satirikers Peter Cook basiert. Zwei Fremde befinden sich auf einer Party von Angesicht zu Angesicht. Eine Freiwillige arbeitet begeistert: "Ich schreibe ein Buch." Mit dem Realismus des Pokers antworten die anderen: "Ich auch nicht."
Ein Großteil dieses Textes wurde vor über zwanzig Jahren begonnen, basierend auf einer Reihe von persönlichen Interviews, die in den siebziger Jahren durchgeführt, aber nie veröffentlicht wurden. Als ich 1971 Nashville zum ersten Mal gesehen hatte, war es ein aufstrebender Musikautor, der durch die Fenster eines Busses aus New York schaute. Der Greyhound mit
Colin Escott
und mir hatte seinen Weg aus den Hügeln von Ost-Tennessee durch einen herrlichen Frühsommernebel verwunden, als wir einen Reisebus sahen, der von Nashville nach Osten fuhr. Die'The
Kitty Wells
Show' war an der Seite prangt. Es schien ein Zeichen dafür zu sein, dass unsere Suche nach Roots-Musik in Nashville gut verlaufen würde, obwohl Kitty und ihre Mitstars aus den fünfziger Jahren schon damals weit über ihr kommerzielles Verfallsdatum hinausgingen. Tradition war ein wichtiger Teil des Bildes, das Nashville pflegte, aber als wir in der Stadt ankamen, stellten wir bald fest, dass das Nashville der Pioniere der Nachkriegsaufnahme in Wirklichkeit fast verschwunden war.
Dass dieses Projekt nun realisiert wurde, spiegelt die Begeisterung und Unterstützung vieler Menschen wider.
Bear Family Records
ist das einzige Unternehmen weltweit, das ein solches Projekt in Betracht zieht. Colin Escott ist wahrscheinlich die einzige Person, die mich hätte motivieren können, eine weitere Interviewreihe zu beginnen und etwas in CD-Form zu beenden, das viel zu lange halb fertig als Buch gelegen hatte.
Colin hat geholfen, den Text zu bearbeiten und wichtige Erkenntnisse und Details zu dieser Geschichte beigetragen. Nicht zuletzt hat er versucht, meiner Neigung, die Geschichte in Echtzeit festzuhalten, entgegenzuwirken, indem er jede Detailfrage, die sich stellt, aufgezeichnet und festhält. Er hat eine beispiellose Fähigkeit, auf eine Weise zusammenzufassen, die die Geschichte eher verbessert als vermindert.
Inspirierend war auch das detaillierte Wissen der Plattensammler Dave Sax, Chris Bentley, Phil Tricker und Al Turner. Bedeutende Beiträge wurden auch von Doug Seroff,
Hank Davis
, Bill Millar und Kevin Coffey geleistet. Im Laufe der Jahre erhielt ich Navigationshilfe und Ermutigung, disziplinäre Forschung und allgemeine Hilfe und Begeisterung von Bob Pinson, Wayne Russell,
Tony Russell
, Charles Wolfe, Richard Peterson, John Rumble, Lars Lundgren, Bob Laughton, Ray Topping, Bob Fuller, Robert Loers, Daniel Cooper,
Bruce Bastin
,
Tony
Collins, John Pearson, John Broven, George Moonoogian und anderen, die ich sicher vergessen habe. Rückblickend auf einen Berg von Korrespondenz fand ich einen großen Stapel von Briefen von Bill Daniels, voller Informationen, Ideen und Begeisterung, und wie alles andere bin ich froh, seine Bemühungen nicht verschwendet zu haben. Ich freue mich auch für Dave Sax, der überall einen enormen Beitrag leistete, obwohl er versehentlich das ultimative Opfer brachte, als ein Stapel von 78 Rekorden gebrochen wurde.
Meine Hauptschuld liegt jedoch bei denen, die sich befragen ließen und aus deren Erinnerung und Lieferung von Sachdaten Colin und ich diese Broschüre zusammenstellen konnten. Das ist wirklich ihre Geschichte.
MARTIN HAWKINS
Maidstone, England, Juni 2000
Credits:
Abgesehen von den im Text spezifisch identifizierten Referenzen waren die wichtigsten Quellen für Originalinformationen für diese Broschüre:
Interviews von
Martin Hawkins
mit Joe Allison, Howard Allison, Chet Atkins, Harold Bradley, Owen Bradley, Paul Broome, Jim Bulleit, Bill Beasley, Reynold Bubis, Louis Brooks, Hutch Carlock, Hugh Cherry, Dottie Dillard, John Dunn, Al Garner, Chuck Gregory, Buddy Harman,
Bobby Hebb
, Helen Hebb,
Tommy Hill
, Frank Innocenti,
Ted Jarrett
, Dee Kilpatrick,
Christine Kittrell
, Dean May,
Kenny
Marlow, Jay Miller (via John Broven), Cam Mullins, Murray Nash, Gene
Nobles
, Shannon Williams,
Mac Wiseman
, Randy Wood (via Polly Mitchener), Red Wortham, Cal Young und Ernie Young (via Howard Allison).
Interviews von Colin Escott mit Alan Bubis, Rachel Bulleit, Chuck Gregory, Frank Innocenti und Murray Nash.
Artikeleigenschaften von

Various - History: Tennessee Jive, 1945-1955 8-CD-Box & 276-BOOK
Albumtitel:

Tennessee Jive, 1945-1955 8-CD-Box & 276-BOOK

Genre

Country

Preiscode

HL

Edition 2

Deluxe Edition

Artikelart

Box set

EAN:

4000127158543

Gewicht in Kg:

3.25
Various - History - Tennessee Jive, 1945-1955 8-CD-Box & 276-BOOK

Box set 1
01
Zeb's Mountain Boogie
BRADY, Brad & TENNESSEANS
02
Guitar Reel
TURNER BROS
03
Talking The Blues
PYLE, Pete
04
Living In Sorrow
PYLE, Pete
05
Oklahoma Honky Tonk Gal
WOOLEY, Sheb
06
That's All Sche Wrote
TEXAS TROUBADOURS
07
I'm So Lonesome
MOODY, Clyde
08
Jealous Hearted Me
PEARL, Minnie & Frankie Pee
09
That Cheap Look In Your Eye
PEE, Franki
10
Guitar Blues
ATKINS, Chester
11
Hamtramck Mama
YORK BROS
12
My Tears Will Never Make You Change
YORK BROS
13
Doin' The Boogie Woogie
BARFIELD, Johnnie
14
Sweet Woman Blues
SCOTT, Ramblin' Tommy
15
Chattanooga Boogie
TURNER, Zeb
16
Ain't Had No Lovin'
TURNER, Zeb
17
Coal Miner's Blues
TURNER, Zeb
18
High Falutin' Mama
NETTLES, Bill
19
Blue Ridge Mountain Blues
YORK Bros
20
Safety Pin Rag (instrumental)
LINDSAY, Merl
21
Don't Try It
PAYNE, Leon
22
Lifetime To Regret
PAYNE, Leon
23
Brown's Ferry Boogie
CLEMENTS, Zeke
24
Swamp Woman Blues
BURNETTE, Smiley
25
Alley Cat Blues
SCOTT, Tommy
26
Empty Arms
PAYNE, Leon
27
Lipstick Trail
PAYNE, Leon
28
Big Fat Papa
TURNER, Zeb
Various - History - Tennessee Jive, 1945-1955 8-CD-Box & 276-BOOK

Box set 2
01
Lost Highway
PAYNE, Leon
02
Rolling Stone
PAYNE, Leon
03
They'll Never Take Her Love From Me
PAYNE, Leon
04
Gonna Go Back To Texas
BELMONT, Dale
05
You've Got To Leave Those Other Guys Alone
INMAN, Autry
06
The Girl At The End Of The Bar
BUTTERBALL PAIGE
07
Double Cross
INMAN, Autry
08
Think Twice
PYLE, Pete
09
I'm Too Old To Boogie Anymore
BUTTERBALL PAIGE
10
Rag Mop
LEE, Johnnie
11
Hospitality
WORK, Jimmy
12
Jealous Lies
PRICE, Ray
13
Tennessee Jive
ALLEN, Tani
14
Mule Boogie
HALL, Roy
15
Walking Up Stairs
BLUNT, Paul
16
Linger Longer Little Darling
FOWLER, Wally
17
I Feel Like The World Belongs To Me
JORDAN, Wiley
18
Move It Over Rover (Dog House Blues)
CLAUSER, Al
19
I Needed You
WLLS, Johnnie Lee & HIS BOYS
20
Station Door Blues
LEE, George
21
The Band's A Rockin'
WILLS, Johnnie Lee
22
One Dollar Boogie
JENKINS, Si
23
Careless Me
WILLS, Johnnie Lee
24
Levee Blues
WILLS, Johnnie Lee
25
When Hillbilly Willie Met Kitty From The City
ALLEN, Tani
26
More And More
ASHBURN, Shorty
27
Bear Cat Daddy
BATTS, Ray
28
Wild Man Boogie
BATTS, Ray
Various - History - Tennessee Jive, 1945-1955 8-CD-Box & 276-BOOK

Box set 3
01
Boogie Woogie Tennessee
RIDDLE, Ricky
02
Dog Hauled Around
WALLACE, Billy
03
You Got Some Explaining To Do
WALLACE, Billy
04
Oh! Babe
HARDY, Jack
05
Morning After Blues
HARDY, Jack
06
Waiting For The Tide To Change
WILLIAMS, Bob
07
Shufflin' Shoes Boogie
HOLLY, Wes
08
Beer Drinkin' Blues
MISSISSIPPI SLIM
09
Crackers, Cheese And Beer
WILLIAMS, Bob
10
Love Is Just A Sometimes Thing
CARROLL, Peggy
11
Pickup Truck
WILLIAMS, Bob
12
Hot Rod Race No. 3
WILLIAMS, Bob
13
I'm All Broke Out With Love
CARTER, Helen
14
Down Yonder
WOOD, Del
15
Easy Monthly Payment Blues
HUGHES, Randy
16
No Trespassing
HUGHES, Randy
17
As Long As You Believe In Me Little Darling
CARTER, Helen
18
Intoxicated Harmony
RUNNER, Carl
19
Birthday Cake
HUGHES, Randy
20
Boogie Woogie Plowboy
BENNETT, tiny
21
I've Shed A Million Tears
PETTUS, Bob
22
Just Wait And See
STRATTON, Dick
23
Ramblers Blues
McGEE, Kirk
24
It's Too Late To Change Your Mind
McGEE, Kirk
25
Talking In Your Sleep
HUGHES, Randy
26
My Little Country Rose
HUGHES, Randy
27
Uh Huh, Honey
BOND, Lee
28
You've Been Cryin' Sweetheart
BOND, Lee
29
With A Heart Full Of Misery
ROWLAND, Johnny
30
Where The Bright Lights Glow
ROWLAND, Johnny
Various - History - Tennessee Jive, 1945-1955 8-CD-Box & 276-BOOK

Box set 4
01
I'll Have The Last Laugh Yet
FLATT, Allen
02
Tapping That Thing
HUGHES, Randy
03
Tired Of Your Lies
MISSISSIPPI SLIM
04
No Money
RUNNER, Carl
05
Southwind
WALLACE, Billy
06
I'm Gonna Turn Yo A'loose
WALLACE, Billy
07
We're Steppin' Out Tonite
WILLIAMS, Bob
08
Twice The Loving
HUFFMAN, Floyd
09
I Couldn't Stand To Hear You Say 'I Do'
REBE & REBE
10
My Empty Arms
REBE & REBE
11
She's My Gal
WEST, Ted
12
She Bent My Pole
WEST, Ted
13
My Heart Slowly Died
HUFFMAN, Floyd
14
I've Found My Own
WILSON, Smiley
15
Two Kinds Of Woman
SIMS, Sonny
16
Walk off And Leave It
BONDS, Lee
17
I Want You Too
WINDLE, Don
18
Ramblin' Blues
SIMPSON, Jimmy
19
When My Baby Comes Home To Me
WINDLE, Don
20
I Hope Some Day You'll Think Of Me
SIMPSON, Jimmy
21
Oilfield Blues
SIMPSON, Jimmy
22
That's What She Wrote
FLATT, Allen
23
Don't Come Crying On My Shoulder
EAGER, Clay
24
Throwing Kisses (And Making Eyes At You)
DEXTER, Larry
25
Parking Worries
WEST, Ted
26
Magic Girl
SMITH, Tommy
27
Cause I Love You
DEXTER, Larry
28
That'll Be Love
REEVES, Glenn
29
Devil's Little Angel
KELLEYS
30
Leaving Tennessee
KELLEYS
Various - History - Tennessee Jive, 1945-1955 8-CD-Box & 276-BOOK

Box set 5
01
With All Your Heart
ESTES, Buddy
02
Flyin' Saucer Baby
JIM, Georgia
03
Jig Saw Puzzle Heart
JIM, Georgia
04
Juke Joint Johnny
MOORE, Lattie
05
It's Good Enough For You
MOORE, Lattie
06
Dog House Blues
TENNESSEE, Slim
07
It's Raining Tears
TENNESSEE, Slim
08
The Devil Paid Me (With A Mother In Law)
LEA, Joedy
09
My First Love
MOORE, Lattie
10
Baby I'll Soon Be Gone
MOORE, Lattie
11
It's Your Turn To Cry
TENNESSEE, Slim
12
I'm An Old Wolf
TENNESSEE, Slim
13
Night Life And Wine
SARGENT, Shorty
14
You'd Better Think Again
SARGENT, Shorty
15
Lovie Lovie
KING, Chickie
16
Patches On My Heart
CRONAS, Tex
17
You'll Need My Help
JO, Betty
18
Pinball Fever
TOOMBS, Jack
19
Confess That You're Mine
LITTLE BUN WILSON
20
One Sided Love Affair
TENNESSEE, Slim
21
Crazy Hazy Kisses
TENNESSEE, Slim
22
Yesterday's Lovin'
HELMS, Bobby
23
Hangin' Around
HELMS, Bobby
24
Little Bit Late For Lovin'
ROGERS, Bob
25
I Want To Be Babied (By A Gal Like You)
ROGERS, Bob
26
This Lesson Of Love
LITTLE BUN WILSON
27
Freedom Lovin' Guy
HELMS, Bobby
28
I Need Your Lovin'
KING, Chickie
29
Hen Pecked Boogie
WILSON, Billy
30
I Cant't Stop Loving You
WILSON, Billy
Various - History - Tennessee Jive, 1945-1955 8-CD-Box & 276-BOOK

Box set 6
01
The Life That I'm Living
HILL, Tommy
02
Good Deal Lucille
TERRY, Al
03
Say It Now
HILL, Tommy
04
Tennessee Courtin' Time
JEAN, Opal
05
That Done It
JEAN, Opal
06
I'm Gonna Salt My Sugar Away
CHAFFIN, Ernie
07
Lonely Wind
CHAFFIN, Ernie
08
Hey Whattya Y'say
TERRY, Al
09
Honky Tonk Romance
HILL, Tommy
10
C.N.R. Special
McCORMICK BROS
11
Part Of Your Heart
JEAN, Opal
12
I Can't Lose The Blues
CHAFFIN, Ernie
13
Get Me On Your Mind
CHAFFIN, Ernie
14
I'm Not Giving Up That Easy
COLLIE, Jimmy
15
So Lovely, Baby
RUSTY & DOUG
16
Why Cry For You
Various - History
17
Just For A While
LEE, Wilma
18
Cross My Heart
McCORMICK BROS
19
I'll Give My Heart You
BARKDULL, Wiley
20
Look Around (Take A Look At Me)
RUSTY & DOUG
21
Can I Be Dreaming
RUSTY & DOUG
22
Juke Box
HILL, Tommy
23
Let's Stay Together
RUSTY & DOUG
24
Honey Honey
RUSTY & DOUG
25
Row Number Two, Seat Number Three
LEE, Wilma
26
'Cause You're Always On My Mind
BARKDULL, Wiley
27
Shuffle, And Deal
McCORMICK BROS
Various - History - Tennessee Jive, 1945-1955 8-CD-Box & 276-BOOK

Box set 7
01
Near You
CRAIG, Francis
02
Danger Zone
SUNSHINE BOYS
03
That Old Moon Seems To Know
JENNINGS, Bob
04
Lover's Blues
BUCHANON, Buck
05
After We Are Trough
BIG JEFF
06
Hom Bru Boogie
BIG JEFF
07
Ten-E-Cee Hom Bru
BIG JEFF
08
Chili Dippin' Mama
WAY, Vernon
09
Fat Gal Boogie
STRATTON, Dick
10
Yo're the Two Timin' Kind
ANDERSON, Ray
11
Hillbilly Sweetheart
TALLEY, John
12
Music City USA
STRATTON, Dick
13
Steppin' Out
FLATT, Allen
14
I'm Lonely Because
ANDERSON, Ray
15
Draft Board Blues
ANDERSON, Ray
16
If You've Got The Money, I've Got The Time
TALLEY, John
17
A Broken Heart And A Glass Of Beer
FLATT, Allen
18
You're Under Arrest
ASHBURN, Shorty
19
Crazy 'Bout The Boogie
MORRIS, Vance
20
Slap Happy Pappy
MORRIS, Vance
21
Lonely For You
RAMBLERS, Dixie
22
Weeds Of Hate
WEST, Bob
23
It's You, Sweetheart, Maybe It's Me
BATTS, Ray
24
You're The Only Good Thing
TOOMBS, Jack
25
Somebody Clipped Your Wings
HAGGARD, Don
26
Broken Hearts Mean Nothing To You
VALLEY, Rainbow
27
Talkin' 'bout Susie
LAY, Slim
28
I'm A Fool
SMITH, Tommy
29
Step It Up And Go
BIG JEFF
Bewertungen lesen, schreiben und diskutieren...
mehr
Kundenbewertungen für "Tennessee Jive, 1945-1955 8-CD-Box & 276-BOOK"
Bewertung schreiben
Bewertungen werden nach Überprüfung freigeschaltet.
Weitere Artikel von Various - History