Der Artikel wurde erfolgreich hinzugefügt.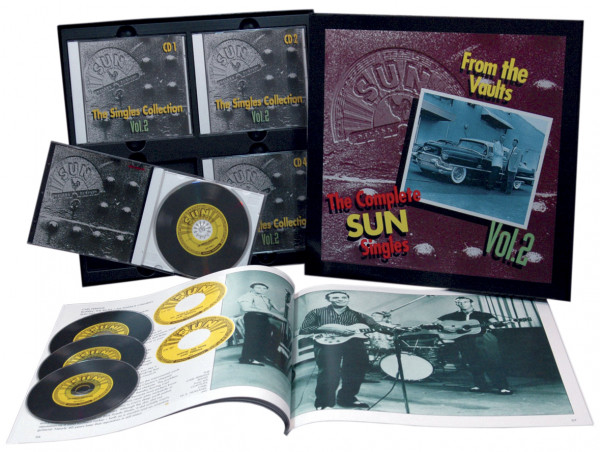 74,95 € *
79,95 € *
(6,25% gespart)
inkl. MwSt. zzgl. Versandkosten
Sofort versandfertig, Lieferzeit** 1-3 Werktage
Artikel-Nr.:

BCD15802

Gewicht in Kg.:

1.6
4-CD-Album Boxset (LP-Format) mit 76-seitigem Buch, 100 Einzeltitel. Spieldauer ca. 253 Minuten....
mehr
Various - SUN Records: The Sun Singles Vol.2 (4-CD & Buch)
4-CD-Album Boxset (LP-Format) mit 76-seitigem Buch, 100 Einzeltitel. Spieldauer ca. 253 Minuten.

Kritiker und Fans sind einhelliger Meinung: das erste CD-Album Boxset in unserer 'Sun Records'-Reihe (BCD 15801) ist eine Offenbarung! Mit dem Konzept, die Geschichte von Sun Records chronologisch anhand der Singles-Veröffentlichungen zu erzählen, vermochten wir, neues Interesse zu wecken und vielen die Augen zu öffnen. Jerry Lee Lewis, Johnny Cash, Roy Orbison, Warren Smith und Carl Perkins waren die Stars des PlattenLabels Sun Records. Es war eine revolutionäre Zeit, und diese Aufnahmen definieren modernen Rock 'n' Roll!

Mit dem zweiten CD-Album Boxset schreiben wir die Geschichte von Sun 229 bis Sun 278 weiter. Mehr müssen Plattensammler eigentlich kaum wissen ... Dieses Boxset über Sun Records enthält u.a. die Originalfassungen von Blue Suede Shoes, 'Whole Lotta Shakin' Goin' On, Oooby Dooby, I Walk The Line, Flying Saucer Rock 'n' Roll sowie 'klassischen' Rockabilly und R&B von unbekannteren Musikern auf Sun. Erstmals gibt es die zuvor unveröffentlichte Single Sun 252 von Kenny Parchman zu hören! Unglaublich seltene Fotos im Begleitbuch runden das Programm ab.
Artikeleigenschaften von

Various - SUN Records: The Sun Singles Vol.2 (4-CD & Buch)
Albumtitel:

The Sun Singles Vol.2 (4-CD & Buch)

Genre

Rock'n'Roll

Preiscode

DI

Edition 2

Deluxe Edition

Artikelart

Box set

EAN:

4000127158024

Gewicht in Kg:

1.6
Various - SUN Records - The Sun Singles Vol.2 (4-CD & Buch)

Box set 1
01
Daydreams Come True
WIMBERLEY, Maggie Sue
02
How Long
WIMBERLEY, Maggie Sue
03
There's No Right Way To Do Me Wrong
MILLER SISTERS
04
You Can Tell Me
MILLER SISTERS
05
Defrost Your Heart
FEATHERS, Charlie
06
A Wedding Gown Of White
FEATHERS, Charlie
07
Folsom Prison Blues
CASH, Johnny
08
So Doggone Lonesome
CASH, Johnny
09
Little Fine Healthy Thing
EMERSON, Billy `The Kid'
10
Something For Nothing
EMERSON, Billy `The Kid'
11
Blue Suede Shoes
PERKINS, Carl
12
Honey, Don't
PERKINS, Carl
13
Sure To Fall
PERKINS, Carl
14
Tennessee
PERKINS, Carl
15
No More, No More
HAGGETT, Jimmy
16
They Call Our Love A Sin
HAGGETT, Jimmy
17
The Chicken (Dance With You)
GORDON, Rosco
18
Love For You Baby
GORDON, Rosco
19
Gonna Romp And Stomp
RHODES, Slim
20
Bad Girl
RHODES, Slim
21
Rock & Roll Ruby
SMITH, Warren
22
I'd Rather Be Safe Than Sorry
SMITH, Warren
23
Slow Down
EARLS, Jack
Various - SUN Records - The Sun Singles Vol.2 (4-CD & Buch)

Box set 2
01
Get Rhythm
CASH, Johnny
02
I Walk The Line
CASH, Johnny
03
Ooby Dooby
ORBISON, Roy
04
Go, Go, Go
ORBISON, Roy
05
Boppin' The Blues
PERKINS, Carl
06
All Mama's Children
PERKINS, Carl
07
Welcome To The Club
CHAPEL, Jean
08
I Won't Be Rockin' Tonight
CHAPEL, Jean
09
Trouble Bound
RILEY, Billy
10
Rock With Me Baby
RILEY, Billy
11
Rockin' With My Baby
YELVINGTON, Malcolm
12
It's Me Baby
YELVINGTON, Malcolm
13
Red Headed Woman
BURGESS, Sonny
14
We Wanna Boogie
BURGESS, Sonny
15
Fiddle Bop
RHYTHM ROCKERS
16
Juke Box, Help Me Find My Baby
RHYTHM ROCKERS
17
I'm Sorry, I'm Not Sorry
PERKINS, Carl
18
Dixie Fried
PERKINS, Carl
19
Black Jack David
SMITH, Warren
20
Ubangi Stomp
SMITH, Warren
21
You're My Baby
ORBISON, Roy
22
Rockhouse
ORBISON, Roy
23
Love Crazy Baby
PARCHMAN, Kenny
24
I Feel Like Rockin'
PARCHMAN, Kenny
25
I Need A Man
PITMAN, Barbara
Various - SUN Records - The Sun Singles Vol.2 (4-CD & Buch)

Box set 3
01
Come On Little Mama
HARRIS, Ray
02
Where'd You Stay Last Nite
HARRIS, Ray
03
Ten Cats Down
MILLER SISTERS
04
Finders Keepers
MILLER SISTERS
05
Take And Give
RHODES, Slim & Sandy Brooks
06
Do What I Do
RHODES, Slim & Sandy Brooks
07
Shoobie Oobie
GORDON, Roscoe
08
Cheese And Crackers
GORDON, Roscoe
09
There You Go
CASH, Johnny
10
Train Of Love
CASH, Johnny
11
Crazy Arms
LEWIS, Jerry Lee
12
End Of The Road
LEWIS, Jerry Lee
13
Flyin' Saucers Rock & Roll
RILEY, Billy
14
I Want You Baby
RILEY, Billy
15
Matchbox
PERKINS, Carl
16
Your True Love
PERKINS, Carl
17
Feelin' Low
CHAFFIN, Ernie
18
Lonesome For My Baby
CHAFFIN, Ernie
19
Restless
BURGESS, Sonny
20
Ain't Got A Thing
BURGESS, Sonny
21
I'll Be Around
HONEYCUTT, Glenn
22
I'll Wait Forever
HONEYCUTT, Glenn
23
Sweet And Easy
ORBISON, Roy
Various - SUN Records - The Sun Singles Vol.2 (4-CD & Buch)

Box set 4
01
Don't Make Me Go
CASH, Johnny
02
Next In Line
CASH, Johnny
03
It'll Be Me
LEWIS, Jerry Lee
04
Whole Lotta Shakin' Goin' On
LEWIS, Jerry Lee
05
So Long I'm Gone
SMITH, Warren
06
Miss Froggie
SMITH, Warren
07
Bop Bop Baby
WAKE & DICK
08
Don't Need Your Lovin' Baby
WAKE & DICK
09
Please Don't Cry Over Me
WILLIAMS, Jim
10
That Depends On You
WILLIAMS, Jim
11
Fool's Hall Of Fame
RICHARDSON, Rudi
12
Why Should I Cry
RICHARDSON, Rudi
13
Greenback Dollar - Watch And Chain
HARRIS, Ray
14
Foolish Heart
HARRIS, Ray
15
Easy To Love
SELF, Mack
16
Every Day
SELF, Mack
17
Forever Yours
PERKINS, Carl
18
That's Right
PERKINS, Carl
19
I'm Lonesome
CHAFFIN, Ernie
20
Laughin' And Jokin'
CHAFFIN, Ernie
21
More Than Yesterday
BRUCE, Edwin
22
Rock Boppin' Baby
BRUCE, Edwin
23
Red Hot
RILEY, Billy
24
Pearly Lee
RILEY, Billy
25
Flat Foot Sam
BLAKE, Tommy
26
Lordy Hoody
BLAKE, Tommy
Bear Family Sun Records CD-Album Sun Records editions by Bear Family Records Sun Records...
mehr
"Various - SUN Records"
Bear Family Sun Records CD-Album
Sun Records editions by Bear Family Records
Sun Records editions by Bear Family Records
Sun RecordsIm Frühjahr 1952 riskierte es Sam Phillips, ein eigenes Plattenlabel zu gründen - Sun Records. Er war damals schon einige Jahre als unabhängiger Produzent tätig gewesen und hatte den größten R&B-Hit von 1951 aufgenommen, Jackie Brenstons Rocket 88.
Folglich wusste Sam Phillips, dass er den richtigen Job gewählt hatte. Aber würde es auch mit Sun Records klappen, wo doch viele unabhängige Labels schnell wieder dichtmachen mussten? Anfangs sah es auch nicht gut aus. Nach nur zwei Veröffentlichungen auf Sun Records gab es bereits eine einjährige Pause.
Doch allmählich stellten sich die Hits ein: Mit Aufnahmen von Rufus Thomas, den Prisonaires, von Junior Parker und natürlich von Elvis Presley. Dann gab es kein Halten mehr. Carl Perkins, Johnny Cash, Jerry Lee Lewis, Charlie Rich, Roy Orbison, Conway Twitty, Carl Mann, Billy Riley, Warren Smith und viele andere kamen hinzu. Sie haben die Welt der Popmusik nachhaltig verändert.
if you're not doing something different, you're not doing anything
Nach dem Verkauf des Labels Sun Records 1969 gab es ungezählte Wiederveröffentlichungen des Materials. Doch nur Bear Family hat sich dabei stets auf hohem Qualitätsniveau bewegt. Einzig und allein diese Neuauflagen von Sun Records sind empfehlenswert. Denn diese CDs und CD-Album Boxsets liefern den besten Klang, die besten Fotos, die besten Begleittexte und die beste Präsentation!
Bewertungen lesen, schreiben und diskutieren...
mehr
Kundenbewertungen für "The Sun Singles Vol.2 (4-CD & Buch)"
Von:
Redecker
Am:
13.03.2014
This is a truly amazing series. Forget about everything else and buy it!
Rockin' Fifties, 12/1996 Trevor Caijao
Von:
Redecker
Am:
13.03.2014
There is virtually nothing to be critical about in this review. Listening to such fine music has been a pleasure - now let me go back to the start and play them all again.
Country Music People 9/95 Ian Wallis
Von:
Redecker
Am:
13.03.2014
Not every record was a hit, or even deserved to be, but only Motown in the mid-60s ever matched the depth or consistency of Sun in 1956 and 1957. For those two years. Every record Sam Phillips made was touched by a few specks of genius. Expertly annonated by Hank Davis, Bear Family's lavish box set does that genius full justice.
Record Collector # 193
Von:
Redecker
Am:
13.03.2014
Die überaus liebevoll aufbereitete Vier-CD-Box deckt den Zeitraum von 1956 bis 1957 ab und liest sich wie ein Who's Who damals zeitgenössischer Popmusik. Unwingeschränkt empfehlenswert.
Musikexress/Sounds 8/95 Uwe Schleifenbaum
Von:
Redecker
Am:
13.03.2014
Zur Sorgfalt und Liebe, mit der die Aufnahmen zusammengestellt wurden, habe ich schon bei der ersten Folge geschrieben. Gleiches gilt für das Booklet. Wieder wurde jede einzeln Single mit der A- und B-Seite abgebildet, viel z.T. unbekanntes Bildmaterial ist zu bestaunen. Super Box!
R & R Musikmagazin H.G. Hartig
Von:
Redecker
Am:
13.03.2014
Das mit Raritäten gespickte Paket wird, Bear-Family-üblich, von einem üppigen Booklet und in der bestmöglichen Tonqualität begleitet.
Stereoplay 10/1995 Michael Schlüter
Von:
Redecker
Am:
13.03.2014
These box sets (and there will be more) are most specifically aimed at the Sun complet list. Their retail price my be high, but compared to what the original vinyl would cost, it's not even a teardrop in an ocean.
Juke Blues # 33 Cilla Huggins
Bewertung schreiben
Bewertungen werden nach Überprüfung freigeschaltet.
Weitere Artikel von Various - SUN Records