Der Artikel wurde erfolgreich hinzugefügt.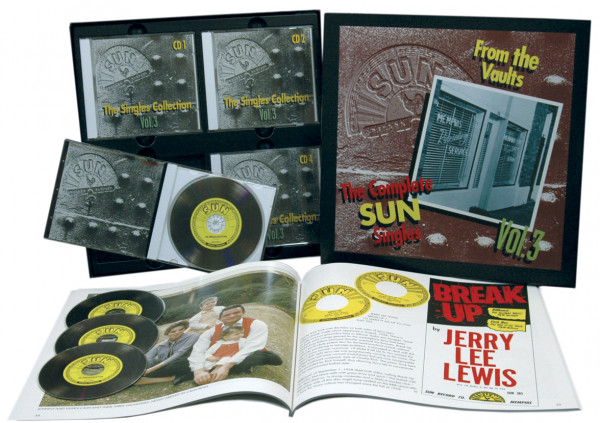 74,95 € *
79,95 € *
(6,25% gespart)
inkl. MwSt. / zzgl. Versandkosten
Sofort versandfertig, Lieferzeit** 1-3 Werktage
Artikel-Nr.:

BCD15803

Gewicht in Kg.:

1.4
4-CD-Album Boxset (LP-Format) mit 72-seitigem Buch, 101 Einzeltitel. Spieldauer ca. 238 Minuten....
mehr
Various - SUN Records: The Sun Singles Vol.3 (4-CD & Buch)
4-CD-Album Boxset (LP-Format) mit 72-seitigem Buch, 101 Einzeltitel. Spieldauer ca. 238 Minuten.

'The Sun Singles Collection' entwickelt sich zu einer der erfolgreichsten Boxset-Serien auf Bear Family! Sie veranschaulicht deutlich hörbar, dass sich endlich jemand mit dem notwendigen Verständnis an die Aufgabe gemacht hat, den legendären Sun-Katalog respektvoll und auf die richtige Art und Weise umfassend und abschließend zu dokumentieren.

Der dritte Teil der Sun Singles Edition präsentiert die Jahre 1958 und 1959, jene Zeit, als Jerry Lee Lewis auf dem Höhepunkt seiner Karriere stand und Johnny Cash bis an die Spitzen der Pop- und Country-Charts stürmte. Doch Sun Records hatte in dieser Zeit des Umbruchs wesentlich mehr zu bieten: Gene Simmons, Roy Orbison, Tommy Blake, Ray Smith, Warren Smith, Billy Riley, Johnny Powers, Vernon Taylor oder Sonny Burgess!

Muss da noch mehr gesagt werden? Wir liefern alle Singles von Sun 279 bis Sun 328. Viele dieser Aufnahmen sind hiermit erstmals auf CD-Album veröffentlicht! Für Sie bieten wir die Gelegenheit, prächtige unbekannte Aufnahmen auf Sun Records wie Alton & Jimmys No More Crying the Blues oder Jerry McGills I Wanna Make Sweet Love sowie Klassiker von Ed Bruce, Jerry Lee Lewis, Sonny Burgess, Billy Riley usw. zu hören. Als Bonus erhalten Sie den von Jerry Lee Lewis für High School Confidential gesprochen Text, der nur auf einer Promoplatte veröffentlicht wurde.
Artikeleigenschaften von

Various - SUN Records: The Sun Singles Vol.3 (4-CD & Buch)
Albumtitel:

The Sun Singles Vol.3 (4-CD & Buch)

Genre

Rock'n'Roll

Preiscode

DI

Edition 2

Deluxe Edition

Artikelart

Box set

EAN:

4000127158031

Gewicht in Kg:

1.4
Various - SUN Records - The Sun Singles Vol.3 (4-CD & Buch)

Box set 1
01
Give My Love To Rose
CASH, Johnny
02
Home Of The Blues
CASH, Johnny
03
Good Lovin'
LEE, Dickey
04
Memories Never Grow Old
LEE, Dickey
05
Great Balls Of Fire
LEWIS, Jerry Lee
06
You Win Again
LEWIS, Jerry Lee
07
Cindy Lou
PENNER, Dick
08
Your Honey Love
PENNER, Dick
09
Ballad Of A Teenage Queen
CASH, Johnny
10
Big River
CASH, Johnny
11
Chicken-Hearted
ORBISON, Roy
12
I Like Love
ORBISON, Roy
13
My Bucket's Got A Hole In It
BURGESS, Sonny
14
Sweet Misery
BURGESS, Sonny
15
I've Got Love If You Want It
SMITH, Warren
16
I Fell In Love
SMITH, Warren
17
Lend Me Your Comb
PERKINS, Carl
18
Glad All Over
PERKINS, Carl
19
Breathless
LEWIS, Jerry Lee
20
Down The Line
LEWIS, Jerry Lee
21
Baby Please Don't Go
RILEY, Billy
22
Wouldn't You Know
RILEY, Billy
23
Judy
GRAYZELL, Rudy
24
I Think Of You
GRAYZELL, Rudy
Various - SUN Records - The Sun Singles Vol.3 (4-CD & Buch)

Box set 2
01
Ten Years
CLEMENT, Jack
02
Your Lover Boy
CLEMENT, Jack
03
Sweet Woman
BRUCE, Edwin
04
Part Of My Life
BRUCE, Edwin
05
Love Is A Stranger
SUNRAYS
06
The Lonely Hours
SUNRAYS
07
I Feel So Blue
PRIESMAN, Magel
08
Memories Of You
PRIESMAN, Magel
09
I Guess Things Happen That Way
CASH, Johnny
10
Come In Stranger
CASH, Johnny
11
High School Confidential
LEWIS, Jerry Lee
12
Fools Like Me
LEWIS, Jerry Lee
13
Dreamy Nights
LEE, Dickey
14
Fool, Fool, Fool
LEE, Dickey
15
Right Behind You Baby
SMITH, Ray
16
So Young
SMITH, Ray
17
Drinkin' Wine
SIMMONS, Gene
18
I Done Told You
SIMMONS, Gene
19
I Dig You Baby
BLAKE, Tommy
20
Sweetie Pie
BLAKE, Tommy
21
The Return Of Jerry Lee
GEORGE AND LEWIS
22
Lewis Boogie
LEWIS, Jerry Lee
23
The Ways Of A Woman In Love
CASH, Johnny
24
You're The Nearest Thing To Heaven
CASH, Johnny
25
Break-Up
LEWIS, Jerry Lee
26
I'll Make It All Up To You
LEWIS, Jerry Lee
27
Talks about High School Confidential
LEWIS, Jerry Lee
Various - SUN Records - The Sun Singles Vol.3 (4-CD & Buch)

Box set 3
01
Thunderbird
BURGESS, Sonny
02
Itchy
BURGESS, Sonny
03
Torro
GORDON, Rosco
04
Sally Jo
GORDON, Rosco
05
Diamond Ring
ISLE, Jimmy
06
I've Been Waitin'
ISLE, Jimmy
07
Born To Lose
CHAFFIN, Ernie
08
My Love For You
CHAFFIN, Ernie
09
You Made A Hit
SMITH, Ray
10
Why, Why, Why
SMITH, Ray
11
It's Just About Time
CASH, Johnny
12
I Just Thought You'd Like To Know
CASH, Johnny
13
Breeze
TAYLOR, Vernon
14
Today Is A Blue Day
TAYLOR, Vernon
15
The Black Haired Man
CLEMENT, Jack
16
Wrong
CLEMENT, Jack
17
I'll Sail My Ship Alone
LEWIS, Jerry Lee
18
It Hurt Me So
LEWIS, Jerry Lee
19
Down By The Riverside
RILEY, Billy
20
No Name Girl
RILEY, Billy
21
Sweet, Sweet Girl
SMITH, Warren
22
Goodbye Mr. Love
SMITH, Warren
23
Jump Right Out Of This Juke Box
WHEELER, Onie
24
Tell 'Em Off
WHEELER, Onie
25
Luther Played The Boogie
CASH, Johnny
26
Thanks A Lot
CASH, Johnny
Various - SUN Records - The Sun Singles Vol.3 (4-CD & Buch)

Box set 4
01
Lovin' Up A Storm
LEWIS, Jerry Lee
02
Big Blon' Baby
LEWIS, Jerry Lee
03
Without A Love
ISLE, Jimmy
04
Time Will Tell
ISLE, Jimmy
05
Rockin' Bandit
SMITH, Ray
06
Sail Away
SMITH, Ray
07
Don't Ever Leave Me
CHAFFIN, Ernie
08
Miracle Of You
CHAFFIN, Ernie
09
I Forgot To Remember To Forget
CASH, Johnny
10
Katy Too
CASH, Johnny
11
Got The Water Boiling
RILEY, Billy
12
One More Time
RILEY, Billy
13
No More Crying The Blues
ALTON & JIMMY
14
Have Faith In My Love
ALTON & JIMMY
15
Let's Talk About Us
LEWIS, Jerry Lee
16
The Ballad Of Billy Joe
LEWIS, Jerry Lee
17
Mystery Train
TAYLOR, Vernon
18
Sweet And Easy To Love
TAYLOR, Vernon
19
Lovestruck
McGILL, Jerry
20
I Wanna Make Sweet Love
McGILL, Jerry
21
Be Mine, All Mine
POWERS, Johnny
22
With Your Love, With Your Kiss
POWERS, Johnny
23
Winnie The Parakeet
CRANE, Sherry
24
Willie Willie
CRANE, Sherry
Bear Family Sun Records CD-Album Sun Records editions by Bear Family Records Sun Records...
mehr
"Various - SUN Records"
Bear Family Sun Records CD-Album
Sun Records editions by Bear Family Records
Sun Records editions by Bear Family Records
Sun RecordsIm Frühjahr 1952 riskierte es Sam Phillips, ein eigenes Plattenlabel zu gründen - Sun Records. Er war damals schon einige Jahre als unabhängiger Produzent tätig gewesen und hatte den größten R&B-Hit von 1951 aufgenommen, Jackie Brenstons Rocket 88.
Folglich wusste Sam Phillips, dass er den richtigen Job gewählt hatte. Aber würde es auch mit Sun Records klappen, wo doch viele unabhängige Labels schnell wieder dichtmachen mussten? Anfangs sah es auch nicht gut aus. Nach nur zwei Veröffentlichungen auf Sun Records gab es bereits eine einjährige Pause.
Doch allmählich stellten sich die Hits ein: Mit Aufnahmen von Rufus Thomas, den Prisonaires, von Junior Parker und natürlich von Elvis Presley. Dann gab es kein Halten mehr. Carl Perkins, Johnny Cash, Jerry Lee Lewis, Charlie Rich, Roy Orbison, Conway Twitty, Carl Mann, Billy Riley, Warren Smith und viele andere kamen hinzu. Sie haben die Welt der Popmusik nachhaltig verändert.
if you're not doing something different, you're not doing anything
Nach dem Verkauf des Labels Sun Records 1969 gab es ungezählte Wiederveröffentlichungen des Materials. Doch nur Bear Family hat sich dabei stets auf hohem Qualitätsniveau bewegt. Einzig und allein diese Neuauflagen von Sun Records sind empfehlenswert. Denn diese CDs und CD-Album Boxsets liefern den besten Klang, die besten Fotos, die besten Begleittexte und die beste Präsentation!
Bewertungen lesen, schreiben und diskutieren...
mehr
Kundenbewertungen für "The Sun Singles Vol.3 (4-CD & Buch)"
Von:
Redecker
Am:
13.03.2014
In many ways, this four CD box set may actually be the most significant in Richard Weize's methodical trawl through the Sun archives..The 68 page book is absolutely mindblowing, and an object lesson in the way these things should be done.
Country Music People 2/1997 John Tobler
Von:
Redecker
Am:
13.03.2014
Sun Records still rocked on harder than any label on the planet and made much original music in the bargain.
Discoveries March 1997 Cub Coda
Von:
Redecker
Am:
13.03.2014
Gerade rechtzeitig zu Weihnachten hat Bear Family den dritten Teil der Complete Sun Singles herausgebracht. Fazit: Sparen und kaufen!
Chris Ebner
Bewertung schreiben
Bewertungen werden nach Überprüfung freigeschaltet.
Weitere Artikel von Various - SUN Records