Der Artikel wurde erfolgreich hinzugefügt.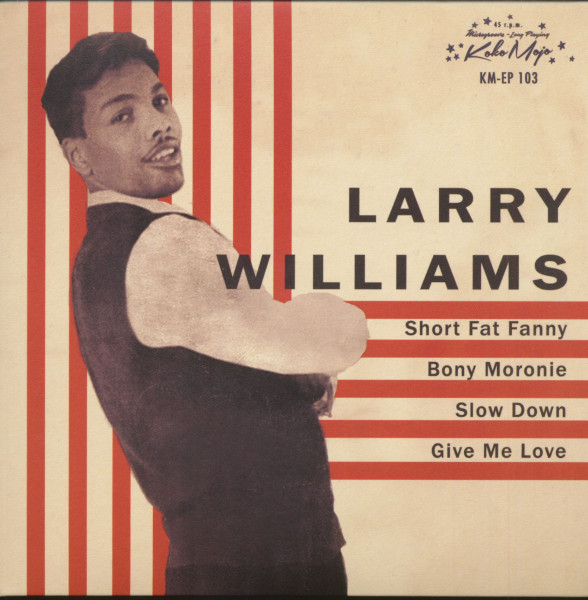 Artikel-Nr.:

45KMEP103

Gewicht in Kg.:

0.07
(Koko Mojo) 4-Track EP - Mit Bildhülle, 45 U/Min, großem Innenloch - Larry Williams wurde...
mehr
Larry Williams: Larry Williams (7inch, EP, 45rpm, PS)
(Koko Mojo) 4-Track EP - Mit Bildhülle, 45 U/Min, großem Innenloch -

Larry Williams wurde am 10. Mai 1935 in New Orleans als Lawrence Edward Williams geboren. Louisiana. Er lernte Klavier, als er sieben Jahre alt war. Als er zehn Jahre alt war, zog seine Familie nach Oakland, Kalifornien. Einige Jahre später trat er seiner ersten Band the Lemon Drops als Pianist bei. 1954 kehrte er zu NOLA zurück und begann für seinen Cousin, den Specialty Recording Artist Lloyd Price, als Diener, Chauffeur und gelegentlich auch als Klavierspieler zu arbeiten. Leider wurde Price kurz darauf verfasst. Larry begann mit Roy Brown und Fats Domino (als Chauffeur) zu arbeiten, während er mit Drogenhändlern, Zuhältern und Prostituierten zusammen war. Bald war er Teil der Unterwelt "Crescent City".

Er wurde ein Zuhälter und ein Drogendealer. 1955 wurde Little Richard, ein weiterer Specialty Recording Artist, sein bester Kunde und ein enger Freund. Richard hatte immer zwei große Koffer im Kofferraum seines Cadillacs. Einer war voll von Dollarscheinen aller Konfessionen. Der andere war voller Kokain. 1956 lernte er Specialty's House-Produzenten Robert "Bumps" Blackwell kennen, und er unterschrieb einen Vertrag mit dem Label als Sänger, damit er mit Little Richard auf Tour gehen und ihm weiterhin Drogen liefern konnte, ohne misstrauisch zu wirken. Zu dieser Zeit lebte er im Haus seines Cousins Lloyds (frisch von seinem Stint mit Onkel Sam), aber er spielte ihm einen schmutzigen Trick vor und versuchte, ein Lied von Price auf eine zwielichtige Weise zu stehlen, indem er behauptete, er sei der Komponist. Der Song war Just Because und die Lloyd Price Version für ABC erreichte Platz 3 in den R&B Charts und Platz 29 in den Pop Charts. Larry's Version (eine Notiz für das Notizblatt) erreichte 1957 Platz 11. Nachdem Williams von Price aus dem Haus geworfen wurde, folgte er Little Richard nach Hollywood und begann, bei ihm und seiner Familie zu leben. Nach einer Australien-Tournee später in diesem Jahr beschloss Richard plötzlich, alle seine Sünden hinter sich zu lassen, und er gab Ruhm und Erfolg auf, um Minister zu werden. Er war damals der größte Verkäufer für Specialty, also begann Bumps Blackwell, sich nach einem Ersatz umzusehen. Er überzeugte Larry, wilde Rock and Roll Songs im Little Richard Stil aufzunehmen. Williams nahm einige der aufregendsten Rock and Roll-Nummern auf, die jemals auf Magnetband aufgenommen wurden.

Die Single Short Fat Fannie gepaart mit High School Dance (Specialty 608) wurde im Mai 1957 zum #1 R&B-Hit und erreichte Platz 5 in den Pop-Charts, gefolgt von Bony Moronie s/w You Bug Me Baby im Oktober 1957, das Platz 4 in R&B und Platz 14 in den Pop-Charts erreichte. Beide Platten verkauften sich millionenfach. Kurz Fat Fanny - Bony Moronie - Slow Down - Geben Sie mir Liebe 1958 der fantastische Doppelgurt Dizzy. Miss Lizzy Slow Down konnte nicht den gleichen Erfolg erzielen. Seltsamerweise schaffte es die Single nicht in die R&B-Charts und Dizzy Miss Lizzy schaffte es nur auf Platz 69 der Pop-Charts. Das war so ziemlich das Ende des Erfolgs und der Rekordverkäufe, obwohl er viele andere großartige Mannschaften für Specialty wie Hootchy-Koo oder Bad Boy etc. aufnahm, würde er nie wieder den Erfolg erzielen, den er mit den ersten beiden Singles hatte, die er mit Bumps Blackwell gemacht hatte. Die fantastische Give Me Love (Specialty 677) war auf der Kehrseite von Teardrops und eine seiner letzten Single auf dem Label. Williams begann, sich mehr und mehr mit kriminellen Aktivitäten zu beschäftigen, anstatt sich auf seinen nächsten Karriereschritt zu konzentrieren.

Nachdem er wegen Drogenbesitzes verhaftet wurde. Specialty ließ ihn fallen, weil er einen großen Skandal befürchtete. Williams wurde 1961 schließlich zu achtzehn Monaten Gefängnis verurteilt. Davor zog er nach Chicago und nahm ein paar Singles und ein Album für Chess auf. Nach seiner Entlassung aus dem Gefängnis nahm er 1963 für Merkur auf. Später in diesem Jahr wurde er zum Talentsucher für OKeh. 1965 begann Williams seine Zusammenarbeit mit Johnny'Guitar' Watson.

Das Duo hatte in den späten 60er Jahren einige kleine Soul-Hits. Bands wie die Beatles und die Rolling Stones coverten viele seiner frühen Songs, aber Larry Williams verschwand allmählich aus der Musikszene, um sich mehr auf andere Aktivitäten zu konzentrieren. In den 1970er Jahren wurde sein einziges Geschäft mit harten Drogen (Heroin und Kokain) und Prostituierten. Am 2. Januar 1980 wurde er tot in seinem luxuriösen Haus in Los Angeles gefunden. Es wurden nie Verdächtige verhaftet oder angeklagt. Die vier Tracks dieser EP gehören zu den rauesten Rock and Roll-Performances, die Larry Williams, der Bad Boy" des Rock and Roll, je in Wachsrillen graviert hat. Grab es! -Little Victor (alias DJ "Mojo Man")
Artikeleigenschaften von

Larry Williams: Larry Williams (7inch, EP, 45rpm, PS)
Albumtitel:

Larry Williams (7inch, EP, 45rpm, PS)

Genre

Rock'n'Roll

Record Grading

Mint (M)

Sleeve Grading

Mint (M)

Geschwindigkeit

45 U/min

Plattengröße

EP (7 inch)

Artikelart

7inch

EAN:

4260072728974

Gewicht in Kg:

0.07
Williams, Larry - Larry Williams (7inch, EP, 45rpm, PS)

7inch 1
01
Short Fat Fannie
02
Bony Moronie
03
Slow Down
04
Give Me Love
Larry Williams Slow Down Larry Williams Slow Down If one were to argue...
mehr
"Larry Williams"
Larry Williams
Slow Down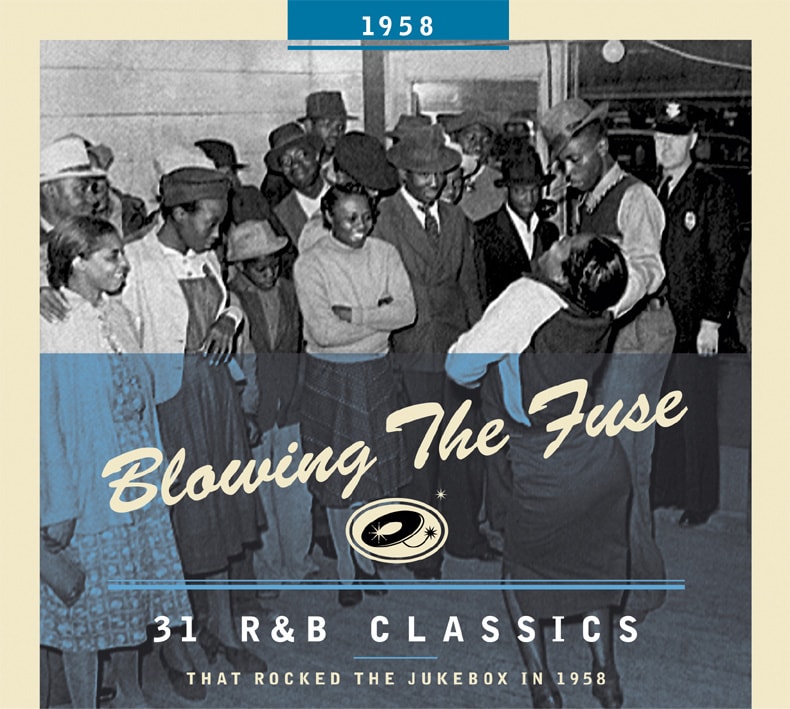 Larry Williams
Slow Down
If one were to argue that this is the absolute best of Larry Williams (the bigger hits notwithstanding), you would have had no argument from John Lennon and many others. Recorded on September 11, 1957 after Little Richard had entered the ministry, it was a calculated shot at Richard's style, right down to the squeals. The backing musicians included Plas Johnson on sax, Rene Hall on guitar, and Earl Palmer on drums. Upon release, it was confined to the B-side of Dizzy Miss Lizzy, which itself was Larry Williams' last hit single on Specialty.
Little Richard had not been replaced. Specialty continued to pump out singles by Williams together with an LP, but another major hit eluded them. In 1959, Williams was busted for narcotics possession, and Specialty dropped him. There were more sessions for more labels, and a big blip in his royalty income when the Beatles recorded three of his songs, including this one, but his music income could in no way account for the fact that when he died of gunshot wounds to the head, he was living in Los Angeles' exclusive Laurel Canyon, drove a Rolls Royce, and had $500,000 stashed on the premises.
He was found on January 7, 1980, but the coroner decided that he'd been dead for five days. There was something earthy, innocent, and almost boyish about Williams' records, even if his life was anything but…
Its origins notwithstanding, Otis' record has survived in part because of Jimmy Nolen's beautifully economical guitar. Nolen would go on to more or less invent funk guitar with James Brown. Willie And The Hand Jive charted again in 1966 for the Strangeloves, in the 1974 for Eric Clapton, and in the 1985 for George Thorogood.
Various - Blowing The Fuse 1958 - Classics That Rocked The Jukebox

Read more at: https://www.bear-family.de/various-blowing-the-fuse-1958-classics-that-rocked-the-jukebox.html
Copyright © Bear Family Records
Bewertungen lesen, schreiben und diskutieren...
mehr
Kundenbewertungen für "Larry Williams (7inch, EP, 45rpm, PS)"
Bewertung schreiben
Bewertungen werden nach Überprüfung freigeschaltet.
Weitere Artikel von Larry Williams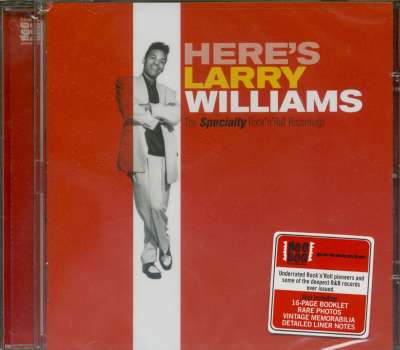 Larry Williams: Here's Larry Williams...plus (CD)
Art-Nr.: CD263365


Artikel muss bestellt werden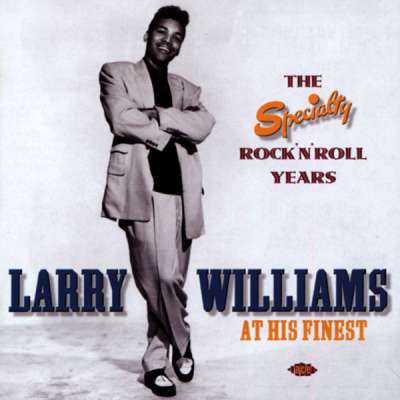 Larry Williams: At His Finest - Specialty R&R Years (2-CD)
Art-Nr.: CDCH21021


Artikel muss bestellt werden
Larry Williams: Alacazam - Specialty Recordings
Art-Nr.: LPCH203


Sofort versandfertig, Lieferzeit** 1-3 Werktage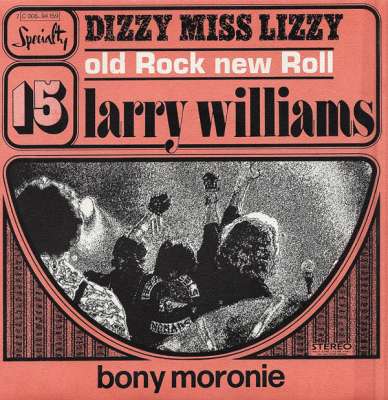 Larry Williams: Old Rock New Roll #15 7inch, 45rpm, EP, PS
Art-Nr.: EMI94159


Artikel muss bestellt werden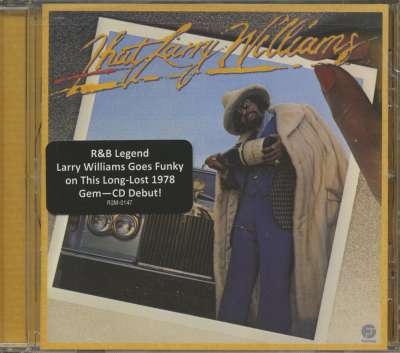 Larry Williams: That Larry Williams: The Resurrection Of Funk (CD)
Art-Nr.: AN_512294


Sofort versandfertig, Lieferzeit** 1-3 Werktage