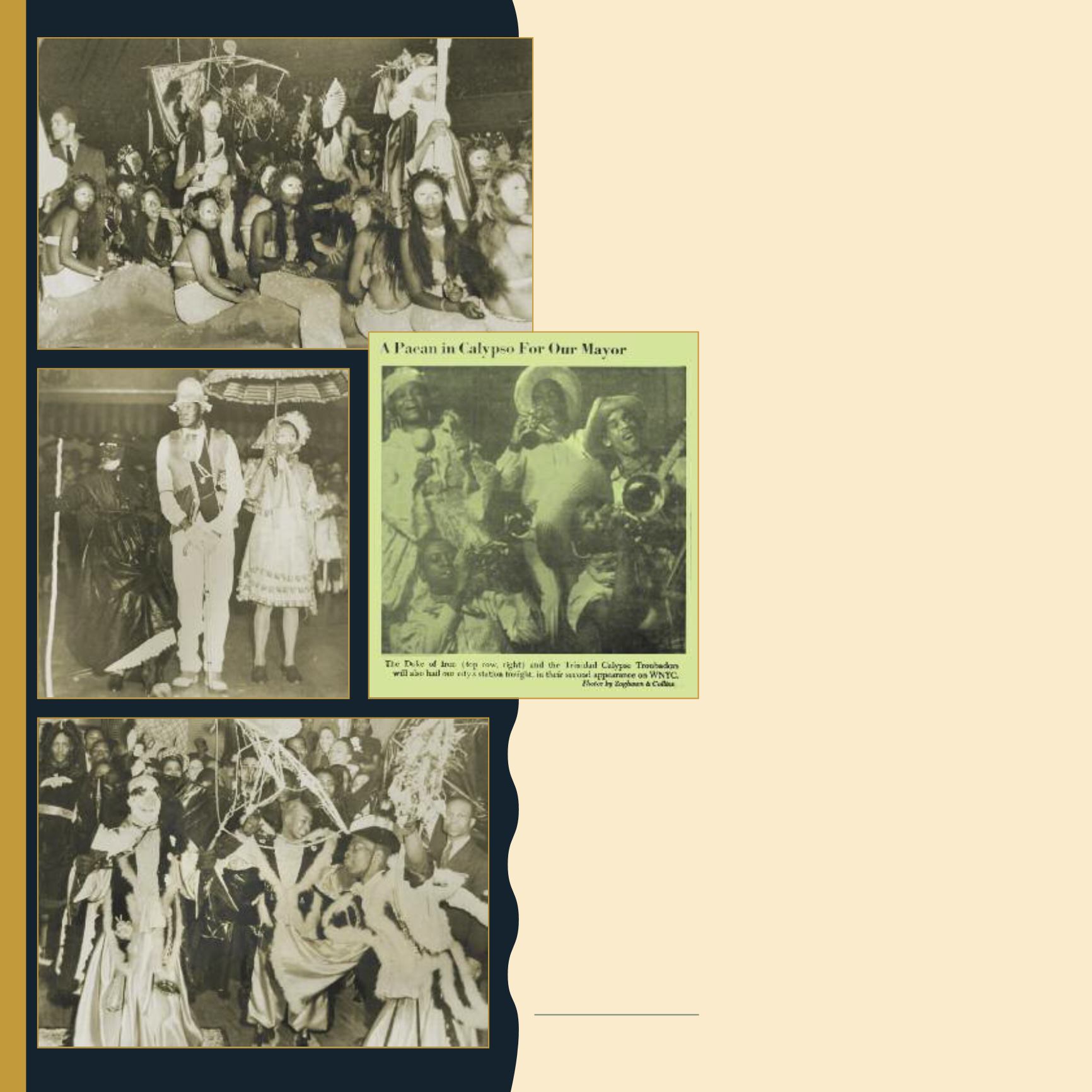 10
The Duke Of Iron was among the most prominent and pro-
ductive of U.S.-based calypsonians, with a career that
stretched from the late 1930s to the 1960s. Born in Trinidad in
1906, he moved with his family to New York in 1923. He was a
slim but imposing 6'2" and seemed even taller when strum-
ming his diminutive cuatro. (A versatile musician like his
father, he also played the flute, clarinet, and saxophone.) His
sobriquet alluded ironically to the nineteenth-century British
field marshal Arthur Wellesley, 1
Duke of Wellington, known
as the Iron Duke – not, as it happens, for his leadership in the
Napoleonic wars, but rather for his postwar opposition to
parliamentary reform. But the moniker may also have laid claim
to a certain calypso patrimony, since Julian Whiterose, one of
the most famous calypsonians of the late nineteenth and early
twentieth centuries (and the first to record a vocal, rather than
an instrumental, calypso in 1914), was himself known as the
'Iron Duke.' More singer than composer, the Duke Of Iron
regularly performed and recorded carnival hits from Trinidad.
But over the course of his career he also penned several calyp-
sos of his own, and while he was best known for suggestive
Parakeets, I Left Her Behind For You,
Big Bamboo
(a tune also claimed by the Mighty Pan-
ther), he also composed on topics ranging from radio com-
mentator Walter Winchell to the New York Mets baseball team.
The Duke first appeared on disc in 1938 (under his given
name, Cecil Anderson) as the vocalist with clarinetist Gregory
Felix and his Krazy Kats on a series of covers of current radio
and Hollywood hits, including the Andrews Sisters'
Bei mir bist
du schoen
. In 1939 he joined the calypso revue led by Gerald
Clark at the Village Vanguard and stayed with the show for its
(He also recorded two sides with
label.) In 1940 he sang with 'Calypso Kid'
Bill Matons at the New York World's Fair. The mid-1940s found
him in the studio more frequently, first for A
The Duke's home base was Harlem, where he was a fixture
at theaters, clubs, rent parties, and other social functions
throughout the 1940s and on into the 50s. (Indeed, for many
See "The Duke Of Calypso" and liner notes
to Duke Of Iron, 'Calypso Carnival.'
(
LEFT
) Pictures from a 'Dame
Lorraine' celebration produced by
bandleader Gerald Clark, 1942.