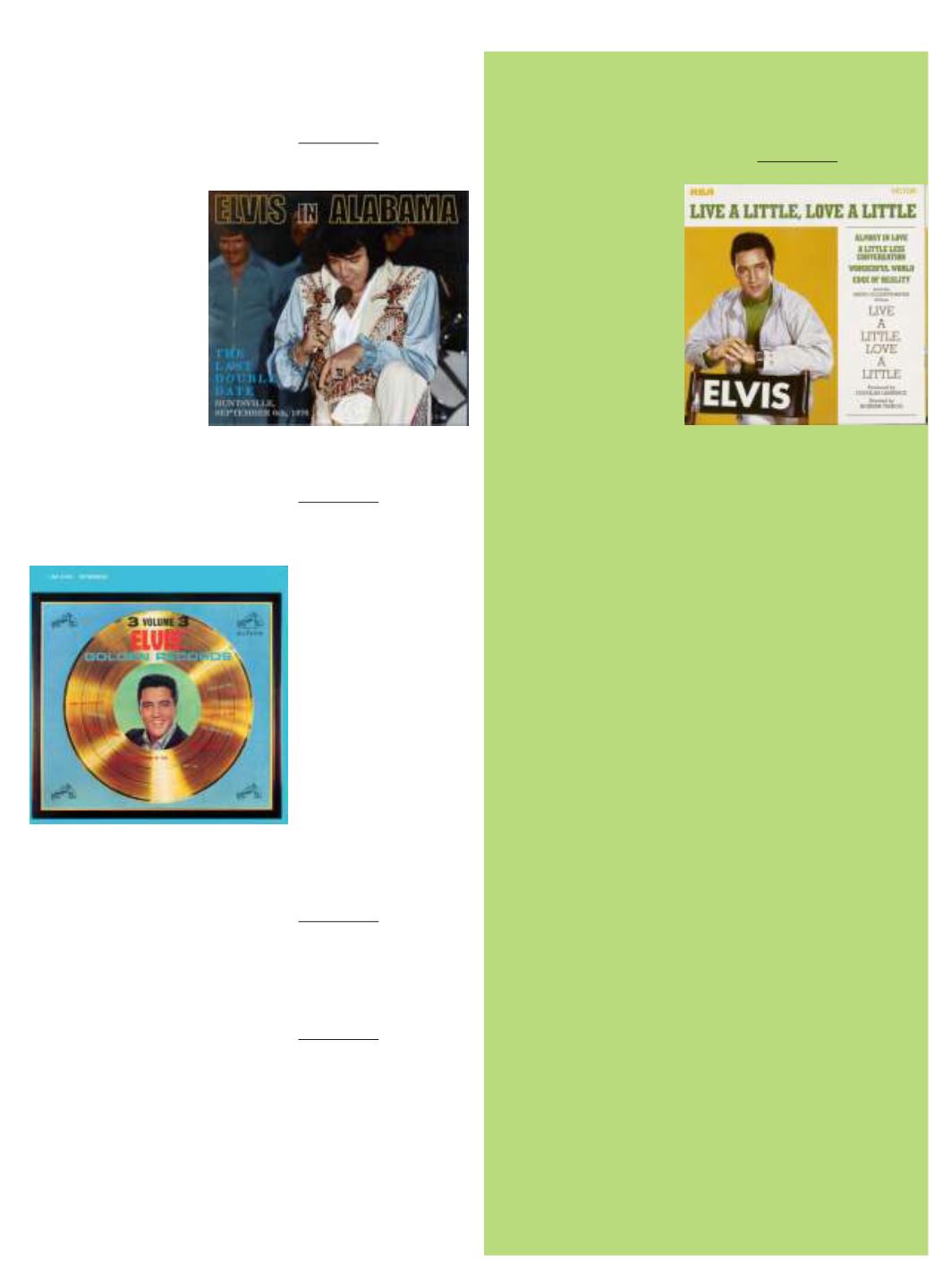 ELVIS PRESLEY
•
ELVIS IN ALABAMA (2-CD
DIGIPAC)
CD975092
€
29.95
5060209750927
(2015/Follow That Dream) 2-CD5inch digpac 'Elvis In Alabama'
contains the afternoon
and evening show in
Huntsville on Septem-
ber 6, 1976. Includes
America The Beautiful,
Love Letters, School
Day, Hurt, Danny Boy
and Blue Christmas.
•
GOLDEN
RECORDS VOL.3...PLUS
(2-CD) 7INCH DELUXE
EDITION
CD975091
€
29.95
5060209750910
(2015/Follow That Dream) 47 tracks with a stunning 12 page
booklet.By the time Elvis' Golden Records Vol. 3was released in
August 1963, no one in
rock'n'roll up to that
point, other than Elvis,
had ever legitimatelyear-
ned a second 'greatest
hits'volume,muchlessa
third. It also embodied
the best commercial ex-
amples of Presley's new
post-Army maturity, as
both vocalist and musici-
an, and the songs featur-
ed on this album achie-
vedanunparalleledlevel
of global chart success
by any artist between 1960 and 1963.
•
ELVIS IN WEST TEXAS
CD975090
€
24.95
5060209750903
(Follow That Dream) 18 tracks (66:22) digipack with 12 page
booklet.
•
FROM ELVIS AT AMERICAN
SOUND STUDIO (2-CD)
CD975064
€
29.95
(2013/Follow That Dream) 38 tracks, gatefold 7-inch package
w.12 page booklet.
ELVIS PRESLEY
•
LIVE A LITTLE, LOVE A
LITTLE...PLUS (7INCH
DELUXE DIGIPACK)
CD975088
€
24.95
5060209750880
Wonderful World - Edge
Of Reality - A Little Less
Conversation - Almost In
Love - Wonderful World
(take 1) - A Little Less
Conversation (takes 1, 2)
- EdgeOf Reality (takes 1,
2) - Almost In Love (takes
1, 4-6) - Wonderful World
(takes 2, 3) - Edge Of
Reality (take 3) - A Little
Less Conversation (takes
4-9) -ALittleLess Conver-
sation (take 10, album
master) -Almost InLove(highkeyversion instrumentaltrack,
rehearsal) - Wonderful World#(take 7, movie master) - Edge
Of Reality (takes 5, 6) - Almost In Love high key version (track
2007 take 2 and vocal overdub 2011 take 4) - Wonderful
World (takes 14, 15) - A Little Less Conversation (takes 11,
12, 16, single master) - Edge Of Reality (take 8, master) -
Almost In Love (track 2006 take 4 and vocal overdubs 2012
takes 2, 3 master) - Wonderful World (takes 16, 17 master)
(Follow That Dream) 21 Tracks (76:57) mit 12-seitigem Color
Booklet. Die Produzenten dieser schönen neuen Veröffentli-
chung, Ernst Mikael Jorgenson und Roger Semon, schreiben
dazu, dass sie, entgegen aller Prognosen, dennoch die original
MasterbänderzudiesemFilmfindenkonntenunddadurchdiese
Veröffentlichung noch an Attraktivität gewinnt. Das Auffinden
dieser Film-Masters räumte zugleich mit einem Irrglauben auf,
denn der Gesang in der JXL Remix Version von A LITTLE LESS
CONVERSATIONwurde nicht der Version aus dem68er TV Speci-
al entnommen, wie alle glaubten, sondern ist in Wirklichkeit
Take 2 der Filmversion mit repariertemEnde. Unglücklicherwei-
se wurden nicht alle Tapes der MGM Filme gefunden. Weiteres
Suchen brachte keine Ergebnisse. Sollten tatsächlich noch wei-
tere Bänder überlebt haben, so befinden sich diese heute wahr-
scheinlich in Privatbesitz.Bis dahin gibt es dieses schöne CD-Pa-
ket imSingle Format, toll aufgemacht mit glasklaremSound! —
(Follow That Dream) 21 tracks (76:57) with 12 page color boo-
klet. The producers of this great new package, Ernst Mikael Jor-
genson and Roger Semon, wrote: As speculation on the various
boardshavesuggested,wedidmanagetofindthesessiontapes
for this movie, and we believe we have a very attractive release
here. The search also revealed that what the 'clever people'
thought, and that will definitely include me (Ernst), was wrong.
The vocal forA LITTLE LESS CONVERSATION on the version used
forthere-mixsingle,wasnotrecordedfortheTVspecial–it'sactu-
allytake2ofthesongwiththeendingrepaired.Youcanalwaysle-
arn something new!!! Unfortunately, these tapes were the only
oneswefoundfromtheMGMmovies,andwhereasprovingsome-
thing exists, is easy, it's not easy to do the opposite. At this time
we have exhausted our options to find these tapes – they would
be in private hands if they survived. Meanwhile, here's
something to look forward to!
T H E K I N G - F O L L O W T H A T D R E A M L A B E L
17
(