32 / 32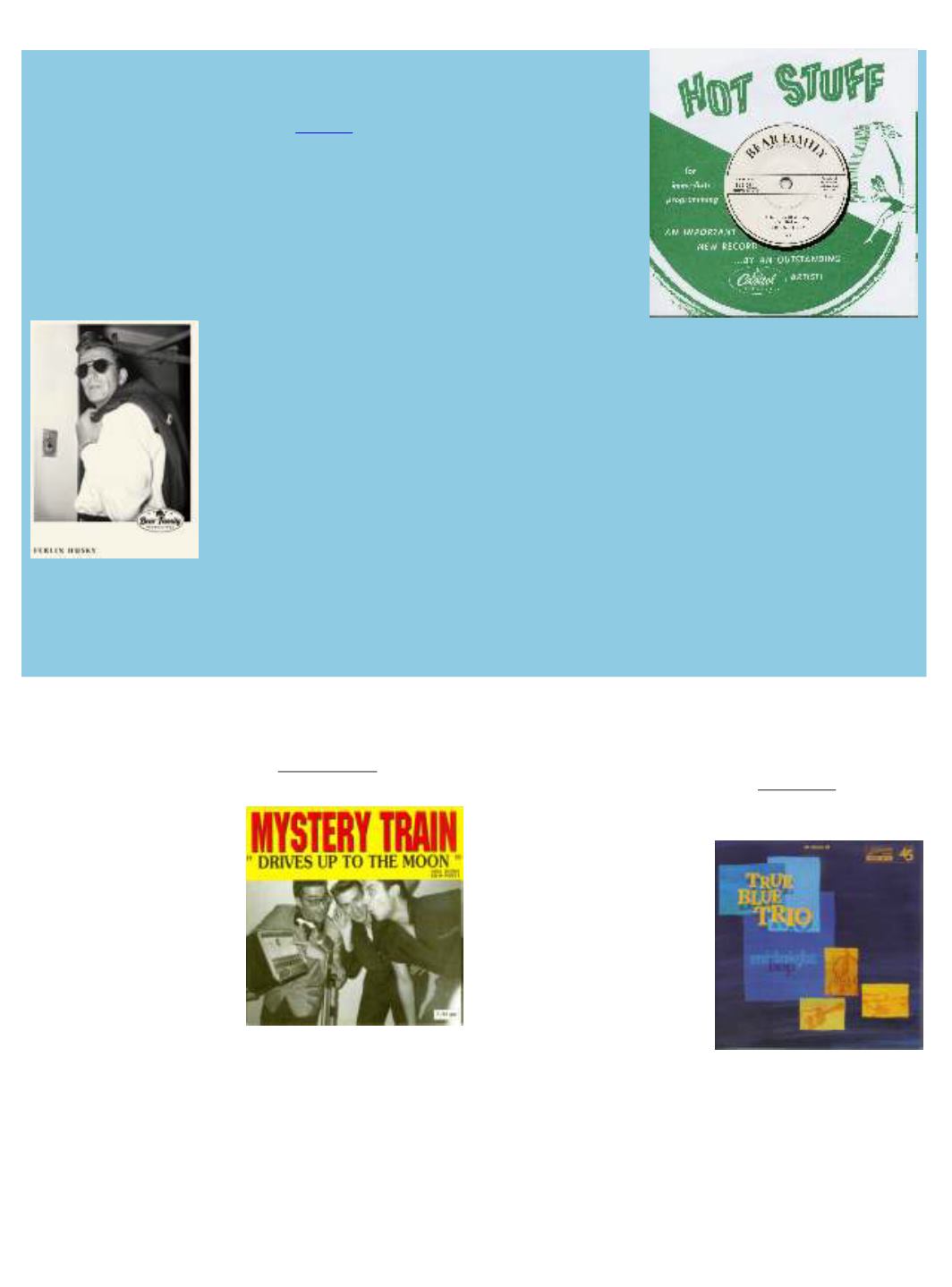 MYSTERY TRAIN
•
DRIVES UP TO THE MOON
(EP, 45RPM, PS)
45EAR95051
€
5.00
4000127799555
DrivesUpToTheMoon -MilkcowRock -LovelyLola -Butcher's
Stroll
(1995/Eagle) 4-Track EP, 45
U/Min, großes Innenloch,
Bildhülle, frühe Aufnahmen
der ersten Band von Jake Ca-
lypso! Seltene Extended Play!
MM/Bear Family Records —
(1995/Eagle) 4-track EP, 45
rpmspeed,widecenter,pictu-
re sleeve, early recordings of
former band by Jake Calypso!
Rare item! MM/Bear Family
Records
TRUE BLUE TRIO
•
MIDNIGHT BOP - I TAKE MY
HAT OFF TO THE BLUES
7INCH, 45RPM, PS
45MIG023
€
8.50
4000127801227
MIdnight Bop - I Take My Hat Off To The Blues
The TRUE BLUE TRIO is a brand
newbandfromSpain,founded
by PIKE CAVALERO (voc/gtr),
LITTLE BOY ARNOLD (gtr),
PEPE LEE (double bass).Clas-
sic 50's Rockabilly at it's best!
The band made already some
waves down in the south of Eu-
rope and is booked for first big
Festivals, like Rockin' Around
Turnhout (Belgium) etc.Absolu-
te straight in your face raw Ro-
ckabillybysomeofthebestmu-
sician of southern Europe! The record is, as usual, limited to 500
copies. — The TRUE BLUE TRIO is a brand new band from Spain,
founded by PIKE CAVALERO (voc/gtr), LITTLE BOY ARNOLD (gtr),
PEPE LEE (double bass).Classic 50's Rockabilly at it's best! The
bandmadealreadysomewavesdowninthesouthofEuropeand
isbookedforfirstbigFestivals,likeRockin'AroundTurnhout(Bel-
gium) etc.
N E W S / N E U H E I T E N
32
FERLIN HUSKY
Draggin' The River -
Bebe Beautiful Baby 7inch,
45RPM, SC, CS
BLE011
€
8,50
Mit unseren Single-Veröffentlichungen ultra-rarer Titel möchten wir Sie dabei
unterstützen, schmerzhafte Lücken in Ihrer Sammlung zu schließen. Die von
unseren sachkundigen Mitarbeitern sorgfältig und teils aus verschütteten Quellen
zusammengestellten Singles enthalten gelegentlich zuvor unveröffentlichte Songs
… und manchmal sogar Erstveröffentlichungen auf Vinyl!
l
Auf 500 Exemplare limitierte und nummerierte Vinyl-Single (45 RPM) - kleines Mittelloch,
Capitol Labelhülle, mit Foto-Einleger.
l
'Draggin The River' ist ein Mid-Tempo Countrybopper der Extraklasse, 1958 auf Capitol
erschienen, und ein echter Tanzflächenfüller.
l
'Bebe Beautiful Baby' ist ein zuvor unveröffentlichter 1955 Up-Tempo Country Kracher
aus dem Capitol Archiv.
LIMITIERTE AUSGABE / LIMITED EDITION
Our 45 RPM series covers the rarest of the rare with the aim of filling the serious gaps in your collec-
tion. Carefully selected by our knowledgeable staff from the deepest vaults, our 45s sometimes
feature previously unissued songs … and sometimes songs making their first appearance on vinyl!
l
500 numbered copies limited edition vinyl single (45 RPM) - small center, company sleeve,
photo inlay card.
l
'Draggin The River' is a midtempo Countrybopper and a class of its own, realeased in 1958 on
Capitol, a real gone dancefloor filler.
l
'Bebe Beautiful Baby' is a previously unissued 1955 uptempo Country rocker out of the deep from the vaults of Capitol
Records.
l
The Capitol studio musicians in their height, with a rockin' steel-guitar and an upright slap bass that leaves Psychobilly
bassists getting pale faces.