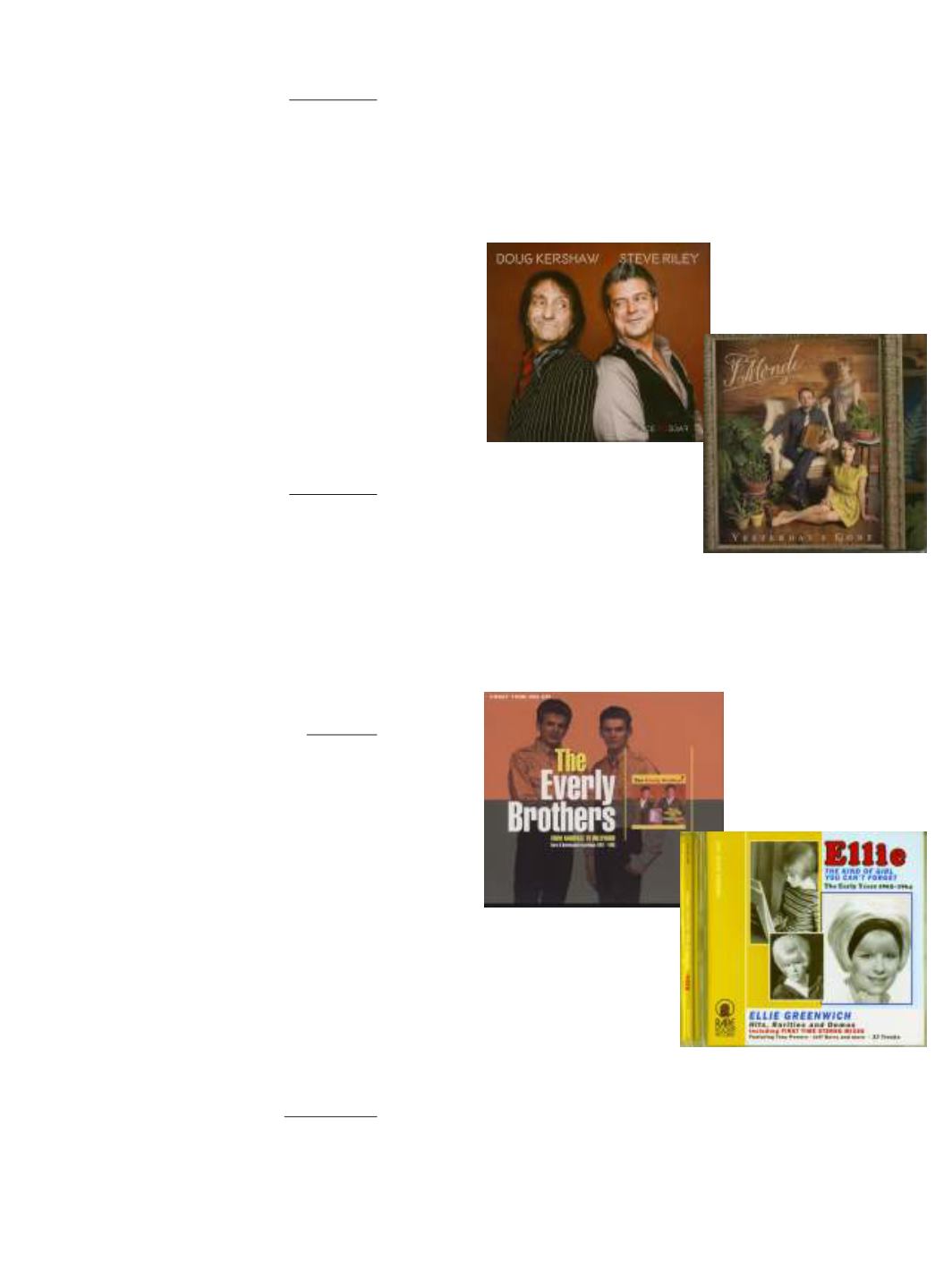 DOUG KERSHAW & STEVE RILEY
•
FACE TO FACE
CDVAL0026
VCD3
€
15.74
0888295170888
Petite ou la grosse - J'ai une Bonne Femme - Jolie Blonde -
Saute Crapaud - Crowley Two-Step - Louisiana Man - Midnight
Waltz - Mon Chapeau - Feed It To The Fish - Evangline Waltz -
Chère Mom - Lake Arthur Stomp
(2014/Valcour) 12 tracks. Zwei der profiliertesten Botschafter
der Cajun Musik sitzen einander gegenüber in einem kleinen,
gemütlichen Raum, um zum ersten Mal gemeinsam Musik zu
machen. Doug Kershaw und Steve Riley zollen hier den alten
MeisternTribut. Musik aus den 1920er Jahren. Das Ergebnis ist
einfach magisch. — (2014/Valcour) 12 tracks. Imagine two of
Cajun music's most prolific ambassadors sitting down across
fromeachotherinasmall,cozyroom,makingmusictogetherfor
theveryfirsttime.Theperformance,therepertoire,andeventhe
instruments are timeless – filling the room instantly with a
joyous, spontaneous energy that is remniscent of the historic
recordings of Cajunmasters Amédé Ardoin, DennisMcGee,and
Amédé Breaux.
T'MONDE
•
YESTERDAY
'
S GONE
CDVAL0031
VCD3
€
15.74
0888295336772
Bombay Bounce - Just Like Me - My Life Will Continue -
Tracasse Pas - M&S Special - When Did You Stop Loving Me -
South Crowley Waltz - I Don't Care - Kara's Bounce - Knowing
YouWill Never Be Mine - Tiger Rag Blues - Wedding Bells - Tite
Fille de la Campagne - La Valse de Chagrin - Didn't Come
Home
(2015/Valcour) 15 tracks. T'Monde spielen zusammen seit
2011 und haben einen einzigartigen Sound entwickelt, der
seinesgleichen in der ganzen Cajun Musik sucht. Einflüsse von
früher Country-Musik und alten französischen und kreolischen
Balladen. T'Monde spielt Musik zum Hören und Tanzen. —
(2015/Valcour) 15 tracks. As in most cases in south Louisiana,
bands are formed through friendships and pure love for the
music they play; this is no different with T'Monde. Playing
together since 2011, Drew,
Megan and Kelli have
developed a unique sound
that is unmatched in all of
Cajun
music.
Bringing
together influences ranging
from early Country music to
ancient French and Creole
ballads to present day Cajun
music, T'Monde plays music
that is made for the ears as
well as the feet.
R O C K & R O L L
EVERLY BROTHERS
•
FROM NASHVILLE TO
HOLLYWOOD
CD75829
€
24.95
5050467582927
Temptation (Hollywood Version) - Little Hollywood Girl
(NashvileVersion) -HowCanIMeetHer -BurmaShave -ICan't
Say Goodbye To You - I'm Afraid - Nancy's Minuet - Nice Guy -
DancingOnMy Feet - Chains - What About Me - FoolishDoubts
- No One Can Make My Sunshine Smile - Hi-Lili, Hi-Lo (alt) - (So
it Was...So It Is) So It Always Will Be - Don't Ask Me To Be
Friends - Muskrat (Single Version) - The Sheik Of Araby (alt) -
WhateverHappenedToJudy-Nancy'sMinuet(alt.) -I'mAfraid
(alt) - (So It Was...So t Is) So It... (alt) - No One Can Make My
Sunshine Smile (alt.) - Little Hollywood Girl (Hollywood
Version) - Burma Shave (alt. version)
(Warner)25tracksincl.rare&unreleasedmasters1961-63.Slip-
case packaging with 20 page boklet.
ELLIE GREENWICH
•
ELLIE - THE KIND OF GIRL
YOU CAN
'
T FORGET - THE
EARLY YEARS
CDRRR1035
€
17.95
0636823300296
THE RAINDROPS : The Kind Of Boy You Can't Forget - THE
RONETTES : BeMy Baby - ELLIE GREENWICH : Do-Wah-Diddy -
THE EXCITERS : Do-Wah-Diddy (First Time In True Stereo) -
JOANIE SOMMERS : A Little Bit Of Everything - ELLIE GREEN-
WICH : Maybe I Know (Original Demo) - THE KIM SISTERS :
Mister Magic Moon - BOBBY VEE : One Boy Too Late - KELLIE
DOUGLAS : My Mama
Don't Like Him - ELLIE
GREENWICH : Waiting For
You (Original Demo) - JO
ANN CAMPBELL : I Wish It
Would Rain All Summer - ...
and much more...
(2015/Rare Rockin' Re-
cords) 33Tracks (75:49),
24-seitiges Booklet mit
Photos und Label Abbil-
dungen. Super Compilati-
on umdie frühen Arbeiten
der phantastischen Song-
schreiberin und Produzentin Ellie Greenwich in den Jahren
1962-64,mitTonyPowers,JeffBarry,TheRonettes,JoanieSom-
mers, Bobby Vee, Jo Ann Campbell, Connie Francis, The Angels,
GenePitney,TheShirelles,PatsyAnnNobleandmanymore - It's
great! It's rare! MM/Bear Family Records — (2015/Rare Rockin'
Records)33tracks,24-pagebookletwithphotosandlabelshots.
Agreatcompilationoftheearlyworksoffabulouscomposerand
producer Ellie Greenwich through the years 1962-64.
C A J U N / Z Y D E C O / S W A M P P O P
12