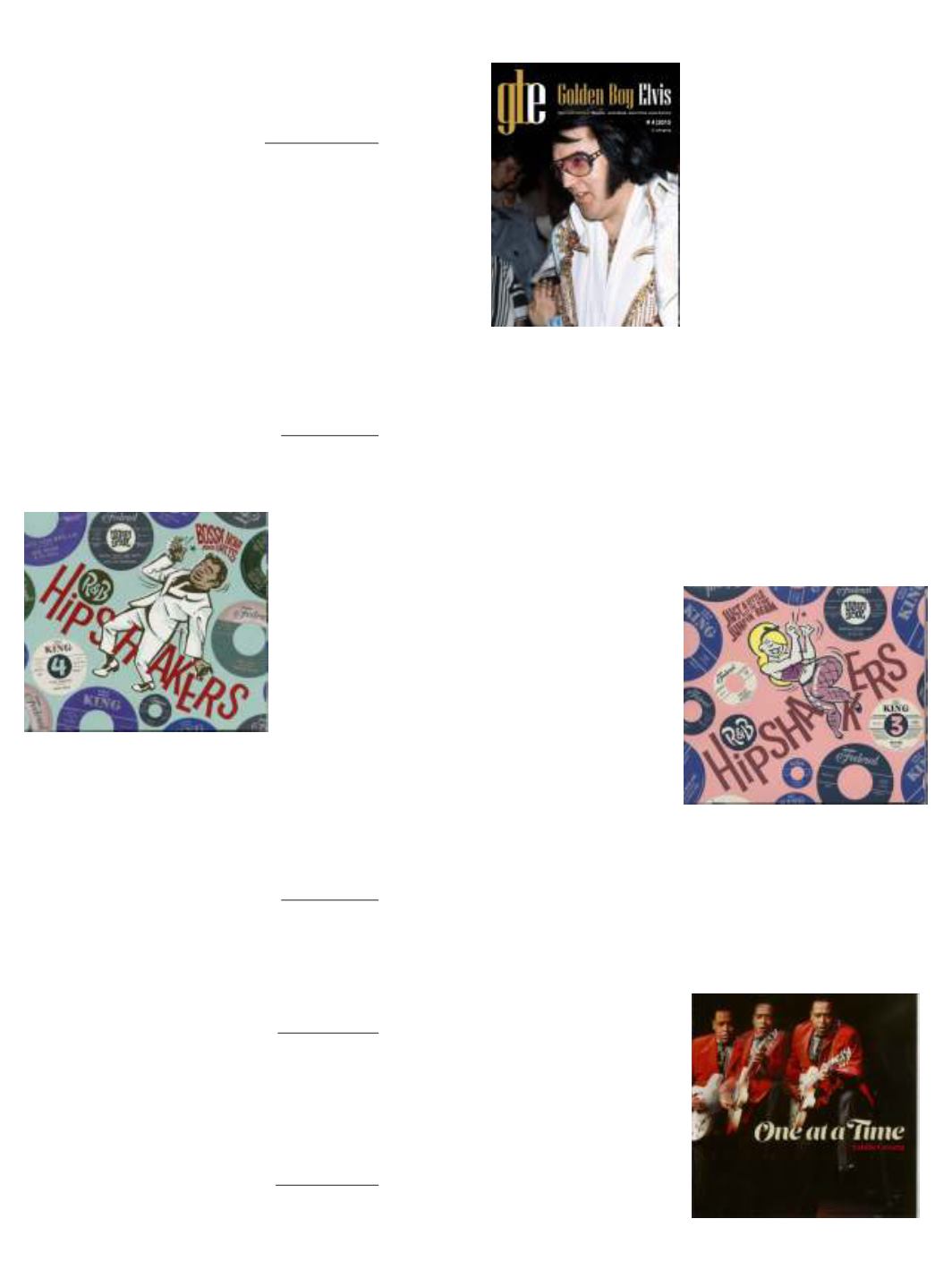 ELVIS PRESLEY
•
GOLDEN BOY ELVIS -
FACHMAGAZIN 4-2015
MAGGBE20154
€
9.50
4000127801241
GOLDEN BOY
ELVIS versteht sich als Magazin von Fans für Fans und freut sich auf
viele neue Leser unter den Elvis-Fans und –Enthusiasten. GOLDEN
BOY
ELVIS erscheint als 60 Seiten starkes, vollfarbiges, hochqualitatives
Magazin im Format DIN A4.Inhalt - Vor 60 Jahren unterschrieb Elvis
in Memphis seinen Vertrag bei RCA, GBE hat die Einzelheiten.
Wieder gibt es zwei wichtige FTD-Veröffentlichungen, diesmal mit
neuen Outtakes "Live A Little, Love A Little", aber auch eine Live-CD
aus Odessa, West Texas.
Wir berichten über das Festival in
Friedberg 2015, das Buch "Best Of
British Vol. 3", erst recht aber über
die neuen RCA-CDs "Forever" und
die weltweit erfolgreichste CD seit
13 Jahren – IF I CAN DREAM.
Usw., usw.
9783836559072
R H Y T H M & B L U E S
VARIOUS
•
R&B HIPSHAKERS VOL.4 -
BOSSA NOVA AND GRITS
CDVAMPI164
€
16.95
8435008862992
(Vampisoul)20Titel,digipackmit8SeitenBooklet.DervierteTeil
der ,R&B Hipshakers"-Serie wartet mit rockigem R&B und frü-
hem Soul aus den Katalogen von King und Federal Records auf.
Eine Zusammenstellung
von Tracks aus den Jahren
1953 bis 1967 mit
bahnbrechendenKünstlern
wie LITTLE WILLIE JOHN,
THE 5 ROYALES, LITTLE
ESTHER,
WYNONIE
HARRIS, LULA REED und
FREDDY
KING.
20
grandiose
Tanzflächenkracher
kuratiert
vom
Genre-Experten Mr Fine
Wine vom WFMU Downtown Soulville Radioprogramm. Ein
Großteil der Songs erscheint hier erstmalig als Re-Issue. —
(Vampisoul) 20 tracks from the King/Federal vaults. Digipac
with 12 page booklet.
•
R&B HIPSHAKERS VOL.3 -
JUST A LITTLE BIT OF THE
JUMPIN
'
BE
CDVAMPI144
€
16.95
8435008862640
COZY COLE : Cozy's Mambo - LINDA HOPKINS : Mama Needs
Your Lovin' Baby - EARLKING : Old Faithful And True Love - JOE
TEX : She's Mine - MEL WILLIAMS : Send Me A Picture Baby -
EUGENE CHURCH : Sixteen Tons - DRIVERS : Dry Bones Twist -
BILLDOGGETT : Hold It -EL&ROYALTONPAULING : Solid Rock
- HANK &MIDNIGHTERS BALLARD : Nothing But Good - BILLY
GAYLES : Take Your Fine Frame Home - JACKIE& IKE TURNER'
BRENSTON : Much Later -BOBBY KING :ThanksMr. Postman -
LITTLEWILLIE JOHN : Don't Play With Love - FREDDY KING : In
The Open - JIMMY PETERSON : One Buffalo (You Mean A
Nickel) - KING PINS : I Won't Have It - TINY TOPSY : Just A Little
Bit -MYSTICS :TheJumpin'Bean -REDPRYSOCK :HaremGirl
(Vampi Soul) 20 tracks
from the King/Federal
vaults 1955-64. Digipac
with 12 page booklet. Die
dritte Ausgabe der R&B
Hipshakers-Serie liefert
Euch rockigen R&B und
fruehen Soul aus dem
King/Federal
Katalog.
Eine Zusammen-stellung
von Songs aufgenommen
zwischen 1955 und 1964
von solch essentiellen Kuenstlern wie Hank Ballard, LittleWillie
John,JoeTex,FreddyKingoderEugeneChurch.20sensationelle
Tanznummern,ausgegrabenvomGenre-ExpertenMr.FineWine
von WFMU Downtown Soulville. Einige Titel sind zum erstmals
wieder erhältlich. — 2012/VAMPISOUL) 20 tracks from the
King/Federal vaults 1955-64. Digipac with 12 page booklet.
B L U E S N E W S
JAMES COTTON
•
ONE AT A TIME
CDDC100315
€
14.95
0040232281969
(2015/Dechamp)14tracks.EddieCotton,Jr. isteinelektrischer
Blues-Gitarrist von Clinton, Mississippi. Sein 2015er CD mit Ed-
die Cotton - gtr, voc, JJ Thames - backround voc, Myron Bennett -
Bass, Samuel Scott jr. - drums, u.a.
JOHN LEE HOOKER
•
IF YOU MISS
'I
M ... I GOT
'I
M
CDBGOCD392
€
9.75
5017261203922
(1969 'BluesWay') (46:35/09) Eine schöne Session, bei der
John Lee und sein Cousin Earl die Hauptrollen spielen. Earl Hoo-
kerstarb1970anTuberkolose. EingutesAlbum/nice laid-back
session feel. This re-issue
withtheoriginalartworkis
featuring the collaborati-
on of John Lee and his cou-
sin Earl. Good recording,
too. Recommended al-
bum.JOHNLEEHOOKER-
E L V I S , B O O K S
19
(