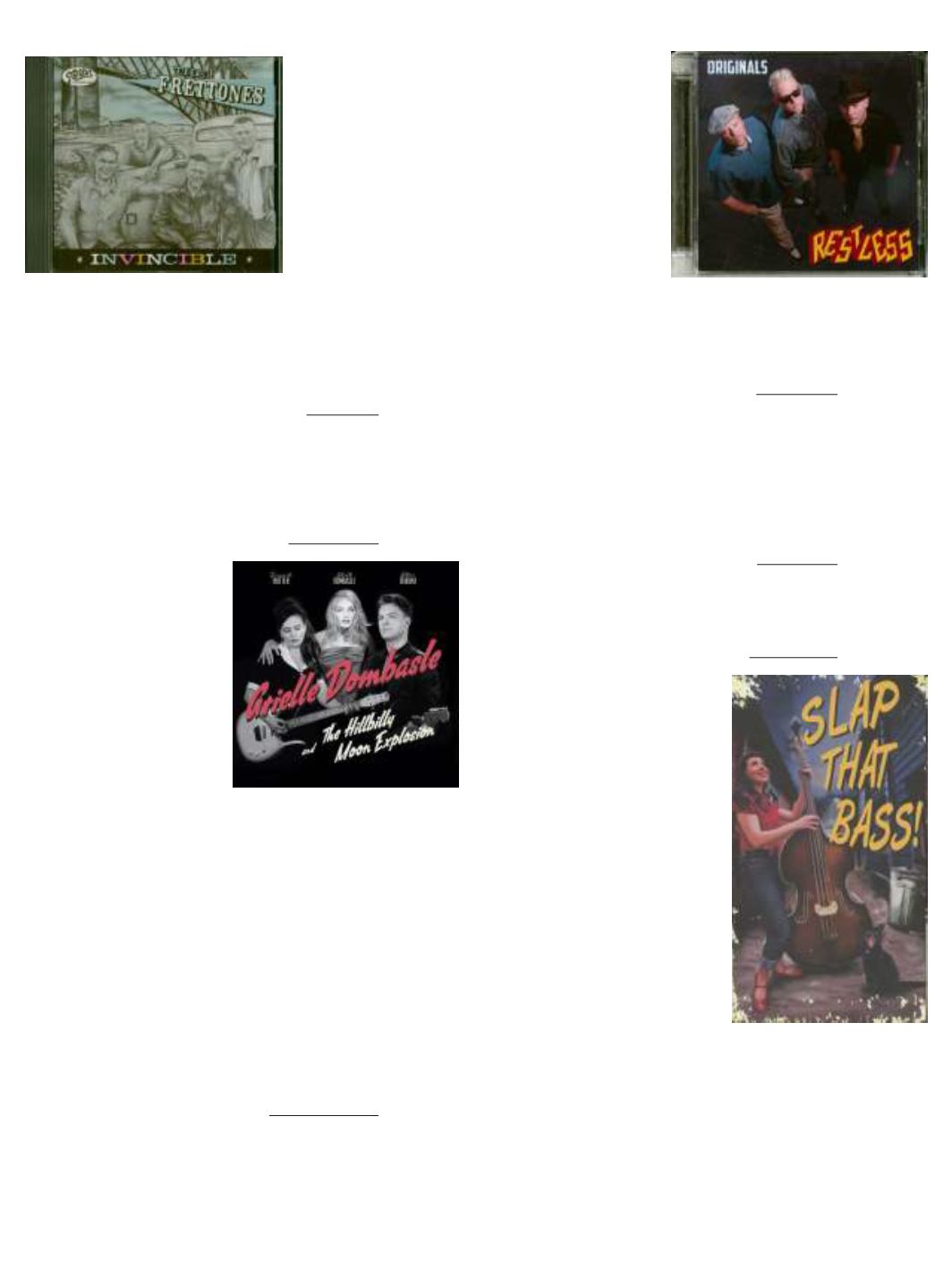 wert ist das Keith Turner,
der Sänger und die Band
die Aufnahmen während
Turner's Chemotherapie
eingespielt haben! 1A
Scheibe und rockt! Die Li-
nernotes stammen von
JerryChatabox,demOrga-
nisator und Veanstalter
des Rockabilly Rave Festi-
vals! (Bear Family Re-
cords) — (2015/Rollin')
14tracks -BrandnewalbumfromKeithTurnerandtheFrettones!
All songs are written by the band and the sessions were done du-
ring Keith Turner's Chemotherapy. A fresh and powerful album!
Hats off and respect to Keith Turner and his fantastic band - the
Frettones!(Bear Family Records)
•
DOWN ON MY LUCK
CDRR009
€
16.95
5060171660071
HILLBILLY MOON EXPLOSION FEAT.
ARIELLE DOMBASLE
•
ARIELLE DOMBASLE & THE
HILLBILLY MOON EXPLOSION
- FRENCH KISS
CD4744571
€
21.95
0602547445711
Walk Italian - My Love
For Evermore - Johnny
Are You Gay ? - Drive This
Truck - Chick Habit -
Westbound Train - You
Don't Own Me - I'm
Gonna Dry My Eyes -
LongWay Down - Maniac
Lover - French Kiss - Ooh
La La
(2015/Universal)
12
tracks (36:12), französi-
scher Import - schwer zu
bekommen, aber wir haben es! Das brandneue Album von The
Hillbilly Moon Explosion in Collaboration mit der populären
französischen Chansonette Arielle Dombasle! Großartige
Variationen von Hillbilly Moon Explosion Klassikern, Rockabilly,
sowie einem Mix aus Sixties Pop und Chanson Zeugs! Das ist
abgefahren und großartig gleichermaßen, es rockt, es
explodiert! MM/Bear Family Records — (2015/Universal) 12
tracks (36:12), hard to get French Universal import, brand new
album by The Hillbilly Moon Explosion in collaboration with the
popular French chansonette Arielle Dombasle! Great variations
of Hillbilly Moon Explosion classics, Rockabilly, and Sixties Pop
Chanson mixed stuff! It's crazy, it's great, it rocks, it explodes!
MM/Bear Family Records
RESTLESS
•
ORIGINALS
CDBLR331772
€
15.95
6418594317727
Don't Say It Unless YouWill - Get Away - I WannaGetWith You -
The Fool - MaracaMan - Rat-A-Tat-Tat - Runaway Train - I Want
It All - Travellin' Man - You Drive Me Insane - You Know It Ain't
Right - Some Folk
(2015/Bluelight) 12 Tracks - brandneu! Ihr 23. Albumund auch
nochinansoluterOriginal-Besetzung,wieauf
derDebutLP:Mark
Harman, Paul Harman
und Ben Cooper! Alle
SongssindOriginale,kei-
ne Cover-Versionen, und
zeigen die Vielseitigkeit
von RESTLESS! Real
gone stuff! MM/Bear Fa-
mily Records —
(2015/Bluelight)
12
tracks - brand new! Their
23rd album with the ori-
ginal lineup as on their
debutLP:MarkHarman
,PaulHarmanandBenCooper!Allsongs
are originals, no cover versions, and show the versatility of
RESTLESS! Real gone stuff! MM/Bear Family Records
•
WHY DON
'
T YOU...JUST
ROCK! (PLUS)
CDNER004
€
16.95
5017273000427
(1990/Nervous) 15 tracks, original 1982er Nervous Aufnah-
men von Mark Harman, Paul Harman und Ben Cooper, inkl. Bo-
nus Tracks! Legendäres Album, welches den Beginn des Neo Ro-
ckabilly bedeutet! Eines der besten Restless Alben überhaupt!
MM/Bear Family Records
RUMBLE ON THE BEACH
•
TWO LEGENDARY ALBUMS -
RUMBLE RAT & RUMBLE
BCD17502
AR
€
15,95
VARIOUS
•
SLAP THAT BASS! (4-CD
DIGIBOOK)
CDJHN2535
€
49.95
6417733125407
TEDDY & TIGERS : Broken Heart
- BUCK & RHYTHM RIDERS
JONES : Rockabilly Fever -
FRANKIE & LOVERS : I'm A
Teddy Boy - MYSTERY TRAIN :
Jukebox Help Me Find My Baby -
JAM ROCK BAND : Where Are
You Now Buddy Holly? - ROCK
OLA & BLUE CATS : Slap That
Bass - WHIPLASH : Honey Bun -
BUDDY & BLACK BISSONS
RIDER : The Train - TUOMARI
NURMIO : Just Siks - GENERALS
: Rockabilly Sound Again -
DUCKTAILS : Ballin' Keen -
JUMPIN' PARALYZERS : Big Fat
Mama's Are In Style Again -
JOHNNY & DODGERS : Lonely
Johnny - FREDDIE FALCON :
Let's Have A Party - AVIATORS : Rodeo Daddy - und viele
mehr...
(Johanna)105tracks -thestoryofFinnishRockabilly&50sstyle
Rock &Roll 1979-2009. Incredible collection in a Hardcover Ga-
tefoldDigipacwitha64pagebookletofhundredsrarephotos,re-
cord covers and memorabilia. Slappin' Highlight!***** — (Jo-
hanna) 105 tracks - the story of Finnish Rockabilly &50s style
Rock &Roll 1979-2009. Incredible collection in a Hardcover Ga-
tefold Digipac with a 64 page booklet of hundreds rare photos,
record covers and memorabilia. Slappin' Highlight!
R E V I V A L R O C K & R O L L / R O C K A B I L L Y
25
(