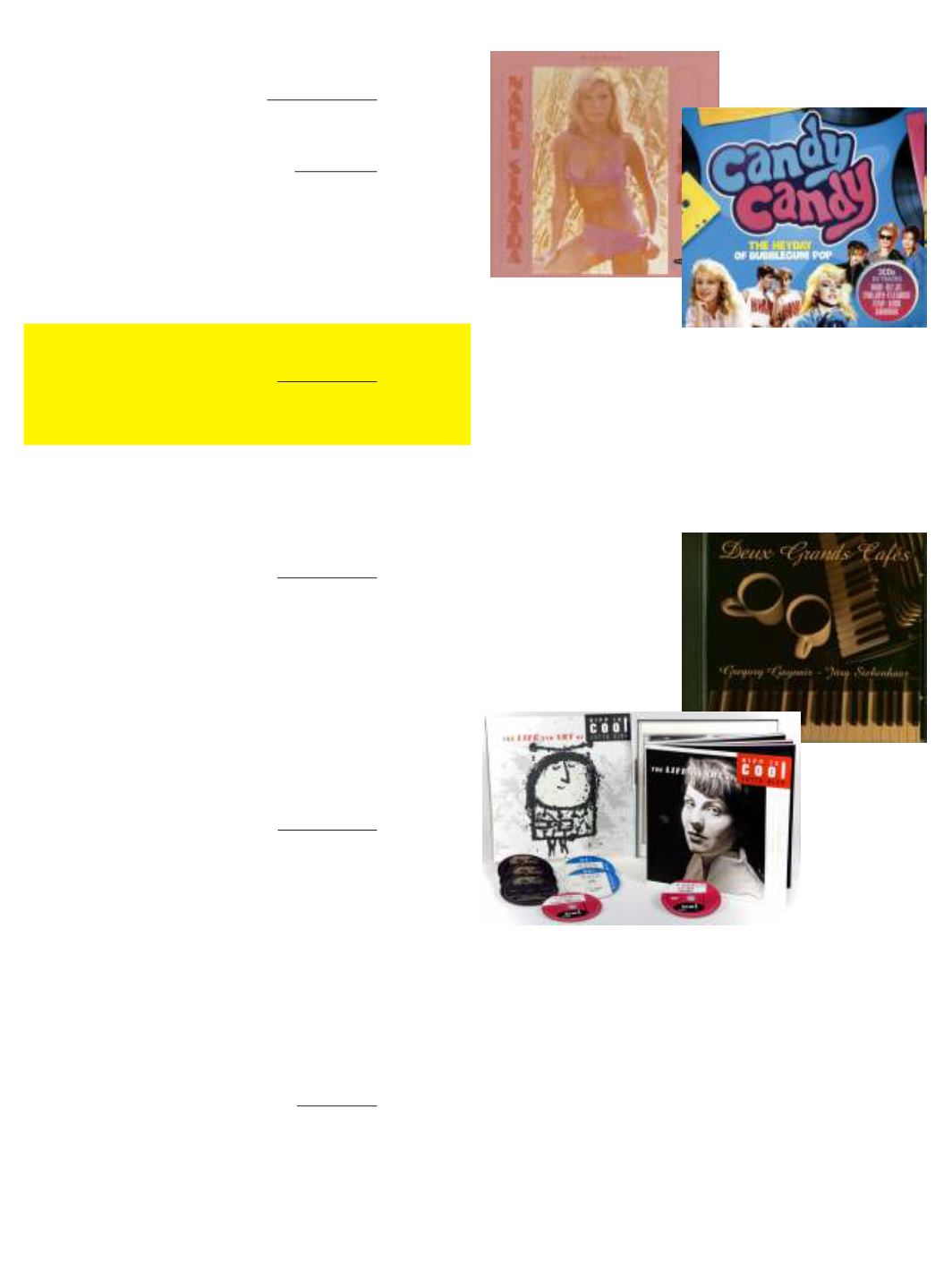 DEAN MARTIN
•
AMORE
CDCAP769622
€
6.75
5099926769622
*****special price offer
NANCY SINATRA
•
SUGAR...PLUS
CDNAN106
€
14.95
4013284210610
Sweet Georgia Brown - Vagabond Shoes - Oh! You Beautiful
Doll - Hard Hearted Hannah - All By Myself - Coastin' - Mama
Goes Where Papa Goes - Let's Fall In Love - What'll I Do -
Limehouse Blues - Sugar Town - Button Up Your Overcoat - My
Buddy - Love Eyes - Something Stupid
(Nancy's) 18 tracks — (Nancy's) 18 tracks - last copies
VARIOUS
•
CANDY CANDY - THE
HEYDAY OF BUBBLEGUM
POP (3-CD)
CDSNY60932
€
9.95
0888837609326
(2013/SONY) 63 tracks - digipac, great party collection of origi-
nal 70s/80s master recordings.campaign overstocks - nice pri-
ce while stock last — (2013/SONY) 63 tracks - digipac, great par-
ty collection of original 70s/80s master recordings.campaign
overstocks - nice price while stock last
J A Z Z
GREGORY GAYNAIR & JÖRG
SIEBENHAAR
•
DEUX GRANDS CAF
É
S
CDTANK1101
€
14.95
4260222260101
Patati Patata - Tango Angelito - Genezareth - Mediterranean
Sunset - Grand Café De Montpellier - Bossa Alcudia - Circulo -
It's Definetly You - Tango Santa Clara - Time Is Over
(2011/Jazztank) 10 Tracks. Französisch-Deutsche Jazz Kollabo-
ration, leichter französischer Café-au-lait Jazz, nicht nur zum
Sonntag Nachmittags-Kaffee! MM/Bear Family Records —
(2011/Jazztank) 10 tracks, French-German Jazz collaboration,
Frenchy Jazzy café-au-lait tunes, not only for a lazy Sunday
afternoon!
JUTTA HIPP
•
THE LIFE AND ART OF JUTTA
HIPP (6-CD,1-DVD-BOX)
CDBE610309
HL
€
149.95
(2015/BE! Records). Box-Set (12'x12 ') mit der Musik von Jutta
Hipp von ihren 1945er Demos bis zu einem seltenen bisher
unveröffentlichtenAuftritt in Newport 1956: 6 CDs, sowie eine
DVDmit seltenen TV-Clips. Die Kunst der Jutta Hipp: 208 Seiten
Hardcover-Buch mit zahlreichen Bildern, Skizzen und Cartoons
(viele bisher unveröffentlicht), Gedichten und Briefen von Jutta
Hipp, sowie einer neu geschriebenen Biographie in English und
Deutsch.—(2015/BE!Records).Boxset(12'x12')withthemusic
of Jutta Hipp from her
1945 demos to a rare
unreleased performance
at Newport in 1956: on 6
CDs, plus a DVD with rare
TV clips. The art of Jutta
Hip: 208 pages hardcover
book, with numerous
paintings, sketches and
cartoons (many
previously
unseen), poems
and letters by
Jutta Hipp , plus
a newly written
biography
in
Englsih
and
German.
D E U T S C H E O L D I E S / R O C K / P O P / D I V .
VARIOUS
•
HEIMAT DEINE STERNE
(4-CD DIGIBOOK)
CD220767
€
19.95
4011222207678
LIZZI WALDMUELLER : Du hast Glück bei den Frau'n Bel Ami -
GUSTAF GRUENDGENS : Die Nacht ist nicht allein zum
Schlafen da - LILIAN HARVEY : Das gibt's nur einmal -
MARLENE DIETRICH : Ich bin von Kopf bis Fuß auf Liebe... -
LILIAN & WILLY FRITSCH HARVEY : Liebling, mein Herz lässt
dichgrüßen -ZARAHLEANDER :KanndennLiebeSündesein -
ILSE WERNER : Wir machen Musik - MARLENE DIETRICH :
Nimmdich in acht vor blonden Frau'n - ZARAH LEANDER : Der
Wind hat mir ein Lied erzählt - RUEHMANN & KARLWEIS &
FRITSCH : Ein Freund, ein guter Freund - HANS ALBERS : Das
ist die Liebe der Matrosen - HANS & HEINZ RUEHMANN
ALBERS : Jawoll, meine Herr'n - HANS MOSER : Die Reblaus -
LILIAN & WILLY FRITSCH HARVEY : Ich tanze mit dir in den
Himmel hinein - LIANE HAID : Adieu, mein kleiner
Gardeoffizier - JOSEPH SCHMIDT : Ein Lied geht um die Welt -
JANKIEPURA : Ob blond, ob braun, ich liebe alle Frau'n - POLA
P O P V O C A L
26