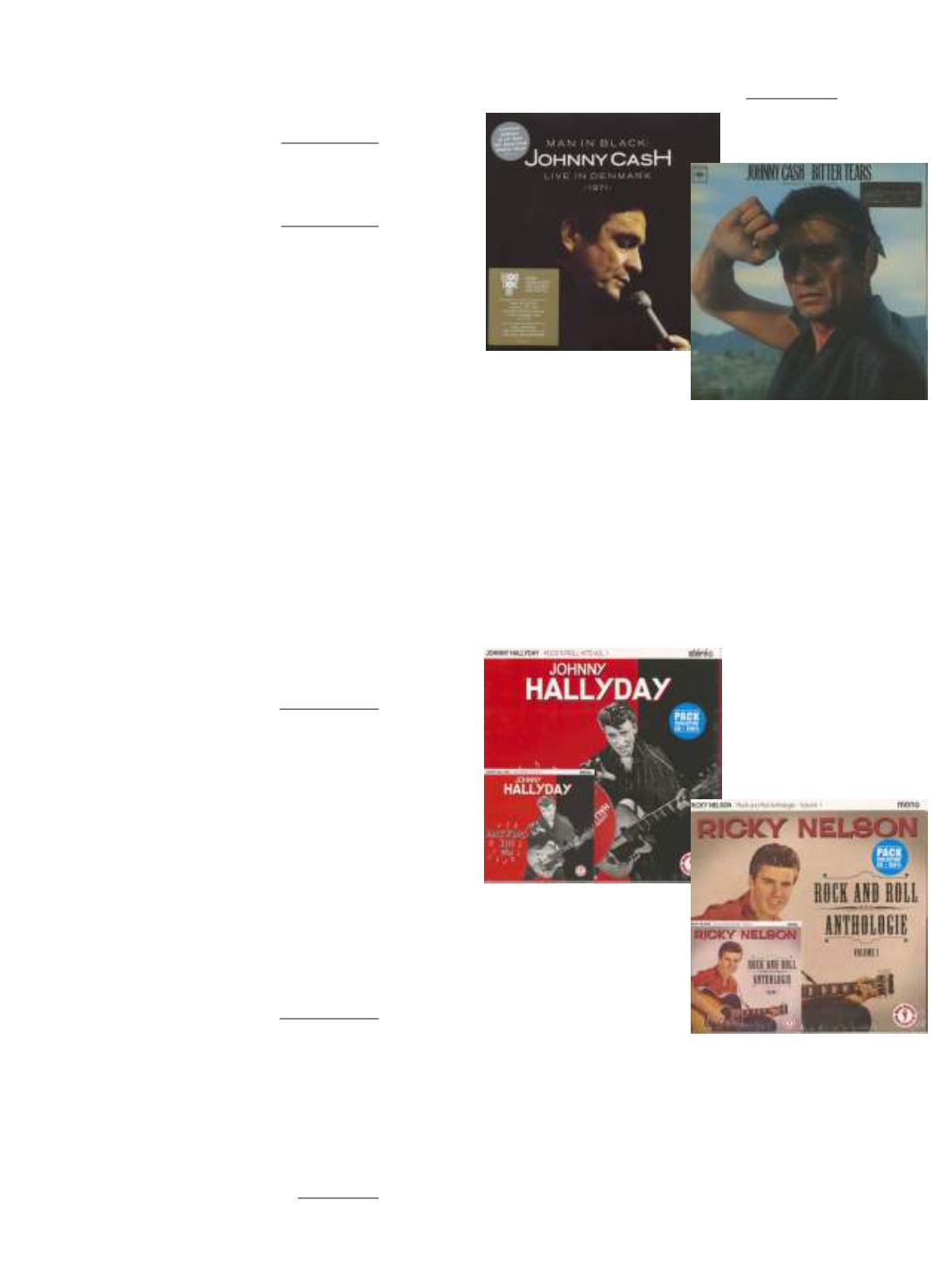 JOHNNY CASH
•
IN PRAGUE LIVE - 180G RED
VINYL LIMITED EDITION
LPSNY70451
€
24.95
0888750704511
•
MAN IN BLACK: JOHNNY
CASH LIVE IN DENMARK
(2-LP RED AND WHITE
VINYL) LIMITED EDITION
LPSNY41471
€
24.95
0888751414716
A Boy Named Sue - Sunday Morning Comin' Down - I Walk The
Line - Blue Suede Shoes (Carl Perkins) - Matchbox (Carl
Perkins) - Me And Bobby McGee - Guess Things Happen That
Way - Bed Of Roses (Statler Brothers) - Flowers On The Wall
(Statler Brothers) - Folsom Prison Blues - Darlin' Companion
(andJuneCarterCash) -IfIWereACarpenter(andJuneCarter
Cash) - Help Me Make It Through The Night (and June Carter
Cash) - Man In Black - A Song To Mama (Carter Family) - No
Need ToWorry (and Carter Family, Statler Brothers) - Rock Of
Ages (and Carter Family, Statler Brothers) - Children, Go
Where I Send You (and Carl Perkins, Carter Family, Statler
Brothers)
(Sony-Columbia) 18 tracks, mastered for vinyl by Vic Anesini at
Battery Studios, New York. — (Sony-Columbia) 18 tracks, maste-
red for vinyl by Vic Anesini at Battery Studios, New York.
,
•
BITTER TEARS (180G)
LPMOV1531
€
21.95
8718469540297
As Long As The Grass Shall
Grow - Apache Tears -
Custer - The Talking
Leaves - The Ballad Of Ira
Hayes - Drums - White Girl - The Vanishing Race
(2015/Music On Vinyl) 8 tracks. Bitter Tears ist ein
KonzeptalbumvonJohnnyCash imJahr1964veröffentlicht.Die
TracksaufdemAlbumkonzentrierensichausschließlichaufdie
Geschichte und die Problemeder amerikanischen Ureinwohner.
Und nicht ohne Erfolg: 'The Ballad of Ira Hayes' erreichte Platz 3
indenCharts. Es istschlichtundbewegend,einesseinerbesten
Alben der 60er Jahre.
V I N Y L - R O C K & R O L L
JOHNNY HALLYDAY
•
ROCK
'N'
ROLL HITS VOL.1
(10INCH LP PLUS CD)
LPBBR00047
€
21.95
3341342481438
Je Suis Mordu (I Got Stung) - Sentimental (Baby, I Don't Care) -
Nous Quand On S'Embrasse (High School Confidential) - Elle
Est Terrible (Somethin' Else) - L'Idoles Des Jeunes (Teenage
Idol)- IGotAWoman -ToutBas,ToutBas(ApronStrings) -Lais-
sez Nous Twister (Twistin' The Night Away) - Be Bop A Lula -
Whole Lotta Shakin' Goin' On - Oui Mon Cher
(2015/Big Beat) 11 Tracks, Frankreichs Rock'n'Roll Star Nr.1
mit frühen Rock'n'Roll Aufnahmen aus der Zeit 1959-62!
MM/Bear Family Records — (2015/Big Beat) 11 tracks, the pre-
mier French Rock'n'Roll star and some of his very early rockin'
recordings from 1959-62! MM/Bear Family Records
RICKY NELSON
•
ROCK AND ROLL
ANTHOLOGIE VOL.1
(10INCH LP PLUS CD)
LPBBR00046
€
21.95
3341342481445
Waitin' In School - Shirley Lee - Poor Little Fool - I'mWalkin' -
I'm Feelin' Sorry - Boppin' The Blues - Milkcow Blues - Hello
Mary Lou - Travelin' Man - Lonesome Town - It's Up To You
(2015/Big Beat) 11 Tracks,
Big Beat Frankreich, Jacky
Chalard's neueste 25cm
Scheibe mit integrierter CD,
eine Best-of-Ricky Zusam-
menstellung. Verve und Im-
perial Aufnahmen von
1957-1961! MM/Bear Fa-
mily Records — (2015/Big
Beat) 11 tracks, Big Beat
France, Jacky Chalard's
nextrelease,abestofRicky
compilation. Verve and Im-
perial
recordings,
1957-1961!
MM/Bear
Family Records
V I N Y L - R H Y T H M & B L U E S
VARIOUS
•
LA NOIRE, VOL.5 - TOO
MANY COOKS
LPDGR005
€
17.95
4000127806062
(2015/Doghouse &Bone) 14 Titel - Brandneues Volume der
erfolgreichenVinylRhythm 'n'BluesSeriemitvielenseltenen
Titeln!—(2015/Doghouse&Bone)14tracks -Volume5ofthe
legendary and successful Rhythm 'n' Blues series featuring
14 black rockers incl. some hard-to-find stuff!
V I N Y L - C O U N T R Y
29
(