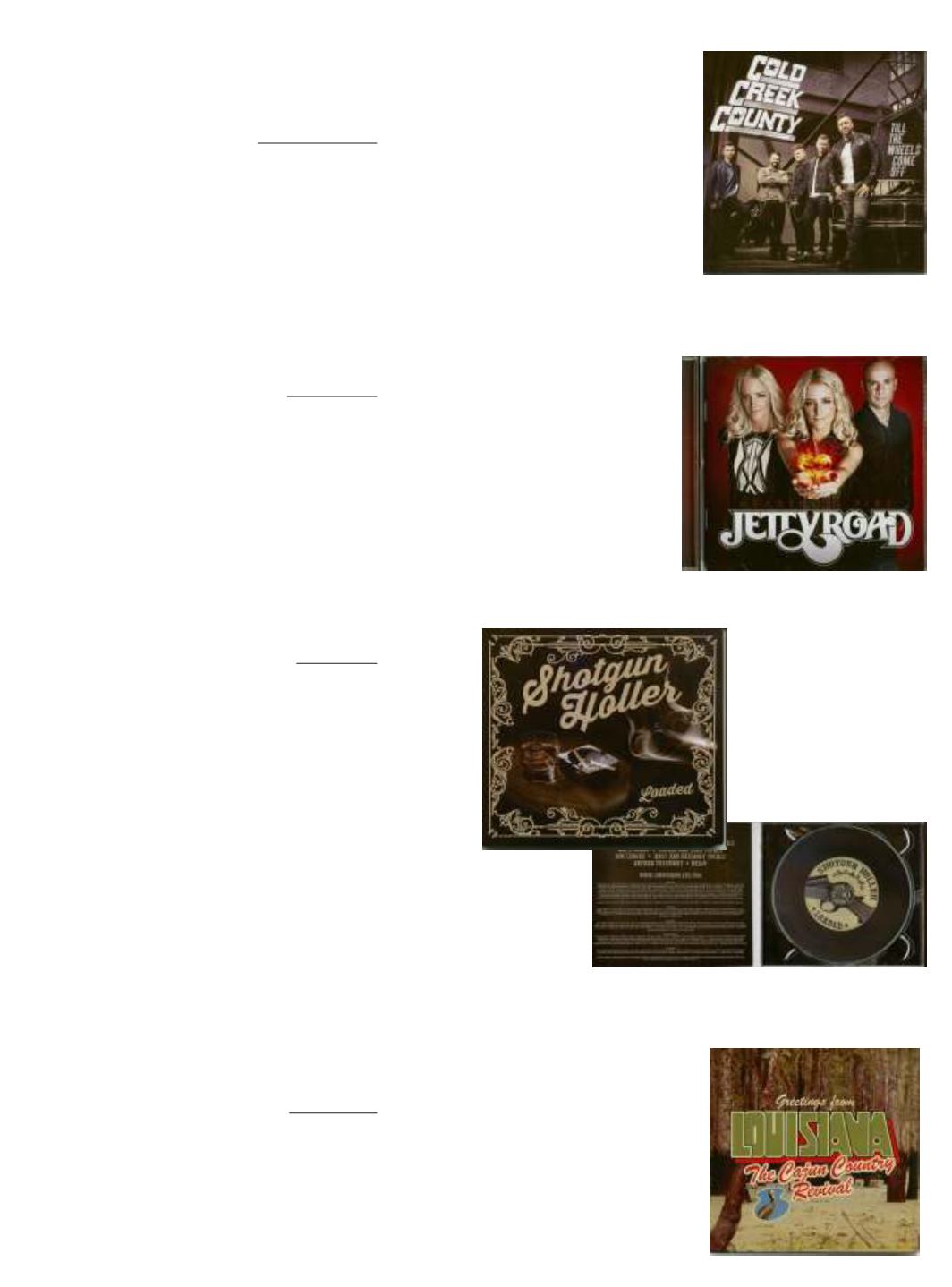 COLD CREEK COUNTRY
•
TILL THE WHEELS COME
OFF
CDSNY5036613
€
19.95
0888750901125
Ain't Had Enough of That Yet - Till the Wheels Come Off - Beer
Weather -DrinkYou Up -Trucker Hat - Our Town - Still ThatWay
- Blow My Speakers - Good Thing We're in the Country - I Can
Change All That - Nothing But a Party
(2015/Sony) 11 tracks. Cold Creek County ist eine Kanadische
Country Rock Band, gegründet 2013. Trevor MacLeod - gtr,
Brandon Scott - voc,acoustic, Justin Lester - bass,voc, Josh
Lestzer - gtr,voc, Doug Oliver -
drums,voc. — (2015/Sony)
11 tracks. Cold Creek County
is a Canadian country rock
band, founded 2013. Trevor
MacLeod - gtr, Brandon Scott -
voc,acoustic, Justin Lester -
bass,voc, Josh Lestzer -
gtr,voc, Doug Oliver -
drums,voc.
C O U N T R Y A U S T R A L I A / N E W Z E A L A N D
JETTY ROAD
•
HEARTS ON FIRE
CD5096962
€
22.95
0888750969620
A Little Bit of Something - Hearts On Fire - What We Did Last
Night - I Turn to You - Keep Holding On - You Need to Run -
Shakedown - Don't aWar - I Will StayWith You Tonight - Good-
bye June
(2015/ Sony Australia) 10 Titel, das fünfte Album der australi-
schenGruppe 'JettyRoad',aufgenommen in denOCLStudios in
Calgary, Kanada! Guter rockiger Uptempo Country! —
(2015/Sony Australia) 10
tracks, the fifth album of
the Australian Country
band 'Jetty Road', recor-
ded at OCL in Calgary, Ca-
nada! Great rocking
Country Music!
N E W G R A S S
SHOTGUN HOLLER
•
LOADED
CDDLR503
€
14.95
0880259050328
Out in the Parking Lot - I Hope Heaven Has a Holler - My
Bucket's Got a Hole in It - Methamphetamine - Clovis John-
son's Old Red - Relatively Easy - I've Got Ramblin onMy Mind -
This Side of the Grass - Miners Grave - One Lone Tree - I Should
Have ed Yesterday
(2015/Dry Lightning) 11 tracks. Shotgun Holler sind: Shawn
Brock (Mandoline / Harmonie Gesang), Matt Jones (Gitarre /
Gesang), Rod Lunger (Bass / Harmoniegesang), Nathan
Treadway (Banjo) und Alex Bene (Geige / Harmoniegesang)und
sie kommen aus Indiana, Kentucky und Ohio. Shotgun Holler
Debütalbum 'Loaded' verbindet traditionelle Bluegrass mit
einer modernen Alternativen — (2015/Dry Lightning) 11 tracks.
Shotgun Holler features Shawn Brock (mandolin/harmony
vocals), Matt Jones (guitar/lead vocals), Rod Lunger
(bass/harmony vocals), Nathan Treadway (banjo), and Alex
Benefiel (fiddle/harmony vocals) who hail from Indiana,
Kentucky
and
Ohio.
Shotgun Holler's Debut
Album 'Loaded' Mixes
Traditional Bluegrass With
A Modern Alternative Edge:
'Loaded' is released by
Lonesome Day Records'
new imprint, Dry Lightning
Records.
C A J U N / Z Y D E C O / S W A M P P O P
CAJUN COUNTRY REVIVAL
•
GREETINGS FROM
LOUISIANA
CDVAL0024
VCD3
€
15.74
0888295146098
Au bal chez 'tit Maurice - J'suis parti au Texas - Mon tour va
venir - La valse d'orpheline - A man I hardly know - Cajun hot
shoes -La valse dumilitaire -GALOPE : Alton's Two-Step - Café
chaud - Le temps après finir - La danse à John Poullard
(2014/Valcour)12tracks,digisleeve.Die Cajun CountryRevival
sindJoelSavoy,Cajun-AkkordeonHeldJesseLége,SammyLind
und
Nadine
Landry.
Akustisch mit Akkordeon,
Geige,
Gitarre
und
Kontrabass.
Cajun
und
Balladen in Englisch und
Französisch.
—
(2014/Valcour) 12 tracks, di-
gisleeve. The Cajun Country
Revival strikes again! This
C O U N T R Y C A N A D A
10