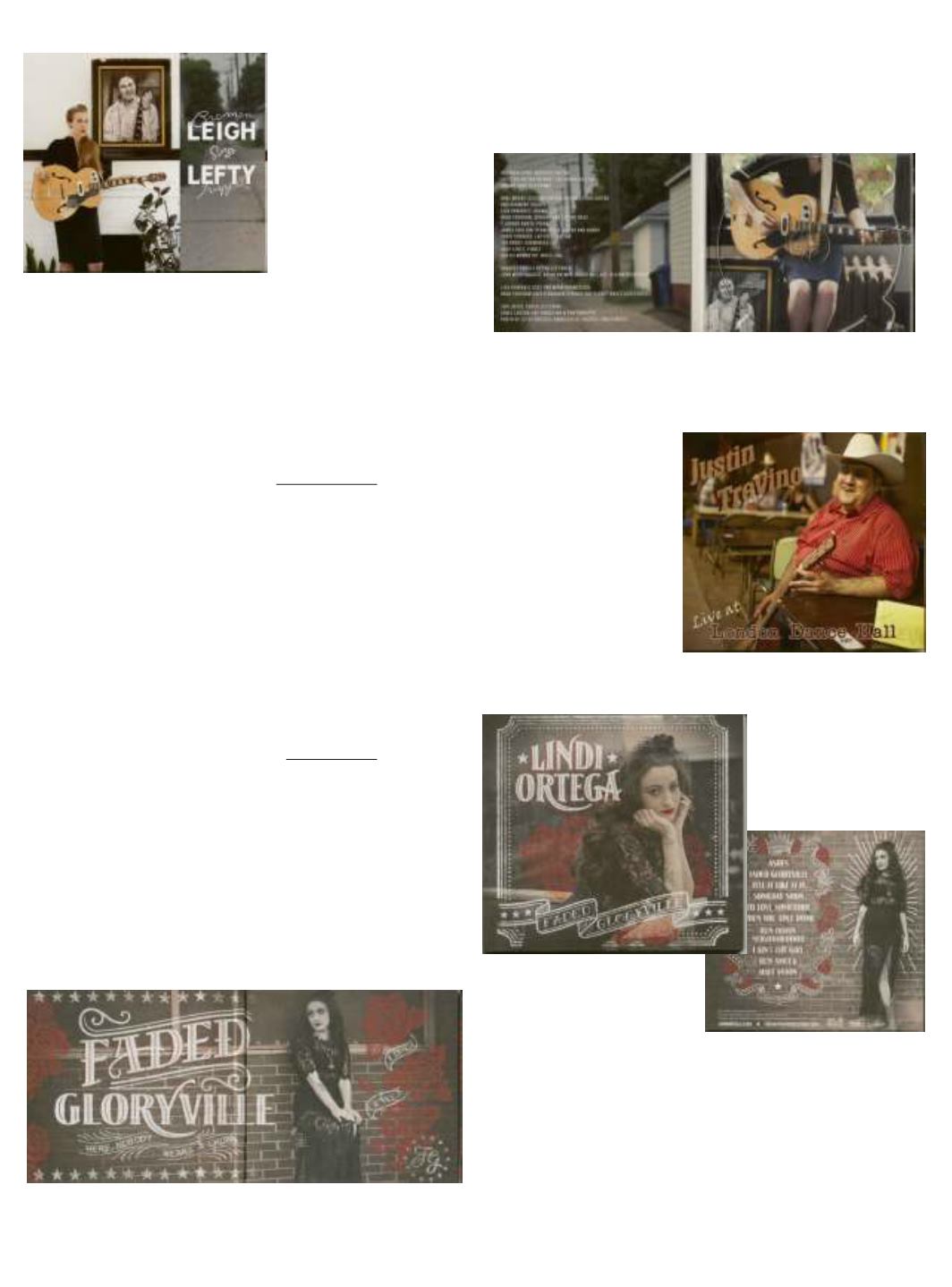 McKay (gtr), Lisa Pankratz
(drums), Brad Fordham
(bass), T.Jarrod Bonta
(piano), James Shelton
(pedal steel), Chris Scruggs
(lapsteel),TedRoddyharmo-
nica), Andy Lentz (fiddle)
und Quartett Gesang der
'The Leftones'. Balladen,
Shuffles,
zwei
seiner
rockigen
Titel.
Highlight!*****— (South
Central Music) 13 tracks (35:02) didipac. Recorded, mixed and
mastered by Chris Burns at King Burns Hit Ranch.Excellent
tribute to the one and only Lefty Frizzell featuring: Noel McKay
(gtr), Lisa Pankratz (drums), Brad Fordham (bass), T.Jarrod
Bonta (piano), James Shelton (pedal steel), Chris Scruggs (lap
steel), Ted Roddy (harmonica), Andy Lentz (fiddle) and quartet
vocals by 'The Leftones'. Ballads, shuffles and even two of his
rockers. Highlight!*****
N E O H O N K Y T O N K / S W I N G / H I L L B I L L Y
JUSTIN TREVINO
•
LIVE AT LONDON DANCE
HALL
CDHOTR7338
€
17.95
0616316173385
(Heart Of Texas) 20 tracks (64:07) digipac. Over 60 minutes of
hardcorehonkytonk,recordedliveatLondonHallonSeptember
27, 2014 by Jason James - llano, Texas.Including all-time favori-
tes like: 'Jim,JackAndRose', 'TwoEmptyGlasses', 'LongLineOf
Empties','Cheatin'Overtime'(aduetwithMyraRolen)plusmany
othersbarroom jewels. — (HeartOfTexas)20tracks (64:07)digi-
pac. Over 60 minutes of hardcore honky tonk, recorded live at
London Hall on September 27, 2014 by Jason James - llano,
Texas.Includingall-timefavorites like: 'Jim, JackAndRose', 'Two
EmptyGlasses','LongLine
Of Empties', 'Cheatin'
Overtime' (a duet with
Myra Rolen) plus many
others barroom jewels.
A M E R I C A N A / A L T . C O U N T R Y / R O O T S
LINDI ORTEGA
•
FADED GLORYVILLE
CDQ201625
€
15.95
0060270162525
Ashes - Faded Gloryville - Someday Soon - To Love Somebody -
WhenYouAin'tHome -Run-DownNeighborhood -Tell ItLike It
Is - I Ain't the Girl - Run Amuck - Half Moon
(2015/Last Gang) 10 tracks. Lindi Ortega ist eine kanadische
Singer-SongwriterausToronto,Ontariound lebtheute inNashvil-
le, Tennessee. Ihr 2015er Album ist bei Last Gang Records er-
schienen und sie sagt darüber: "Faded Gloryville geht nicht nur
umMusik,esgehtumalles,wasdichnachuntenbringt.Unddar-
um,dassesdeineEntscheidungist,obduuntenbleibstoderdich
aufdenWegmachst.Dumußtdurch'FadedGloryville',uminsPa-
radiszukommen. HammerAlbum-diesesperfektabgestimmte
Gesamtkunstwerk klingt wie eine Melange aus Rosie Flores,
AmyWinehouseundden
Common Linnets aber
immer 100% Ortega!
Highlight!*****(Bear
Family
Records) —
(2015/Last Gang) 10 tracks.
LindiOrtega isa Canadiansin-
ger-songwriter from Toronto,
Ontario who now lives in
Nashville, Tennessee. Her 2015er album has been released by
LastGangRecordsandshesaysabout:'FadedGloryvilleisn'tjust
about music, it's about anything that brings you down, whether
it'sdreamsnotcomingtrueorrelationshipsnotworkingout,and
it's message is this: you can go to a place where you're feeling
reallydownaboutthings,but it'swhatyoudoafterwards -doyou
decide to reside there forever, or do you leave and make the
situation better - that matters. You have to travel through Faded
Gloryville to get to paradise.'
C L A S S I C C O U N T R Y A R T I S T S
6