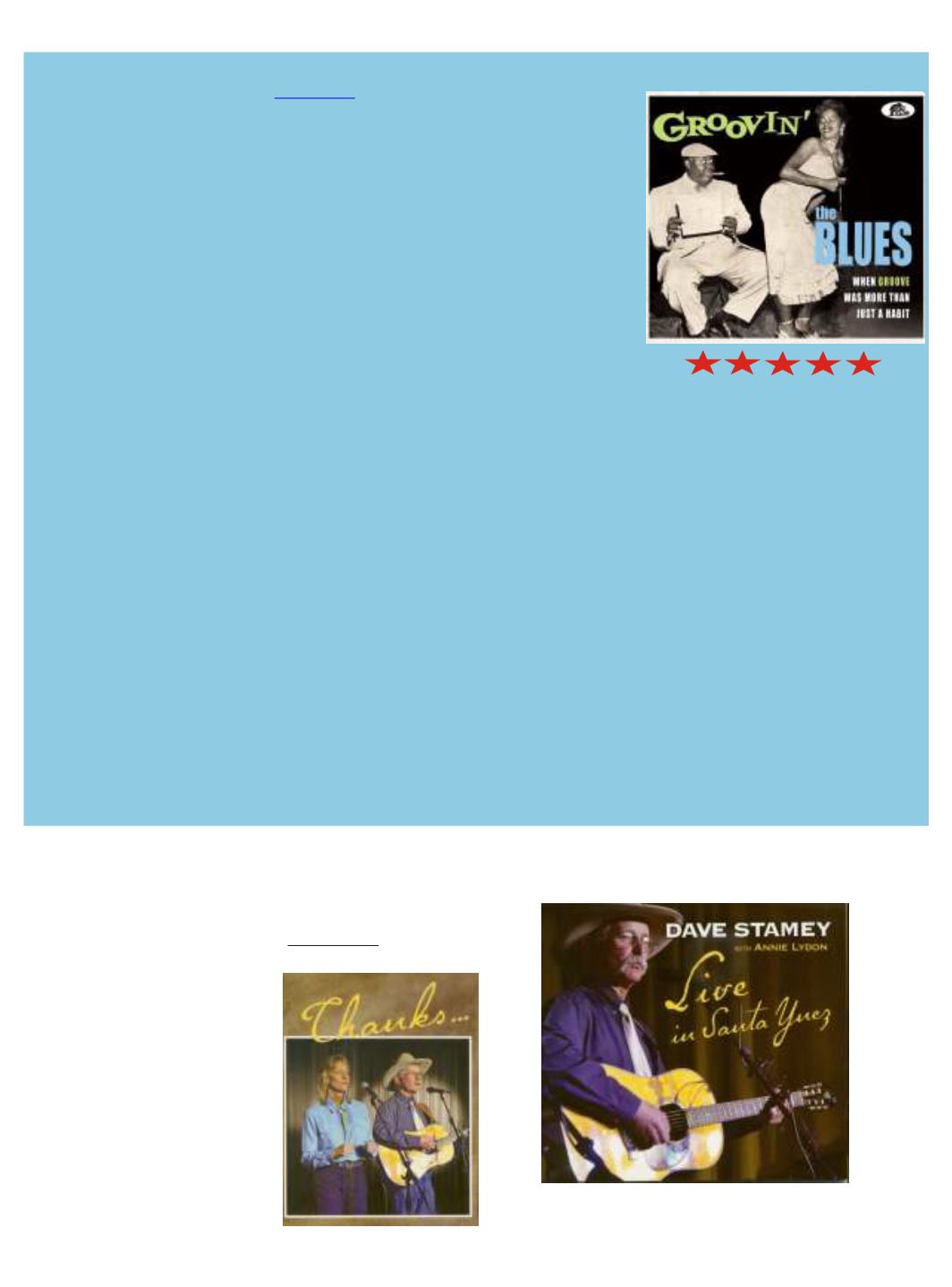 W E S T E R N
DAVE STAMEY
•
LIVE IN SANTA YNEZ (WITH
ANNIE LYDON)
CDDS04383
€
17.95
0888295043830
(DaveStamey)13tracks (67:12)
superb acoustic programme of
original Western songs, some
cowboy poetry and comedy
speech between songs. Recor-
ded live at the Ranch and Reata
Roadhouse,Santa Ynez, CA,
March21,2013andfeaturingAn-
nie Lydon on harmony vocals.
What a wonderful evening of mu-
sic and fun.
B E A R F A M I L Y N E W S
9
(
VARIOUS
Groovin' The Blues
BCD17411
€
15,95
l
Zwei CDs mit Singles, die einer großartigen unbekannten Geschichte des R&B
aus den 50er Jahren gewidmet sind!
l
Alle Titel remastert von den Original-Bändern!
l
Mit Zilla Mays, Roy Gaines, den Du Droppers, George Benson (Ja, der George
Benson!), Sonny Terry, Champion Jack Dupree, und vielen anderen!
l
Mit dem unglaublichen Begleitmusiker Mickey Baker, sowie den großartigen
Bandleadern Paul Williams und Buddy Lucas!
1-CD Digipak (4-seitig) mit 64-seitigem Booklet, 33 Einzeltitel. Gesamtspieldauer ca. 84
Minuten.
1-CD Digipak (4-plated) with 64-page booklet, 33 tracks. Total playing time approx. 84
minutes.
l
All the secular-themed studio recordings from the first dozen years in the career of one of the most important
crossover acts in the history of American popular music.
l
• Five CDs containing 154 tracks and a 120-page book with newly written essays, track-by-track album notes, a
discography, label scans, and many rare photographs and illustrations.
l
• Early country hits including the chart-topping Mule Train (1949) and Ford's pioneering 'hillbilly boogie' smash The
Shotgun Boogie (1950), as well as Ford's first major crossover hit, the 1950 duet (with Kay Starr) I'll Never Be Free.
l
• It also includes classics such as Rock City Boogie (with the Dinning Sisters, 1951) and Blackberry Boogie (1952)
as well as overlooked delights as the train song Tennessee Local (1952), his 1952 interpretation of Willie Mabon's
rhythm and blues hit I Don't Know.
l
• This boxed set includes two never-before-released songs (Slow Down and Small World), numerous Ford singles
and album tracks not previously reissued on CD, and several rarities, including Ford's 1955 recitations of Davy
Crockett tales, as well as Ford's 1958 public service jingles to promote the U.S. Marine Corps 'Toys for Tots'
charitable progra m.
SONNY TERRY : Lost Jawbone - COUSIN LEROY : Goin' Back Home - CHAMPION JACK DUPREE : The Ups - BUDDY LUCAS : No
Dice - SUE ALLEN & OSCAR BLACK : Hold Me Baby - SONNY TERRY : Louise - CLAYTON LOVE : Love Blues - MAYMIE WATTS :
There Goes That Train - BIG TINY KENNEDY : 'Taint Right - LITTLE TOMMY BROWN : Don't LeaveMe - COUSIN LEROY : 41 High-
way - SONNY TERRY : Tell Me Baby - BUDDY LUCAS : I Got Drunk - ZILLA MAYS : Romance In The Dark - BIG TINY KENNEDY : I
Need AGoodWoman - OSCARBLACK :WhatMakesMeLoveYouSo -SONNYTERRY :Hootin'BluesNo2 -THEDUDROPPERS
: You've Been Good To Everybody - COUSIN LEROY : Catfish - BERTICE READING : Beantown Boogie - COUSIN LEROY : Lone-
some Bedroom -CHAMPIONJACKDUPREE :LonelyRoadBlues -SONNYTERRY :ThrowThisOld DogABone -BUDDY LUCAS :
I Need Help - SONNY TERRY : I Took You In Baby - LITTLE TOMMY BROWN : Won't You ForgiveMe - CHAMPION JACK DUPREE :
Story Of MyLife - BERTICE READING : I WashMyHands - OSCARBLACK&SUE ALLEN : I'll LiveMy Life Alone - SONNY TERRY :
Juice Head Woman - SONNY BROOKS : Sentimental Blues - OSCAR BLACK : Into Each Heart (Some Tears Must Fall) - BIG
CONNIE : Wait Till Next Week, Baby