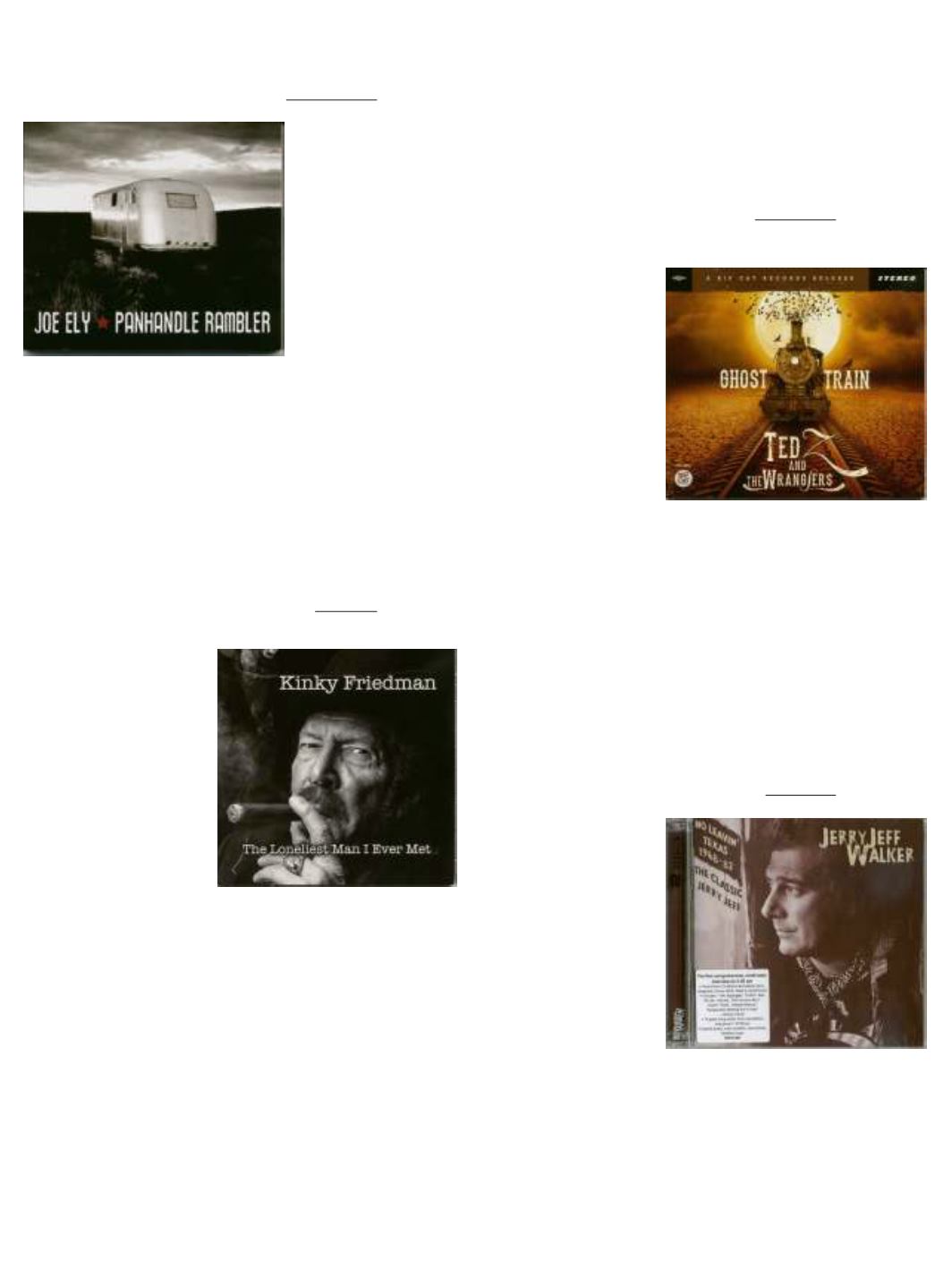 JOE ELY
•
PANHANDLE RAMBLER
CDRER0007
€
17.95
0678572219139
Wounded
Creek
-
Magdalene - Coyotes
Are Howlin' - When The
Nights Are Cold - Earlin
In The Mornin' - South-
ern Eyes - Four Ol'
Brokes - Wonderin'
Where - Burden Of Your
Lord - Here's The Weary
- Cold Black Hammer -
You Saved Me
(2015/Rack 'em Re-
cords) 12 tracks. Sein
2015erAlbummitSongs
aus und über seine Heimat, bewegend und sehr persönlich. —
(2015/Rack 'em Records) 12 tracks. In the rock 'n' roll era, the
vast spaces of West Texas have been filled with greatmusic. Joe
Elystands inamusicaltraditionbornoutofthosegritty,desolate
plains. Recently recognized as the Official Texas State Musician
for 2016, Ely's newest is among hismost personal albums in an
already accolade-laden career. It isa portrait of the land he calls
home,thespiritedpeopleandstoriesitproduces,andthespecial
sense of destiny it's very vastness creates.
KINKY FRIEDMAN
•
LONELIEST MAN I EVER MET
CDAAR4
€
14.95
0696859966170
BloodyMaryMorning -Christmas Card -I M the Loneliest Man
- My Shits F***ed Up -
Lady Yesterday - Free-
dom to Stay - Wild Man
- Mama SHungry Eyes -
Pickin Time - Girl from
the North Country -
Wand Rin Star - A
Nightingale Sang
(2015/Avenue A Re-
cords) 12 tracks. Kinky
Friedman hat sich
wieder einmal neu
erfunden, dieses Mal
mit seinem ersten neuens Studioalbum in fast vierzig Jahren.
Mit Hilfe von Produzent Brian Molnar, Gitarrist Joe Cirotti und
dem Pianisten Little Jewford zeigt Kinky Friedman wieder
einmal, dass er nicht nur ein guter Geschichtenerzähler ist,
sondern auch ein guter Interpret. Ein sehr gutes, sehr
persönliches Album. — (2015/Avenue A Records) 12 tracks.
Kinky Friedman has reinvented himself yet again, this time with
hisfirstallnewstudioalbum innearlyfortyyears.Kinky,with the
extraordinary help of producer BrianMolnar, guitarist Joe Cirotti,
and former Texas Jewboy pianist Little Jewford, presents an all
new Kinky, with his album, The Loneliest Man I Ever Met. Filled
with never-heard-before Kinky originals and beautifully
renderedcoversofsuchartistsasTomWaits,WarrenZevon,and
Willie Nelson, this new CD is all about Kinky s ultimate ability to
deliver much more than just a funny line or humorous tune. The
spare, yet lush arrangements all point up Kinky's unique talent
as both a songwriter and interpreter of great material. Guest
performers Nelson, his sister Bobbie, bassist Kevin Smith, and
uber mouth harpist Mickey Raphael support with appearances
but never override the simplicity and grace of the tunes and the
artist himself. In a career filled with wondrously successful
adventures, Kinky Friedman has never put forth something so
personal as The Loneliest Man I Ever Met.
TED Z & THE WRANGLERS
•
GHOST TRAIN
CDRC1503
€
17.95
0888295314596
HoldOn -JosephRatcliff -GoFindYourHeaven -Kansas -Trou-
ble - Bitter Hands -
Ghost Train - Ball And
Chain - SamWhitaker -
Postcard - Broken
(2015/RipCat)
11
tracks. Ted Z und die
Wranglers
spielen
Outlaw-Country Musik
am
Rande
des
Rockabilly. Ted ist ein
guter Songwriter und
mit
Jacksons
unglaublichem
Gitarrenspiel wird der
Zuhörer auf eine sehr schöne musikalische Reise
mitgenommen. — (2015/RipCat) 11 tracks. Ted Z and the
Wranglers play a powerful brand of outlaw country, on the edge
of Rockabilly. Ted's amazing songwriting is matched with
Jackson's incredible guitar playing to take the listeners on a
musical journey that seems like a lost art in today's music
environment. Look for Jackson Leverone to take his place
amongthetopguitarheroesoftodayoncethisalbumisreleased.
JERRY JEFF WALKER
•
NO LEAVIN
'
TEXAS - THE
CLASSIC JEFF 1968-1982
(2-CD)
CDRV387
€
24.95
9398800038721
(2015/Raven) 39 Titel,
tolle Doppel-CD von Auf-
nahmenausdenJahren
1968-82, die Jerry Jeff
Walker für Labels wie
Atco, Decca, Vanguard,
MCA, Elektra und South-
Coast eingespielt hat.
Die CD enthält ein infor-
matives und reich bebil-
dertes 12-Seitiges Boo-
klet. — (2015/Raven)
39 tracks, nice 2-CD set
including recordings Jer-
ry Jeff Walker did between 1968 and 1982 for labels like Atco,
Decca, Vanguard, MCA and SouthCoast! The CD includes a nice
booklet with biographical and discographical data and rare pho-
tos!Agreatproductforagreatpriceandamustforeveryonewho
digs Americana and alternative Country Music! (Bear Family Re-
cords - nf)
S O N G W R I T E R / O U T L A W / C O U N T R Y R O C K
8