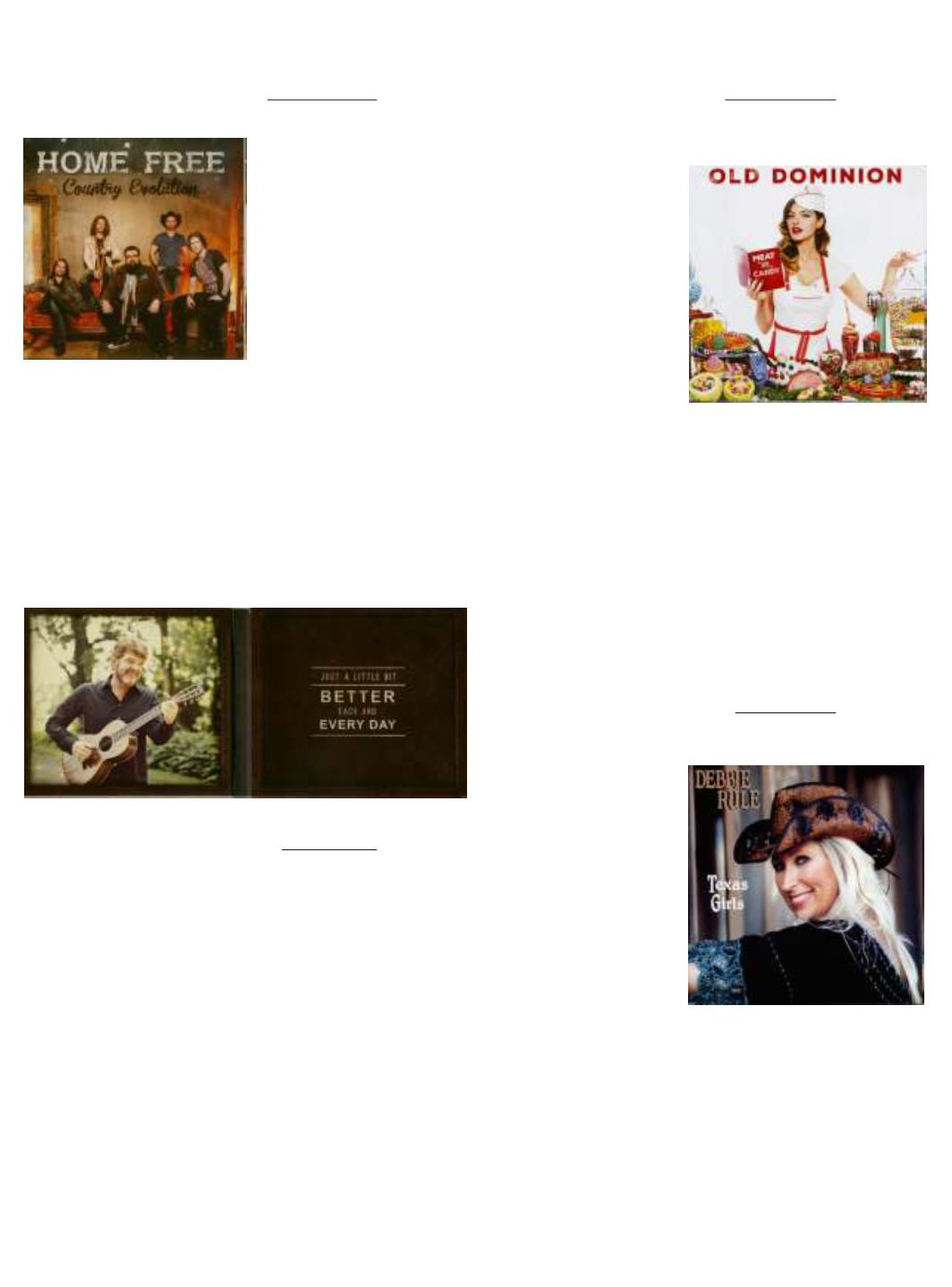 HOME FREE
•
COUNTRY EVOLUTION
CDSNY514112
€
16.95
0888751411227
Summer in the Country - Good Ol' Country Harmony - 9 to 5 -
Elvira (Feat the Oak Ridge
Boys) - Don't It Feel Good -
Honey, I'm Good - Friends in
Low Places - FISHIN' IN THE
DARK : Down in the Boon-
docks - The Devil Went Down
to Georgia (Feat Charlie
Daniels & Taylor Davis) -
House Party - California
Country
(2015/Sony) 11 tracks. Fünf
talentierte, großartige Sänger
aus Minnesota mit ihrer
2015er CD, das dritte Studioalbum von Home Free, Gewinner
des NBC s Sing-Off Season 4. Von Darren Rust produziert, findet
ihrhier11starkeTitel,mitGästenwieCharlieDaniels,OakRidge
Boys und YouTube-Star Taylor Davis. — (2015/Sony) 11 tracks.
2015 release, the third studio album from Home Free, the
countryquintetandwinnersofNBCsTheSing-OffSeason4.The
high-energy albumfeaturing theirtrademark tight harmonies is
producedby longtimecollaboratorDarrenRust,andfeatures11
tracks and special guests Charlie Daniels, Oak Ridge Boys and
YouTube star Taylor Davis.
MAC MCANALLY
•
AKA NOBODY
CDMBD2185
€
15.95
0698268218567
A Little Bit Better - Last But Not Least - Mississippi You're on
My Mind - With a Straight Face - Don't Remember Leaving -
Zanzibar - PlaceWhere You Belong - Proud to Be Alive - Better
Get the Story Straight - Everything - Loser Gumbo - Coast of
Carolina - Someday - Island Rain - Working Prayer
(2015/Mailboat) 15 tracks. AKA Nobody ist Mac McAnally
neuestes Soloalbum. Fast alle Songs sind von McAnally selbst
oder aber mit oder mit berühmten Co-Autoren wie Jimmy
Buffett, Kenny Chesney, Zac Brown, Sonny Landreth, Chris
Stapleton, Al Anderson und anderen geschrieben. —
(2015/Mailboat) 15 tracks. A.K.A Nobody is Mac McAnally's
latest solo album, sung, performed and produced by the much
beloved session ace. All but one of it's songs were written by
McAnally,eitheronhisownorwithillustriousco-writersincluding
Jimmy Buffett, Kenny Chesney, Zac Brown, Sonny Landreth,
Chris Stapleton, Al Anderson, and others. Working with an
all-star assembly of friends and studio colleagues, McAnally
achieves a rare blend of deep soul and polished technique on
each track
OLD DOMINION
•
MEAT AND CANDY
CDRCA513496
€
14.95
0888751349629
Snapback - Half Empty - Wrong Turns - Said Nobody - Crazy
Beautiful Sexy - Nowhere Fast - Beer Can in a Truck Bed -
Break Up with Him - Song
for Another Time - Til It's
Over - We Got It Right
(2015/RCA) 11 tracks.
2015er Album der aus
Nashville
kommenden
Country Band von Sänger
Matthew
Ramsey,
Multi-Instrumentalist
Trevor
Rosen,
Schlagzeuger Whit Sellers,
Bassist Geoff Sprung und
Lead-Gitarrist Brad Tursi.
Die fünf Bandmitgliedern
haben alle schommit de Größen der modernen Country-Musik
wie The Band Perry, Dierks Bentley, Luke Bryan, Kenny Chesney,
Tyler Farr, Dustin Lynch, Craig Morgan, Jake Owen, Keith Urban
undChrisYoungzusammengearbeitet.—(2015/RCA)11tracks.
2015 album from the Nashville-based country band comprised
of lead singer Matthew Ramsey, multi-instrumentalist Trevor
Rosen, drummer Whit Sellers, bassist Geoff Sprung and lead
guitaristBradTursi. Includesthesingle 'Break UpWithHim'.The
band'sfivemembershavehadwritingcreditsoncutsbysomeof
countrymusic's greatest modern artists such as The Band Perry,
Dierks Bentley, Luke Bryan, Kenny Chesney, Tyler Farr, Dustin
Lynch,CraigMorgan,JakeOwen,KeithUrbanandChrisYoung.
DEBBIE RULE
•
TEXAS GIRLS
CDHOTR7334
€
17.95
0616316173347
Texas Girls - Rose Garden - Harper Valley Pta - I Wish I Was A
Teddy Bear - Silver Threads AndGoldenNeedles -GoldenRing
(Duet With Justin Trevino)
-WhatAMan -DeltaDawn
- The Happiest Girl In The
Usa - Help Me Make It
Through The Night - Stand
By Your Man - Satin
Sheets - Once A Day
(2014/Heart Of Texas) 13
Titel (37:10), produziert
undaufgenommenvonJus-
tin Trevino, Texas Garant
fürCountryMusikderalten
Schule, und volle Tanzflä-
chen.SehrschönereigenerTitelmit 'TexasGirls' (hätteauchvon
Michael Ballew sein können) plus handverlesene, traditionelle
Honky Tonk Hits bzw. Country Music Klassiker.Klasse Al-
bum!*****— (2014/Heart Of Texas) 13 tracksAll the tracks on
TexasGirlsarewell-lovedfavouritesfrom countrymusic'sclassic
catalogue, other than the title track. Produced by Justin Trevino,
the arrangements on the albumattempt to stay true to the style
of the original recordings.Texas Girls features the usual HOTR 'A'
Team of musicians plus appearances by Justin Trevino and
Amber Digby on harmony vocals.
N E W S / N E U H E I T E N
4